Don't get us wrong, we love an elaborate wedding cake, but there's also something so chic and stylish about a simple wedding cake. After all, with relaxed celebrations and minimalistic décor rising up the ranks in wedding popularity, a fuss-free dessert might be what you're looking for.
Simple wedding cakes tend to stick to classic designs, but that doesn't mean they have to be dull. In fact, they can sometimes have more of an impact than a big, bold bake. You can scatter delicate dried flowers on a single-tiered cake, add a touch of glitter to a buttercream base, or even make a statement with a clean, all-white creation.
However you choose to have your wedding cake, we've kept things subtle and sweet with this round-up of 20 simple wedding cakes that prove basic is anything but boring.
1. Simple Wedding Cake with Greenery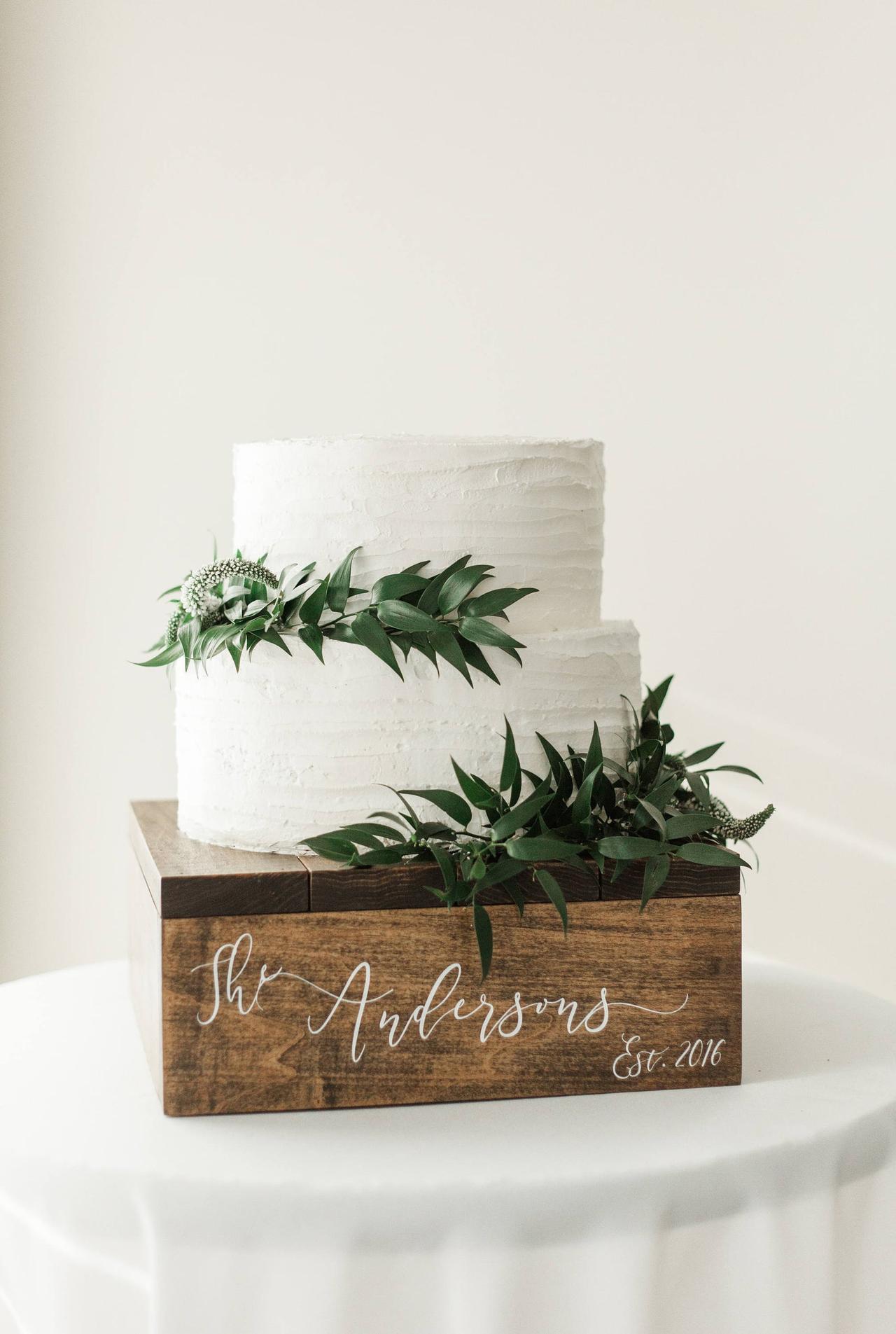 If you're opting for an extravagant wedding cake stand, you'll want to keep the cake itself simple. A few elegant fronds of greenery will complement a white buttercream wonderfully and look seriously stylish.
2. Textured Buttercream Simple Wedding Cake with Baby's-Breath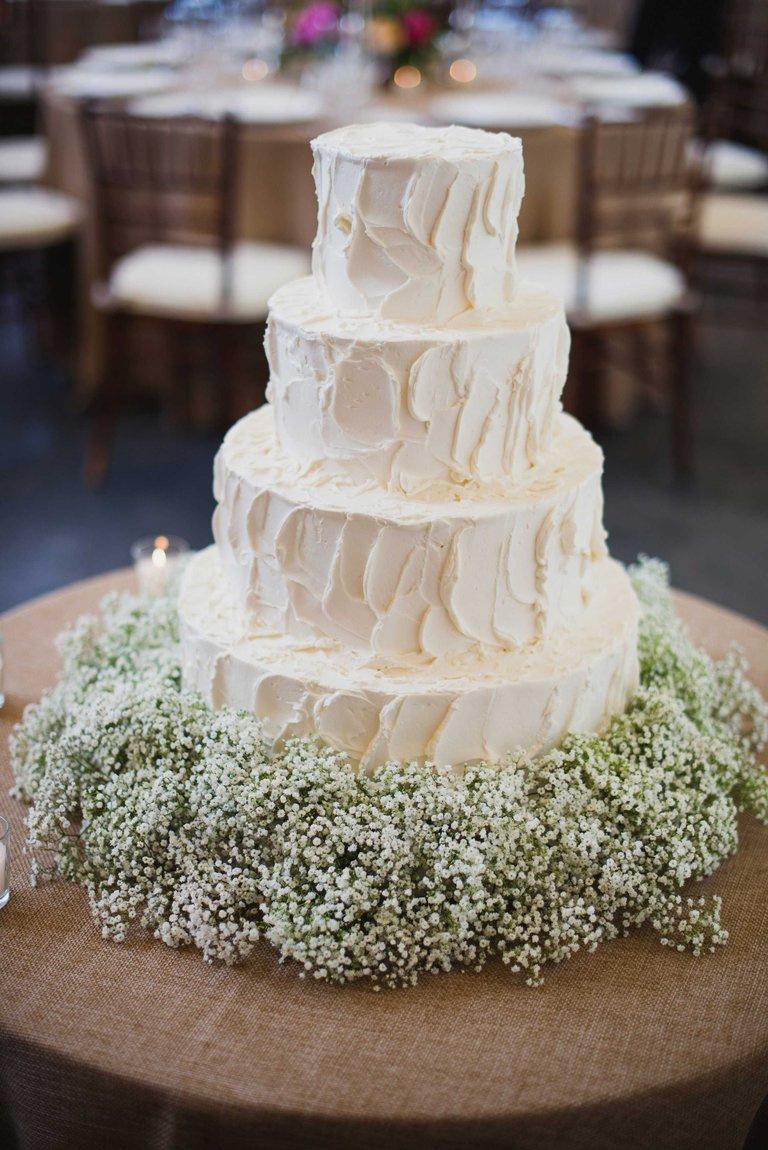 Textured buttercream is an easy way to add interest to a simple wedding cake. It looks so effortless and would be a great option if you were thinking of making your own wedding cake! Better yet, finish the ensemble off with a dreamy and delicate Baby's-breath base.
3. Simple Wedding Cake with Single Pink Flower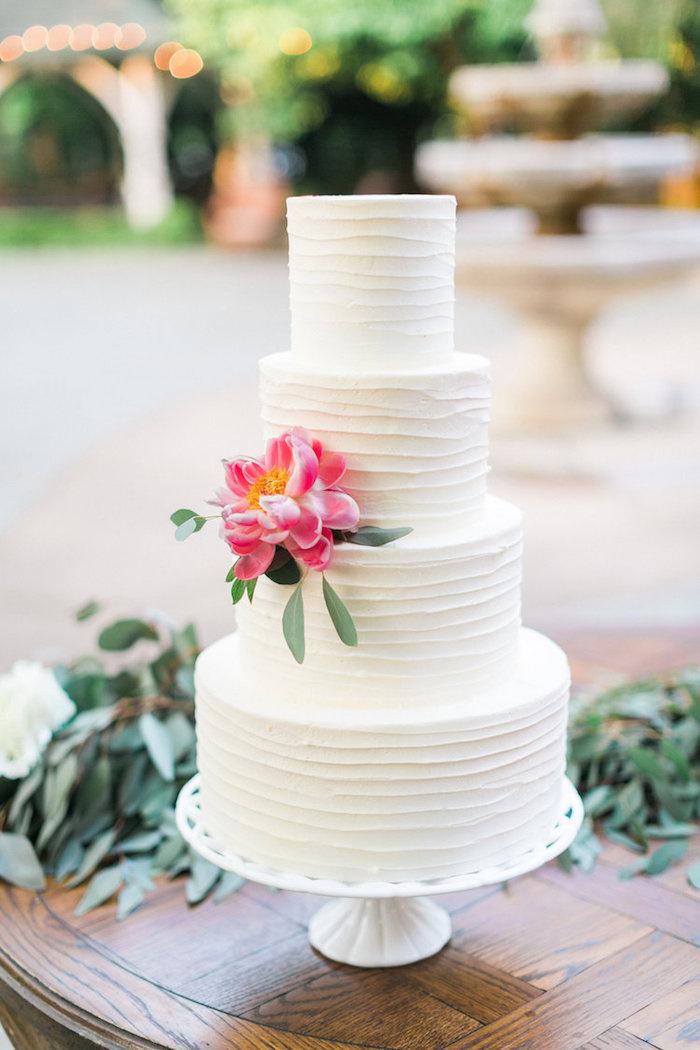 A pop of pink from a bright bloom will look really effective on a plain white wedding cake. You can match it to your wedding bouquet and décor or go for something completely different!
4. Simple Wedding Cake with Playful Pup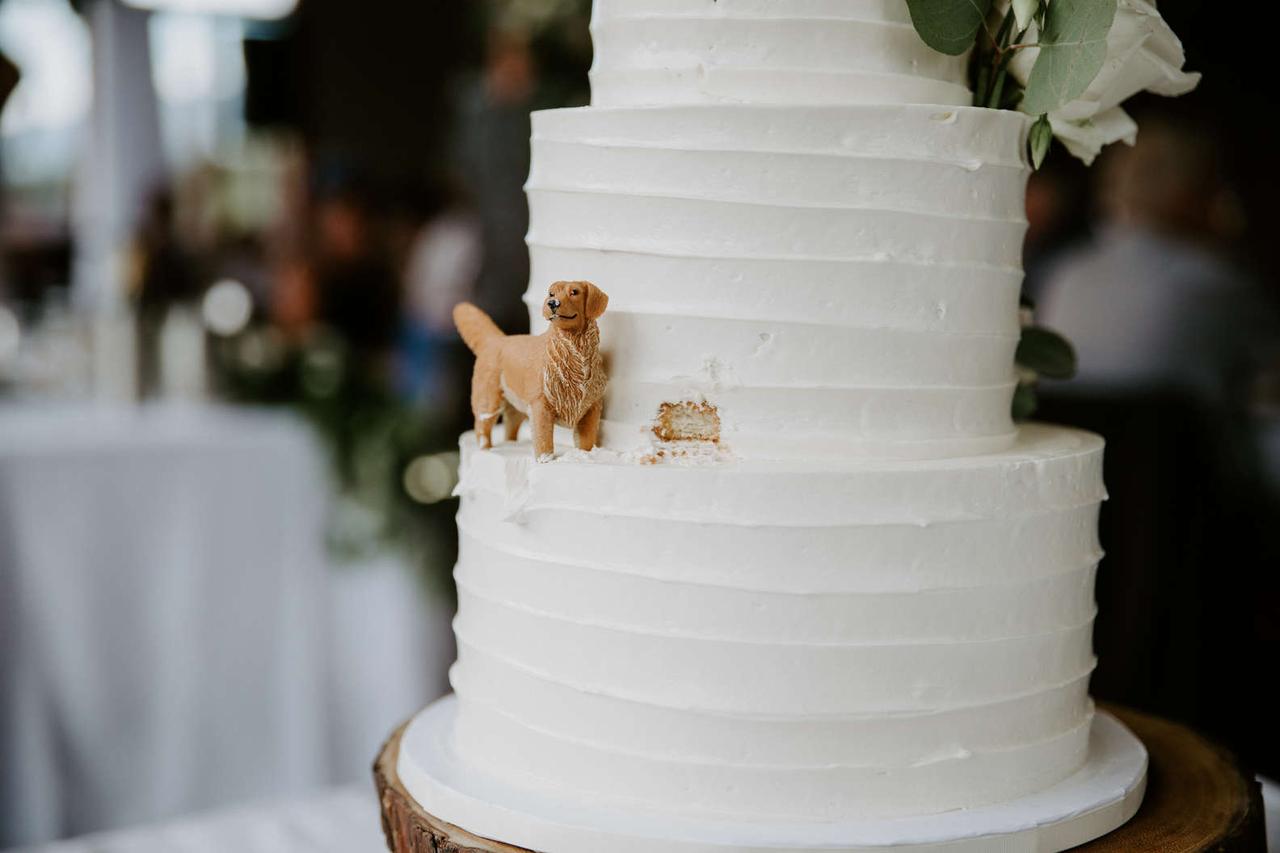 We couldn't resist adding this playful pup to our round-up – he's had a sneaky taste of the cake before anyone else. Trust us when we say this wedding cake will be a huge hit with guests (and make a great Insta shot too!). Wanna base it on your own pooch? You can buy a whole array of different dog cake toppers at The Hitched Shop.
5. Naked Simple Wedding Cake with Citrus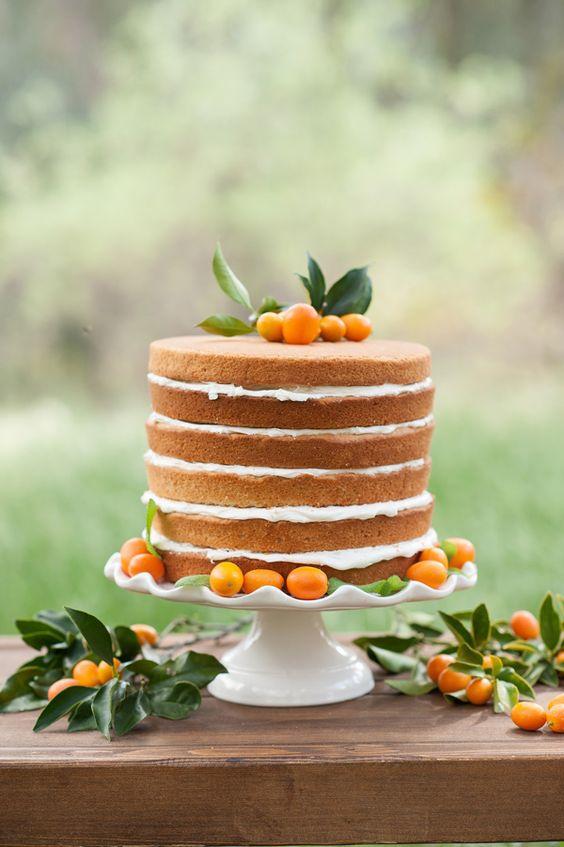 A destination wedding wouldn't be complete without this zesty naked wedding cake topped with citrus fruit. Sipping on an Aperol Spritz in the South of France with a slice of this beauty? Don't mind if we do.
6. Abstract Simple Wedding Cake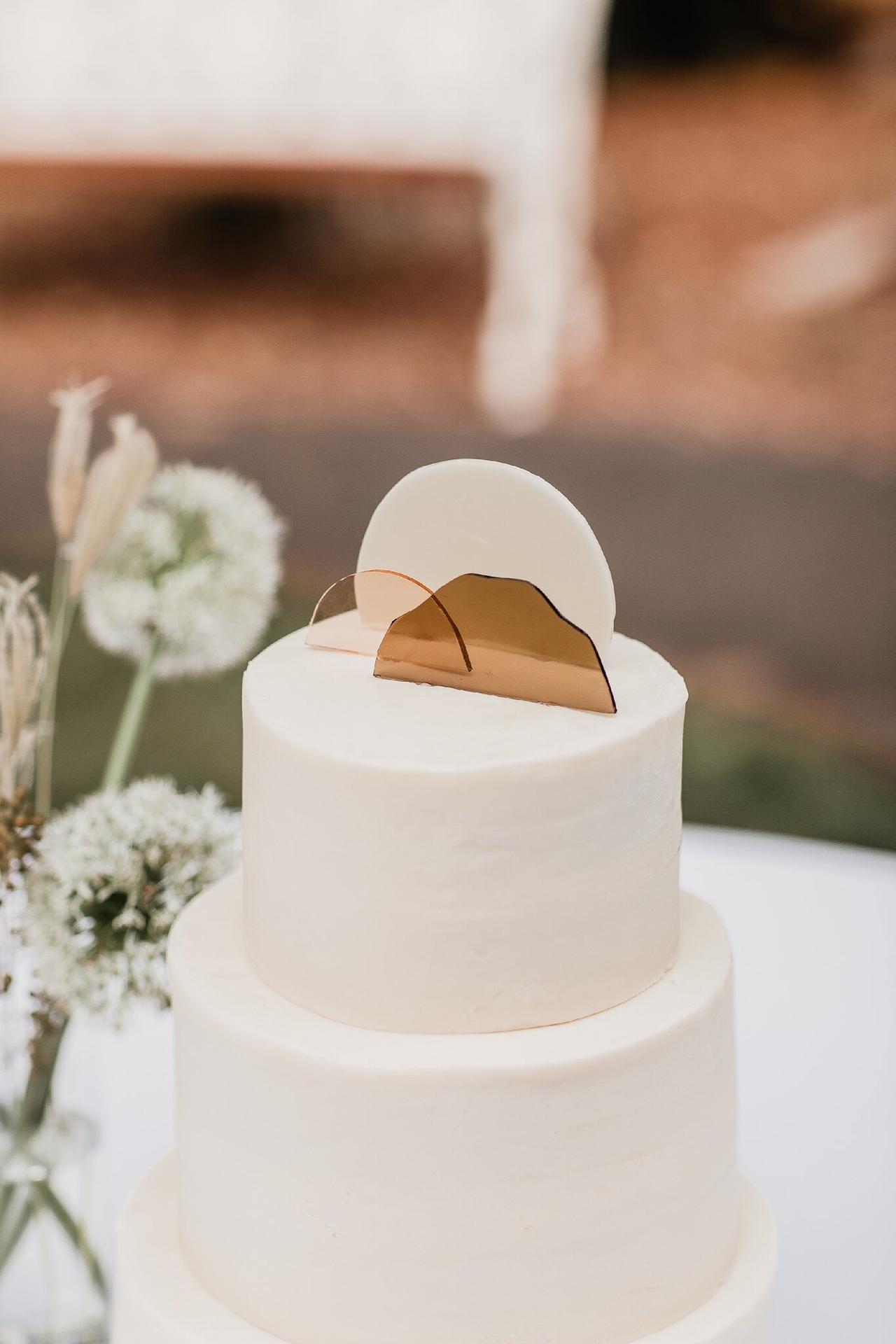 Cool couples will adore this contemporary, abstract and simple wedding cake. It would look amazing in a warehouse wedding venue and the design is so unusual we bet you won't have seen it before.
7. Cactus Simple Wedding Cake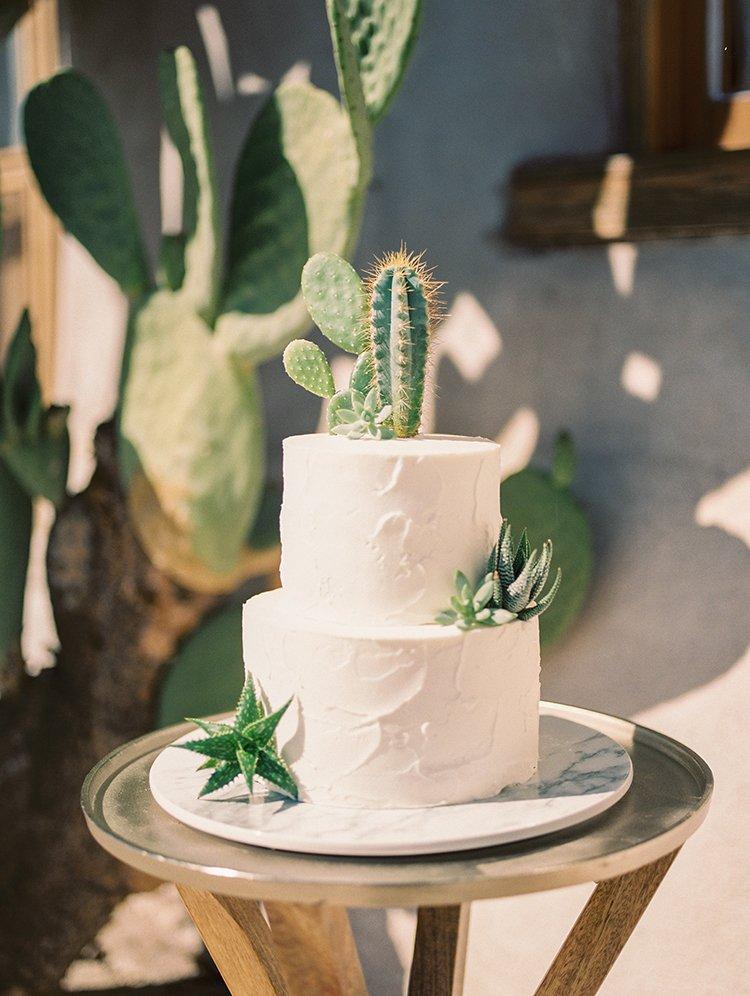 Green and white is a fail-safe wedding colour scheme and what better way to incorporate it into your cake than with white textured buttercream adorned with cacti. We think it will be lovely for a wedding in the warmer months.
8. Winter Wonderland Simple Wedding Cake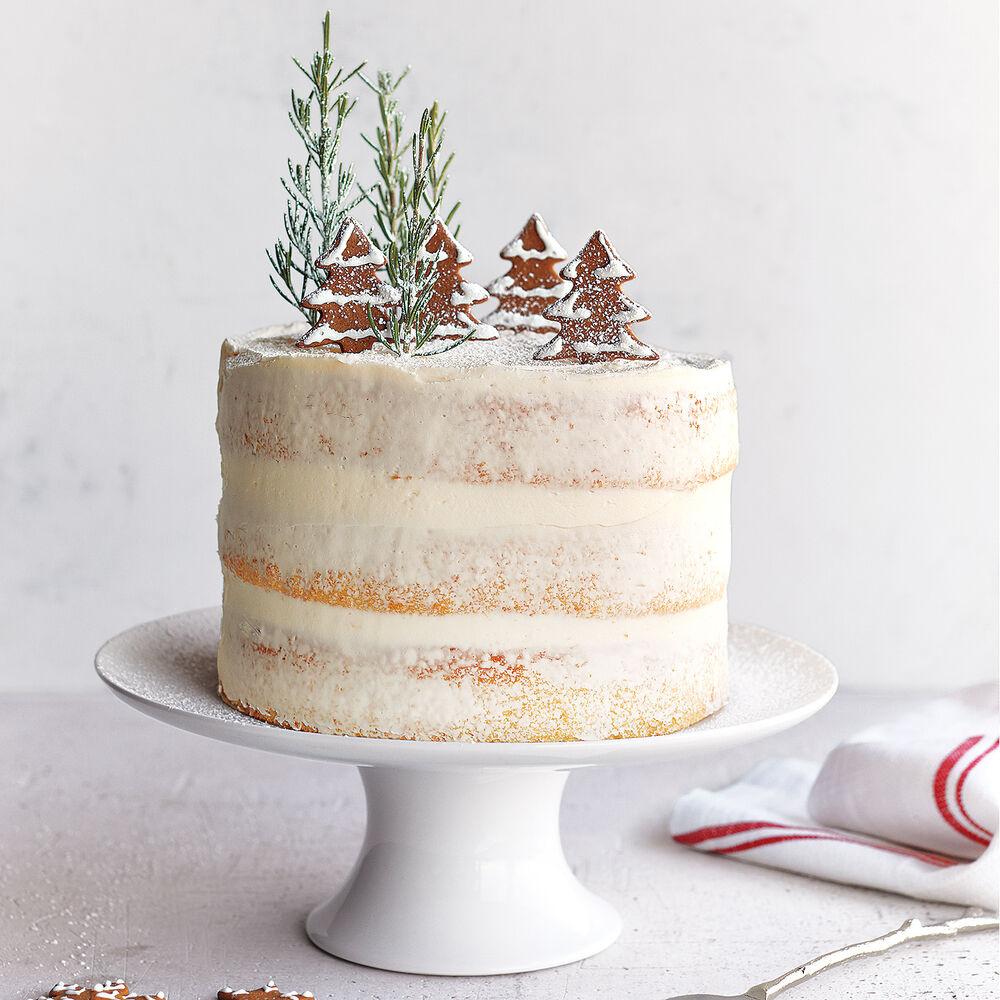 There are a few clever cake tricks that can be used to take a simple wedding cake to the next level, one being icing sugar. A simple smattering over the top of a winter-themed design will look like a snowy wonderland. We also adore how rosemary sprigs give the illusion of mini pine trees.
9. Wrapped Icing Simple Wedding Cake
Chic, elegant and sophisticated are three words that come to mind with this simple wedding cake. The fondant has been cleverly wrapped around and brushed with delicate metallic gold strokes for a fabulous finish.
10. Simple Wedding Cake with Metallic Leaves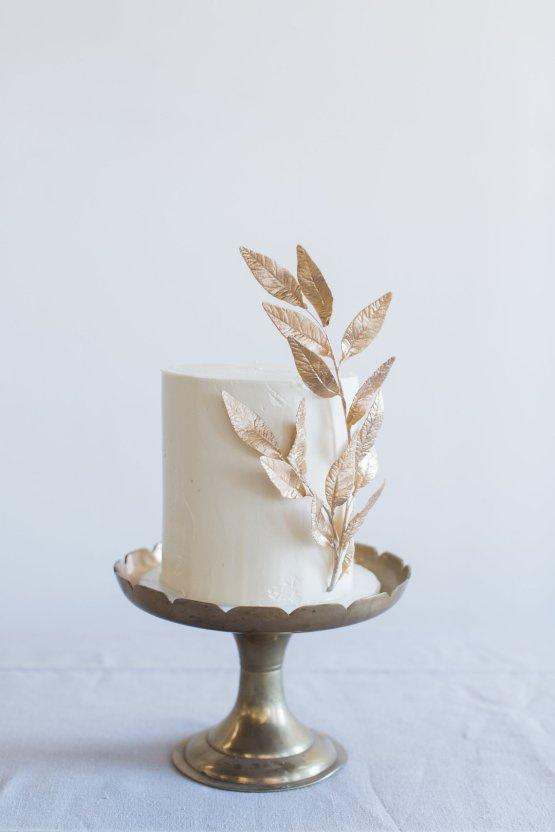 This gorgeous wedding cake is giving us Grecian vibes and would look wonderful if you're opting for an ethereal wedding day. You could even recreate this cake yourself by painting a branch with gold spray paint – just make sure it's edible!
11. Dried Rose Petal Simple Wedding Cake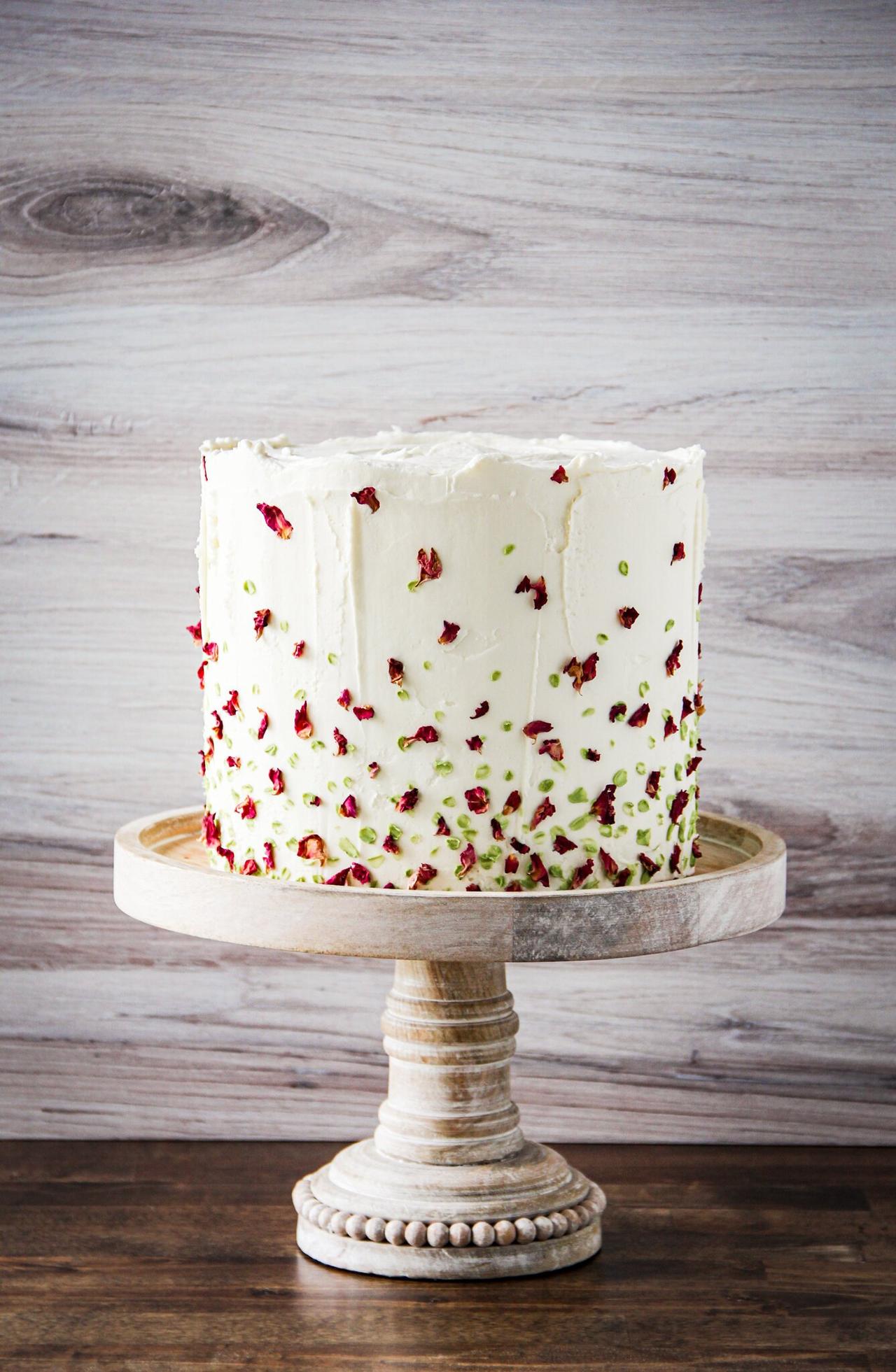 A simple scattering of dried rose petals on your wedding cake is a brilliant idea if you want to add a touch of colour to a simple design without it being too much. They've included green icing here too for the leaves, but we think chopped pistachios would be a great alternative.
12. Heart Simple Wedding Cake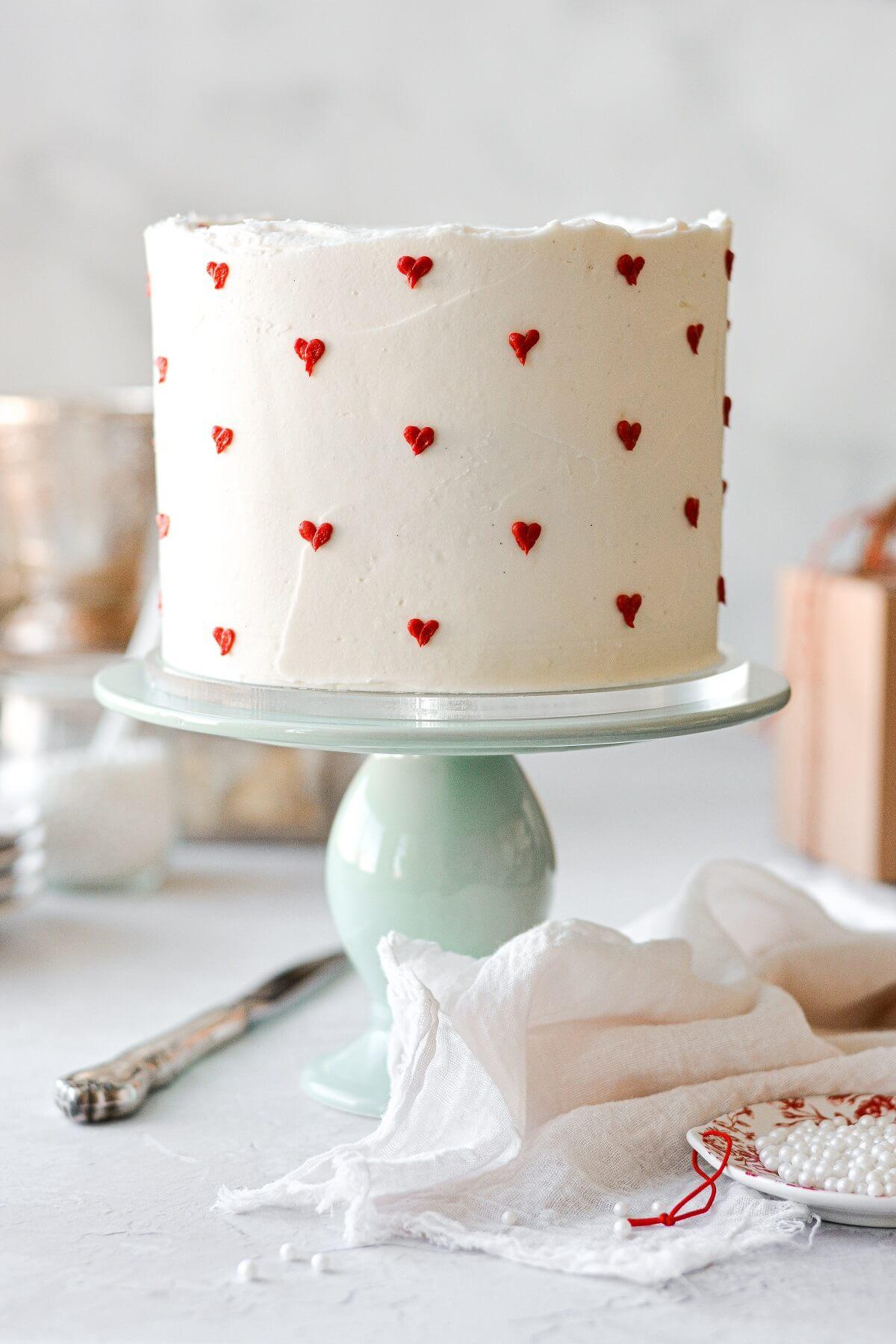 Feeling the love? You will be if you opt for this heart dotted single tier wedding cake. It's really simple yet so effective and will look adorable while you and your partner cut the cake.
13. Naked Simple Wedding Cake with Lavender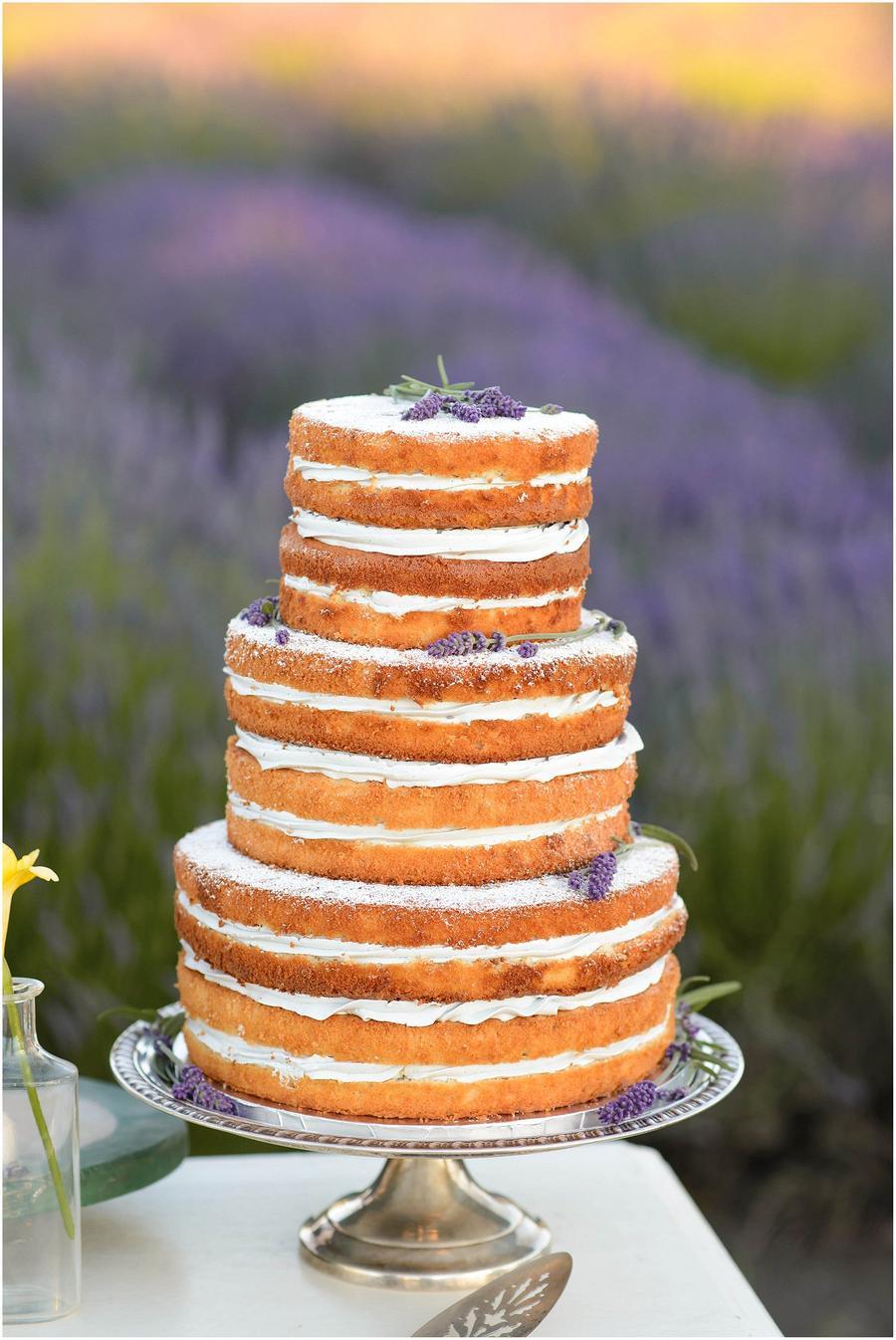 A naked wedding cake is a trendy choice, and this one carries a relaxed vibe thanks to its rustic finish. Fresh lavender and a dusting of icing sugar bring a romantic feel and tie it in with the countryside surroundings.
14. Simple Wedding Cake with Peonies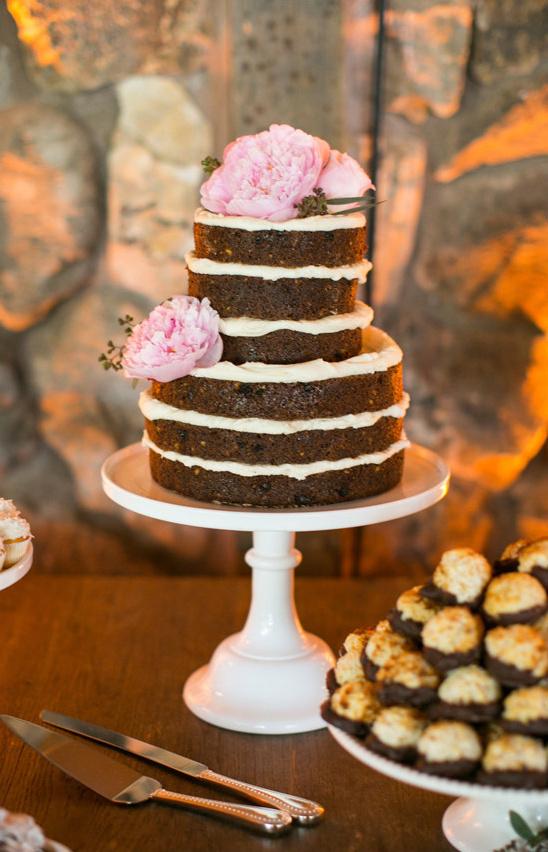 English peonies are in season during the warmer months, so if you're getting hitched in summer what better way to pay homage to this glorious flower than adorning your wedding cake with them? It might be simple but it'll look spectacular.
15. Raspberry Simple Wedding Cake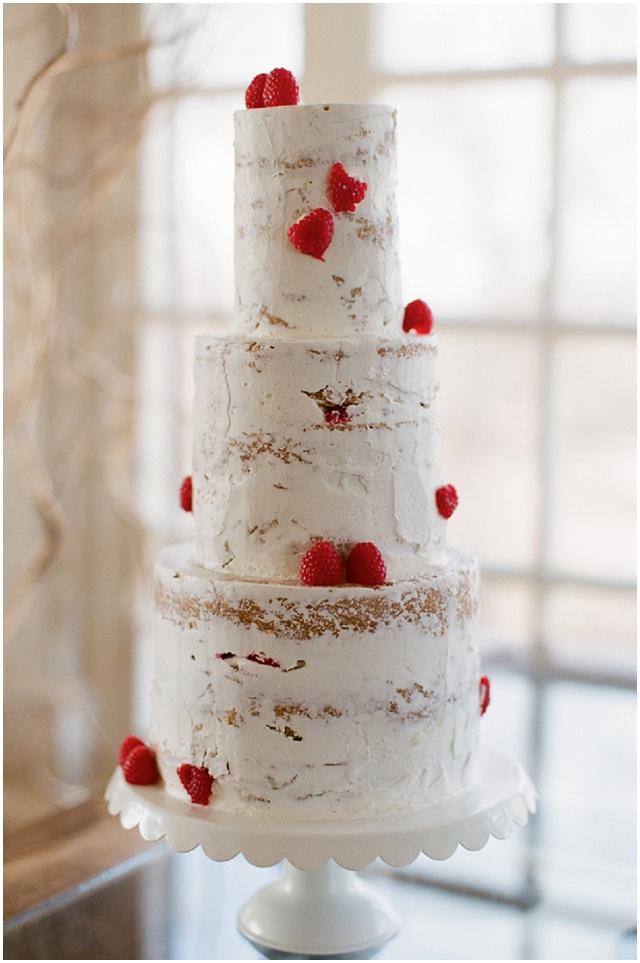 Raspberries not only look pretty placed onto a wedding cake, they taste great too! Pair with white chocolate buttercream and a jam-filled sponge, and everyone will be asking to take a slice home.
16. Dried Wildflower Simple Wedding Cake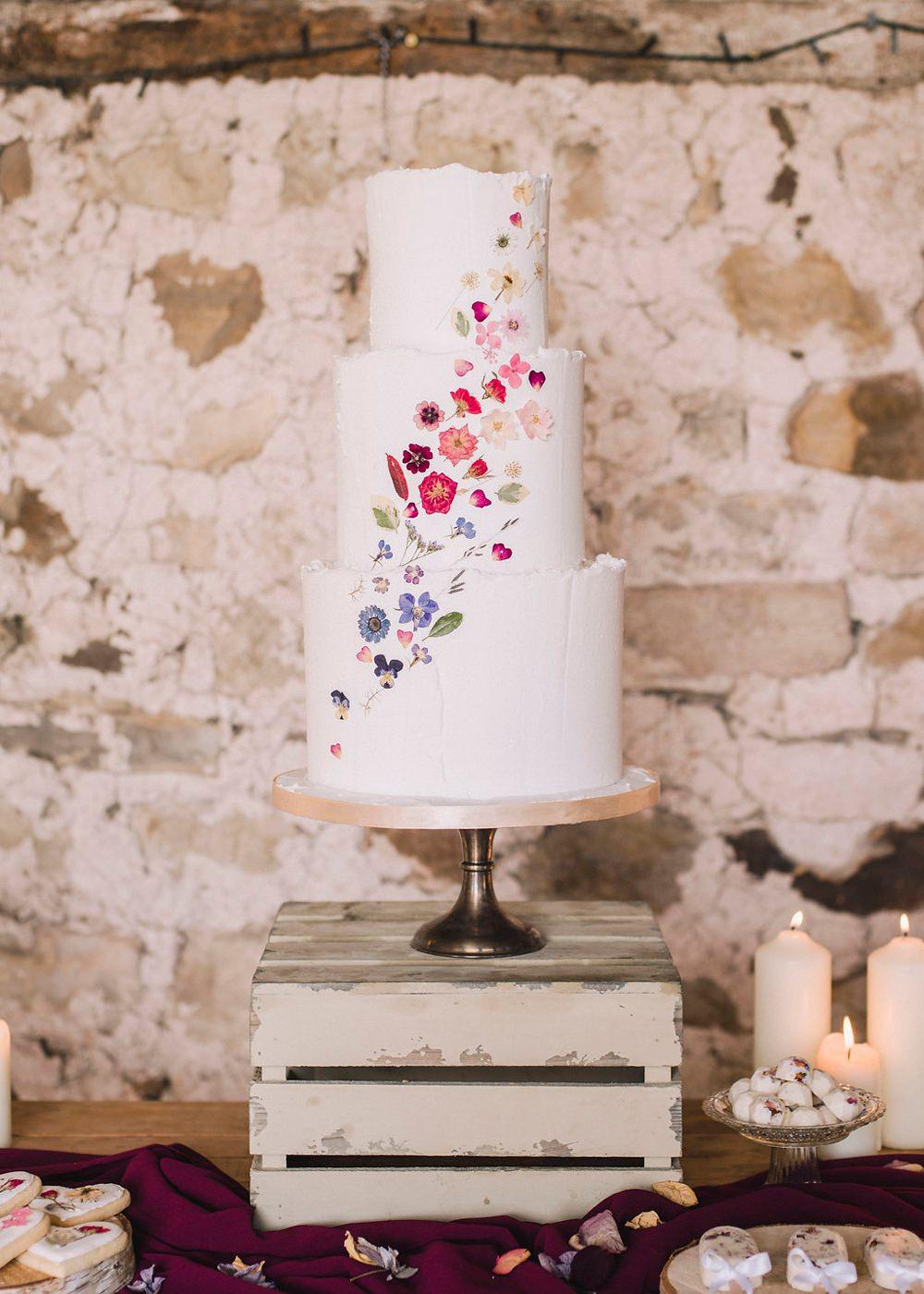 Set a simple white wedding cake off by decorating it with dried wildflowers. If you're having a whimsical woodland reception, this could be the cake for you.
17. Textured Simple Wedding Cake with Pinecones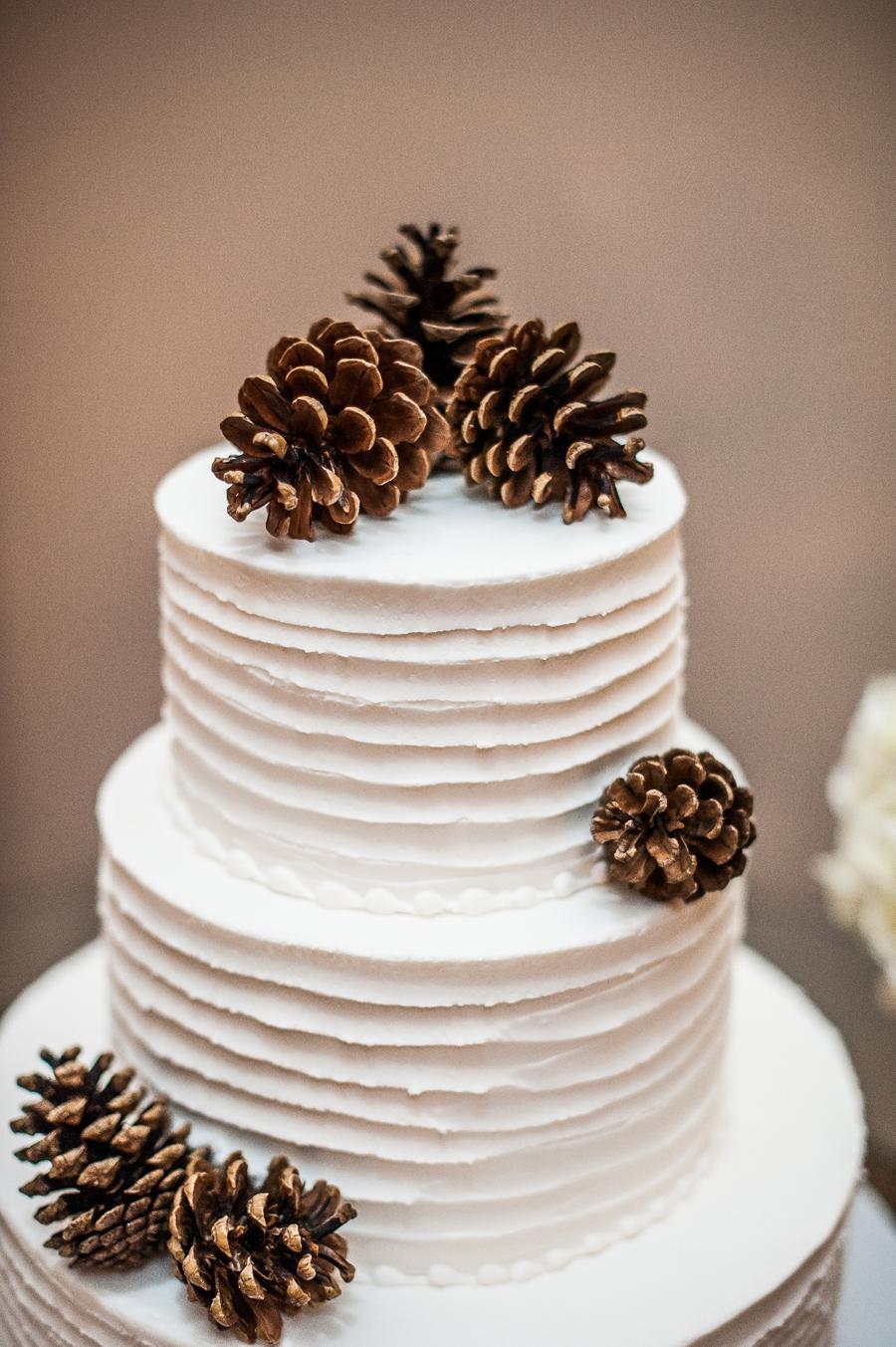 You can certainly stick with a traditional two-tiered, all white wedding cake if you're opting for something simple, but consider taking it up a notch with a few beautiful pinecones. They look lovely as they are but could also be painted with gold for even more elegance.
18. Ombre Simple Wedding Cake with Pink Roses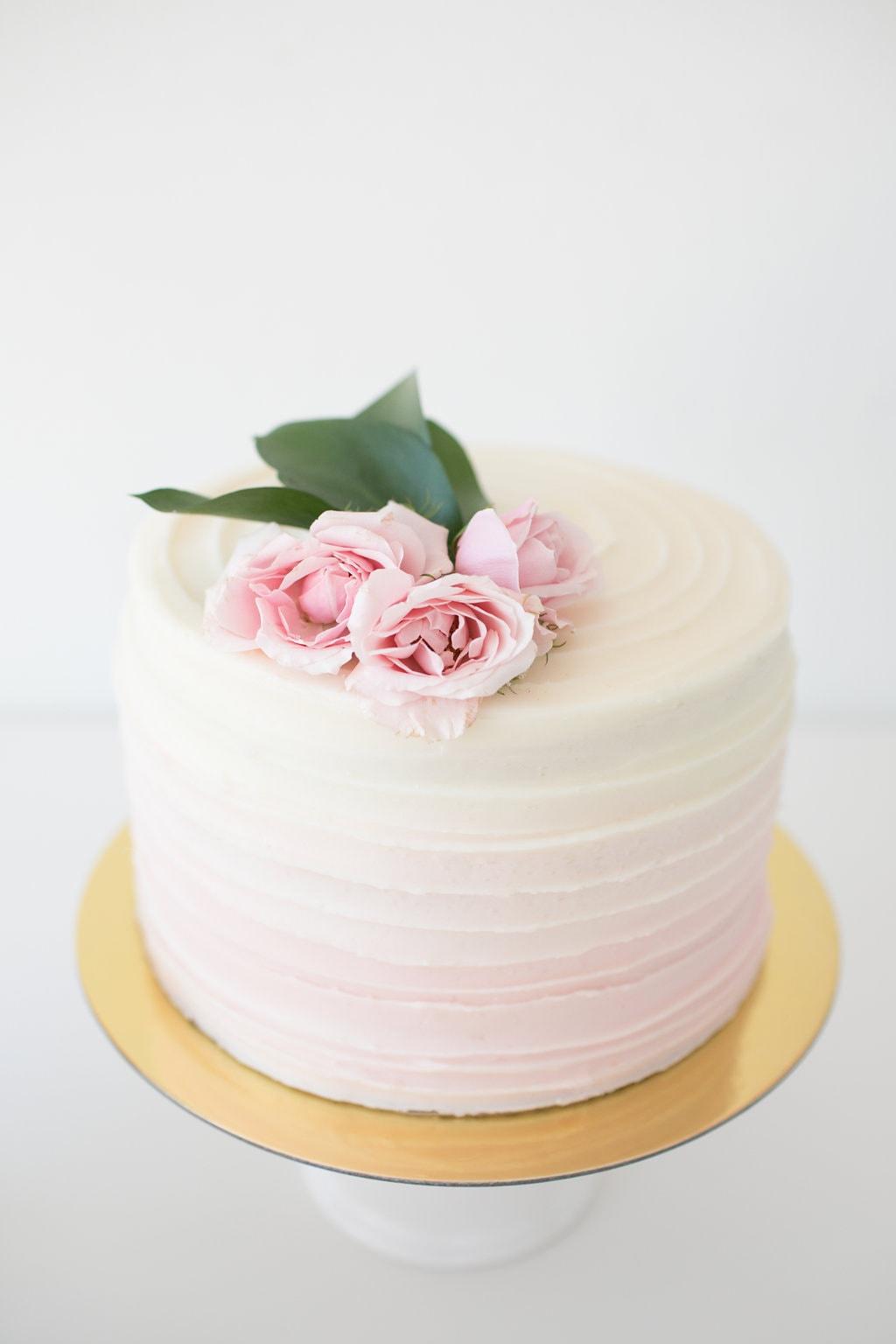 This vanilla cake is a fail-safe option for all wedding tastes. The subtle blush ombre icing is romantic and looks really pretty with pink roses.
19. Simple Wedding Cake with Daisies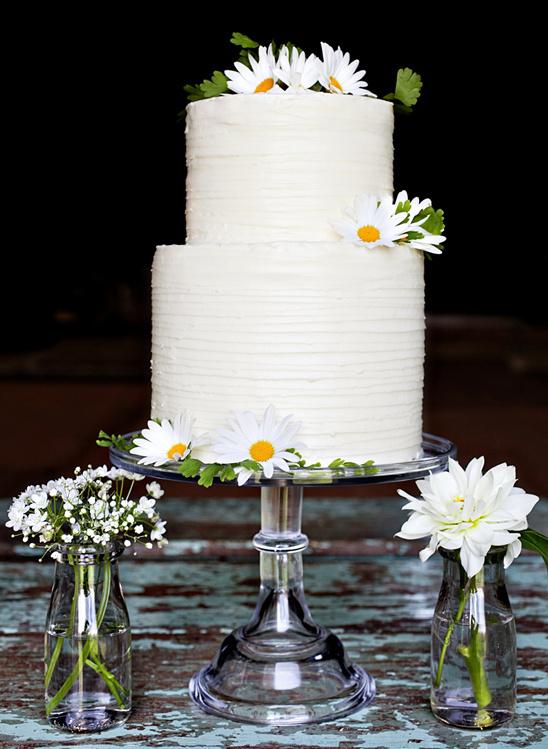 The couple who had this simple wedding cake got married at a barn yard venue. The dainty daisies matched perfectly with the rustic flower filled meadows where they said 'I do'.
20. Eucalyptus Simple Wedding Cake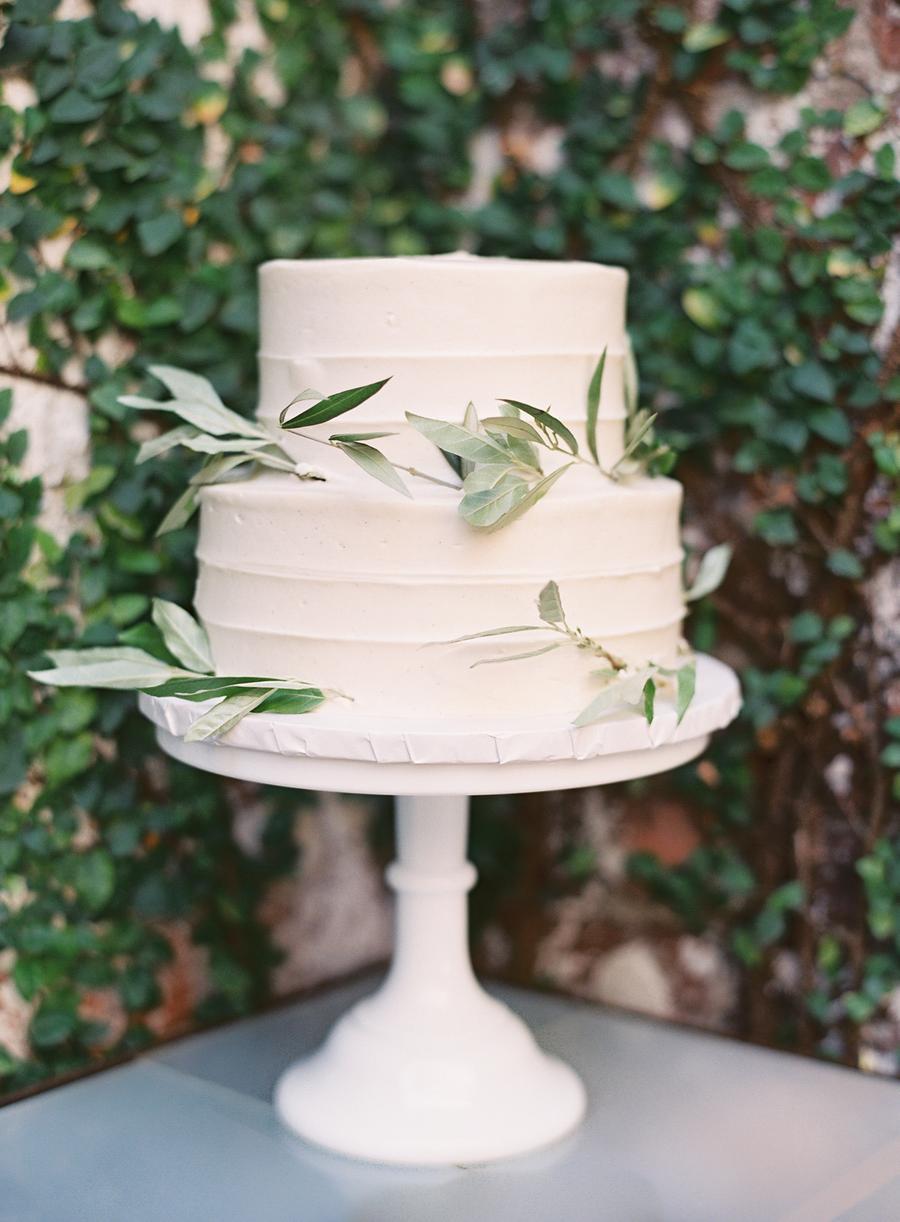 Eucalyptus is a popular choice when it comes to wedding cake décor and this stunning cake proves why. It's an evergreen plant so can be used no matter season you're getting married in, plus with over 300 species available it won't be hard to get hold of!
Don't miss interesting posts on Onnewslive