More and more people are intolerant to gluten: this substance that is found in wheat flour but also in barley, oats or rye. Present even in mustard or in some soy-type sauces, it hides in almost all our dishes and it is not always easy to find suitable recipes. Fortunately, there are alternatives (corn, buckwheat) and of course other foods are allowed (vegetables, meats, fish). Who said that eating gluten-free necessarily means eating tastelessly? From the aperitif to the dessert, we have found for you 7 gluten-free and tasty recipes present on the web: it makes you hungry!
Quiche without dough
Ingredients (6 pers): 3 eggs, 1/2 liter of milk, 100 g of corn starch, 2 slices of ham,
100 g grated gruyere, 10 g butter, salt, pepper
Preparation: 20 min
Cooking: 40 min
1. In a bowl, pour corn starch. Add the eggs one by one, beating with a whisk. Pour the milk little by little. You need to get a creamy and homogeneous paste.
2. Cut the ham slices into dice. Add them to the preparation with gruyere, salt and pepper.
3. Carefully butter a pie mold. Pour the quiche device into it.
4. Bake for 40 minutes (oven preheated to 180 °C). When it is well golden, remove it from the oven. Enjoy the warm or cold.
Vegetable cake and mozzarella
Ingredients (6 pers): 1/2 zucchini, 1/2 eggplant, 60 g candied tomatoes, 120 g of mozzarella,
4 eggs, 120 g of sweet butter, 70 g of Maizena, 70 g rice flour, basil, herbs of Provence,
1 t.a. of gluten-free yeast, salt, pepper
Preparation: 10 min
Cooking: 40 min
1. Preheat the oven th.6 (180°C).
2. Wash and finely prune the basil.
3. Whisk the eggs until the mixture becomes sparkling, add the softened butter.
4. Add rice flour, Maizena, yeast, a pinch of salt, herbs, basil. Mix to obtain a homogeneous paste.
5. Wash, peel and dice vegetables. Dice mozzarella.
6. Gently incorporate vegetables and cheese into the dough.
7. Pour the preparation into a butter mold
8. Charge for 35 to 40 min.
Tortilla de patatas
Ingredients (8 pers): 4 medium potatoes, 1 onion, 3 eggs, olive oil, salt
Preparation: 20 min
Cooking: 10 min
1. Peel and cut the potatoes into very thin slices.
2. Peel and thinly mince the onion.
3. Heat oil in a pan and cook the onion and potatoes in it under cover for 6-7 minutes, mixing from time to time.
4. Remove from the heat when the potatoes are tender.
5. Beat the eggs in a bowl and then add the mixture of potatoes, onions, salt and pepper.
6. Heat 2 tablespoons of oil in a large pan and pour the preparation.
7. Faites cuire 5 minutes de chaque côté, en retournant la tortilla à l'aide d'une assiette.
Riz sauté aux légumes, boeuf et épices
Ingrédients (6 pers) : 500 g de riz à grains longs, 250 g de carottes, 250 g de bœuf mélange d'épices,
3 oignons, 150 g d'huile, sel
Préparation : 25 min
Cuisson : 32 min
1. Sur une planche, découpez la viande de boeuf en morceaux de 1, 5 cm d'épaisseur.
2. Pelez, rincez et découpez les carottes en juliennes.
3. Épluchez les oignons puis détaillez-les en rondelles.
4. Dans une grande cocotte sur feu moyen, versez l'huile.
5. Incorporez la viande et laissez dorer.
6. Joignez-y les carottes et les oignons puis laissez cuire pendant 30 min.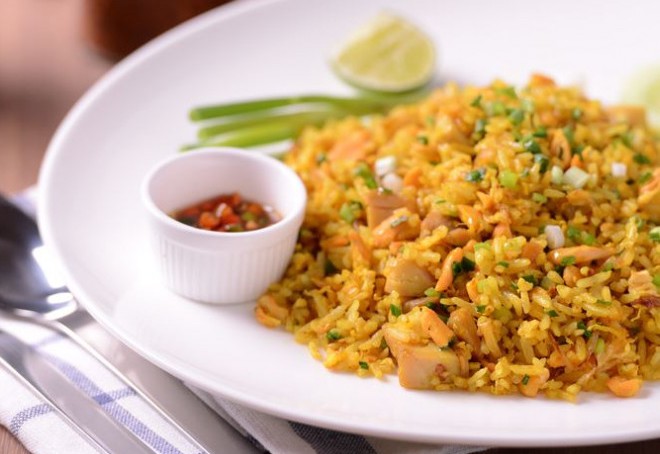 Poulet coco
Ingrédients (4 pers) : 1 poulet découpé en morceaux, 1 chou de chine, 1 igname, 2 patates douces,
2 tomates, 2 tasses de lait de coco épais, 2 oignons, 2 gousses d'ail émincées
Préparation : 15 min
Cuisson : 2 h
1. Préchauffez le four th.6 (180ºC).
2. Lavez le chou et coupez-le en morceaux.
3. Épluchez et coupez les tubercules en morceaux.
4. Épluchez et émincez les oignons et les gousses d'ail.
5. Coupez en petits dés les tomates.
6. Versez une tasse de lait de coco dans un plat allant au four.
7. Disposez tous les ingrédients dans le plat. Versez le reste du lait de coco sur ces ingrédients et couvrez.
8. Enfournez pendant 2 heures.
Quinoa façon risotto
Ingrédients (4 pers) : 250 g de quinoa, 1 courgette (moyenne), 2 carottes, 1 oignon,
2 c. à soupe d'huile, sel, poivre
Préparation : 20 min
Cuisson : 15 min
1. Épluchez les carottes et coupez en julienne, coupez les courgettes grossièrement en dés.
2. Émincez les oignons. Réservez le tout dans un même récipient. Préparez un litre de bouillon de légumes.
3. Faites chauffer votre huile dans une cocotte ou un wok.
4. Rajoutez vos légumes, faites-les revenir à feu moyen 5 min. Rajoutez le quinoa et un peu de bouillon.
5. Laissez le tout absorber le bouillon et remettez-en autant de fois que nécessaire.
6. Le quinoa cuit environ 15 min. Salez et poivrez selon votre goût.
Fondant au chocolat
Ingrédients (6 pers) : 4 œufs entiers, 200 g de beurre doux (+ 10 g pour le moule),
200 g de sucre en poudre, 200 g de chocolat noir à pâtisser, 100 g de fleur de maïs
Préparation : 15 min
Cuisson : 25 min
1. Faites préchauffer votre four à th.5 (150°C).
2. Faites fondre le chocolat dans un bol avec le beurre au four. Mélangez puis ajoutez le sucre en poudre et laissez tiédir.
3. Lorsque le mélange a tiédi, ajoutez les œufs un par un en mélangeant bien entre chaque ajout. Versez ensuite la fleur de maïs et remuez énergiquement pour ne pas former de grumeaux.
4. Enfournez le fondant et faites-le cuire 20 min à th.5 (150°C).
Don't miss interesting posts on Onnewslive