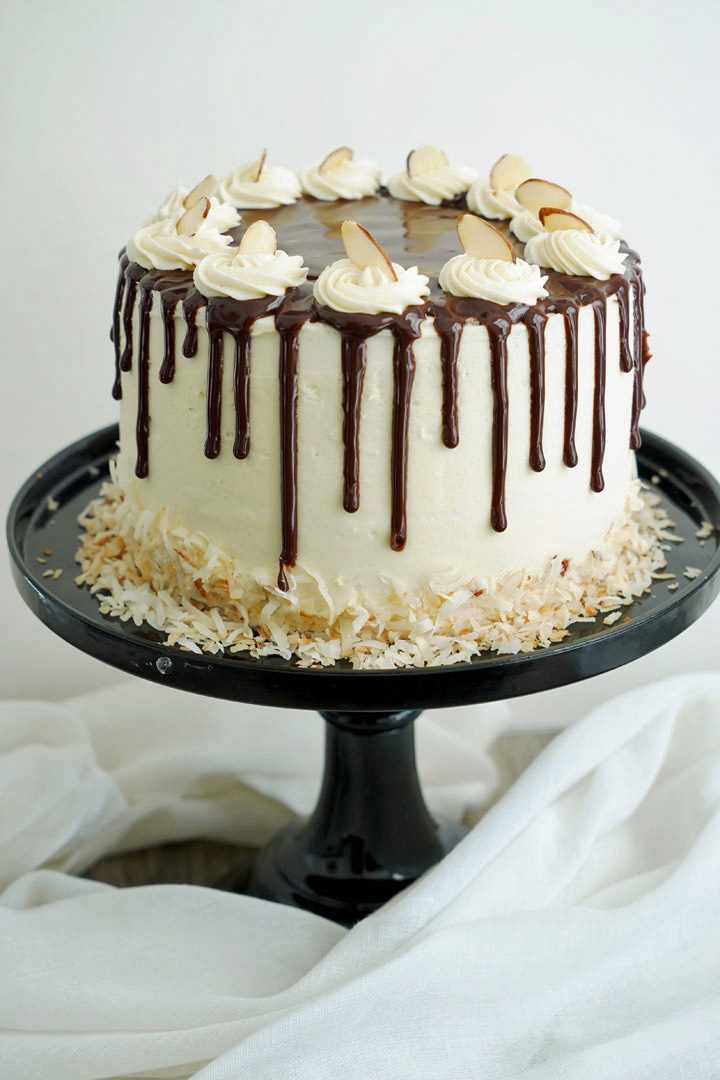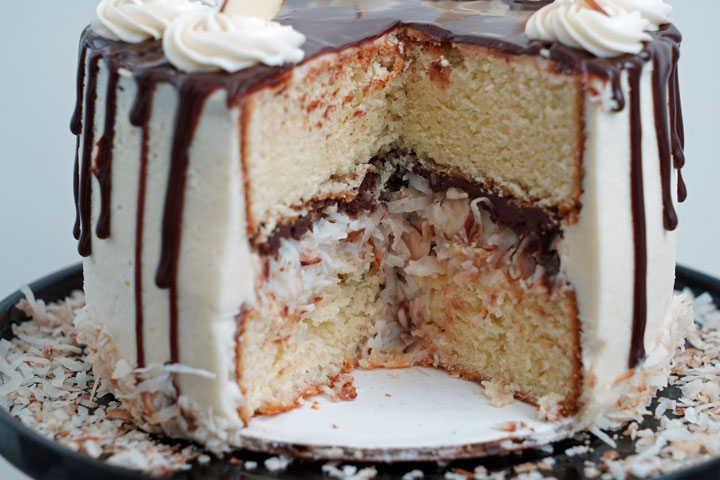 Ingredients
For the Cake
1 ½ cups cake flour, 200g
½ teaspoon baking powder
¼ teaspoon baking soda
¼ teaspoon salt
1 ⅜ cup sugar, 300g
½ cup unsalted butter, room temperature
½ cup coconut cream , such as Coco Lopez
2 large eggs , separated
1 teaspoon vanilla extract
½ cup buttermilk
Pinch of salt
Coconut Almond Filling
½ cup sweetened condensed milk
1 ½ cups sweetened shredded coconut, 280g
2-4 Tablespoons sliced almonds
Fudge Filling
½ cup chocolate
¼ cup cream
Ganache Topping and Buttercream
⅓ cup heavy cream
½ cup chocolate chips
2 cups vanilla buttercream
Instruction
For the Cake
Preheat the oven to 350 degrees Fahrenheit. Butter two 6 inch cake pans and line with parchment paper on the bottom. Flour the baking pans.
Combine the flour, baking powder, baking soda, and salt in a large mixing basin.
In a mixing basin, whisk sugar, butter, and Coco Lopez with an electric mixer until light and fluffy. One at a time, whisk in the egg yolks and vanilla extract until well combined. Alternate mixing the dry ingredients and the buttermilk in five additions on low speed, beginning and finishing with the dry ingredients. Mix until everything is well combined.
Using an electric mixer, beat egg whites until stiff but not dry in a separate large mixing dish. Fold the beaten egg whites into the batter gently.
Using a spatula, evenly distribute the cake batter between the prepared pans. Preheat oven to 350°F and bake for 30-40 minutes, or until toothpick inserted in middle comes out clean. Cool for 10 minutes in the pans on a cooling rack. To loosen the cakes, run a tiny sharp knife over the sides of the pan. Place the cakes on wire racks to cool fully.
I normally cover each cake round in plastic wrap and freeze it until I'm ready to ice it. If you don't have time, wait until your cakes are totally cold before icing them.
Coconut Almond Filling
In a mixing dish, combine the condensed milk, shredded coconut, and almonds.
Combine all ingredients and set aside.
Fudge  Filling
Bring the cream to a low boil, then pour it over the chopped chocolate in a mixing bowl.
Whisk everything together slowly with a whisk until it comes together. It should be black and silky to the touch.
Assembly
Spread the coconut almond filling on top of the first cake round on a plate (or cake card board).
On top of the coconut layer, drizzle the fudge filling. With a spatula, gently spread it out.
On top of the fudge layer, place the second cake layer.
Apply a thin layer of vanilla buttercream to the cake's top and sides. Refrigerate or freeze the entire cake for at least 30 minutes before serving.
Place a second layer of buttercream on top of the cake and refrigerate it while you make the ganache topping.
Bring the cream to a low boil, then pour it over the chocolate chunks. Whisk everything together slowly with a whisk until it comes together.
Fill a squeeze bottle halfway with ganache.
Drizzle chocolate along the cake's edges slowly. The initial drip should be tested. Allow it to cool somewhat before adding drips if it's too runny. Spread the remaining ganache on top of the cake with care.
Pipe embellishments on top of the cake with any leftover buttercream.
Notes
Coconut milk should not be used! Coconut cream is not the same as coconut milk. This cake can have a crispy top at times. If you wish to avoid it, gently saw off a tiny layer of the top with a large serrated knife before constructing the cake.
If you don't have a squeeze bottle, a spoon can be used to trickle the liquid around the cake carefully.
Make 4 layers of cake by splitting each cake round and equally distributing contents between each layer for more coconut taste in each mouthful. 1 teaspoon almond extract can be used instead of or in lieu of vanilla extract.
Source: Dessarts
Don't miss interesting posts on
Onnewslive