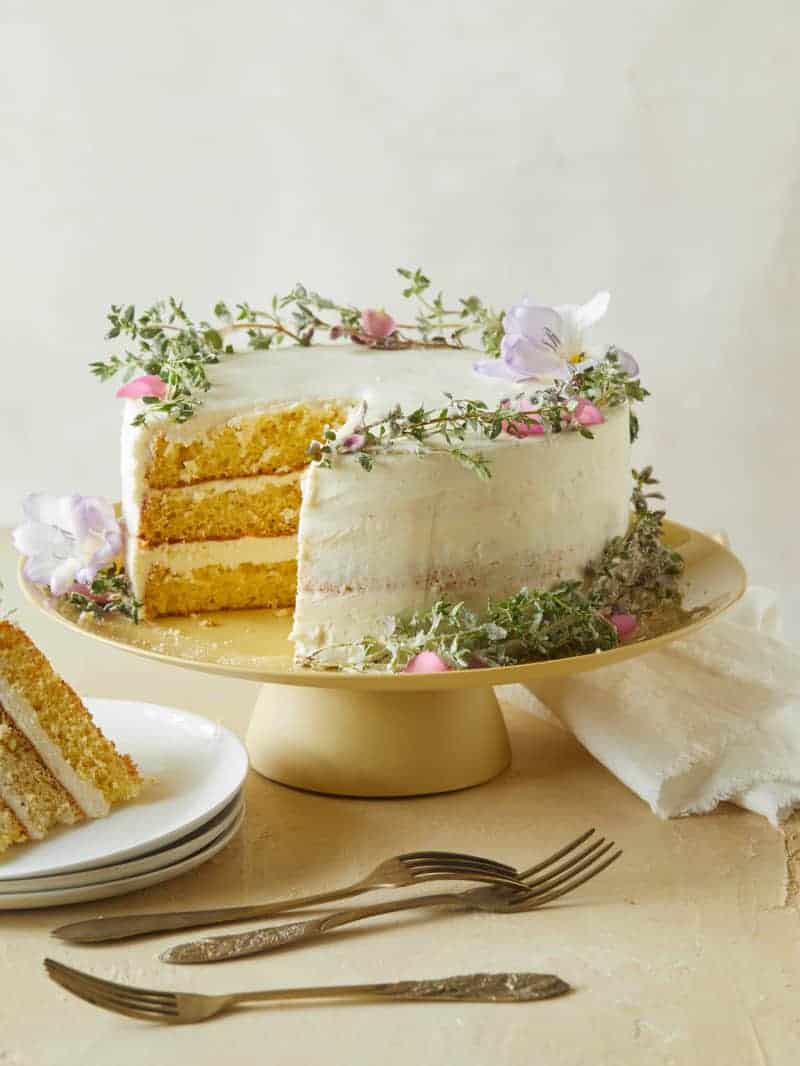 Ingredients
candied thyme
2 egg whites, beaten until frothy
20 thyme sprigs
1 cup sugar
cake
3 cups cake flour
1 ½ teaspoon baking powder
¾ teaspoon baking soda
½ teaspoon salt
1 ¾ cups superfine sugar
1 cup unsalted butter, browned and cooled
3 eggs, lightly beaten
1 ½ cups whole milk
2 teaspoons vanilla extract
frosting
½ cup (1 stick) unsalted butter, softened
4 ounces cream cheese, softened
2 tablespoons honey
2 ½ to 3 cups powdered sugar, sifted
1 teaspoon vanilla extract
milk, as needed (1 tablespoon at a time)
garnishes
candied thyme sprigs
edible flowers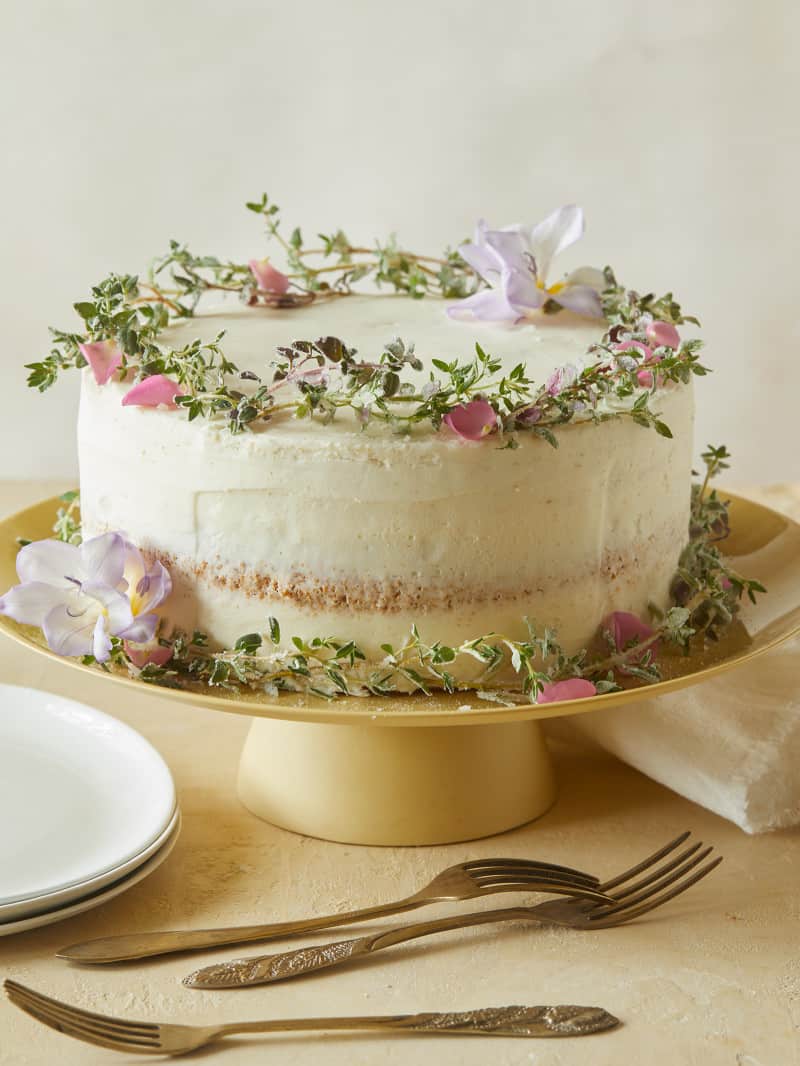 Instructions
Preheat the oven to 350˚F
To make candied thyme, fully immerse each sprig in the frothed egg whites and shake off as much excess as possible. Dredge each sprig in the sugar until it is completely covered, brushing off any excess. Allow each coated thyme sprig to dry for at least one hour on a baking sheet fitted with a cooling rack (can be made 1 to 2 days ahead of time).
For the cake: Whisk together flour, baking powder, baking soda, and salt in a mixing dish.
Whisk together the sugar, butter, and eggs in a separate mixing basin. Whisk the flour mixture into the egg mixture until it is extremely thick and well mixed.
Stir in the other ingredients until the batter is smooth and well combined.
Pour the batter into three prepared cake pans (with parchment-lined bottoms and lightly oiled sides) and bake for 25 to 30 minutes, or until a toothpick inserted in the middle of the cake comes out clean.
Allow 15 to 20 minutes for the cakes to cool in the pans before removing them and allowing them to cool fully.
To make the frosting, beat together the butter, cream cheese, and honey in a stand mixer fitted with a paddle attachment (or an electric hand mixer) until light and fluffy. 12 cup sugar at a time, until well combined and most lumps are gone. Continue to beat until light and frothy, adding vanilla as needed. (If the frosting is too stiff, add 1 tablespoon of milk at a time until it reaches the desired consistency.)
To assemble, follow these steps: Cover one of the cakes with a thin coating of frosting and invert the second cake on top (so both cake circle tops are touching one another). Rep with the last cake layer, stacking all three on top of one another.
Using a thin layer of frosting, frost the entire cake.
Continue to adorn the cake with various edible flowers and petals after placing a 'crown' of thyme sprigs around the base and top. Serve.
Notes
*This recipe makes 3 (8″) cakes.
*To brown butter, put it in a pot and melt it over low heat. Once the butter has melted, reduce the heat to medium-low and continue to simmer until the butter emits a nutty aroma and turns a light brown color. Allow butter to cool before scraping the browned, toasted pieces from the bottom of the pan.
After the initial application, leave the cake in the refrigerator for at least 30 minutes if you want extra frosting around it. Coat the cake with another layer of frosting and smooth the frosting on top of the cake after it has firmed up before adding the toppings.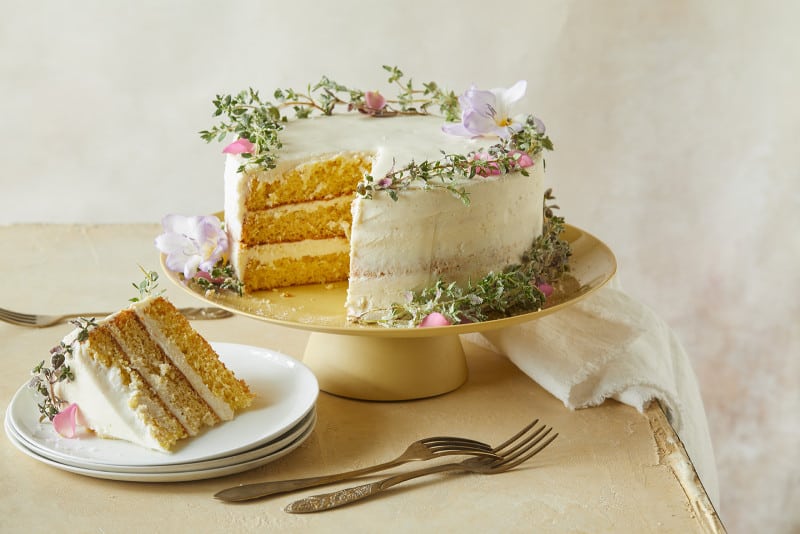 Source: Spoon Fork Bacon
Don't miss interesting posts on
Onnewslive