Celebrate the start of Spring with this layered carrot cake lightly frosted with brown sugar cream cheese. Minimally decorated with fresh carrots, this is an easy cake everyone can make!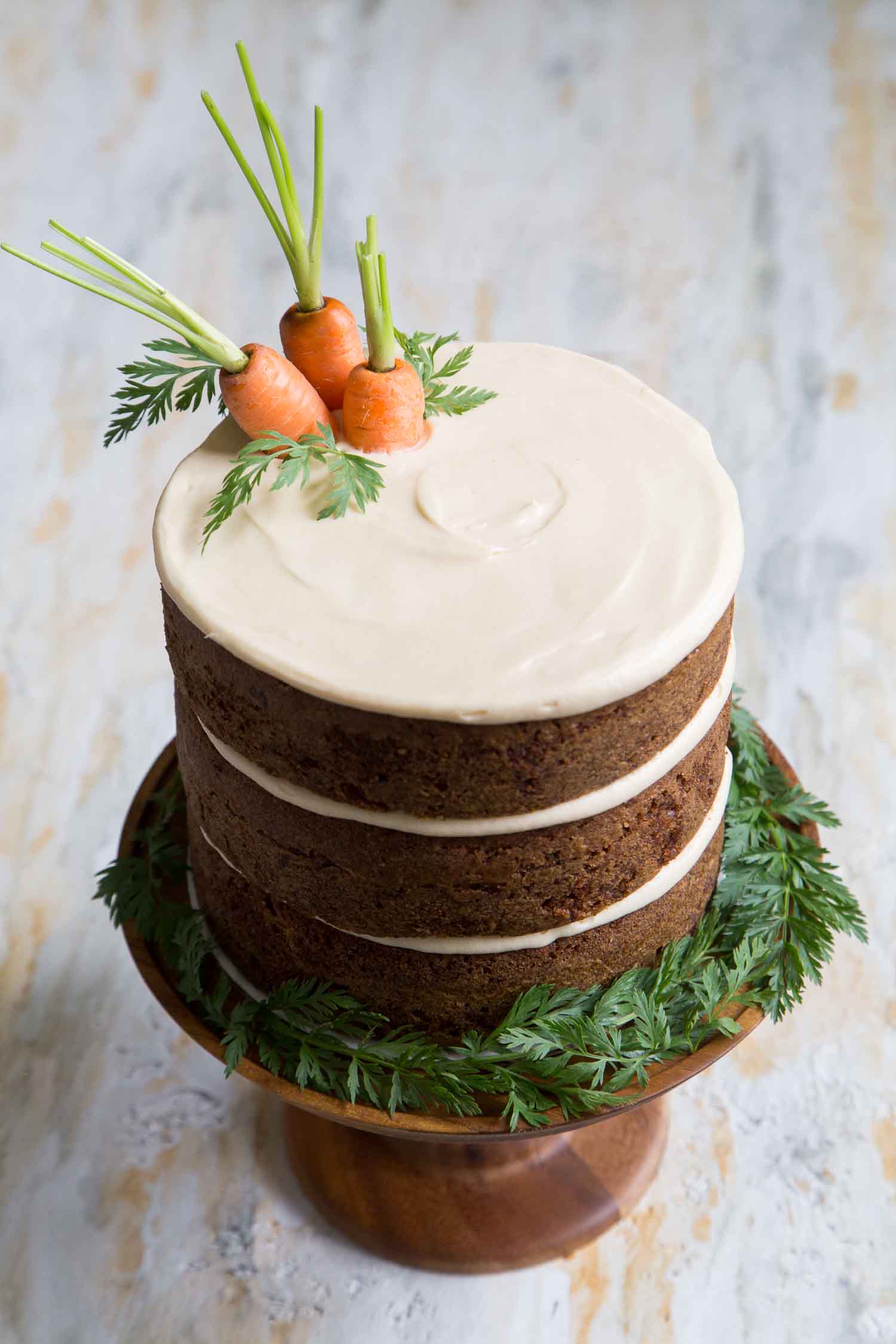 Ingredients
Carrot Cake:
3 cups (370 g) all-purpose flour
1 Tablespoon baking soda
2 teaspoons baking powder
1 ½ teaspoons fine sea salt
2 teaspoons (7 g) ground cinnamon
1 ½ cups (295 g) granulated sugar
½ cup (100 g) brown sugar, packed
4 large eggs (218 g)
1 ½ cups (328 ml) vegetable oil
½ cup (120 ml) whole milk
1 Tablespoon (15 ml) pure vanilla extract
3 cups (303 g) grated carrots
1 ½ cups (150 g) toasted walnuts, roughly chopped
Brown Sugar Cream Cheese Frosting:
8 oz (240 g) cream cheese
½ cup (113 g) unsalted butter, room temperature
½ cup (100 g) light brown sugar, packed
1 teaspoon molasses
2 cups (212 g) confectioners' sugar
½ teaspoon fine sea salt
1 Tablespoon sour cream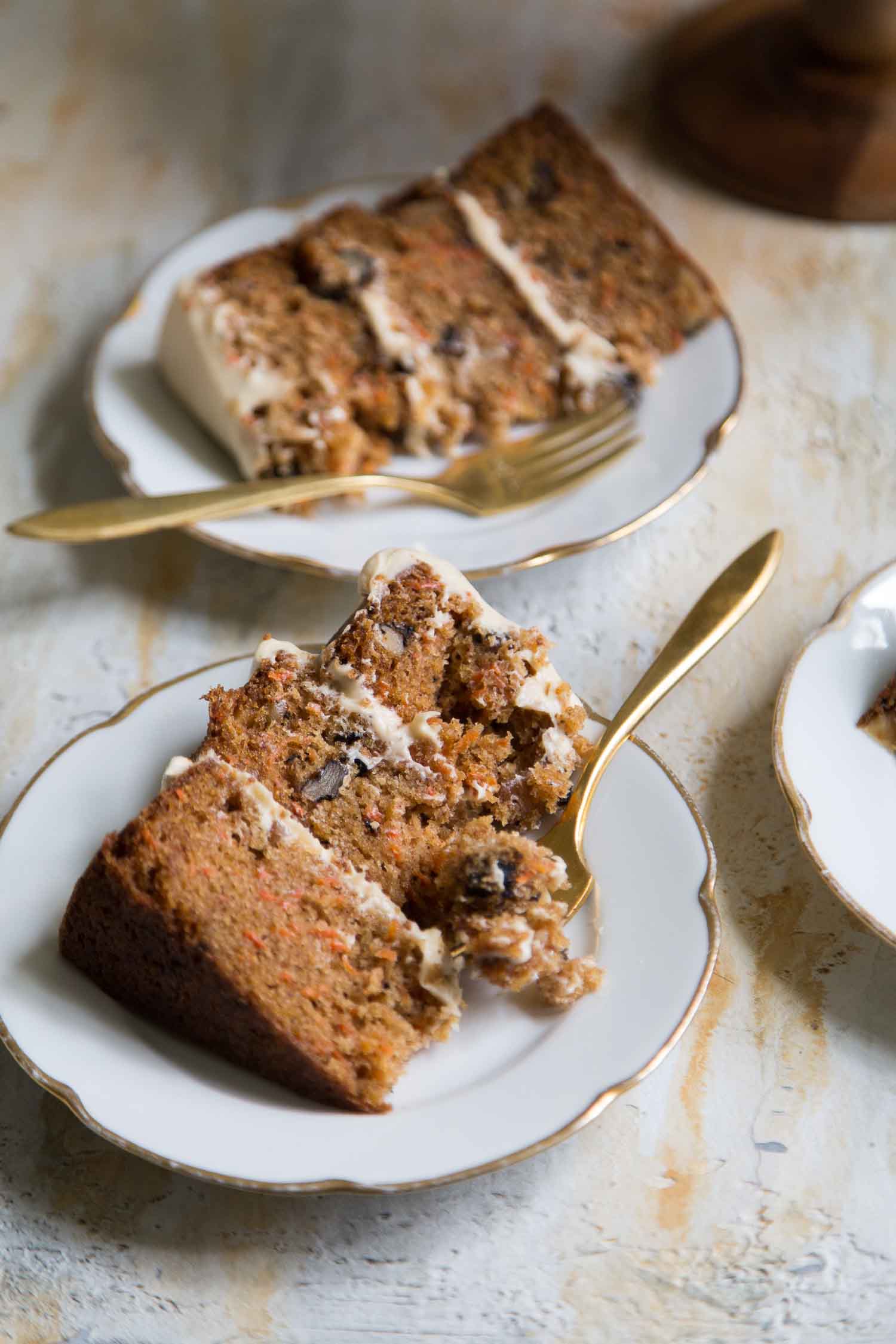 Instructions
Preheat oven to 350°F. Butter and lightly flour four 6-inch round cake pans (or three 8-inch round cake pans). Tap out any excess flour. Line cake pans with parchment paper and set aside.
In a large bowl, whisk together flour, baking soda, baking powder, salt, and cinnamon. Set aside.
In the bowl of stand mixer fitted with a paddle attachment (or using a hand mixer), beat together sugars, eggs, vegetable oil, milk, and vanilla until smooth.
Add half of dry flour mixture to mixing bowl and stir together. Add grated carrots and continue mixing. Add remaining dry flour mixture and chopped walnuts. Mix until just combined and there are no longer any dry streaks of flour.
Distribute cake batter evenly among prepared cake pans. Bake 6-inch cakes for 40-45 minutes (or 8-inch cakes for 35-40 minutes), until a toothpick inserted in center of cake comes out clean. Rotate cakes midway through baking. Allow cake layers in cool in pan for 5-8 minutes. Unmold cake layers and allow to cool completely on wire racks.
Brown Sugar Cream Cheese Frosting:
Using a stand mixer fitted with a paddle attachment (or a handheld mixer), beat together cream cheese and butter until smooth. Scrape down the sides of the bowl as needed to ensure thorough mixing. Add brown sugar, molasses, powdered sugar, salt, and sour cream. Beat until smooth and creamy.
Assembly:
If necessary, level cake layers once completely cooled to room temperature. Place one cake layer on cake board (or serving plate). Pipe a ring of frosting along the outer perimeter of cake. Fill in the center by continuing to pipe spiral.
Place second cake layer on top. Gently press cake layer down to secure. Pipe layer of frosting. Repeat with remaining cake layers. Use a mini offset spatula or the smooth end of butterknife, to smooth the top layer of frosting. Let assembled cake chill in the fridge for at least 15 minutes to allow frosting to harden.
Allow cake to sit at room temperature for 15-20 minutes to soften before serving.
Decorate cake with sliced carrot and carrot top greens.
Notes
Store cake slices in an airtight container in the fridge for up to 3 days. Warm to room temperature before eating.
Omit nuts, if desired. Pecans or pistachios are a great substitute.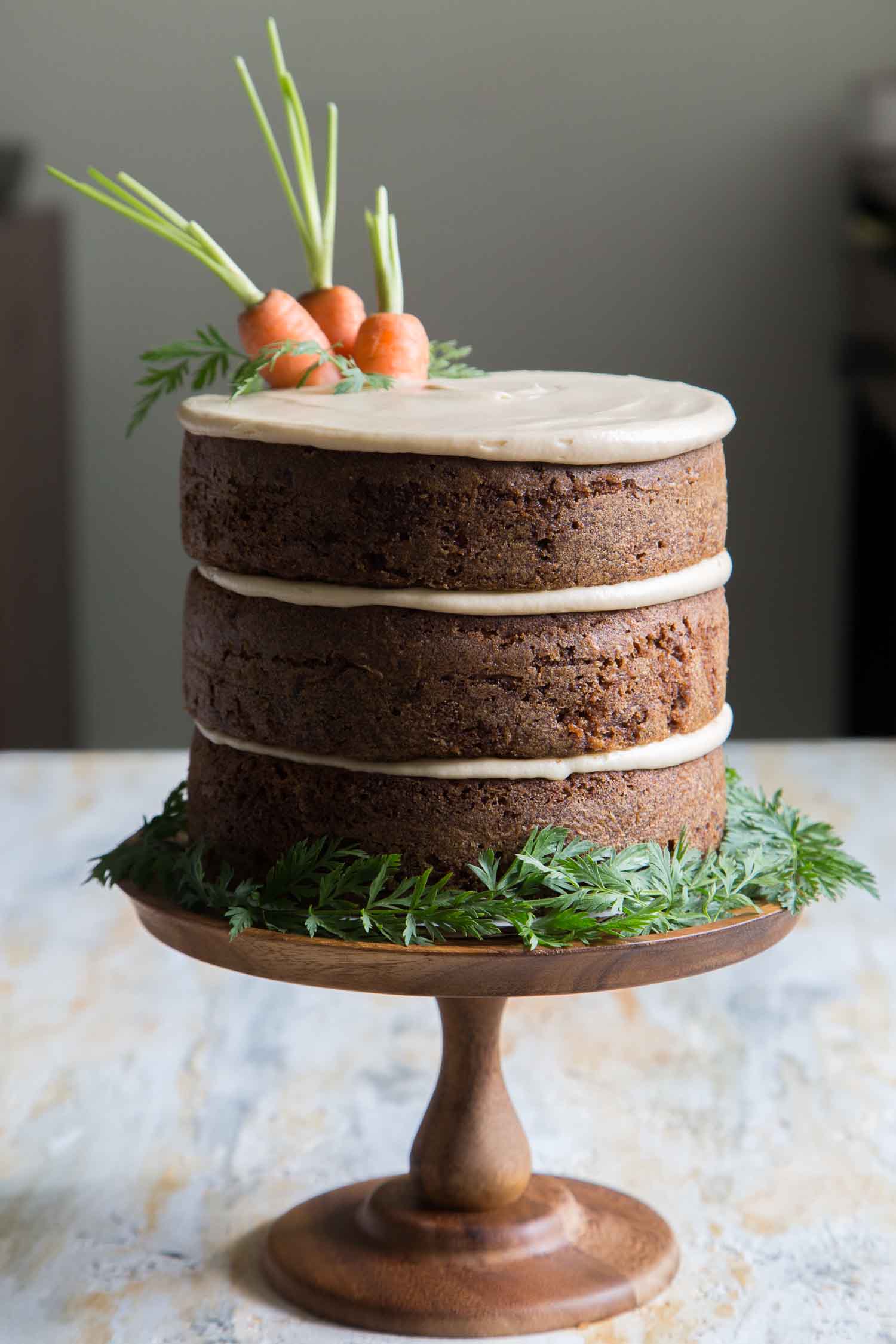 Source: The Little Epicurean
Don't miss interesting posts on Onnewslive