This Chai Layer Cake features three layers of chai infused cake frosted with vanilla bean Swiss buttercream.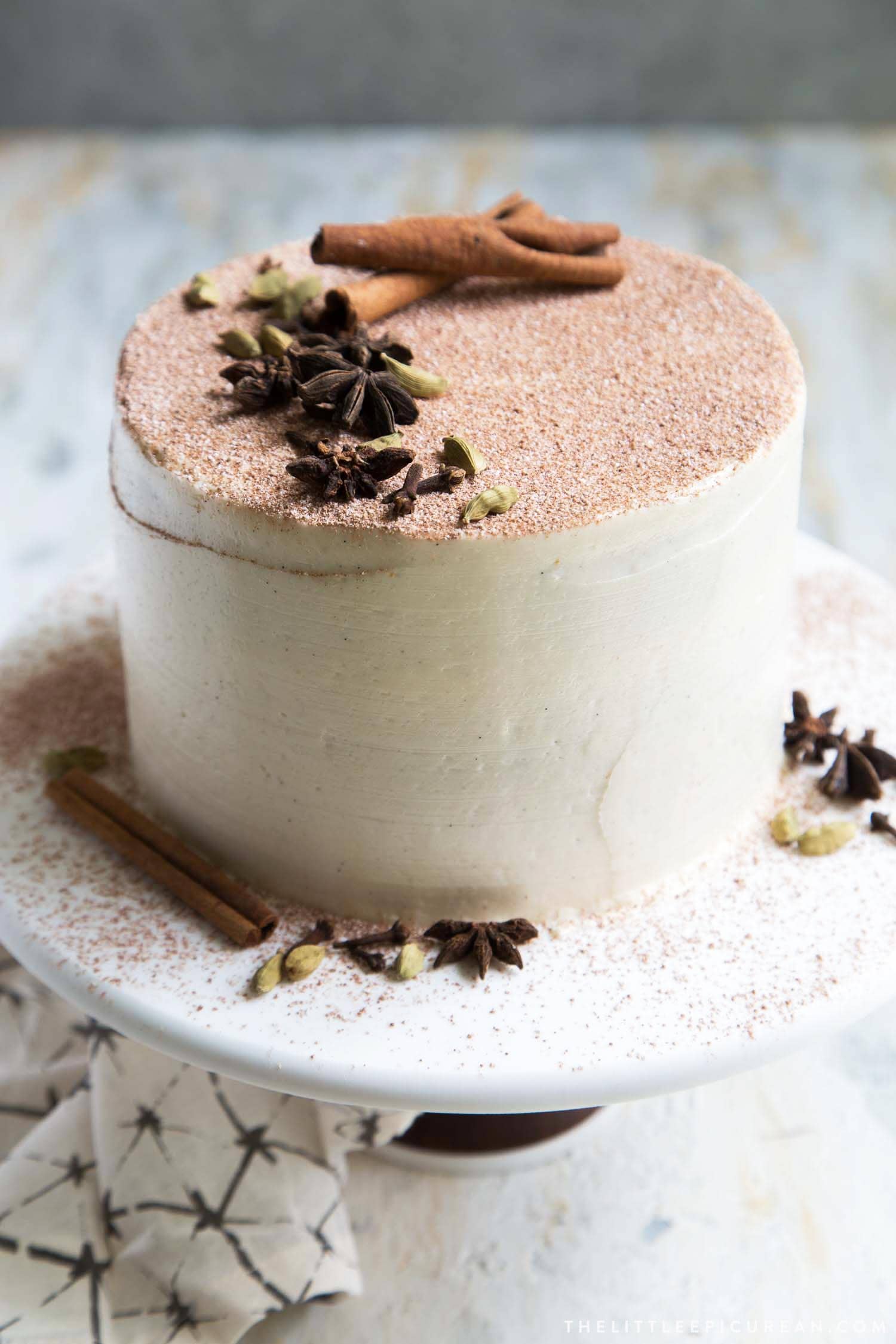 Ingredients
Chai Cake:
1 cup whole milk
4 chai tea bags
2 ½ cup cake flour
1 ¼ cup granulated sugar
2 teaspoon baking powder
½ teaspoon kosher salt
1 teaspoon ground cinnamon
¼ teaspoon ground ginger
¼ teaspoon ground cardamom
¼ teaspoon ground cloves
1 cup unsalted butter, room temp
3 large eggs, room temp
2 teaspoon pure vanilla extract
Swiss Buttercream:
½ cup egg whites
1 ½ cup granulated sugar
2 cup unsalted butter, sliced into tablespoons, room temp
½ teaspoon kosher salt
½ Tablespoon vanilla bean paste*
Dusting Powder:
2 Tablespoon powdered sugar
1 teaspoon unsweetened cocoa powder
1 teaspoon ground cinnamon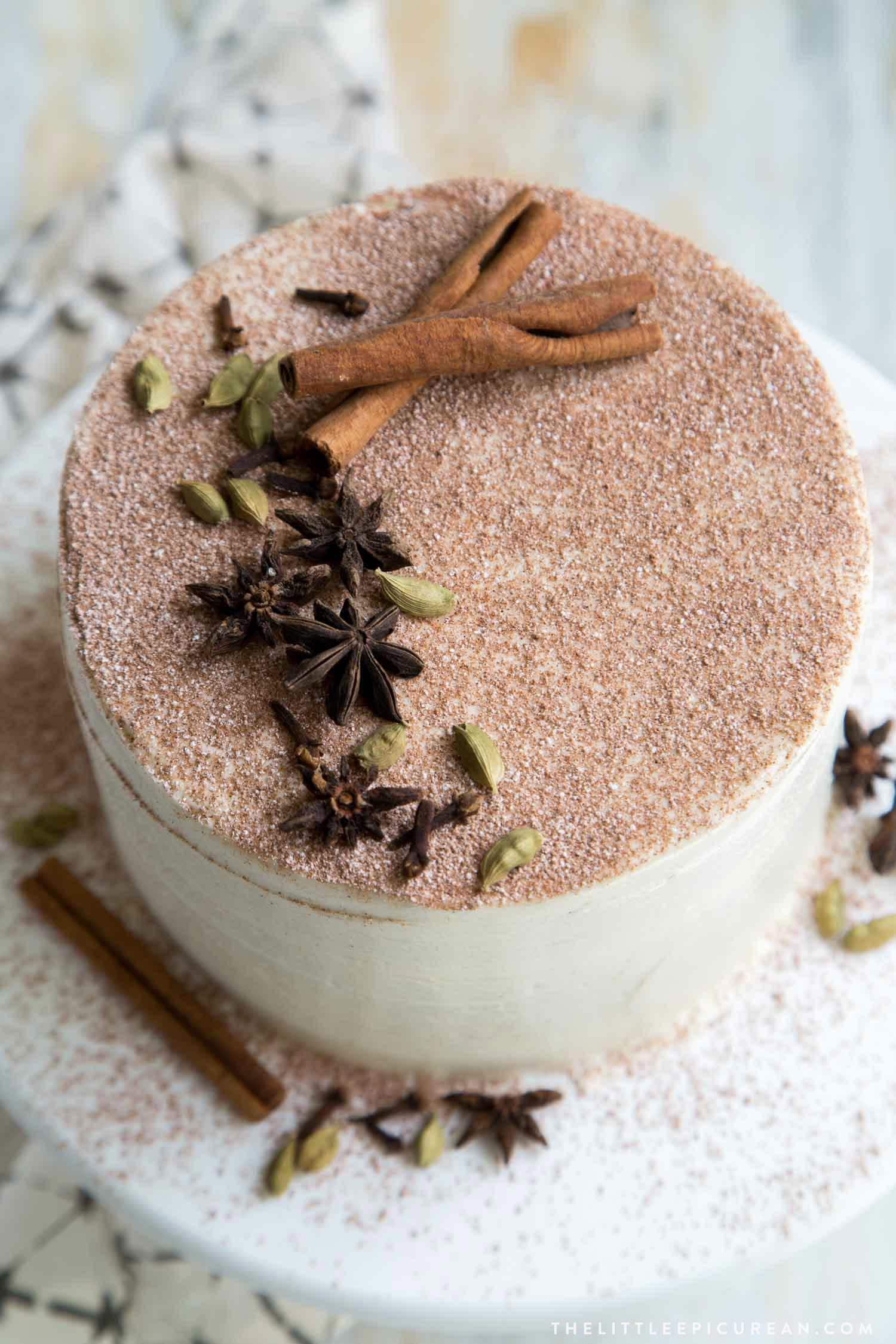 Instructions
Chai Cake:
Bring milk to a boil and remove from heat. Add tea bags and steep for 30 minutes. Strain out tea. Squeeze out as much liquids from the tea as possible. Discard tea bags. Measure remaining liquid. Add additional milk as necessary until you have 1 cup of liquid. Set aside.
Preheat oven to 350 degrees F. Butter three 6-inch round cake pans. Line with parchment paper and set aside.
In the bowl of stand mixer fitted with paddle attachment, combine 2 cups flour (reserve remaining 1/2 cup flour), sugar, baking powder, salt, cinnamon, ginger, cardamom, and cloves. Add butter in three additions. Continue to mix on low speed until mixture is crumbly like coarse sand.
In another bowl, whisk together tea infused milk, eggs, and vanilla until smooth. Add half of liquid mixture to stand mixing bowl. Mix on medium speed until incorporated. Add remaining liquid mixture and mix until batter is combined. The batter will look curdled. Add reserved 1/2 cup of flour and mix until batter comes together.
Evenly distribute batter among prepared cake pans. Bake for 30-35 minutes until toothpick inserted in center of cake comes out clean. Allow cake to cool in pan for 10-15 minutes. Run an offset spatula along the sides of the cake pan to loosen cake. Invert cake onto a wire rack and allow to cool to room temperature.
Swiss Buttercream:
In the bowl of a stand mixer, whisk together egg whites and sugar. Place bowl over a pot of simmering water to create a bain-marie or double boiler. Make sure the simmering water does not touch the bottom of the bowl. Whisk sugar-egg mixture until it reaches a temperature of 160 degrees F.
Alternatively, if you don't have a thermometer, heat the mixture until all the sugar has melted. Test this by dipping your pointer finger into the mixture and rubbing it against your thumb. The mixture should be smooth. You should not be able to feel the granules of sugar.
Return bowl to the stand mixer. Using the whisk attachment, beat mixture at medium speed until it has cooled to room temperature and meringue has started to from. Reduce speed to low and add butter one tablespoon at a time.
Once all the butter has been incorporated, add salt. Increase speed to medium-high and continue to beat until buttercream is light and fluffy. Add in vanilla bean paste and mix until distributed.
Assembly:
Level cake layers as necessary. Place one cake layer on serving platter or cake turntable. Spread about 1/3 cup of buttercream on cake. Place second cake layer and repeat adding butter. Repeat with third cake layer.
Spread a layer of buttercream around the sides of the cake to seal in the crumbs (crumb coat). Place cake in the fridge and allow to chill for 15 minutes to set the buttercream.
Add another layer of buttercream as desired. Garnish with dusting powder and spices as desired.
Dusting Powder: In a small bowl, whisk together powdered sugar, cocoa powder, and cinnamon. Sift mixture over assembled cake as desired.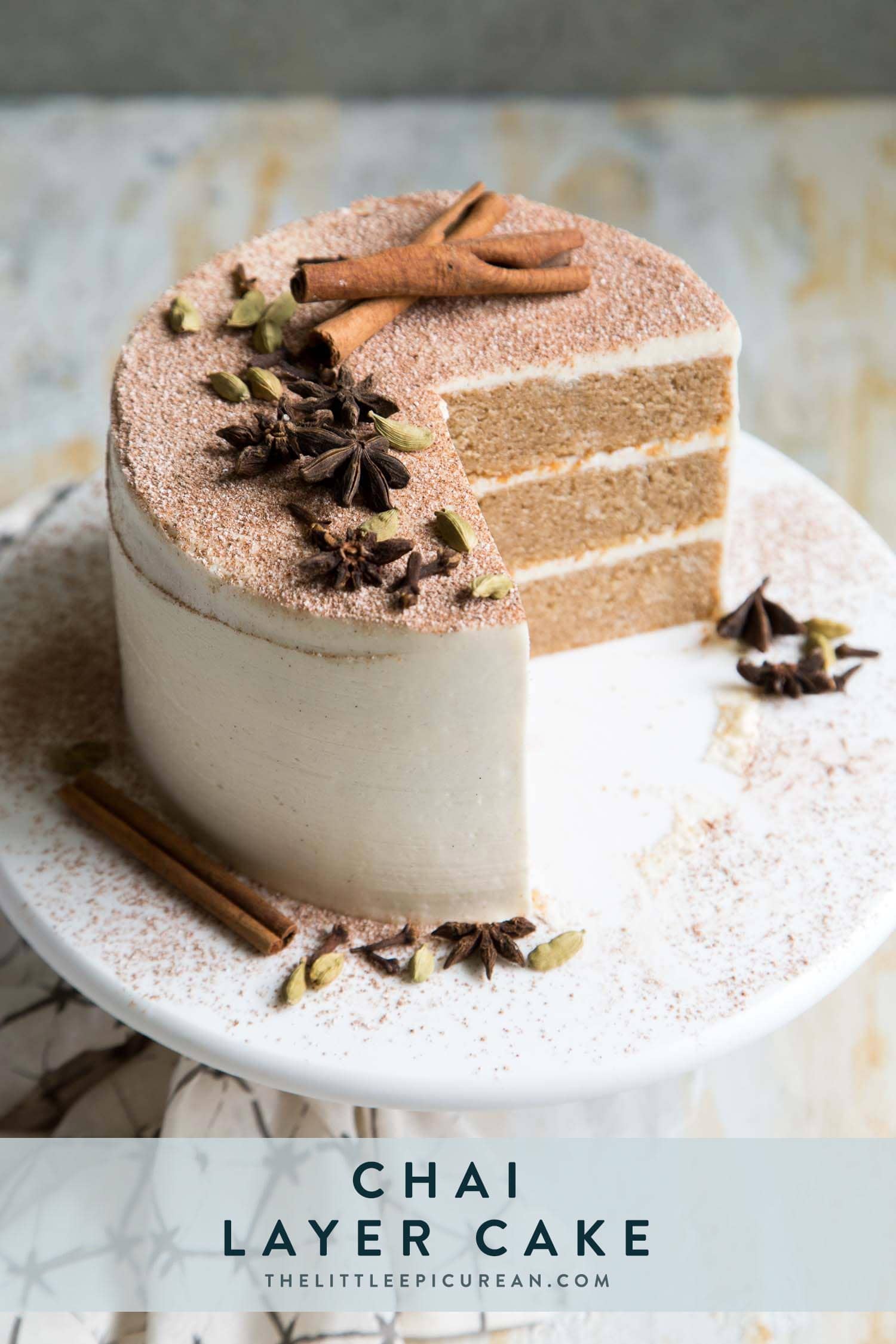 Source: The Little Epicurean
Don't miss interesting posts on Onnewslive