This chickpea chocolate no-bake cake is a delicious substitute for traditional chocolate cake. It's gluten-free, vegan, extra chocolatey, protein-rich, and fiber-rich. It also tastes fantastic!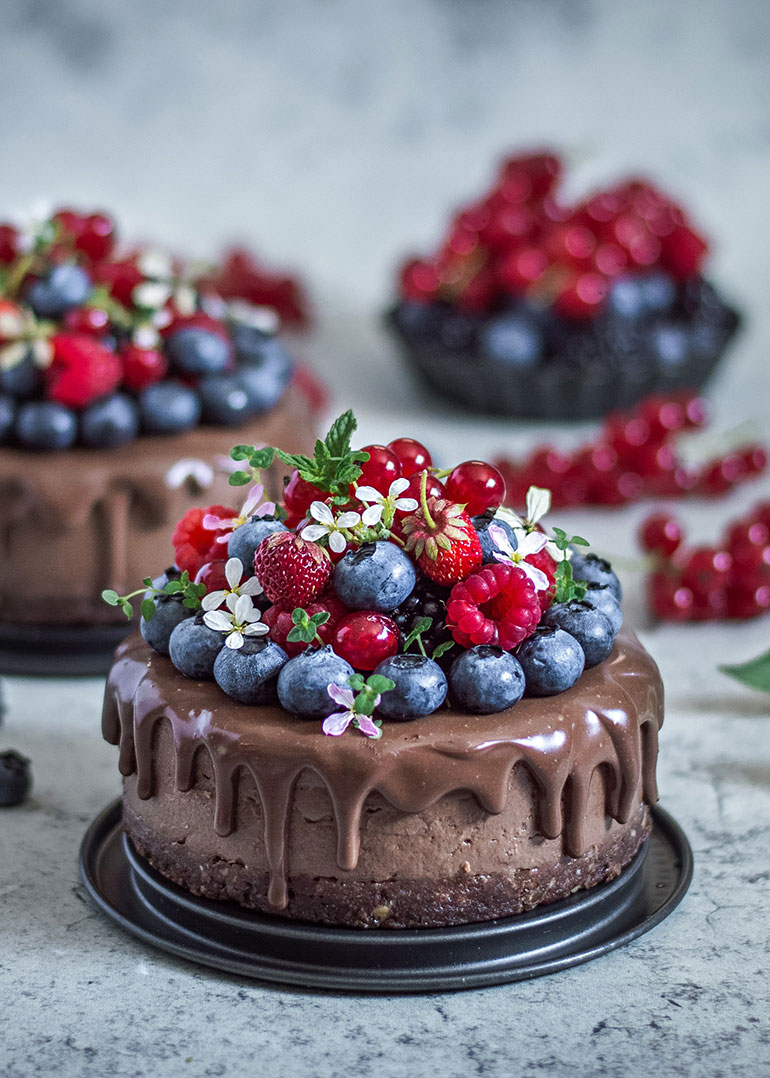 Ingredients
Crust
50 g roasted almonds
50 g roasted hazelnuts
60 g dates previously soaked in water for a minimum 1 hour
1 level tablespoon raw cacao powder
date syrup if needed, for extra sweetness
Filling
200 g chickpeas cooked and peeled
200 g dates previously soaked for 2-3 hours
100 g coconut cream the thickened coconut cream from a can of full-fat coconut milk
100 g dark chocolate
100 g roasted hazelnuts ground
Chocolate topping
Instruction
Crust
Using baking paper, line the bottoms of two tiny 10 or 11 cm springform cake pans.
In a food processor, grind the almonds and hazelnuts until they are finely ground. Process the drained dates and cacao powder until the mixture comes together. If required, add date syrup to adjust the sweetness.
To make the foundation, divide the mixture between two cake pans and press down firmly. While you're making the filling, keep it refrigerated.
Filling
In a medium pot, melt the coconut cream and chocolate over low heat. Remove from the equation.
Place the dates in the blender after draining them. Blend in the chickpeas, melted coconut cream, and chocolate until a thick cream forms.
Process until the ground hazelnuts are fully blended. If required, adjust the sweetness.
On top of the crusts, spread the chocolate cream. Refrigerate the cakes for at least an hour, preferably overnight.
Chocolate topping
In a medium saucepan, melt chocolate over low heat. Stir until the mixture is completely smooth. Allow it to cool for a few minutes.
Blend the coconut cream, melted chocolate, and agave in a blender until smooth.
Carefully apply chocolate topping over the cakes with a teaspoon. Refrigerate the cakes for 30 minutes to enable the topping to firm up.
Garnish with berries.
Source: Rainbow in My Kitchen
Don't miss interesting posts on Onnewslive