No bake chocolate cake is a biscuit cake recipe that is wonderfully tasty and simple to create. This is how to create a simple cake without using an oven in less than 20 minutes.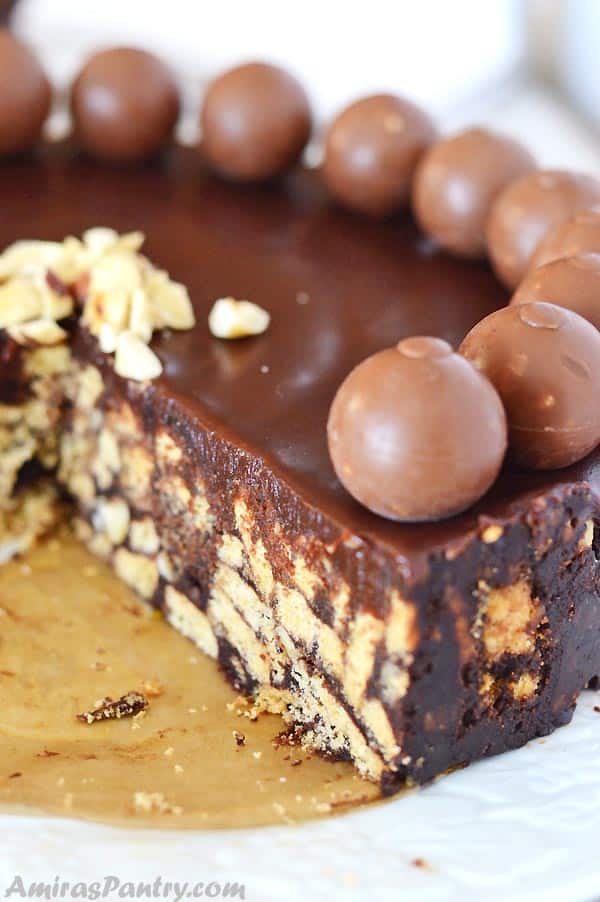 Ingredients
▢28 oz 800g digestive biscuits, or any tea biscuits.*
▢1 cup hazelnuts toasted slightly chopped.
To make the chocolate syrup:
1 cup sugar.
1/2 cup  cocoa powder.**
1 cup  water.
2/3 cup butter.
Chocolate Glaze:
4 oz semi sweet chocolate bar chopped.
1 1/2 tablespoons corn syrup.
1/2 cup heavy cream.
2 tablespoons granulated sugar.
Instructions
Break the biscuits into tiny pieces in a large basin and put aside.
Make the syrup:
Whisk together the cocoa powder and sugar in a saucepan, then add the water and continue to stir over medium heat until it boils.
Reduce heat to low and continue to cook for another 5 minutes.
Pour the syrup over the biscuit pieces and stir to combine, then fold in the chopped hazelnuts.
In a 9-inch springform pan lined with parchment paper, press the biscuit mixture. 1 hour of refrigerating
Make the glaze:
Set aside the chopped chocolate and corn syrup in a bowl.
Combine heavy cream and sugar in a sauce pan over medium heat.
Stir constantly until all of the sugar has dissolved and the liquid is hot.
Mix in the chocolate until it is completely smooth.
Refrigerate for another 4 hours, ideally overnight, after pouring the glaze over the chocolate cake.
Remove it from the pan. If desired, add some chocolate balls on the top.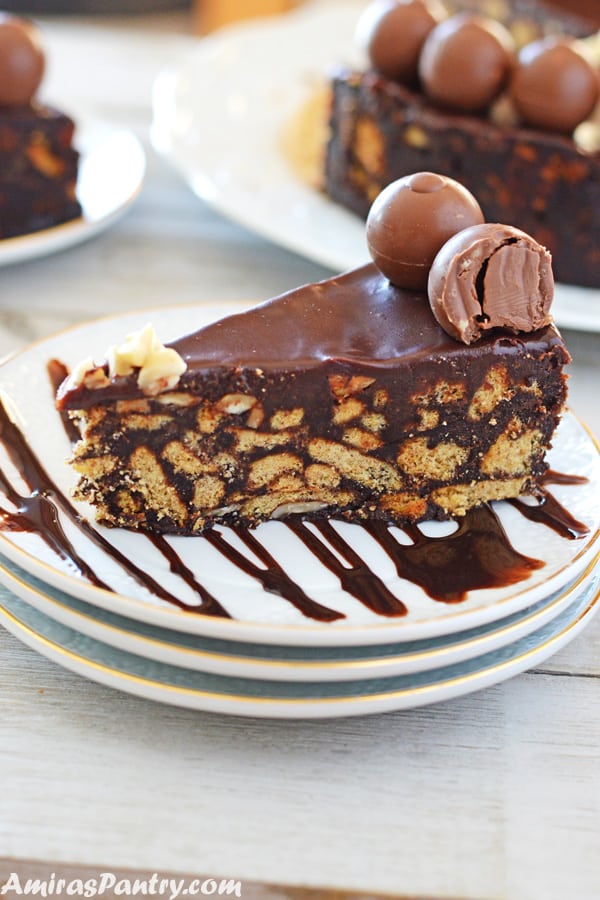 Source: Amira's Pantry
Don't miss interesting posts on
Onnewslive