This Chocolate Chip Cookie Dough Cake is made with two layers of delicious chocolate cake, and two layers of edible cookie dough then topped with ganache, frosting, and mini chocolate chip cookies!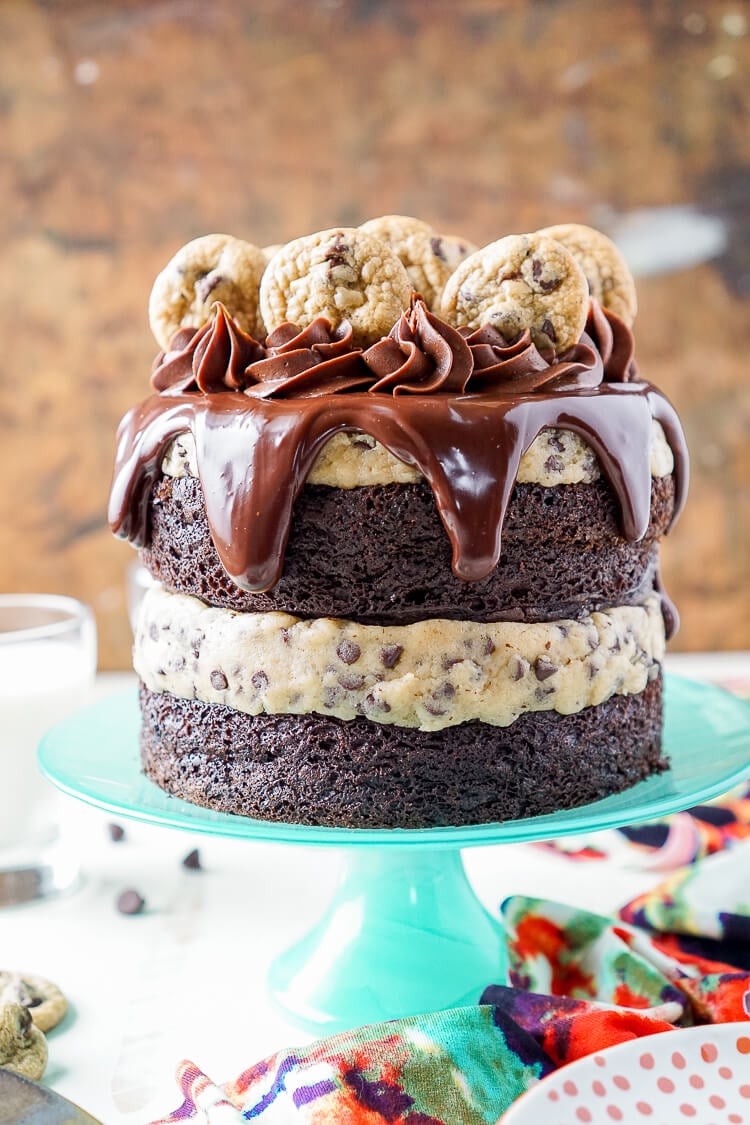 Ingredients
Cake:
1 Box Duncan Hines Dark Chocolate Fudge Cake Mix
3.9 ounce package Jell-O Instant Chocolate Fudge Pudding
4 large eggs
1 cup sour cream
¾ cup vegetable oil
½ cup milk
1 tablespoon vanilla extract
¼ tsp sea salt
1½ cup mini chocolate chips
Cookie Dough:
1 cup unsalted butter
1 cup light brown sugar
1/2 cup granulated sugar
2 teaspoon vanilla extract
1/2 cup whole milk
1 teaspoon salt
3 cups all-purpose flour
2 cups mini chocolate chips
Toppings:
1 tub chocolate frosting
Mini chocolate chip cookies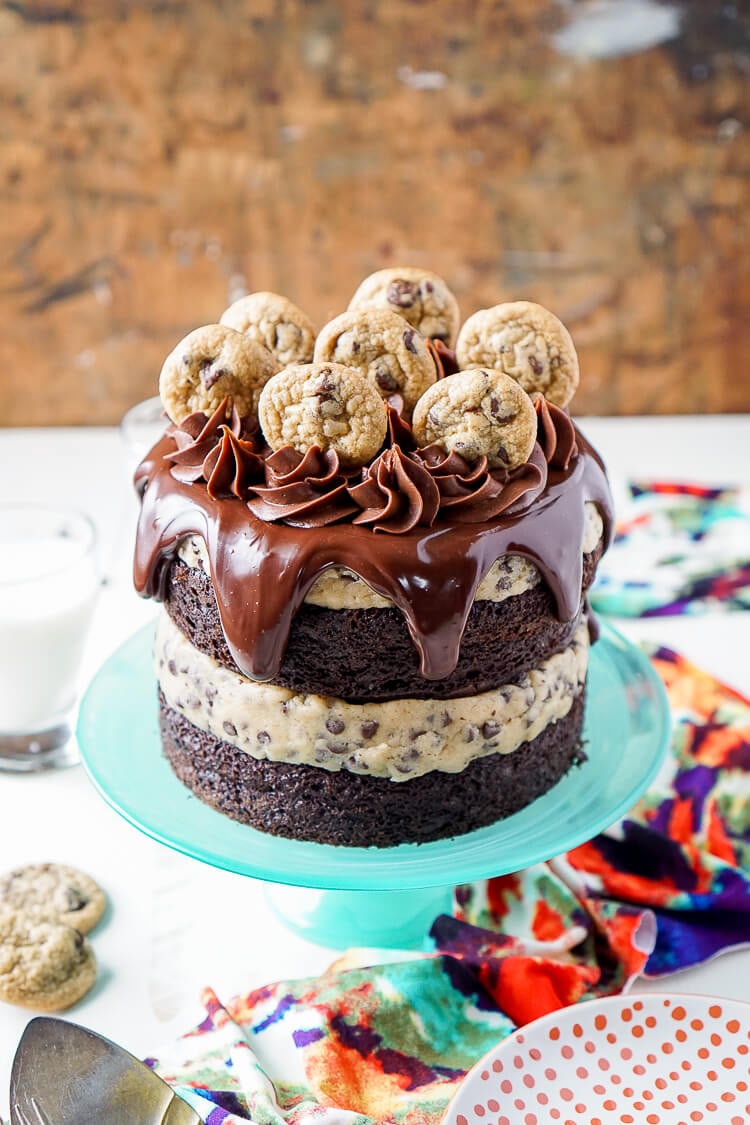 Instructions
Preheat oven to 350 degrees F and line the bottom of two 6-inch pans with parchment paper (like this) and spray with cooking spray.
Combine all cake ingredients in a large bowl or stand mixer and beat just until combined.
Add 2 cups of batter to each pan (there will be additional batter if you make this in 2 6-inch pans, you can either discard it or make cupcakes with it). Bake for 30 to 35 minutes until tops spring back when touched, transfer to a cooling rack and let cool completely.
In a large bowl or stand mixer, cream together the butter and sugars until light and fluffy.
Scrape down the sides and add vanilla and milk.
Scrape down the sides and add flour and salt and mix until combined, fold in the mini chocolate chips.
Divide cookie dough in half and use the 6-inch cake pans to shape each half of the cookie dough into layers. Again, lining with parchment paper for easy removal.
Place one of the cake layers on a cake stand, gently flip one of the cookie dough layers out onto the first cake layer, top with the second cake, then top that with the second cookie dough layer.
Scoop 1/3 of the frosting into a frosting bag or decorating tool fitted with a large star tip. Place the rest of the frosting in the tub in the microwave and melt at 30 seconds intervals stirring between each one until smooth.
Pour melted frosting over the cake and evenly spread around, let cool for 15 minutes. Pipe remaining frosting onto the top of the cake and top with mini chocolate chip cookies.
Use remaining batter to make 12 cupcakes or you can make a 9-inch cake by doing the following:
Prep two 9-inch pans the same way as above, evenly divide the batter between the two pans.
Bake cakes for 40 to 50 minutes.
Mold all of the cookie dough in one 9-inch pan and sandwich it between the two cake layers.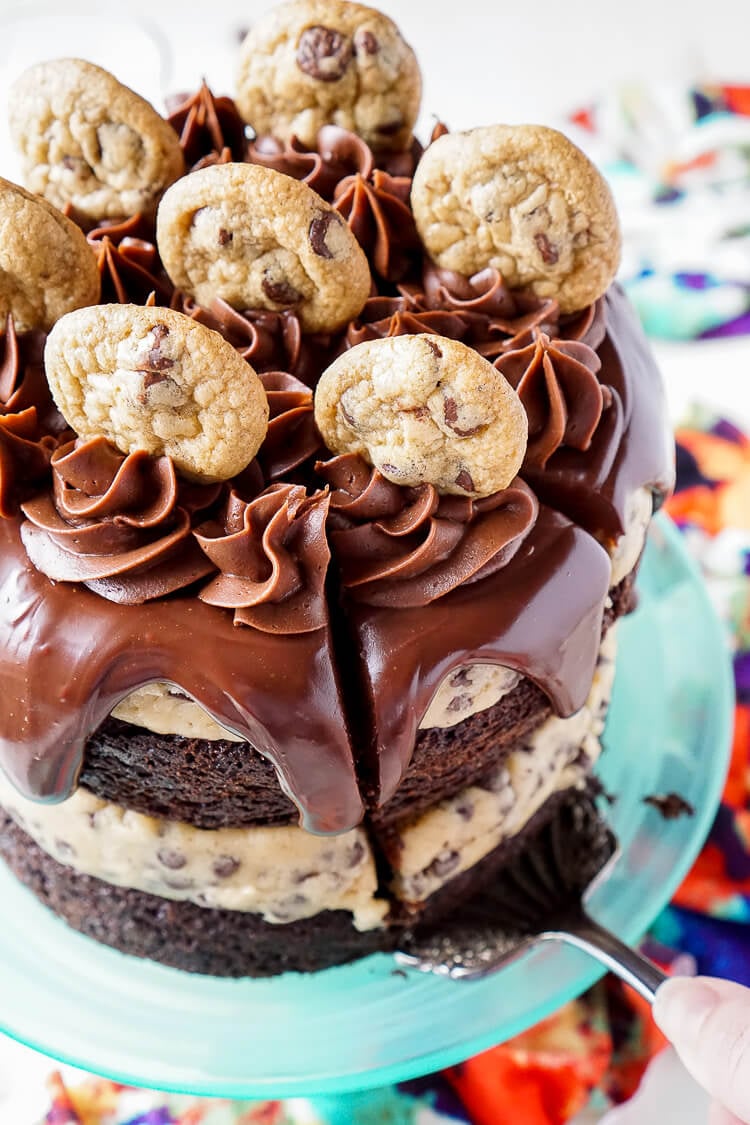 Source: Sugar and Soul
Don't miss interesting posts on Onnewslive