Carrot Cake with Cream Cheese Frosting is a delicious and easy-to-make homemade carrot cake recipe that everyone will enjoy!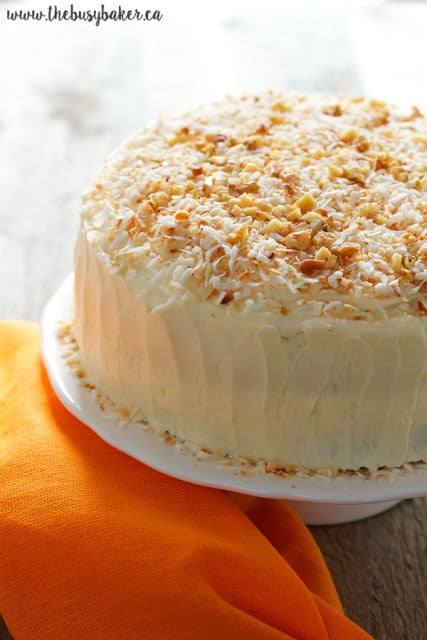 Ingredients
2 cups all purpose flour
2 cups sugar
2 tsp baking powder
1 tsp baking soda
1 tbsp ground cinnamon
1/4 tsp ground nutmeg
1/4 tsp ground cloves
1/2 tsp salt
2 cups shredded carrots
4 eggs
3/4 cup canola oil
1 1/4 cup low fat buttermilk
For the frosting:
1 cup butter at room temperature
12 oz light cream cheese at room temperature
6 cups powdered sugar
1 tsp vanilla extract
1-2 tbsp milk optional, depending on frosting consistency
For garnish:
1/2 cup sweetened toasted coconut
1/4 cup chopped walnuts
Instructions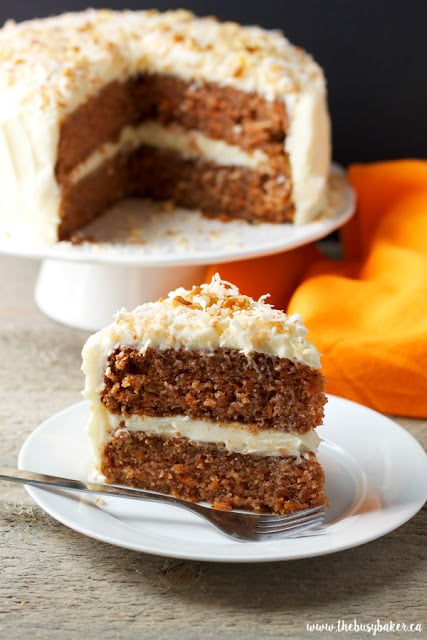 Preheat the oven to 350°F. Grease two 9-inch round cake pans and line the bottoms with a round piece of parchment paper. It's also a good idea to butter and flour the cake pans on top of the parchment paper.
In a large mixing basin, whisk together the flour, sugar, baking powder, baking soda, cinnamon, nutmeg, cloves, and salt until well blended.
In a separate bowl, mix together the shredded carrots and the dry ingredients until they're uniformly distributed.
In a separate dish, mix together the eggs, canola oil, and buttermilk well.
Pour the wet ingredients into the dry ingredients and stir them together with a rubber spatula until no flour streaks remain.
Divide the batter evenly between the two prepared cake pans and bake for 35-40 minutes at 350 degrees Fahrenheit, or until a toothpick inserted in the center of one of the cake layers comes out clean.
Remove the cakes from the pans and put them on cooling racks upside down until totally cold.
For the frosting:
In the bowl of your stand mixer fitted with the paddle attachment, place the room temperature cream cheese. Whip the cream cheese until it's creamy and smooth on medium high speed.
Whip the cream cheese with the softened butter and vanilla extract on medium speed until everything is completely blended (you might need to scrape down the sides of the bowl at this point).
One cup at a time, add the powdered sugar and beat on medium-low speed until entirely combined and thick. If the frosting is too thick to spread at this stage, add a tablespoon or two of milk to lighten it up a touch (add the milk a couple tablespoons at a time to avoid overdoing it!).
When the frosting has achieved the desired consistency and the cake has completely cooled, frost the cake with a knife or an offset spatula, ensuring a liberal layer of frosting between the layers before icing the sides and top.
Notes
You may frost the cake as you choose, whether it's with a rustic swirl design or clean upward strokes, as I did this time. After it's frosted, sprinkle it with toasted coconut and chopped walnuts, then chill it for an hour or two before slicing.
Source: The Busy Baker
Don't miss interesting posts on
Onnewslive