A extremely delicious and rich chocolate cake is infused with blood orange juice and coated with blood orange buttercream to make the ultimate dark chocolate blood orange cake. Dark chocolate ganache and candied orange segments go on top.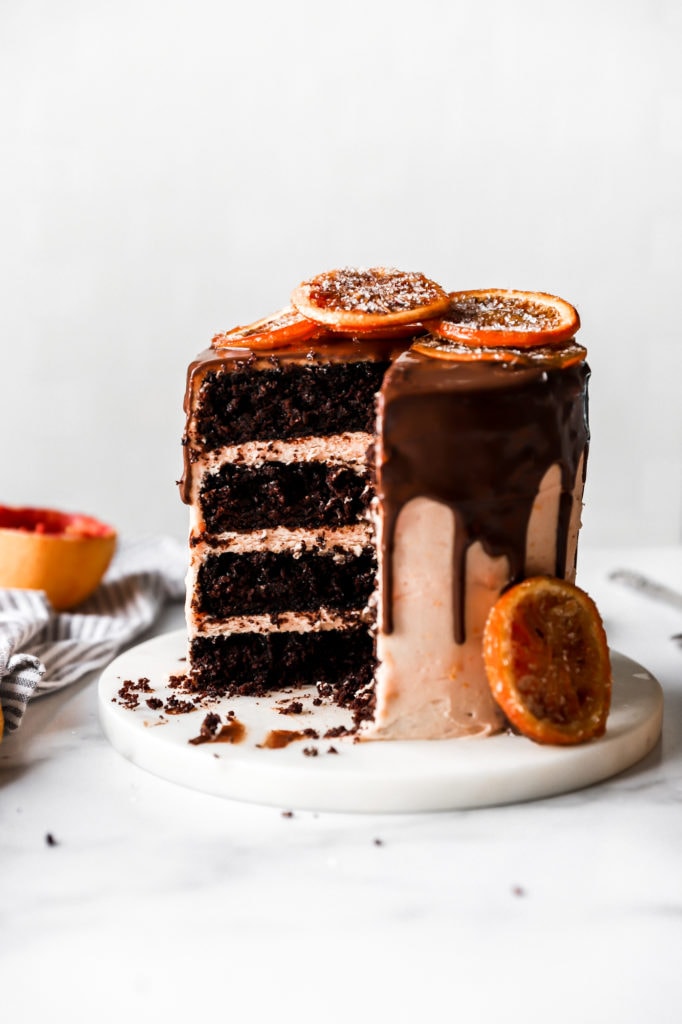 Ingredients
Candied Oranges
1 medium orange
1 1/2 (355mL) cups water
1 1/2 cups (300g) granulated sugar
Dark Chocolate Cake
2 cups (240g) all-purpose flour
1 1/2 cup (300g) granulated sugar
3/4 cup (60g) unsweetened cocoa powder
2 tsp baking soda
1/2 tsp salt
Zest from 2 oranges
3/4 cup (177mL) olive oil
3/4 cup (177mL) blood orange juice (about 4 large oranges – reserve the zest for frosting)
1 1/4 cup (296mL) water
Blood Orange Buttercream
1 1/2 cups (3 sticks) unsalted butter, room temperature
6 cups (720g) powdered sugar*
1/4 cup (59mL) blood orange juice
zest from 3 blood oranges
1 tsp vanilla extract
Chocolate Ganache
1/2 cup (3 oz) dark chocolate
1/2 cup (118mL) half and half (or 1/4 cup cream with 1/4 cup milk)
Instruction
Candied Oranges
To allow the candied oranges time to set, start by preparing them. Bring water to a simmer in a big shallow saucepan.
Simmer until the sugar has dissolved in the water.
Place sliced oranges in water (not overlapping) and cook for 15 minutes on medium heat.
Simmer for another 15 minutes on low heat after flipping.
Remove and cool on a cooling rack OR remove and roll in granulated sugar before cooling on a cooling rack.
Chocolate Cake
Preheat the oven to 350 degrees Fahrenheit and oil four 6 inch cake pans (or two 8 inch pans).
5 blood oranges, grated on a little grater
In a large measuring cup, combine the zest of two blood oranges and the olive oil. For the buttercream, set aside the zest of three blood oranges.
Juice all 5 blood oranges with a citrus juicer. 1/4 cup of the juice is set aside for the buttercream, and 3/4 cup of blood orange juice is added to the olive oil mixture.
In a large mixing basin, whisk together flour, sugar, cocoa powder, salt, and baking soda.
Fold the dry ingredients into the olive oil mixture and water until smooth.
Bake for 20-25 minutes, or until a toothpick inserted in the center comes out clean.
Blood Orange Buttercream
To make the butter, whip it with the blood orange zest in a stand mixer until pale and frothy.
Beat in half of the powdered sugar until it's completely blended.
Beat in the remaining half of the powdered sugar for 5-10 minutes, or until the sugar is completely dissolved and the buttercream is smooth.
Slowly add in the vanilla and blood orange juice while mixing on low-medium speed. Mix everything together until it's completely smooth.
Chocolate Ganache
In a medium mixing dish, place the chocolate.
Bring half and half to a simmer in a small sauce pan (or in the microwave).
Remove from heat and pour over chocolate, allowing one minute for it to set.
Stir until the mixture is entirely smooth.
Allow 5-10 minutes for the chocolate ganache to cool before pouring it over the cake for lovely drips. Microwave for 10 seconds and stir if it cools too much.
Assemble
Spread 1/4 of the buttercream on top of the first layer of cake on a level surface. Repeat with the following three layers, then top the exterior of the cake with the remaining buttercream.
Refrigerate the cake for 15-30 minutes if it becomes wobbly at any moment. Refrigerate the cake for at least 30 minutes after it has been entirely frosted before pouring the chocolate ganache on top.
Allow another 15 minutes in the refrigerator before adding the orange slices.
Source: Baran Bakery
Don't miss interesting posts on
Onnewslive