A velvety maple ginger custard sauce with a touch of spiced rum is poured over a crisp yet luxuriously moist apple cake. Maple and fresh ginger are simmered in milk for the custard. This brings out the warmth and spice in the cake, as well as the acidity of the apple. Make sure the ginger is very thinly sliced. The more surface area the milk has, the more ginger flavor it absorbs during steeping.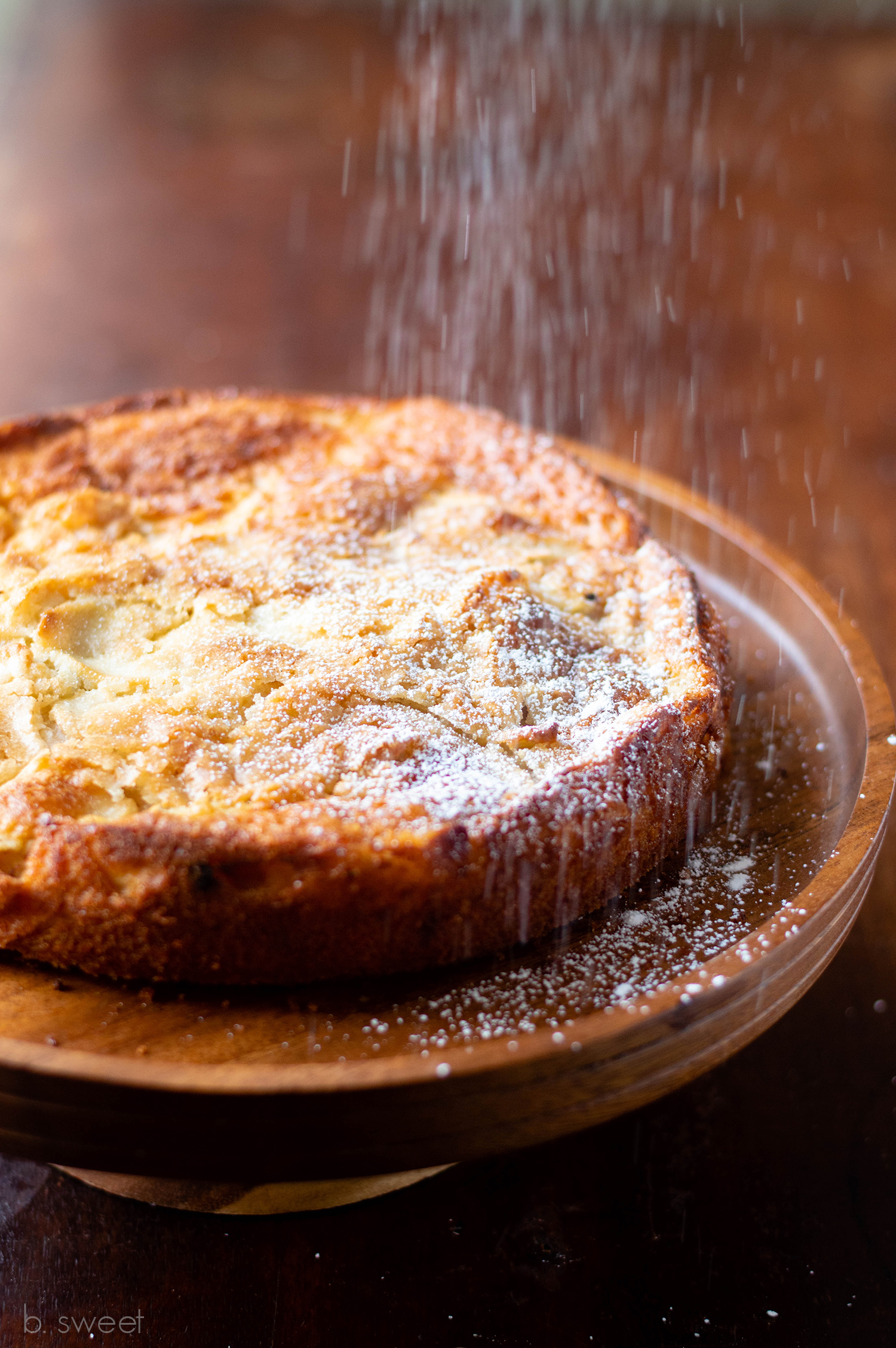 Ingredients
French Apple Cake
1 1/2 pound tart apples (I used Granny Smith) peel, cored and cut into 1/8 of an inch slices
1 tablespoon spiced rum
1 teaspoon lemon juice
1 cup plus 2 tablespoons all purpose flour, divided
1 cup plus 1 tablespoon sugar, divided
2 teaspoons baking powder
3/4 teaspoon salt
1 egg
2 egg yolks
1 cup whole milk
1 cup vegetable oil
1 teaspoon vanilla bean paste
Maple Ginger Custard Sauce
2 cup whole milk
1/4 cup maple syrup
1 inch piece root ginger, thinly sliced
5 egg yolks
1 tablespoon spiced rum
1/2 teaspoon vanilla bean paste
Instruction
French Apple Cake:
In a microwave-safe shallow dish, place your sliced apples. Microwave at 1 minute intervals for 3 minutes, or until softened and flexible. Between intervals, stir the apples. Toss with lemon juice and spiced rum once pliable. Then leave aside for about 10 minutes to cool.
Preheat the oven to 325°F and grease a 9-inch springform pan, which should be placed on a baking sheet lined with parchment or a silicone mat. There will be some leaking because the batter is rather thin.
Combine 1 cup flour, 1 cup sugar, baking powder, and salt in a medium mixing basin.
Then combine the entire egg, milk, oil, and vanilla extract/paste in a large mixing basin. While mixing, add the dry ingredients in a slow, steady stream until barely moistened. 1 cup of batter should be set aside.
Whisk the 2 egg yolks into the remaining batter. Fold in the cut, chilled apples until they are well coated in batter. Pour the apple mixture into the pan you've prepared. To achieve an equal layer, gently press the apples down.
Toss the saved batter with the remaining 2 tablespoons flour and whisk until smooth. Spread equally across the top of the apple mixture and along the sides of the pan. Then, evenly sprinkle the last 1 tablespoon of granulated sugar on top.
Bake for 1 hour to 1 hour 15 minutes, or until golden brown, in a preheated oven.
Allow to cool fully on a wire rack before removing from the pan. Before serving, dust with powdered sugar.
Maple Ginger Custard Sauce:
Combine milk, maple syrup, and thinly sliced ginger in a small saucepan over medium heat. Bring the milk to a low heat and keep it there. Then turn off the heat and set aside for 30 minutes to steep.
After steeping, strain off the ginger and return the milk to a medium heat to bring it back to a simmer. Egg yolks should be whisked together in a small dish. Then, while whisking, carefully drizzle a little warm milk mixer into the eggs to temper them. Then, to the remaining milk, add the yolks and milk combination. Cook the custard, stirring frequently, until it coats the back of a spoon. Remove the pan from the heat and stir in the vanilla and spiced rum. Allow to cool in a heat-safe basin on the counter. Then chill until completely chilled.
Source: B. Sweet
Don't miss interesting posts on
Onnewslive