You do not have to give up the delicious flavors that a good Asian noodle soup leaves you, the important thing is that it provides health benefits and that it does not contain ingredients that are harmful to health.
The history of Asian noodles or noodles extends back to the Han Dynasty, that is, more than four thousand years ago, according to researchers Na Zhang and Guansheng Ma.
According to the article Noodles, traditionally and today, during the industrial revolution and the development of the food industry led to the transition from a traditional cottage industry to mass production with machinery.
This means that the invention of instant soups and their mass production also greatly changed the packaged noodle industry.
The food pillar of Asian countries
Noodles are an essential food in countries such as Japan, Taiwan, China, and Korea, since it is fairly economical and highly energetic food.
In Mexico, Profeco recently analyzed 33 instant soups and decided to withdraw some of these instant soups for not complying with the quality standards that are required and for offering misleading advertising, in addition to this announced by the head of this organization, Ricardo Sheffield Padilla. Some instant soups such as Maruchan Instant Lunch and Nissin Cup Noodles were also considered dangerous for health, since the containers that contain them, give off particles harmful to the human body when heated in the microwave.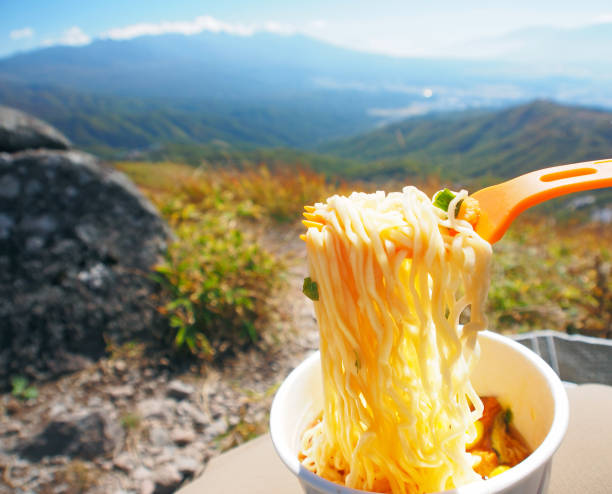 Here's an easy and practical recipe for making your own instant noodles in a healthy, organic way.
To make these oriental noodles we recommend these utensils that will make your preparation process easier in the kitchen:
Machine for noodles – 890 pesos.
Kitchen roller – 279 pesos.
Ingredients
For 15 units
Buckwheat flour 3 cups
Water 3/4 cup
Salt 1 teaspoon
How to make natural instant noodles
Difficulty: Easy
Total time 1 h
Elaboration 1 h
First step:
Clean and place the flour on a clean surface and form a "volcano" with it. (Leave a small pit in the middle, as if it were the crater.)
Second step:
Add water and salt, mix the ingredients in the center little by little but with firm movements, knead so that the gluten is activated and the dough begins to take shape and consistency. The dough will initially become "sticky".
Knead for 5 minutes with your hands until it takes shape. In order for it to acquire consistency, it is necessary to form a roll with the dough and whip it sporadically.
Third step:
It is important that the dough rests and to know if it is ready, you will have to check if you can stretch it 10 cm without breaking. At that time it is recommended to cover it with a tea towel so that it doubles in size.
Let it sit for another 10 minutes and knead again for 5 more minutes.
Fourth step:
You can shape the noodles by hand, for this you will need a roller.
Divide the dough into four and with each of the portions you will have to follow the next step, 3 times: stretch with the roller, fold into three parts lengthwise, stretch again until the desired length is obtained and cut with a knife to shape the noodles.
Sprinkle with flour and engrave them forming a "nest".
Accompaniment
These noodles can be accompanied with vegetables such as carrots or peas, add a poached egg and protein of your choice, and tofu, even chicken, beef, or fish. At your choice!
Don't miss interesting posts on Onnewslive