Everybody needs a tried-and-true classic Italian Cream Cake recipe! We've got the ideal recipe for you…and it's delectable!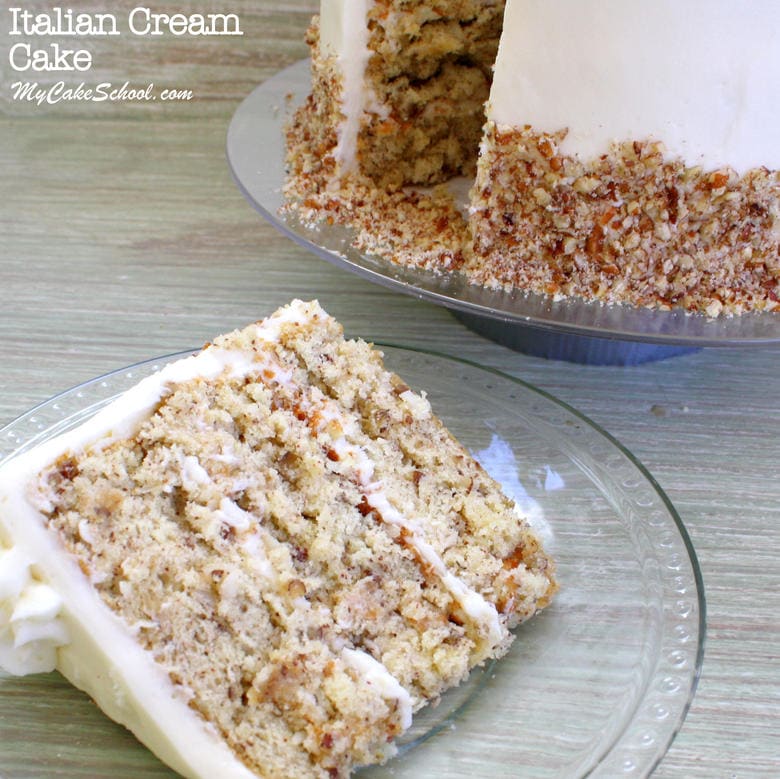 Ingredients
FOR THE CAKE
1 cup (2 sticks) (226g) unsalted butter, softened
2 cups (400g) sugar
5 large eggs, separated
2 cups (242g) all-purpose flour
1 tsp (5g) baking soda
1/4 tsp salt
1 cup (242g) buttermilk
1 tsp (4g) vanilla extract
1 cup (85g) chopped pecans
1 cup (75g) flaked sweetened coconut
Italian Cream Cheese Frosting (See our recipe)
For the cream cheese frosting:
2 sticks (1 cup) (226g) unsalted butter – Let the butter sit out for approximately 10 minutes. It should feel cool to the touch
2( 8oz.) packages cream cheese (total weight 452g)- Softened slightly, I used full fat cream cheese. Using reduced fat or the spreadable cream cheese will cause the frosting to be too soft. If using a hand mixer you may need to soften slightly. If using a kitchen aid or strong mixer, do not soften the cream cheese, just cut into pieces when adding to bow.
1 teaspoon (4g) vanilla extract
6 to 6 1/2 cups (690g to 747g) powdered sugar
1 cup chopped pecans, toasted
Instruction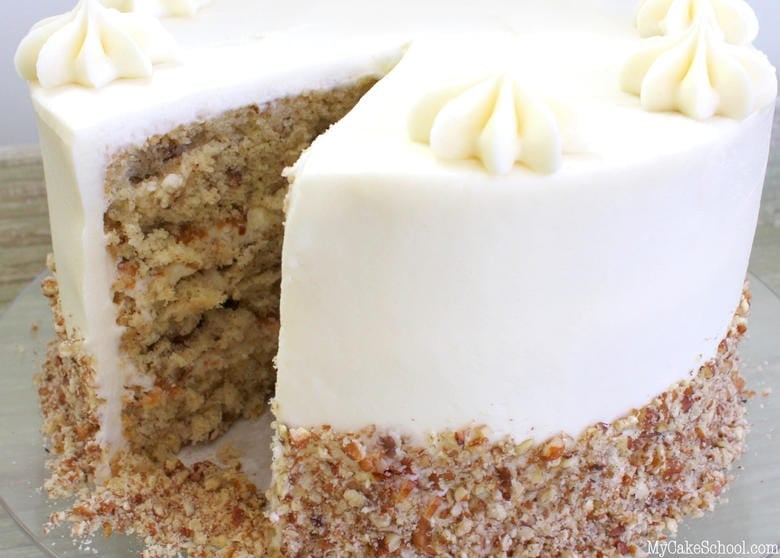 For the Cake
Preheat oven to 350 degrees F. Three 8×2 inch pans should be greased and floured. 9-inch pans can also be used.
Butter should be softened and smoothed out using a mixer on medium speed. Gradually add the sugar and beat for 4 to 5 minutes on medium speed. One at a time, add egg yolks, beating after each addition until the yolk's yellow has vanished. Pour in the vanilla extract.
Add flour, baking soda, and salt to a separate bowl and whisk for at least 30 seconds to combine. Alternate adding the flour combination and buttermilk to the butter mixture, beginning and finishing with the flour mixture (that is 3 additions of dry ingredients and 2 additions of buttermilk). Mix on low to medium speed until combined after each addition. Stir in the pecans and coconut using a spoon. In a large mixing bowl, whisk together the stiffly beaten egg whites.
Egg whites should be whisked at high speed until stiff peaks form. Fold gently into batter with a spatula or spoon. Fill three 8 or 9-inch circular cake pans halfway with batter. Bake for 20 to 25 minutes at 350 degrees, or until a toothpick inserted in the center comes out clean. Cool for 10 minutes in the pans before removing and cooling on wire racks.
FOR THE CREAM CHEESE FROSTING:
Cut the butter into slices and place them in the mixing bowl. Beat the butter on low to medium speed until it has softened and smoothed out.
Cut the cream cheese into small pieces and add it to the butter, mixing on low to medium speed until completely combined.
Pour in the vanilla extract. Gradually mix in the powdered sugar on moderate speed until well combined.
Increase the mixer speed to high and beat for 1 minute, or until frothy. Don't overbeat. It will become quite soft if battered for too long. If this occurs, simply chill for 10 to 15 minutes.
When using this frosting, it's preferable to do it when it's still extremely cold. Make it ahead of time, put it in the fridge, and when you're ready to use it, soften it somewhat (do not microwave) and mix it together.
A three-layer 8- or 9-inch cake will be frosted.
We put the frosting between the layers for the filling and then squeezed in some chopped nuts. We pressed the leftover chopped nuts around the bottom half of the cake after it was completely frosted. To frost this cake traditionally, incorporate all of the nuts into the cream cheese frosting and then frost the cake.
Source: My Cake School
Don't miss interesting posts on
Onnewslive