This lemon blueberry cake is unlike anything else you've ever had. The lemon cake has a smooth, velvety, and fluffy texture, as well as a lovely natural lemon taste that is offset by the sweet blueberries. One of my favorite summer cake tastes is a smooth and tangy traditional cream cheese frosting that is just firm enough to frost a cake but not too sweet.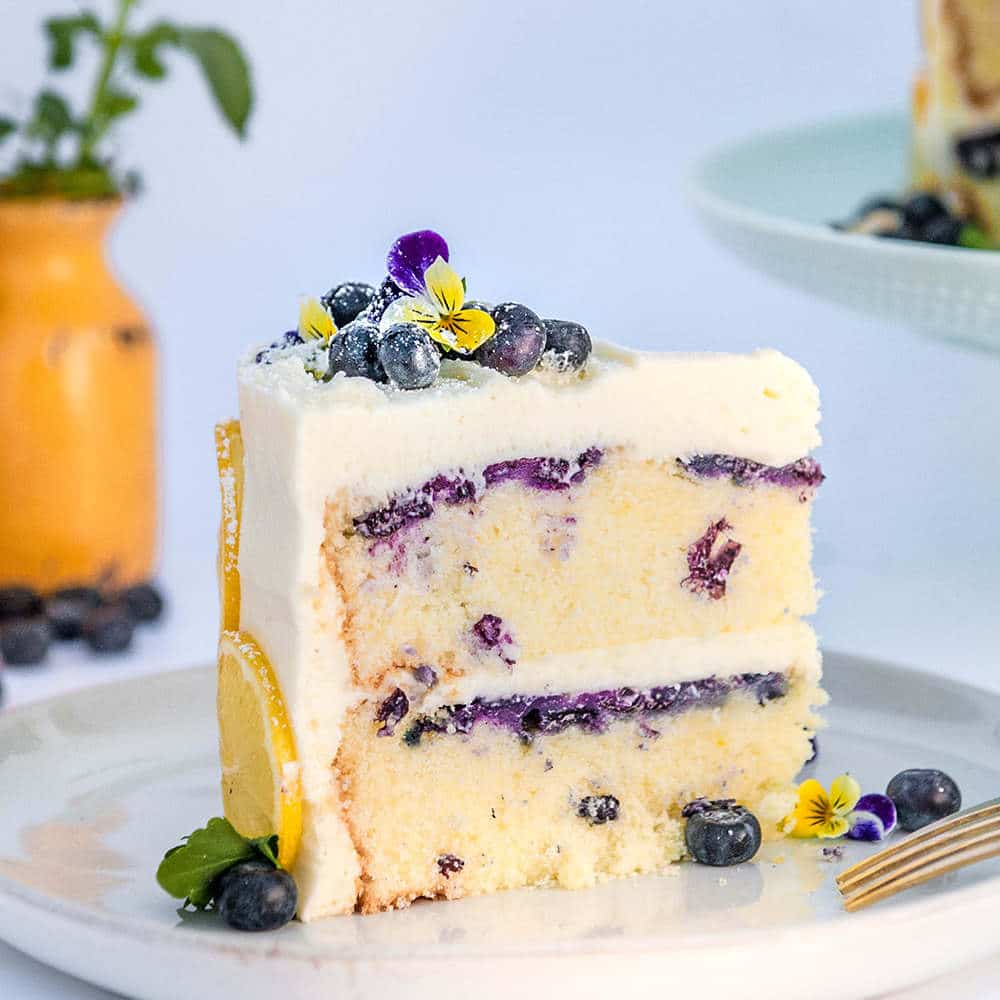 Ingredients
Lemon Blueberry Cake
8 oz (226 g) buttermilk Or regular milk with 1 Tbsp white vinegar added
▢3 oz (85 g) vegetable oil
▢3 (3 ) large eggs
▢2 Tbsp (2 Tbsp) lemon zest
▢2 Tbsp (2 Tbsp) fresh lemon juice
▢2 tsp (2 tsp) lemon extract
▢12 oz (369 g) cake flour
▢11 oz (340 g) granulated sugar
▢1/2 tsp (1/2 tsp) salt
▢2 tsp (2 tsp) baking powder
▢1/2 tsp (1/2 tsp) baking soda
▢8 oz (226 g) unsalted butter
▢2 Tbsp (2 Tbsp) AP Flour for dusting blueberries
▢2 cups (296 g) blueberries You can use frozen but don't thaw them
Cream Cheese Frosting
▢16 oz (453 g) cream cheese room temperature
▢8 oz (226 g) unsalted butter room temperature
▢1 tsp (1 tsp) lemon extract
▢1/2 tsp (1/2 tsp) salt
▢32 oz (907 g) powdered sugar sifted
Instruction
Because I use a scale, this is the best lemon blueberry cake I've ever made. I cannot guarantee excellent outcomes if you change to cups. Make sure your cold components, such as butter, eggs, and milk, are at room temperature or slightly heated.
Cake Instruction
Preheat the oven to 350 degrees Fahrenheit/177 degrees Celsius. Use cake goop or another pan release to prepare two 8-inch round cake pans.
Buttermilk should be measured out. In a separate measuring cup, place 4 oz. Set aside the oil with the 4 oz of buttermilk.
Add your eggs, lemon essence, lemon juice, and lemon zest to the remaining milk and whisk gently to incorporate. Remove from the equation.
In the bowl of your stand mixer fitted with the paddle attachment, combine the flour, sugar, baking powder, baking soda, and salt.
Set the mixer to the slowest setting (setting 1 on Kitchen Aid mixers). Slowly add pieces of melted butter until all of it is included, then stir everything together until it resembles gritty sand.
To build the structure, add your milk/oil combination all at once to the dry ingredients and mix on medium (speed 4 on a kitchenaid) for 2 minutes. Don't worry, the cake will not be over-mixed.
Scrape the inside of the dish. This is a critical stage. If you omit it, your batter will contain hard lumps of flour and unmixed components. They will not properly mix in if you do it later.
Slowly pour in the remaining liquid ingredients in three parts, pausing halfway through to scrape the bowl again. It's important that your batter be thick and not too runny.
Fill your cake pans halfway with batter. To smooth out the batter and remove any air bubbles, lightly tap the pan on each side.
If using fresh berries, wash them first and then toss them in flour. If the berries are frozen, don't wash them; simply throw them in flour. Half of the blueberries should be sprinkled on top of your batter. Do not mix them in with the rest of the ingredients.
Bake for 15-20 minutes before sprinkling the remaining blueberries on top of the cake. Check for doneness after another 10-15 minutes in the oven. If the cakes are still jiggly after 5 minutes, I bake them for additional 5 minutes. After that, I check every 3 minutes until I'm near, and then it's every 1 minute. When a toothpick put in the center comes out with a few crumbs, the cake is done.
Remove the cakes from the oven and tap them on the counter to release any trapped air and prevent them from shrinking too much. Allow them to cool on a cooling rack until just warm.
After the cake has cooled, lay the cooling rack on top of it, one hand on top of the cooling rack and the other beneath the pan, and flip the pan and cooling rack over so the pan is now upside down on the cooling rack. Carefully remove the pan from the oven. Replace the other pan and repeat the process.
After the cakes have completely cooled, wrap them in plastic wrap and set them in the freezer or refrigerator for approximately 30 minutes to firm them up and make stacking simpler.
Fill your cakes with cream cheese frosting and coat the exterior when they've chilled. More fresh blueberries and organic pansies rounded off my dessert (edible).
Cream Cheese Frosting Instructions
In the bowl of your stand mixer fitted with the paddle attachment, cream softened butter until smooth.
Place softened cream cheese in a mixing bowl with tiny bits of butter and beat on low speed until smooth and blended.
1 cup powdered sugar, sifted at a time, until mixed
Combine the extract and salt in a blender until smooth. If you over-mix your frosting, it will separate.
Source: Sugar Geeks
Don't miss interesting posts on
Onnewslive