Ingredients
Makes a 6 inch, 3 layered round cake
1 1/2 cups vegetable oil
1 cup (packed) golden brown sugar
3/4 cup castor sugar
4 large eggs
1/3 cup orange juice
1/4 cup citrus peel (or 1 tbsp freshly grated orange peel)
2 cups self-raising flour
11/2 tsp baking soda
1 tsp ground cinnamon
1 tsp ground ginger
1/2 tsp ground nutmeg
1/2 teaspoon salt
2 cups finely grated peeled carrot
1/2 cup raisins
Cinnamon swiss meringue buttercream (recipe below)
1/2 cup Orange Marmalade
Decorations- meringue kisses, edible flowers, candy discs, grated chocolate
Cinnamon Buttercream
4 egg whites
1 cup castor sugar
300 g unsalted butter, room temperature, cubed
1 tsp powdered cinnamon
1 tsp vanilla essence
2-3 drops of orange food colouring (I used a mix of red and yellow coloring)
For the orange colored, white chocolate ganache
100 g white chocolate, roughly chopped
3 tbsp heavy cream
3-4 drops of a mix of red and yellow food colour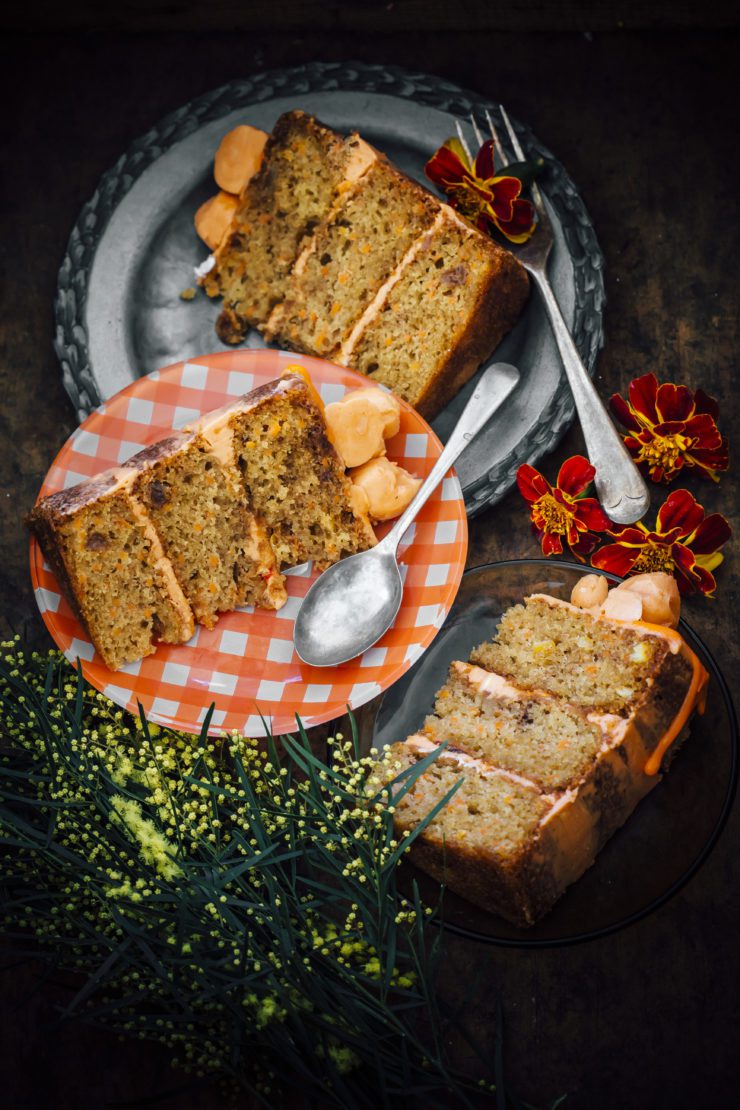 Instructions
Preheat oven to 170 degrees C. Lightly grease the sides and bottom and line the bottoms of 3, 6-inch pans with non-stick baking paper.
Using an electric mixer (or by hand), beat oil and both sugars in large bowl until well blended. Add eggs 1 at a time, beating well after each addition. Beat in orange juice and peel. Sift flour, baking soda, cinnamon, ginger, nutmeg and salt into large bowl; add to sugar mixture and beat to blend. Stir in carrots and raisins.
Pour batter into the prepared pans. Bake until a wooden skewer inserted into center of cake comes out clean, about 25 minutes. Remove from oven. Cool cake for 10 minutes. Turn cake out onto a wire rack. Remove baking paper and cool. (Can be prepared 1 day ahead. Wrap tightly in plastic and store at room temperature.)
To make the cinnamon swiss meringue buttercream
Place the egg whites and sugar in a large bowl that is placed over a saucepan of simmering water (over low heat), and whisk continuously, until the sugar has completely dissolved and the bottom of the bowl is warm to touch
Remove the bowl from the heat and whip on high speed until meringue holds stiff peaks and looks glossy. The bowl should have completely cooled by now.
Add the butter, 2 tablespoon at a time, until thick and fluffy. If it begins to look curdled, continue to whip until it comes back together, before adding in remaining butter.
When the buttercream is smooth and has come together, add the cinnamon, vanilla and food color and whip gently again to blend.
To make the orange colored, white chocolate ganache
Heat the white chocolate and heavy cream over very low heat in a small saucepan. When cream just reaches boiling point, remove from heat and leave aside. Stir with a spoon to make a smooth mix. Add the food colour and stir to blend.
To assemble
Once the cake layers are completely cool, start assembling..
On a cake plate or stand, spread a little buttercream in the centre and place one layer of the cake (so that the cake does not move about while frosting). Spread about 1/2 a cup of cinnamon swiss meringue buttercream. Spread half the quantity of orange marmalade.
Place the second layer. Repeat. Place the last layer upside down (so you get a flat top). Spread buttercream on the top and sides. If you want to make it look like a naked cake, a thin layer of frosting is good enough.
Stick the cake into the refrigerator for 15-20 mins.
Make the white chocolate ganache 5 minutes before you take the cake out from the fridge.Once the ganche is cool, but still flowing freely when you lift it with a spoon, spoon it onto the cake slowly. Be gentle on the edges to create the drippy effect.
Decorate with meringues, candy and edible flowers.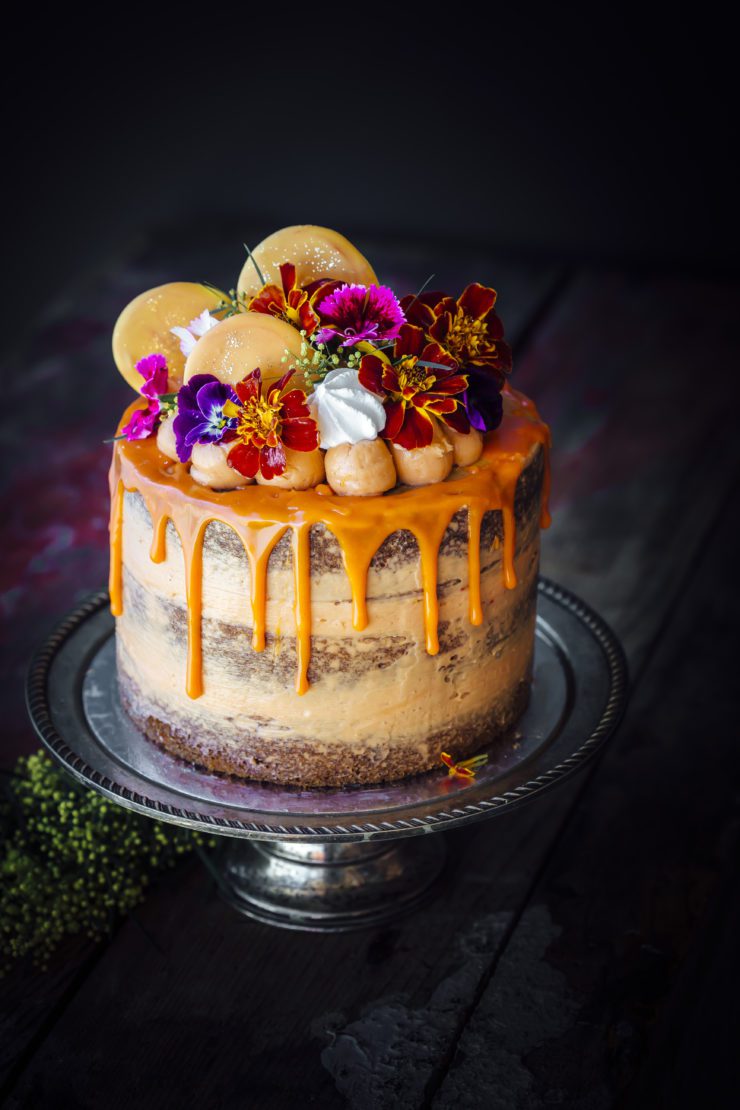 Source: Sugar et al
Don't miss interesting posts on Onnewslive