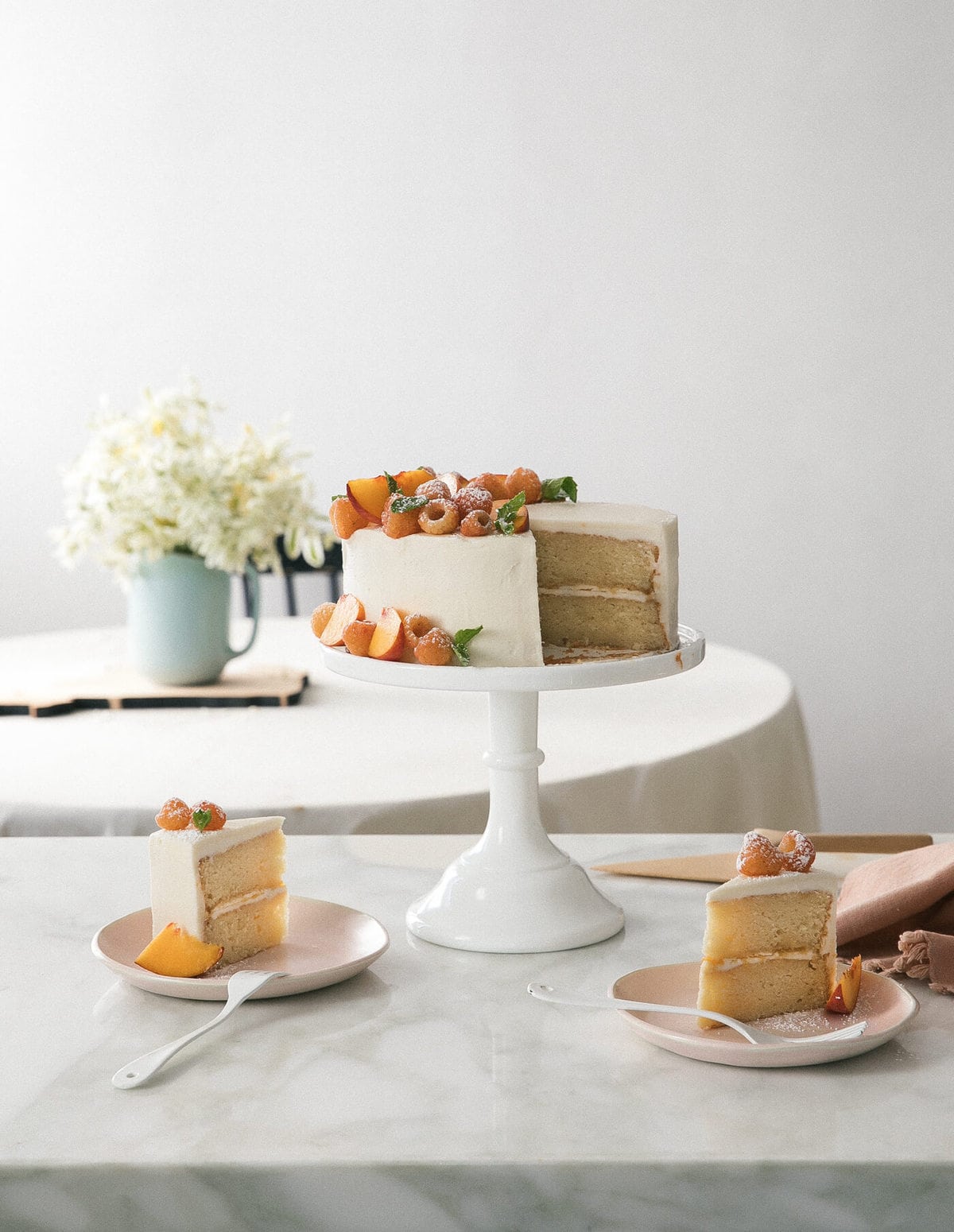 Ingredients
PEACH QUICK JAM:
2 large ripe yellow peaches peeled and then quartered
Juice from 1 lemon
1/4 cup white granulated sugar
Pinch of salt
YOGURT CAKE LAYERS:
2 1/2 cups all-purpose flour
2 1/2 teaspoons baking powder
1/2 teaspoon salt
1 cup plain whole milk yogurt
1/2 cup milk
3/4 cup unsalted butter softened
1 3/4 cup white sugar
3 large eggs
2 teaspoons pure vanilla extract
MAPLE FROSTING:
1 cup unsalted butter
4 cups powdered sugar
2 tablespoons maple syrup
2 tablespoons yogurt
Pinch of salt
DECORATIVE TOPPINGS:
1 peach sliced
Handful of golden raspberries
Mint leaves
1 teaspoon powdered sugar sifted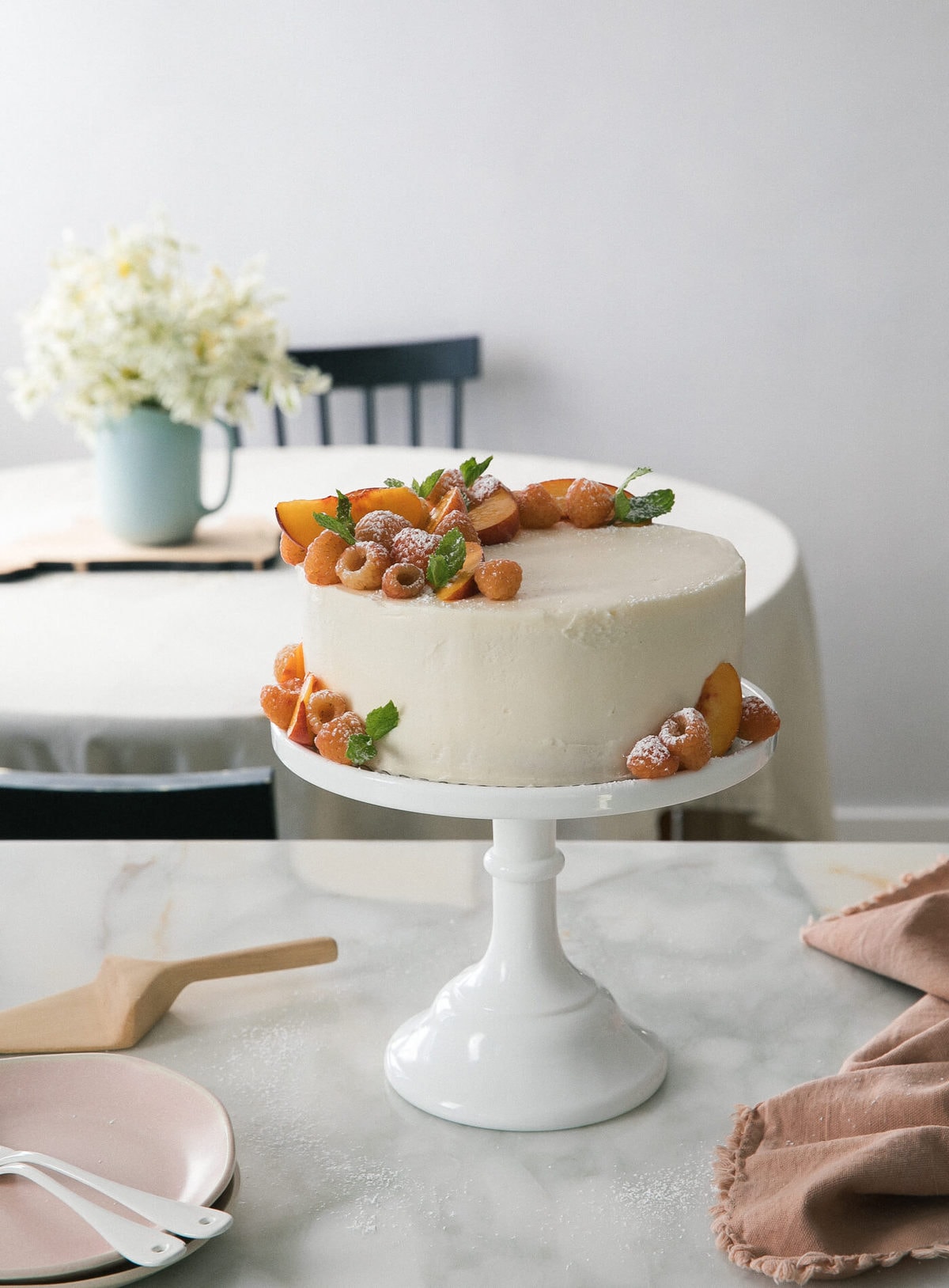 Instructions
TO MAKE THE PEACH QUICK JAM:
Add the quartered peaches and lemon juice to a blender. Blend until completely smooth. Fill a medium pot halfway with water, then add the sugar. Increase the heat to medium-low and cook, stirring often, until the sauce has thickened, about 8 minutes. Remove from the equation.
TO MAKE THE YOGURT CAKE LAYERS:
Preheat oven to 350 degrees Fahrenheit. Prepare two (8-inch) round cake pans by greasing and flouring them. I also prefer to put a circle of paper on the bottom of my cake pans to prevent anything from sticking.
Whisk together the all-purpose flour, baking powder, and salt in a medium mixing basin. Combine the yogurt and milk in a mixing bowl and whisk until smooth.
Add the butter and sugar to the bowl of a stand-up mixer fitted with the paddle attachment; beat for 2 minutes, or until light and fluffy. Add the eggs and vanilla essence and beat for about 30 seconds, or until well blended.
Then, alternate between adding the dry ingredients and the yogurt mixture to the butter mixture until everything is mixed. Scrape the bottom of the bowl to make sure there are no hidden flour-y pieces. Divide the batter between the two prepared cake pans and bake for 25 to 30 minutes, or until a skewer inserted in the center comes out clean.
Allow them cool for 5 to 7 minutes in their pans before inverting onto cooling racks.
TO MAKE THE FROSTING:
Add the butter to the bowl of a stand-up mixer fitted with the paddle attachment. Blend for 30 seconds, or until completely smooth. Combine the powdered sugar, maple syrup, yogurt, and a sprinkle of salt in a mixing bowl. Using an electric mixer, beat until smooth and fluffy, about 1 to 2 minutes.
TO FROST THE CAKE:
Apply the frosting as desired, sandwiching the peach jam between the layers. (You may have about 1/4 cup left over, which you can spread on toast!) I gave it a simple crumb coat and then put it in the freezer to dry before applying another smooth layer.
On one side of the cake, I placed peach slices, golden raspberries, and mint leaves. Then I sprinkled it with powdered sugar that had been sifted. That concludes our discussion. Cut into slices and serve.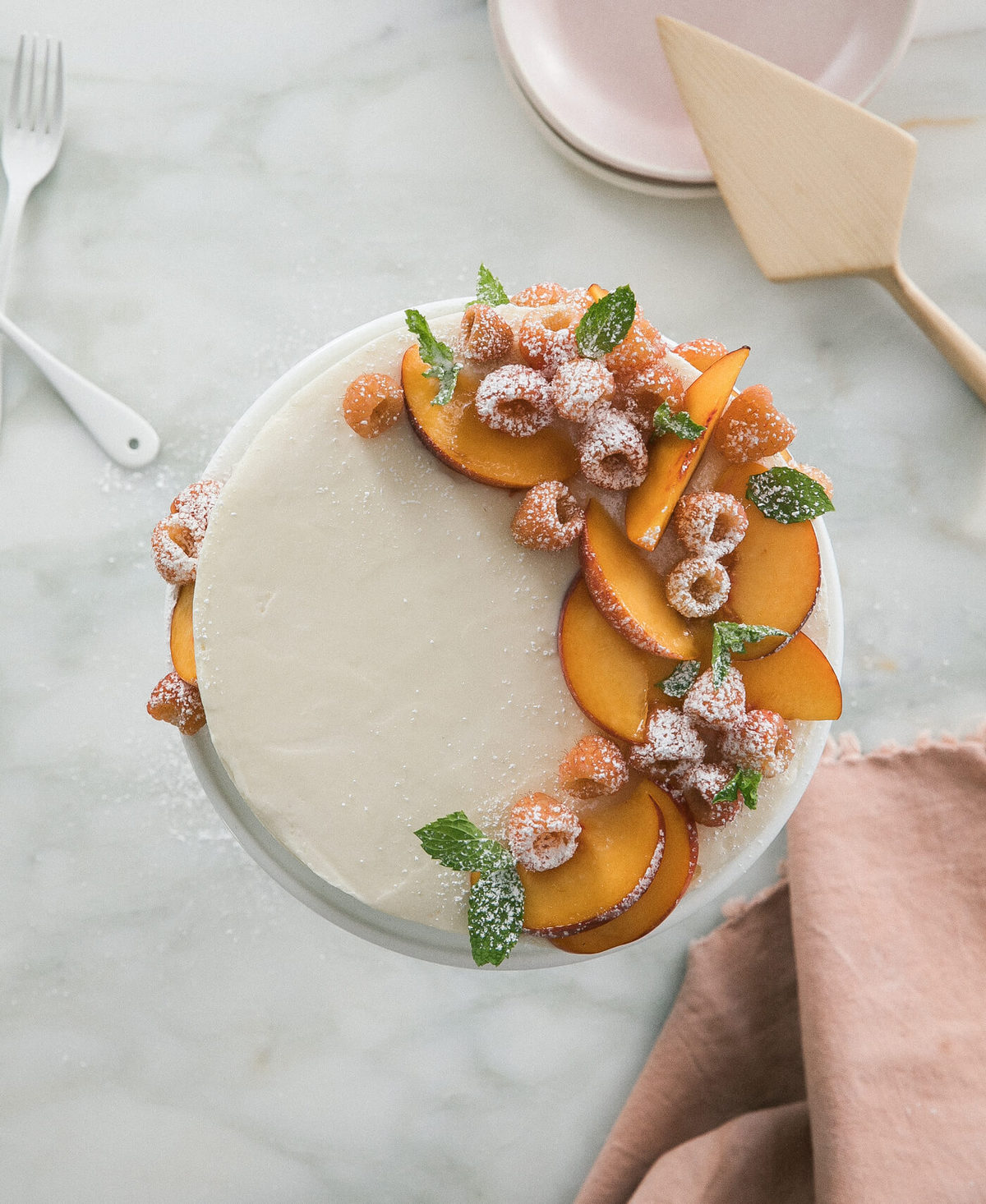 Source: A Cozy Kitchen
Don't miss interesting posts on
Onnewslive