This Pear & Walnut Cake with Honey Buttercream is incredibly moist and packed with flavor. The perfect way to kick off the Fall season!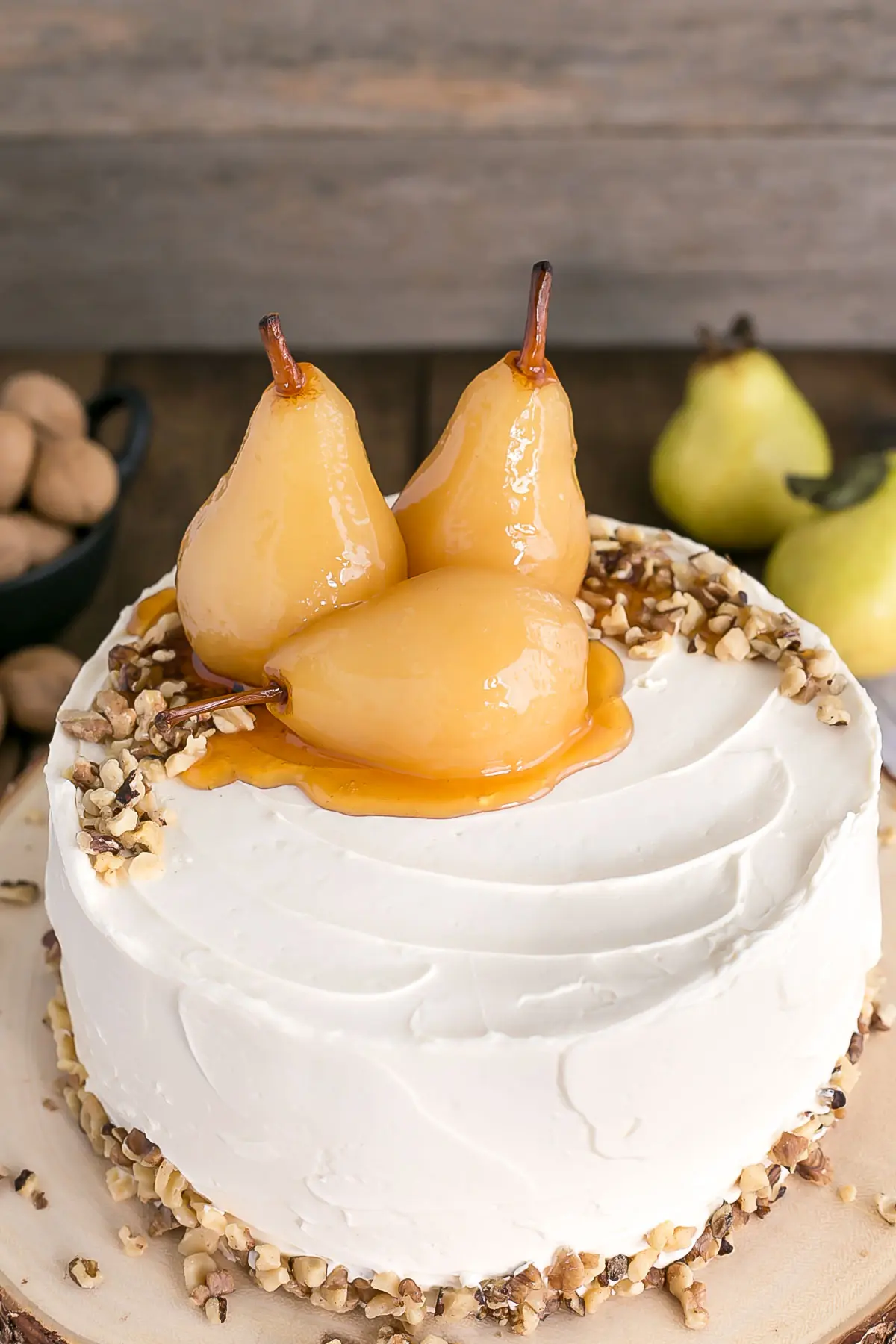 INGREDIENTS
Poached Pears (optional):
3 cups water
1 cup honey
2 Tbsp lemon juice
1 cinnamon stick
4 pears small, peeled
Pear & Walnut Cake:
2 1/4 cups all-purpose flour
2 tsp baking powder
3/4 tsp salt
1/2 tsp ground cinnamon
3/4 cup unsalted butter room temperature
3/4 cup granulated sugar
3/4 cup light brown sugar packed
3 large eggs room temperature
1 1/2 tsp vanilla
1 cup buttermilk room temperature
1 cup chopped walnuts toasted
2 cups shredded pears approx. 2 pears, peeled, cored, and coarse shredded
Honey Swiss Meringue Buttercream:
4 large egg whites
1 cup granulated sugar
1 1/2 cups unsalted butter room temperature
1/4 cup honey
Assembly:
poached pears (optional)
chopped walnuts toasted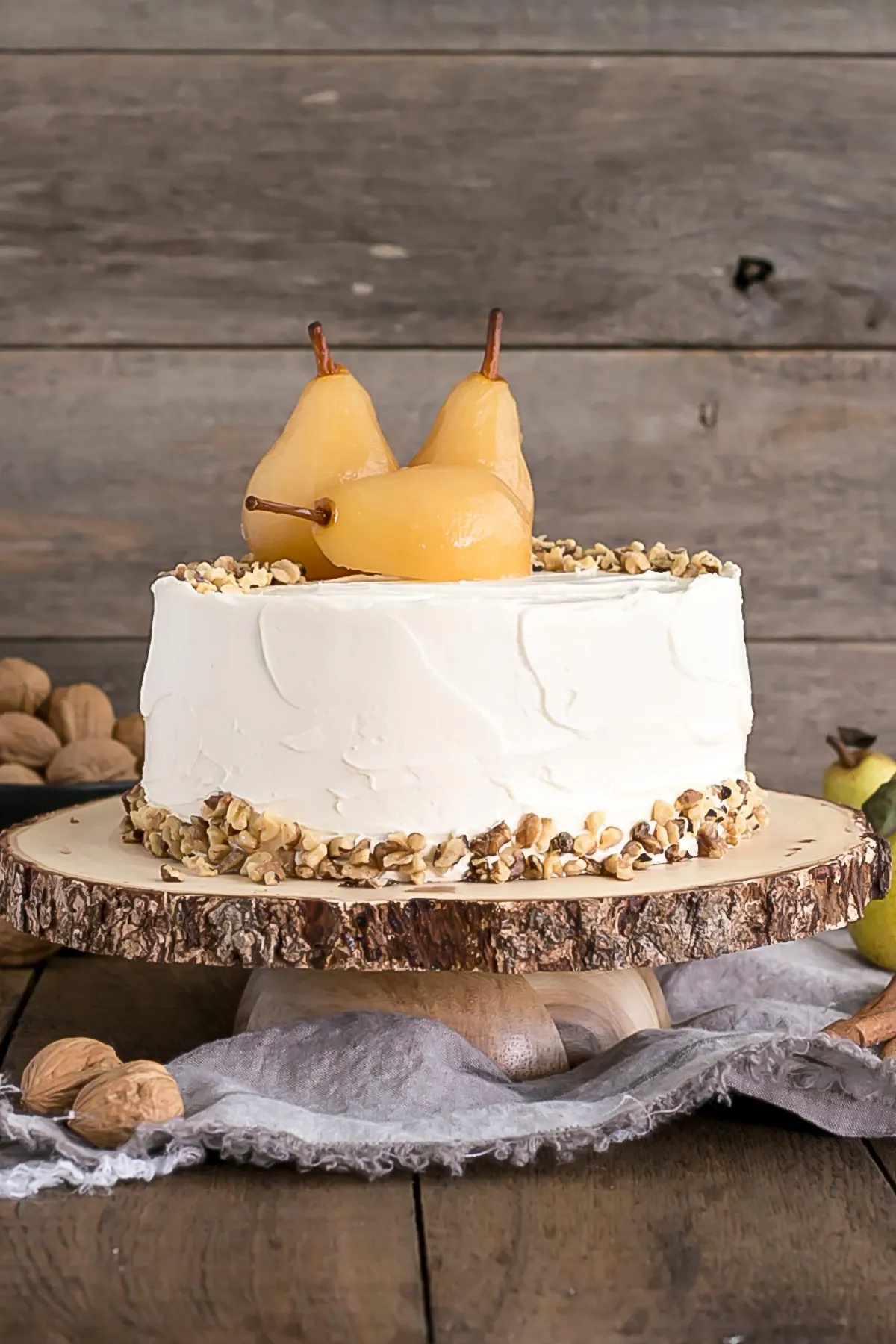 INSTRUCTIONS
Poached Pears (optional):
**NOTE** Do a day in advance.
Place honey, water, lemon juice, and cinnamon into a medium pot (big enough to hold the pears so they will be covered). Bring to a boil over med-high.
Add pears and simmer over medium until tender, turning occasionally (approx 20-30 mins depending on how firm your pears are – insert a sharp knife to test). Do not overcook!
Gently remove pears with a slotted spoon and place them into a medium bowl, cover with the honey syrup (so pears will be covered). Cool completely then place in the fridge to chill overnight.
The next day, if desired, place the honey syrup into a medium pot and simmer over medium heat (10-15mins) to reduce. You can drizzle this over the pears or over the cut slices of cake. *
Pear and Walnut Cake:
Preheat oven to 350F. Grease and flour two 8″ cake rounds and line with parchment.
In a medium bowl, whisk flour, baking powder, cinnamon, and salt until well combined. Set aside.
Using a stand mixer fitted with a paddle attachment, cream butter and sugar on med-high until pale and fluffy (approx 3mins). Reduce speed and add eggs one at a time fully incorporating after each addition. Add vanilla.
Alternate adding flour mixture and buttermilk, beginning and ending with flour (3 additions of flour and 2 of milk). Fully incorporating after each addition.
Gently fold in walnuts and shredded pears. Spread evenly between the two pans.
Bake for 50-55mins or until a toothpick inserted into the center comes out mostly clean.
Place cakes on wire rack to cool for 10mins then turn out onto wire rack.
Honey Swiss Meringue Buttercream:
Place egg whites and sugar into the bowl of a stand mixer, whisk until combined.**
Place bowl over a double boiler on the stove and whisk constantly until the mixture is hot and no longer grainy to the touch (approx. 3mins). Or registers 160F on a candy thermometer.
Place bowl on your stand mixer and whisk on med-high until the meringue is stiff and cooled (the bowl is no longer warm to the touch (approx. 5-10mins)).
Switch to paddle attachment. Slowly add cubed butter and mix until smooth.***
Add honey and whip until smooth.
Assembly:
Place one layer of cake on a cake stand or serving plate. Top with approximately 1 cup of buttercream. Repeat with remaining layer and crumb coat the cake. Chill for 20mins.
Frost the top and sides of the cake in a rustic manner. If desired, add toasted walnuts along the bottom and top, and place poached pears on top. Secure pears in place with toothpicks and drizzle with poaching syrup.
NOTES
Note that the honey syrup will be very strong in flavor and may overpower the cake if you choose to use it. However, you can always save it and use it as a topping for ice cream or yogurt.
Ensure there is NO trace of egg yolks in your whites and that your mixer bowl and whisk is completely grease-free or your meringue won't stiffen.
The buttercream may look like it's curdled at some point. Keep mixing until it is completely smooth.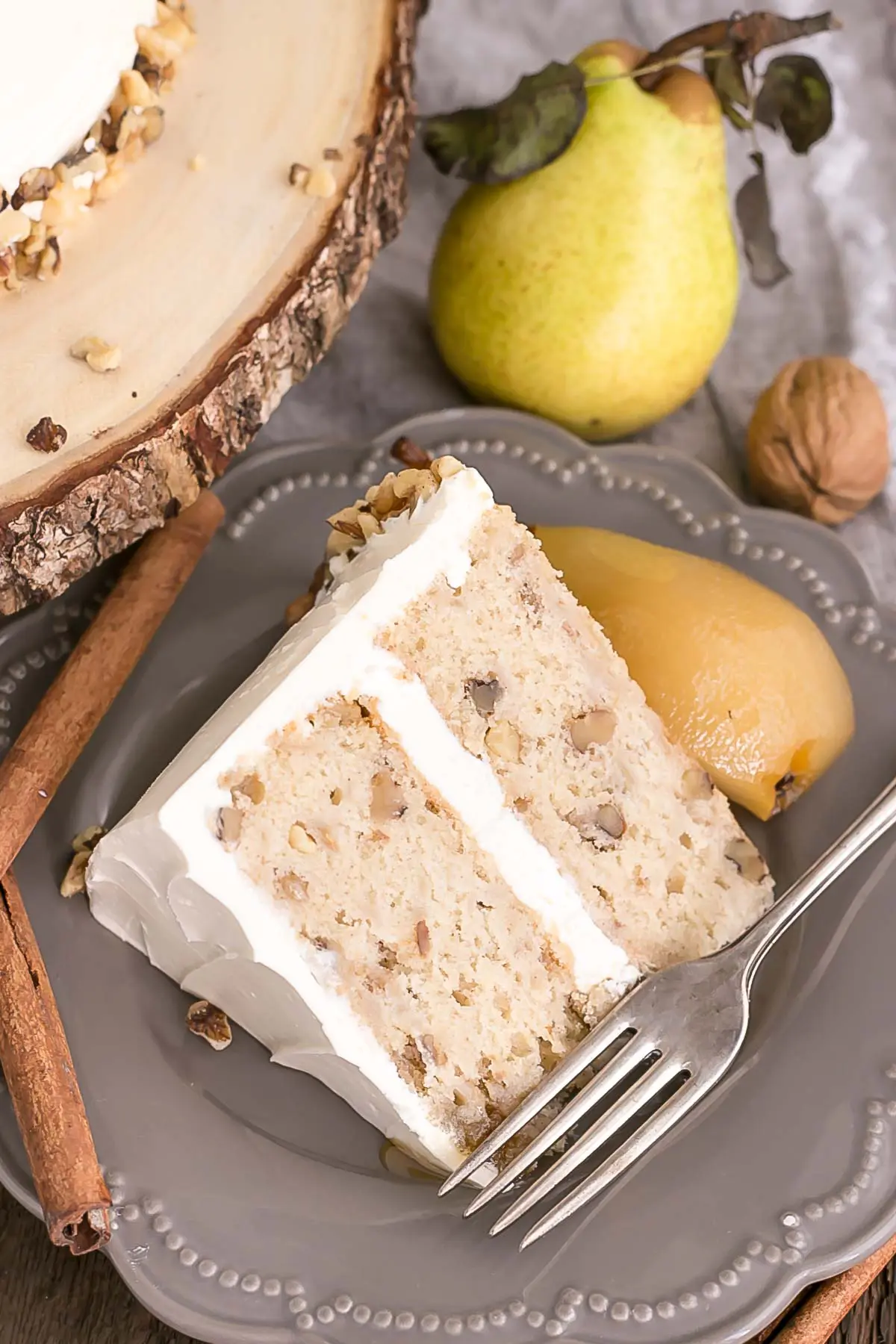 Source: Liv for Cake
Don't miss interesting posts on Onnewslive