In this beautiful Persian Love Cake, a buttery almond crust is filled with a creamy yogurt filling full of Middle Eastern flavors! This gluten free cake has the most amazing taste and is super simple to make.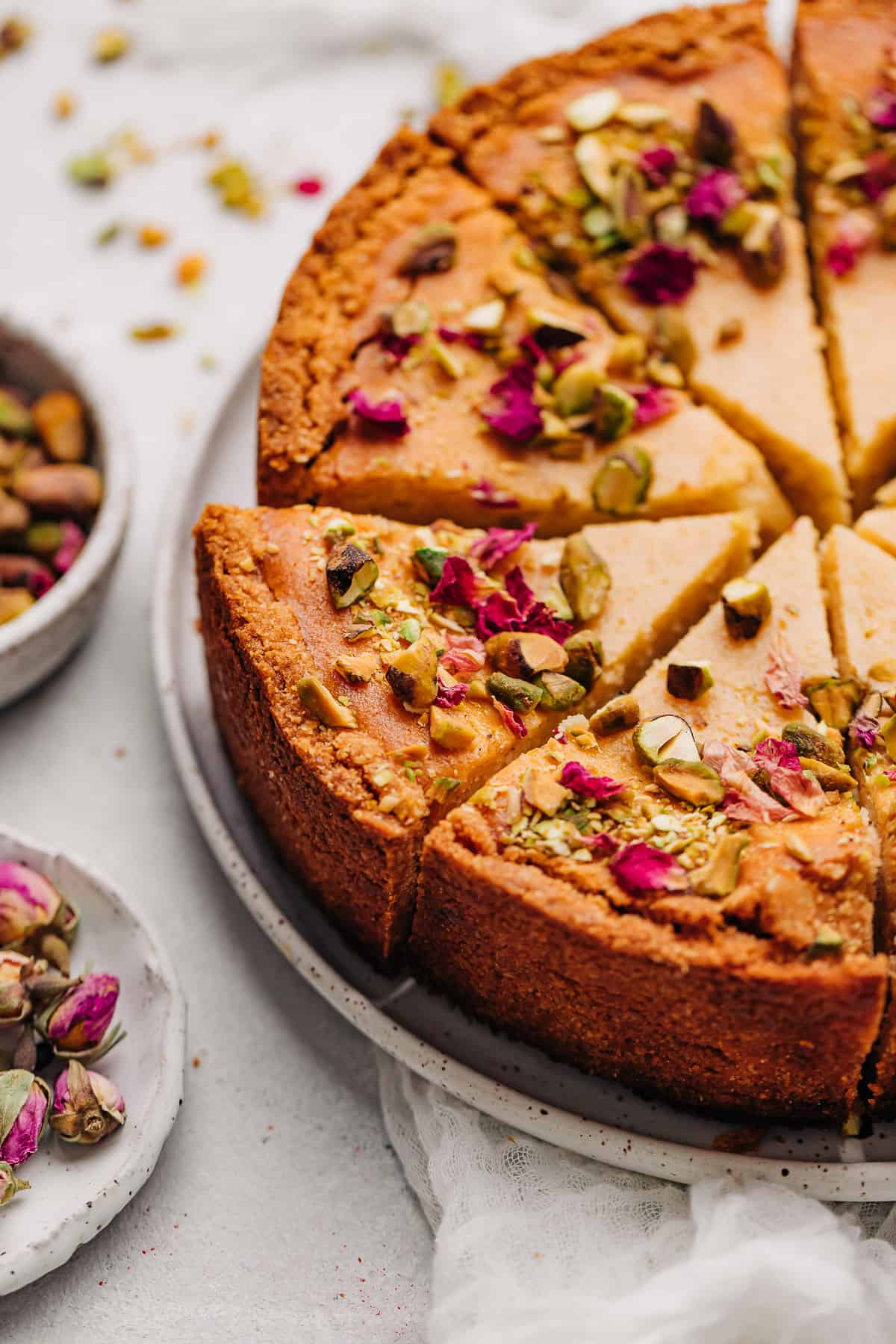 EQUIPMENT
8-inch springform pan
Stand mixer
Hand mixer
INGREDIENTS
4 ⅓ cups almond flour
1 cup granulated sugar
1 cup light brown sugar
1 cup butter room temperature
1 teaspoon salt
3 eggs room temperature
1 ¼ cup full-fat plain Greek yogurt room temperature
½ teaspoon cinnamon
2 tsp vanilla extract
1 tablespoon orange blossom water
½ cup shelled pistachios roasted and unsalted
food grade dried rose petals for decorating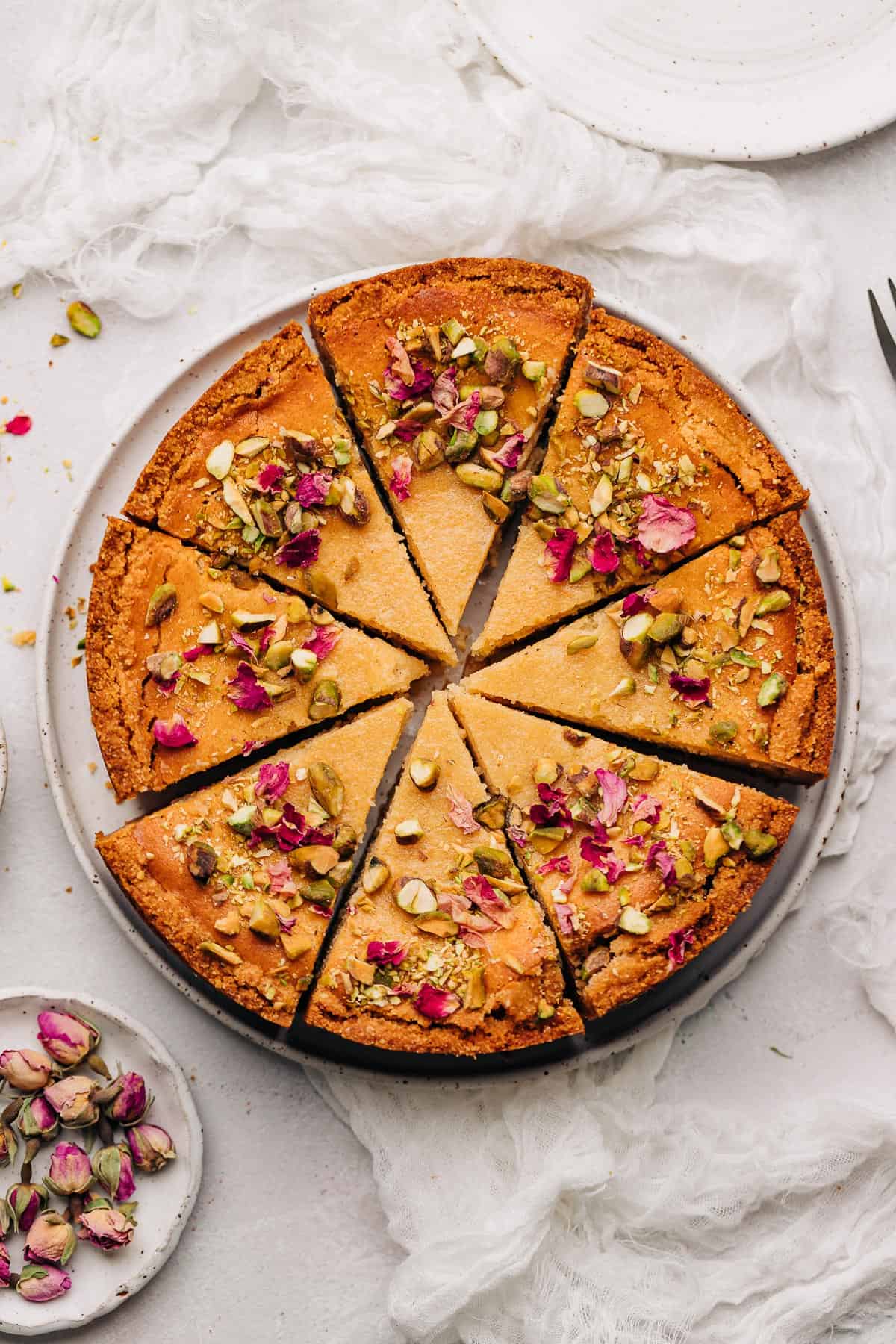 INSTRUCTIONS
Preheat oven to 350° F. Grease and line an 8-inch springform pan with parchment paper.
Make the crust: In the bowl of a stand mixer fitted with the paddle attachment, or in a large mixing bowl using a hand mixer, combine the almond flour, granulated sugar, brown sugar, butter, and salt. Beat on low speed until crumbly. Press half of the mixture evenly into the prepared pan.
To make the filling, add the eggs, Greek yogurt, vanilla extract, cinnamon, and blossom water to the remaining mixture. Beat on medium speed until all of the ingredients are fully incorporated and the mixture is smooth. Pour the mixture over the crust.
Bake the cake in a fully preheated oven for 1 hour and 30 minutes, or until the top is golden brown and the center has a slight jiggle. Remove the cake from the oven and allow it to cool completely in the pan on a wire rack.
Once the cake is completely cool, refrigerate for at least 4 hours or overnight.
When the cake has chilled and the filling is set, carefully remove it from the pan. Top the cake with chopped pistachios and dried rose petals. Enjoy!
NOTES
Almond flour: It is important to use blanched superfine almond flour. Using a coarse almond flour, or almond flour made from raw almonds will change the texture and appearance of your cake.
Flavorings: I used cinnamon and blossom water to flavor the cake, but cardamom, nutmeg, and rose water would also be delicious.
Pan size: This cake is made in an 8-inch springform pan. You can also make it a 9-inch springform pan, but it will be relatively thinner. Adjust the baking time as needed (it will need less baking if you use a larger cake pan).
Make in advance: If you're making this for a special occasion, you can make the cake up to two days in advance. Store it in the refrigerator until you are ready to serve it.
Store: If you have any leftover cake, store it covered in an airtight container for up to 5 days in the refrigerator.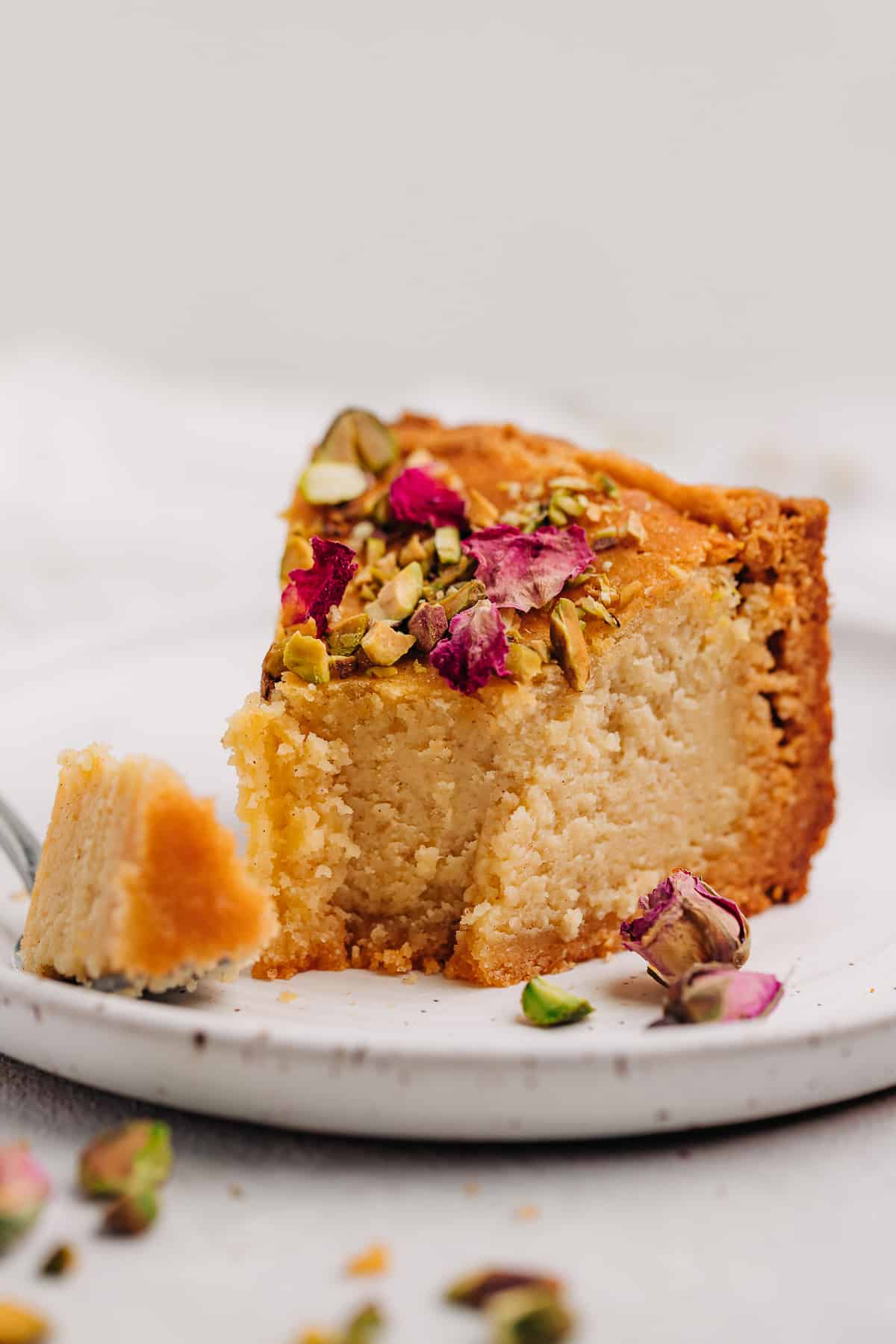 Source: Baked Ambrosia
Don't miss interesting posts on Onnewslive