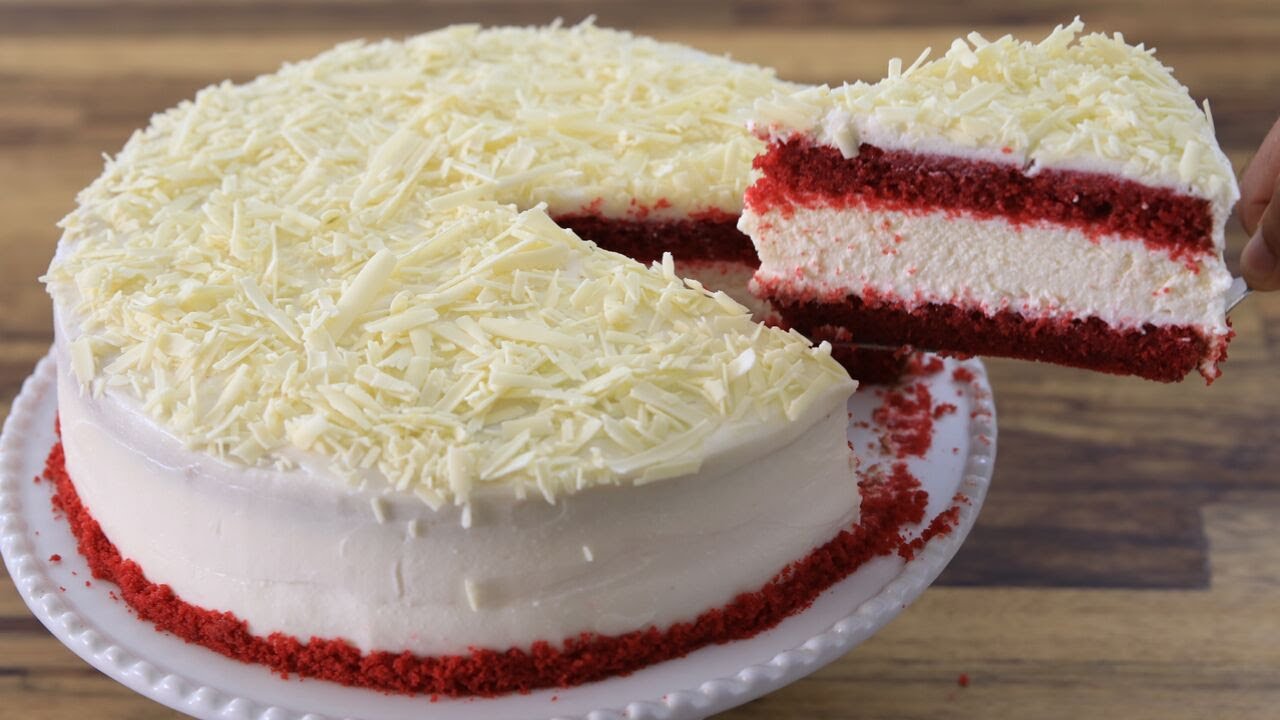 Two layers of luscious and soft red velvet cake, one layer of rich and creamy cheesecake, rich cheesecake frosting, and white chocolate shavings top this red velvet cheesecake cake recipe. This dessert is a re-creation of the renowned "cheesecake factory" red velvet cheesecake. So, whether you like red velvet or cheesecake, you must try this incredible dish.
Ingredients:
For the cheese cake:
2 cups (450g) cream cheese
1/2 cup (115g) Sour cream
1/3 cup (80ml) Heavy cream
2/3 cup (133g) sugar
2 eggs
1 teaspoon vanilla extract           
Pinch of Salt
For the red velvet cake:
2½ cups (310g) all-purpose flour
2 tablespoons (16g) Cocoa powder
1 teaspoon Baking soda
1 teaspoon Salt
1½ cups (300g) Sugar
1 cup (240ml) buttermilk, room temperature
3/4 cup + 1 tbsp (200ml) Vegetable oil
1 teaspoon Vinegar
2 Eggs
1/2 cup (115g) butter, room temperature
1-2 tablespoons Red food coloring
2 teaspoons Vanilla extract
For the frosting:
1/2 cups (120ml) Heavy cream, cold
1/2 cup (115g) Butter, softened
2 cups (450g) Cream cheese, room temperature
1¼ cups (160g) Powdered sugar
1 teaspoon Vanilla extract
For decoration:
Instruction:
1. To make the cheesecake, follow these steps: Preheat the oven to 320 degrees Fahrenheit (160 degrees Celsius). Place a 9-inch (23-cm) springform pan in a deep roasting pan snugly wrapped in aluminum foil.
2. In a large mixing basin, whisk cream cheese and sugar with an electric mixer on medium speed until smooth. One at a time, add the eggs, beating after each addition. Combine the sour cream, heavy cream, salt, and vanilla essence in a mixing bowl. Blend until completely smooth.
3. Pour the batter into the springform pan that has been prepared. Fill the roasting pan halfway with boiling water to cover the edges of the springform pan.
4. Bake for 45 minutes in a preheated oven, or until completely set. Turn off the heat, open the oven door, and allow the cake cool for 30 minutes before removing it from the oven. Cool fully on a wire rack before transferring to the freezer. Freeze for at least 4 hours or overnight until totally solid.
5. Prepare the red velvet cake as follows: Preheat the oven to 350 degrees Fahrenheit (175C). Prepare two 8-inch (20-cm) round baking pans by buttering and flouring them.
6. Sift flour, cocoa powder, baking soda, and salt into a large mixing basin. Set aside after stirring.
7. Cream the butter and sugar together in a separate large mixing basin until creamy. One at a time, add the eggs, beating well after each addition. Combine the oil, vinegar, vanilla extract, and buttermilk in a mixing bowl. Add the dry ingredients in a slow, steady stream, mixing thoroughly after each addition. Mix with the food coloring.
8. Pour the batter into the pans that have been prepared. Preheat the oven to 350°F and bake for 30 minutes, or until a toothpick inserted in the middle comes out clean.
9. Cool the cakes in their pans for 10 minutes on a wire rack. Allow to cool fully after removing from the pan. Cut the tops of the cakes after they have totally cooled.
10. To make the frosting, cream together cream cheese and butter in a large mixing dish. Combine the powdered sugar and vanilla essence in a mixing bowl. Blend until the mixture is smooth and creamy. To get firm peaks, whip heavy cream in a separate dish. Then fold the mixture into the cream cheese.
11. Assembly: In the middle of a cake plate or dish, place one cake layer. Apply a thin layer of frosting to the cake. Take the cheesecake out of the freezer. Trim the edges of the cheesecake layer to fit on top of the icing layer (if needed). Apply a second thin coat of icing. Finish with a second layer of crimson velvet.
12. Frost the top and edges of the cake with a layer of icing. Over the top of the cake, shave some white chocolate (optional). Crumble the remaining cake tops and use them to garnish the bottom of the cake.
13. Allow for at least two hours of refrigeration before serving.
Don't miss interesting posts on
Onnewslive