Ingredients
Three-Layered Rhubarb Cake
90 g unsalted butter, room temperature
2 1/4 cups brown sugar
1 teaspoon vanilla essence
3 eggs
1 1/2 cups plain flour
11/2 cups self-raising flour
1 teaspoon cinnamon
450 g sour cream
400 g rhubarb, trimmed and cut into 2 cm lengths
Pomegranate And Rosemary Swiss Meringue Buttercream
1/4 cup fresh pomegranate juice (made by running the seeds through a food processor and straining)
1 sprig rosemary
4 egg whites
1 cup castor sugar
300 g unsalted butter, room temperature
1-2 drops, pink food coloring (optional)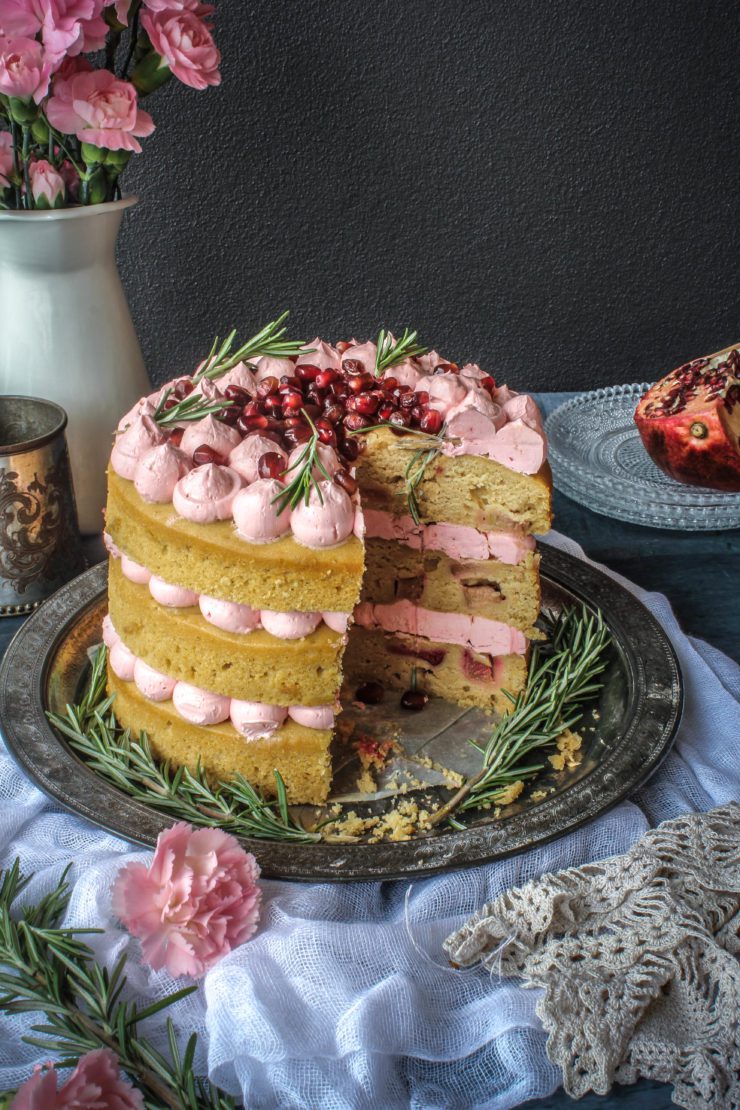 Instructions
Three-Layered Rhubarb Cake
Preheat oven to 160 degrees C. Lightly grease 3, 19 cm round pans and line the bases with baking paper.
Beat butter, sugar, and vanilla with an electric mixer until well combined. Add eggs one at a time, beating well after each addition. Fold in sifted dry ingredients and cream in two batches. Fold in rhubarb. Divide mixture among prepared pans.
Bake for about 50 minutes to 1 hour or until a skewer inserted in the middle of the cakes come out clean. Remove cakes from pans after 10 minutes and cool on wire rack.
Pomegranate And Rosemary Swiss Meringue Buttercream
Over medium heat in a saucepan, simmer the pomegranate juice along with the sprig of rosemary until it is thick and reduced to approx 2 tablespoons. Remove the rosemary sprig and keep the juice aside to cool down completely.
Place the egg whites and sugar in a large bowl that is placed over a saucepan of simmering water (over low heat), and whisk continuously, until the sugar has completely dissolved and the bottom of the bowl is warm to touch
Remove the bowl from the heat and whip on high speed until meringue holds stiff peaks and looks glossy. The bowl should have completely cooled by now.
Add the butter, 2 tablespoon at a time, until thick and fluffy. If it begins to look curdled, continue to whip until it comes back together, before adding in remaining butter.
When the buttercream has come together, add the reduced pomegranate-rosemary juice and mix in till smooth and well blended. Add the pink food coloring (if using) and mix till you get the desired shade.
To assemble
Place one layer of cake on a cake stand or plate. With a large round nozzle, pipe buttercream kisses all over the cake. Place the second layer and repeat. Repeat with the third layer leaving room in the centre to place fresh pomegranate seeds. Decorate with fresh sprigs of rosemary.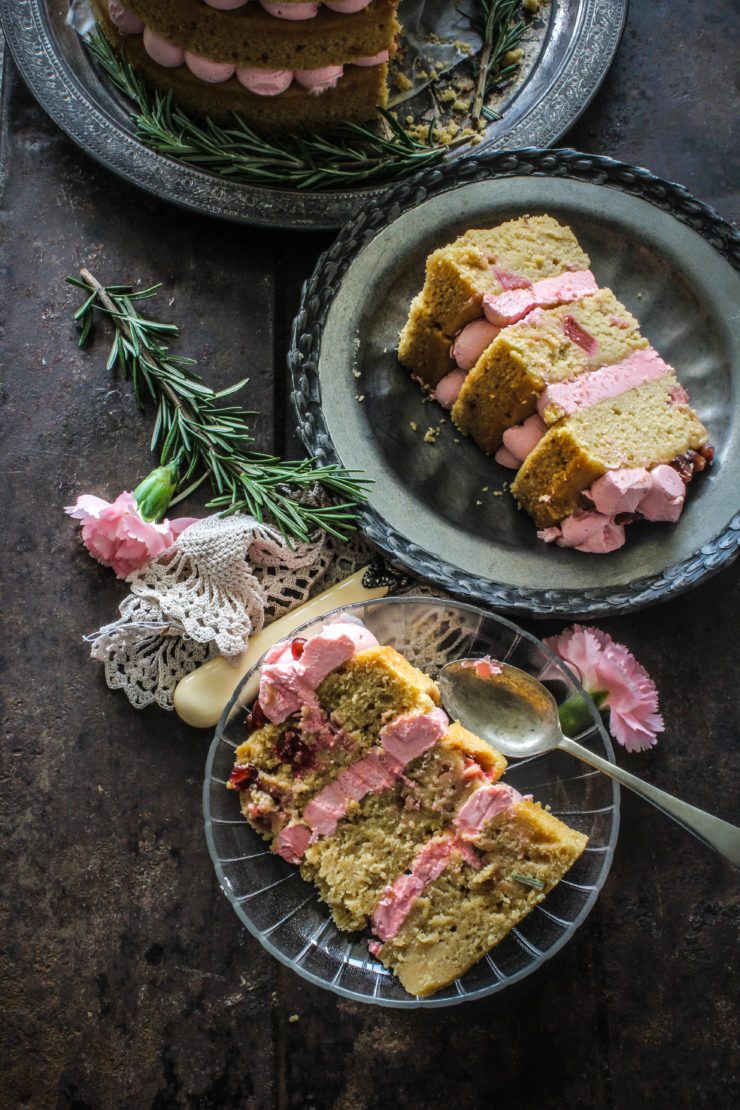 Source: Sugar et al
Don't miss interesting posts on Onnewslive