This homemade strawberry basil layer cake is bursting with strawberry flavor from the cake to the buttercream! With a hint of basil, this cake will for sure be a summer favorite!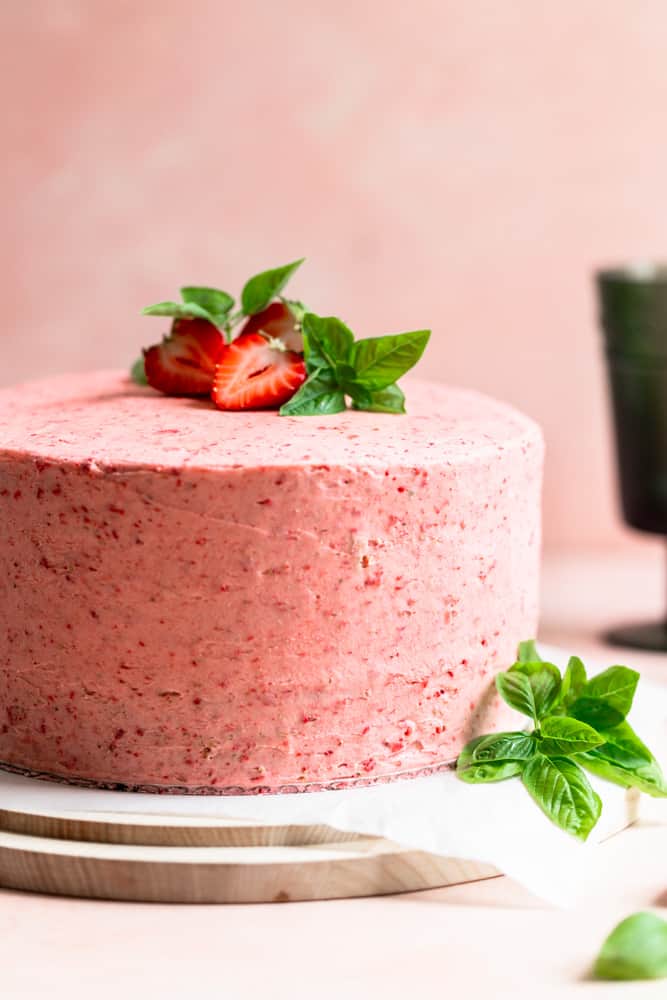 Ingredients
Strawberry Basil Cake
1 cup chopped fresh strawberries hulled, and cleaned
1/4 cup fresh basil leaves
1 cup unsalted butter softened
2.5 cups granulated sugar
4 eggs large
1 yolk (extra to make 5 eggs total)
3 cups all-purpose flour
2 tsp baking powder
1/4 tsp baking soda
1/2 tsp kosher salt
1/2 cup milk
1 tsp vanilla extract
Simple Syrup
1/2 cup chopped strawberries hulled, cleaned
1/2 cup granulated sugar
1/2 cup water
Strawberry Buttercream
1 cup unsalted butter softened
1 1/2 cups freeze dried strawberries or 1.2oz bag
3 cups confectioners sugar
1-2 tbsp cream or milk
1 tsp vanilla extract optional
Instructions
For the cake
Preheat your oven to 350° F and spray 3- 9″ round baking pans with baking spray.
Using a small blender or food processor, blend the strawberries and basil until creamy and set aside
In the bowl of a stand mixer fitted with the paddle attachment, add the butter and sugar. Cream on low-medium speed until light and fluffy, then scrape down the sides and add in the eggs one at a time with the mixer on low.
In another bowl or a large piece of parchment paper combine the remaining dry ingredients- flour, salt, baking powder, and baking soda.
Add the milk and the vanilla to the strawberry basil mixture.
With the mixer on low, and add in 1/3 of the dry ingredients, then 1/2 of the wet ingredients, continue until there's nothing left, making sure to end with the dry ingredients. Mix on medium for two minutes.
Pour the batter into the cake pans and bake 35-45 minutes or until a skewer inserted in the center of the cake comes out dry.
Meanwhile make the simple syrup:
In a small pot combine the 1/2 cup of chopped strawberries, sugar and water. Bring the mixture to a boil for 2 minutes. Then reduce to a simmer for 10-15 minutes or until syrupy. Strain, but do not press down on the strawberries otherwise you might push some pieces through the mesh.
Make the Strawberry Buttercream
Crush the freeze dried strawberries in a ziplock bag with a rolling pin or pulverize them in a spices grinder.
In the bowl of a stand mixer fitted with the paddle attachment, add softened butter, crushed freeze dried strawberries, and confectioners sugar. Cream on low building up to high when the butter has incorporated most of the sugar so it doesn't blow up in your face.
Mix on high for 2-3 minutes. Next add in the vanilla and cream or milk and continue to mix for another minute. The buttercream should have stiff peaks.
Assemble the Cake!
Cut off the tops of your cake layers to even out. Place the bottom layer down and brush simple syrup all over the cake. Fill with buttercream. Continue until the top layer and then frost the cake with the remaining buttercream. Enjoy!
Notes
If your buttercream is too liquidy, add more confectioners sugar 1/3 cup at a time. Or, if it is too thick, add 1 tsp creamer until you have reached the desired consistency.
You can bake this cake into cupcakes. Bake for 18 minutes.
You can make this cake into a sheet cake, bake for 45 minutes.
Source: Frosting & Fettuccine
Don't miss interesting posts on Onnewslive