This brightly flavored Strawberry Lemon Olive Oil Cake is easy to make yet definitely stands out on a dessert table. It is composed of three layers of lemon olive oil cake lightly frosted with strawberry whipped cream.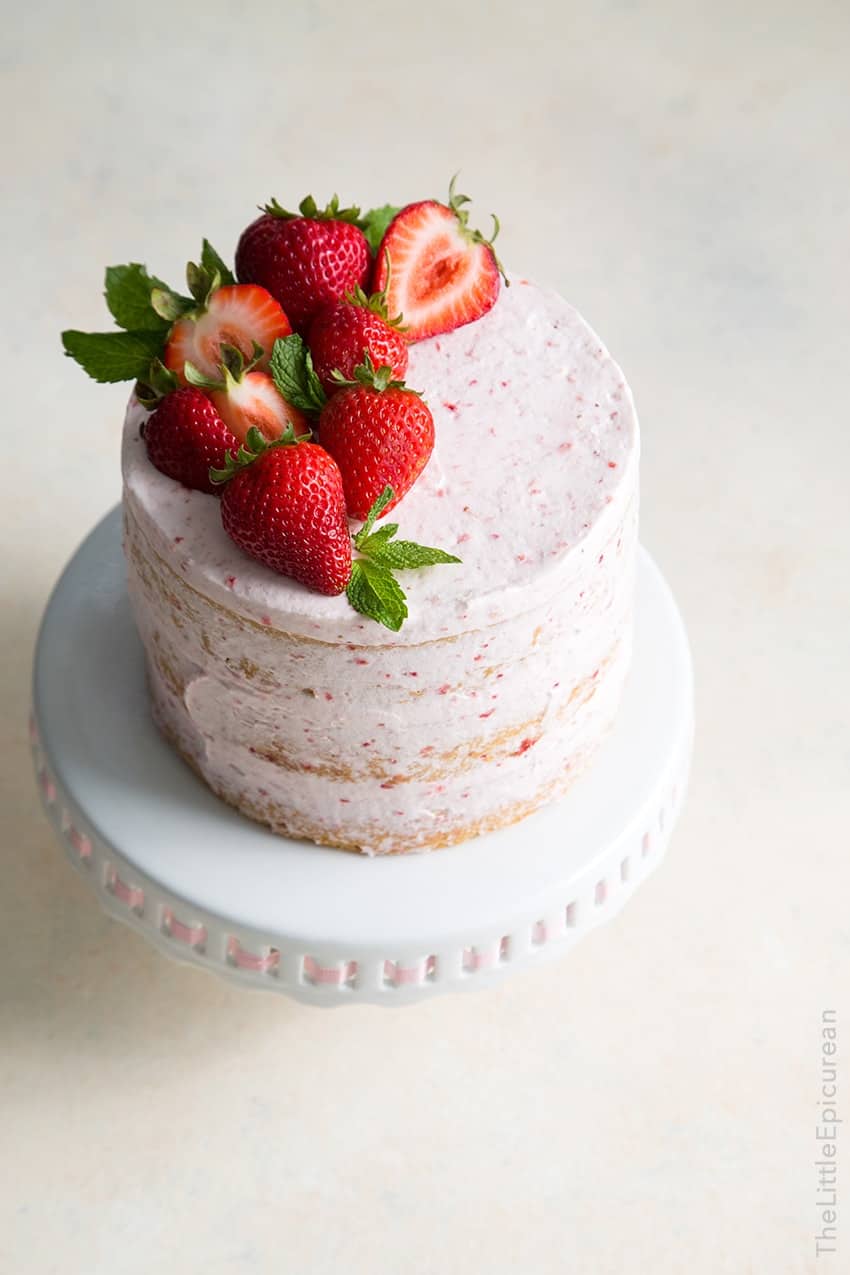 Ingredients
Lemon Olive Oil Cake
2 large eggs
1 cup granulated sugar
2 cups all-purpose flour
1 teaspoon baking soda
1 teaspoon baking powder
1 teaspoon kosher salt
⅔ cup olive oil
4 teaspoons finely grated lemon zest
½ cup fresh squeezed lemon juice
½ cup buttermilk
1 teaspoon vanilla extract
Strawberry Cream
1 cup heavy whipping cream, cold
¼ cup powdered sugar
5 Tablespoons strawberry puree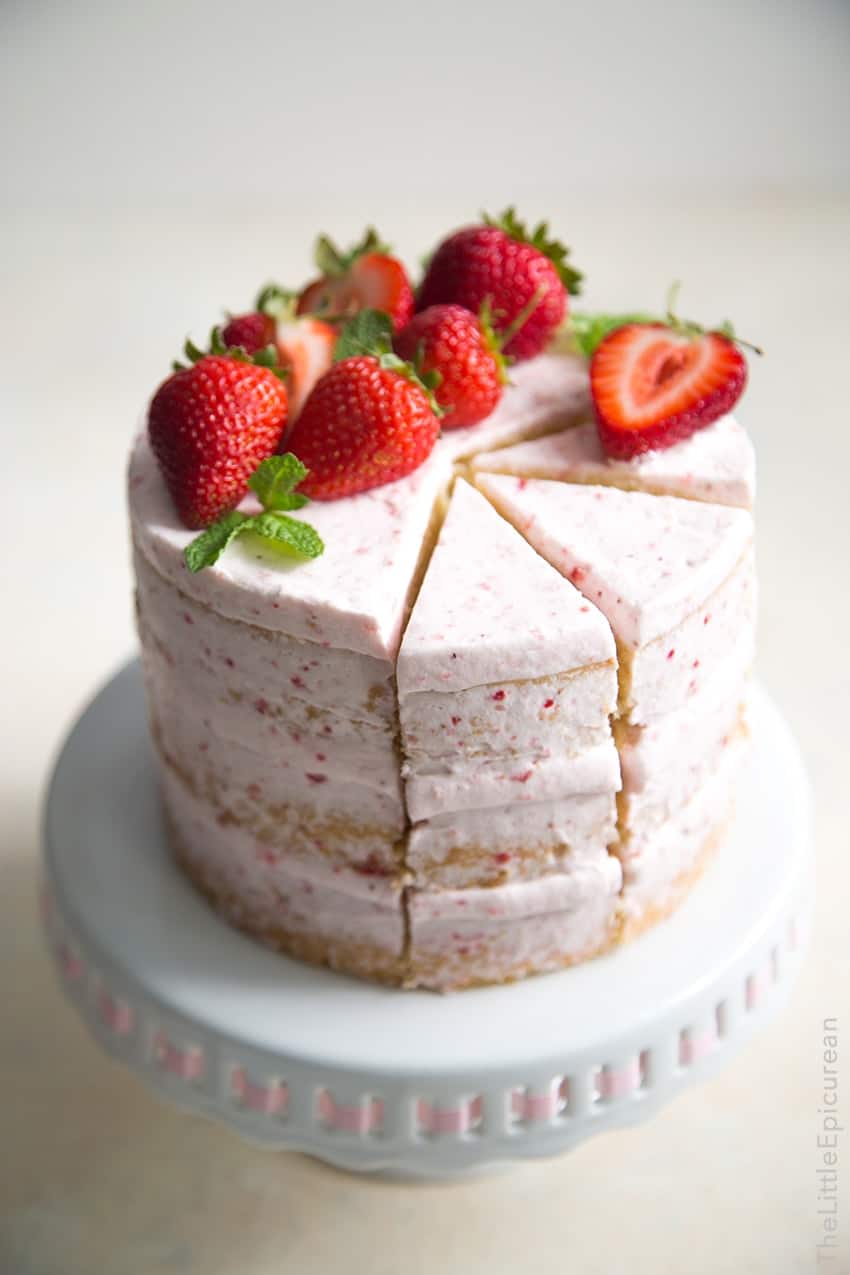 Instructions
Cake
Preheat oven to 350°F. Grease three 6-inch cake pans and line bottoms with parchment paper. Set aside.
In the bowl of a stand mixer fitted with whisk attachment, beat eggs and sugar until pale, about 5-7 minutes. Beat until mixture can form thick ribbons.* (Alternatively, use an electric hand mixer.)
In a large bowl, whisk together flour, baking soda, baking powder, and salt. Set aside. In another bowl, mix together olive oil, lemon zest, lemon juice, buttermilk, and vanilla. Set aside.
With the mixer running on slow speed, alternate adding the dry and wet ingredients in three additions. Start and end with the dry. Scrape down sides of bowl as needed. Mix until just combined. Be careful not to overmix.
Divide batter evenly among prepared cake pans. Bake for 20-25 minutes until toothpick inserted in center of cake comes out clean. Cool cakes in pan for 10 minutes. Run mini offset spatula along edges of cake. Invert and unmold cakes. Cool cakes to room temperature on wire racks.
Strawberry Cream
Using a whisk or an electric hand mixer, beat cold whipping cream to soft peaks. Add powdered sugar and strawberry puree. Continue to beat to medium peaks. Cover and keep chilled in the fridge until ready to use. Whisk cream to revitalize before assembling cake.
Assembly
Place one cake layer on serving plate. Spread about 1/4 of strawberry cream over cake layer. Place second cake layer on top. Spread another 1/4 of cream over cake. Top with final third cake layer, followed with another 1/4 of strawberry cream. Use the remaining 1/4 strawberry cream to make a light crumb coat around the sides of the cake.
Notes
For the sake of flavor, use freshly grated lemon zest and freshly squeezed lemon juice. Stay away from bottled lemon juice. It will never taste as good as fresh.
Use a light flavored olive oil. It should smell pleasant and fruity. Throw out any olive oil that smells stale or rancid.
The colder the cream, the stronger the whipped cream will be. I suggest popping the heavy cream in the freezer for 15 minutes to ensure it is super chilled.
Storage: loosely cover and store frosted cake in the fridge for up to three days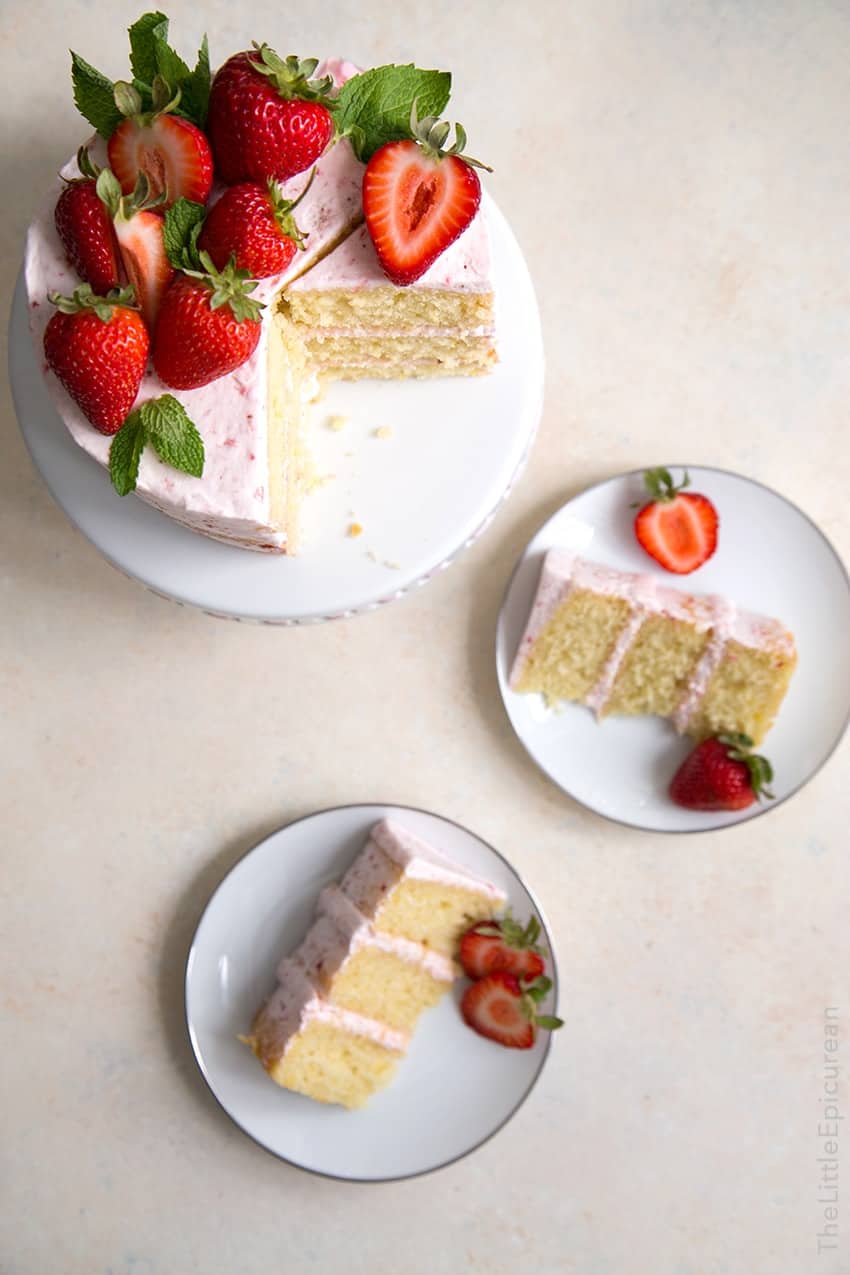 Source: The Little Epicurean
Don't miss interesting posts on Onnewslive