A light-as-a-feather orange cardamom cake, layer with whipped cream and a fresh strawberry-rhubarb jam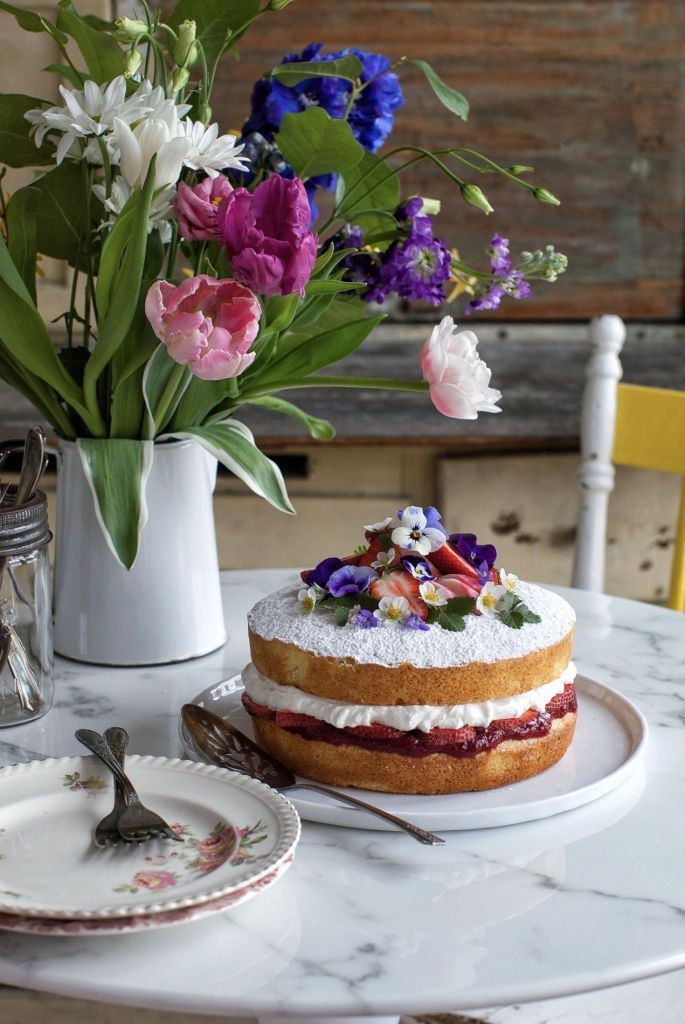 Ingredients
1 cup granulated sugar
1 orange zested and juiced
1 cup unsalted butter cubed
1 teaspoon pure vanilla extract
1 ⅔ cups all-purpose flour
2 ½ teaspoons baking powder
¼ teaspoon fine sea salt
3 Tablespoons cornstarch
¾ teaspoon freshly ground cardamom
4 large eggs room temperature
1 cup heavy whipping cream chilled
1 cup strawberry rhubarb jam homemade
1/2 cup sliced strawberries
3 Tablespoons powdered sugar
edible flowers or berries to garnish (optional)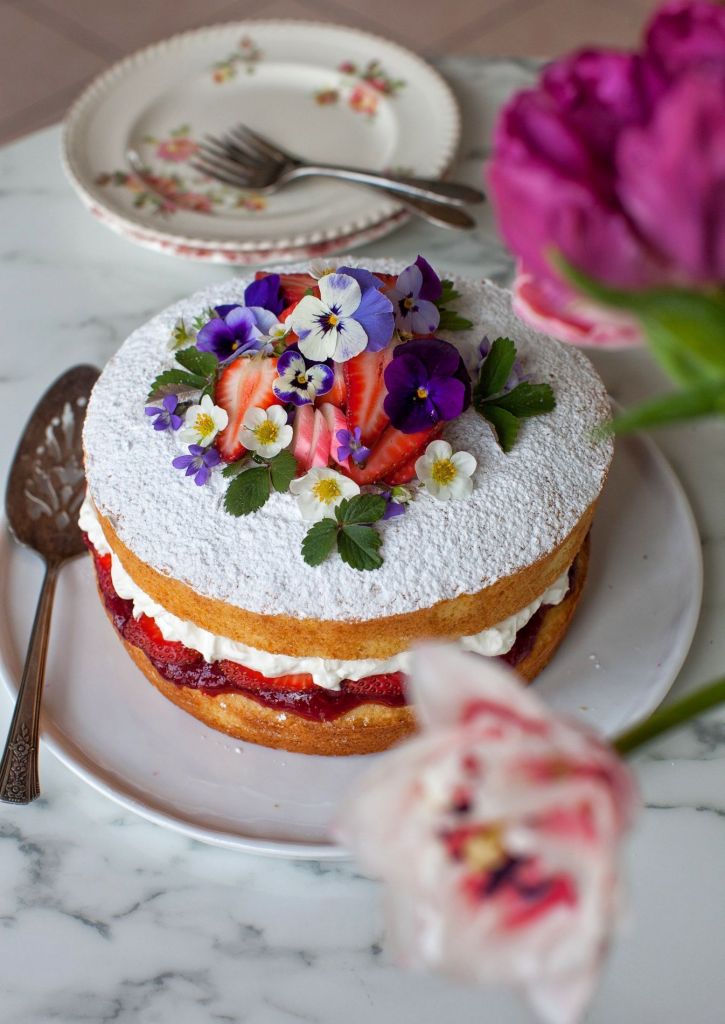 Instructions
Preheat the oven to 350°F. Oil two x 8-inch round cake pans and line the bases with a circle of parchment paper.
In the bowl of a stand mixer fitted with the paddle attachment, beat together the sugar, orange zest, butter and vanilla. Mix on medium high until fluffy, about 4-5 minutes. You will need to stop the mixer occasionally and scrape down the sides of the bowl.
In a medium bowl, whisk together the flour, baking powder, salt, cornstarch and cardamom. If you think there may be lumps, sift these ingredients once into another bowl.
With the mixer on low, beat 1 egg into the creamed butter, followed by a tablespoon of the flour mixture. Continue with another egg and another tablespoon of flour until all the eggs are incorporated.
Stop the mixer and scrape down the paddle. Using a large spatula, fold the rest of the dry ingredients into the cake batter. Finish with about 3 tablespoons of freshly squeezed orange juice. The batter should be smooth and thin enough to drop off the spatula when lifted.
Divide the cake batter evenly between the prepared pans. I used a scale to get the cake layers the same, making sure each pan has exactly the same amount. Smooth the tops of the batter.
Place the cakes on the middle rack of the oven and bake for 23-26 minutes (ovens will vary). The cakes will be a deep golden colour and a cake tester should come out clean. Cool the cakes for 10 minutes on wire racks, then run a knife around the sides, invert onto a rack and cool completely.
Whip the cream into stiff peaks. If desired, sweeten with a spoonful of powdered sugar. Place one cake round onto a serving plate and top with the jam, spreading it right to the edges. Top with slices strawberries, fanning them to cover the jam.
Heap the whipped cream onto the fresh strawberry cake layer, spreading to the edges of the cake. Dust the second cake generously with powdered sugar then place it on top of the whipped cream. Press down on the sides of the cake to adhere. Garnish with edible flowers or additional strawberries. Serve at once. Best enjoyed on the day it is made and best served at room temperature.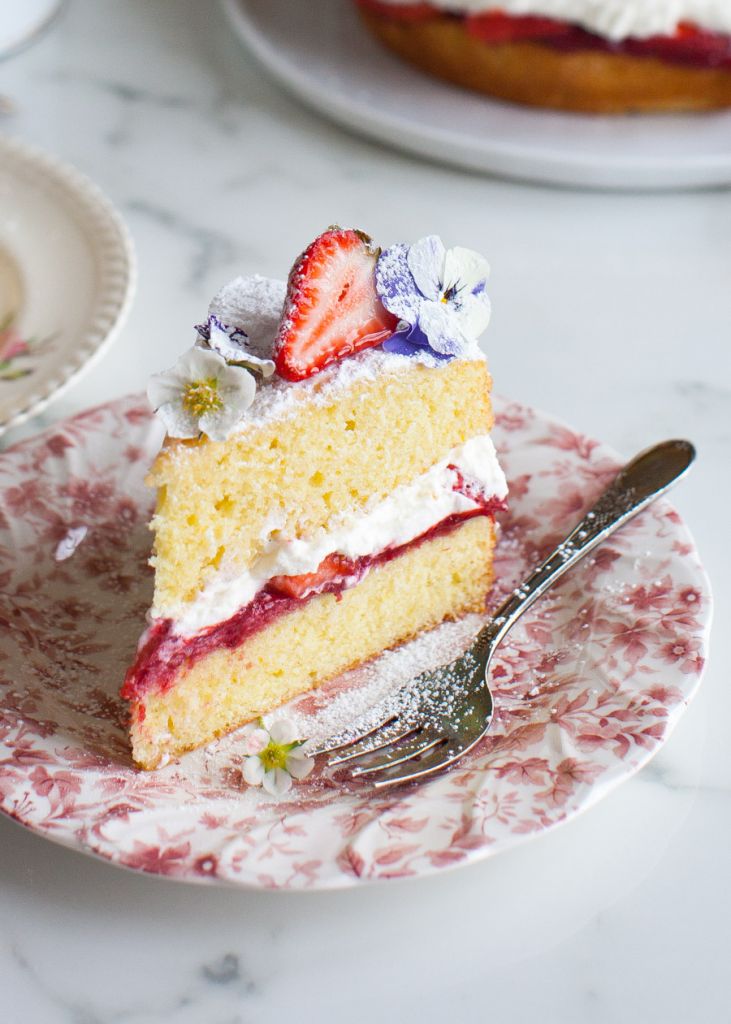 Notes
Swap out a rhubarb compote for the strawberry rhubarb jam filling. You could also use roasted strawberries.
If your cardamom is pre-ground, you may want to use double the amount.
I've suggested 1 cup of jam, but be as generous or sparse as you like. if the jam is not overly sweet, I like to be more generous.
Cake layers may be prepared in advance and frozen, well-wrapped, for up to 3 months. Thaw before using.
Source: Simple Bites
Don't miss interesting posts on Onnewslive