For five years now, the poke bowl has reigned supreme over the eating habits of urban dwellers. And for good reason, according to a study carried out by the Deliveroo application, it is second on the podium of the 100 most ordered dishes in the world over the year 2020. That's a notch below the unbeatable cheeseburger. A triumph for this Hawaiian specialty whose French brands have since continued to multiply. The recipe for success? Raw fish, vegetables, and a rice base. But is the poke bowl compatible with our time? Alexandra Region, dietician, and Ninon Gouronnec, sustainable kitchen manager at the Good Planet Foundation, unveil this questionable culinary phenomenon.
Between tradition and diversion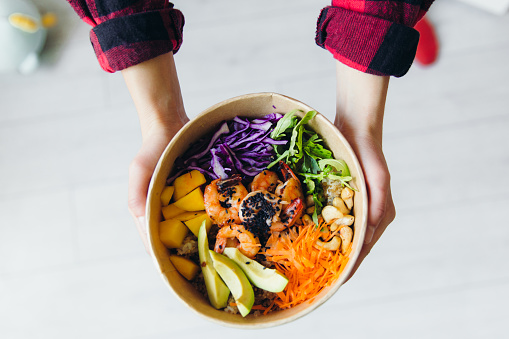 Driven by the wave of healthy food, the poke bowl has made its way across the Pacific Ocean to impose itself at lunch break time. Nothing abnormal in view of all the qualities presented by the latter: healthy and balanced associations, a complete meal, a colorful aesthetic worthy of the most beautiful Instagram accounts, all packaged in a transportable bowl, ideal for office life and customers in a hurry. However, like the newspaper, Libération asks in a mood post published on September 7, what if the time of the poke bowl was indigestion?
Now far from the traditional Hawaiian recipe of fish caught on the local island and local algae, it seems that the favorite dish of surfers has mutated. Salmon, tuna, roast chicken, shrimp, falafel, tofu… All tastes are now allowed. As for the combinations proposed, if the classic avocado, cucumber, and radish are still in the game, pineapple and mango have become the stars of the game. A Hawaiian coup, another Japanese, and sometimes even Israeli… Influences mix in the bowl to form a colorful melting pot according to trends. And sometimes even at the expense of taste.
A more so dietary combo
However, the poke bowl, in itself, is far from being a bad idea according to Alexandra Region, the dietician. Protein, vitamins, fiber, carbohydrates… Hard to do better nutritionally speaking when everything the body needs is put together in one dish. But in the same way that the recipe has evolved in recent years, the ingredients would no longer be as dietary as they were original. "To begin with, the rice used by most brands does not have the same benefit as that usually attributed to it," explains Ninon Gourvennec. This one is too white, overcooked… Not only does it lose fiber but also its glycemic index increases."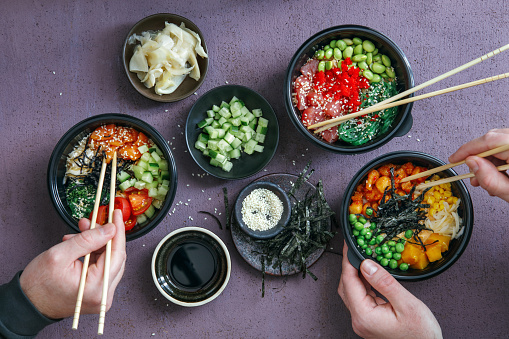 In addition, the range of foods offered has expanded to the benefit of the most greedy and now offers a whole selection of processed products. "And when you choose simmered or fried meats, for example, such as breaded chicken or caramel pork, you significantly increase the level of fat consumed," explains the dietician. It should also be noted that a fat heated at high-temperature doubles in calories and sees its nutritional intake disappear. "We then move away from the complete and balanced dish that interested us at the beginning," concludes Alexandra Region. The nutrition specialist recommends paying attention to the composition of your bowl by favoring vegetables, more complex starchy foods, and a raw seasoning oil to be sure to get the expected benefits.
A growing environmental problem
Another downside, the sometimes dubious eco-responsibility of the brands that have seized the trend. "We often have the image of a healthy and ecological dish but once dissected, we quickly realize that sustainability is really not on the side of the poke bowl," says Ninon Gourvennec, sustainable kitchen manager at the Good Planet Foundation. Indeed, if the original dish is based above all on products accessible in Hawaii, its consumption on a global scale requires an import of the acclaimed products. "Take salmon, for example. It is one of the fish most consumed by the French and whose stocks are now extremely threatened, if not almost exhausted. The one found on our plates comes from farms that, to avoid the proliferation of diseases, stuff them with antibiotics. And when one of them escapes, its reproduction upsets all marine systems. A real ecological disaster." Not to mention that, in many cases, no information on how or where the fish was caught is provided.
Ditto for avocado and mango, often chosen for the color and roundness they bring to the recipe. "These exotic products are picked before maturity and arrive in France by plane, boat, and truck before being stored in maturation chambers. They are then sprayed with ethylene to obtain beautiful fruits ready to be consumed all year round." Especially since these products respond to seasonalities, recalls the specialist in sustainable cooking. However, the poké bowl is consumed every day of the year and thus implies, in the long term, the risk of depletion of natural resources.
Rethinking the "poke"
While retailers are already committed to reducing their plastic footprint and selecting more sustainable fisheries, it is nevertheless possible to go further. First, by informing the consumer about the seasonality of the products to offer him only recipes per period. "Today, everyone wonders about their diet, is careful, on a daily basis, to eat organic products, seasonal … But for some brands, these issues tend to be put aside, and in particular, that of traceability regrets Ninon Gourvennec. It's important not to forget them."
By finally replacing exotic products with more local ingredients reduce the carbon footprint consumed as much as possible. And what could be easier when you know the richness of French heritage? "Our coasts are numerous, let's enjoy it! We can turn to less known fish but just as interesting nutritionally speaking, such as hake, mullet, mackerel, sardines… And above all vary the peaches, "recalls Ninon Gourvennec. As for the accompaniment, why not opt for barley, spelled, French quinoa, and of course vegetables grown by local producers.
In Brittany, some brands are already replacing salmon with Breton trout and, last May, the very first local poke take-away was inaugurated in Lausanne, Switzerland. There, salmon and chicken are raised in the area, tuna is replaced by seitan, and vegetables are grown on surrounding farms. "It's not less sexy, it's no less funny, it's just different," says the expert. And this is how, little by little, we manage to change our habits towards a more sustainable diet." So certainly, the recipe moves away from its Hawaiian origins but finally, it gets closer to its initial design. Namely: a dish from home.
Don't miss interesting posts on
Onnewslive