These seasonal confections look as good as they taste.
1. FLORAL SPRING CAKE
A breathtaking centerpiece and decadent dessert, this dutch-inspired floral cake makes the most of spring's bounties.
Recipe via Hello Fresh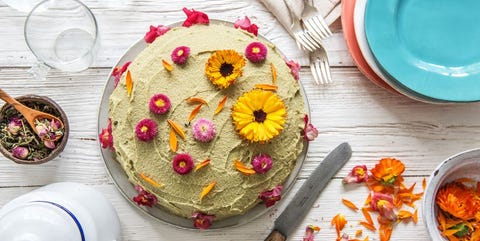 2. FLOURLESS ORANGE ALMOND CAKE
Bring a touch of sophistication to your Easter dessert spread with this fragrant and tart almond cake topped with a light dusting of sugar.
Recipe via Hello Fresh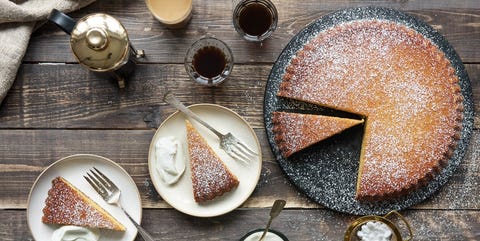 3. ORANGE ALMOND SLAB PIE
As flavorful as it is vibrant, this orange and almond slab pie showcases our favorite spring fruits, balanced by a nutty almond filling.
Recipe via Hello Fresh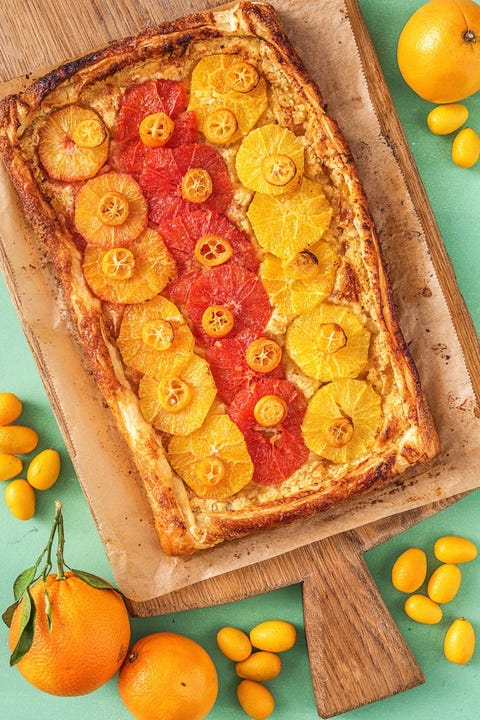 4. CARROT CAKE CUPCAKES
These classic carrot cake cupcakes—topped with cream cheese frosting and sprinkles—will be a festive crowd pleaser amidst your holiday spread.
Recipe via Love From The Oven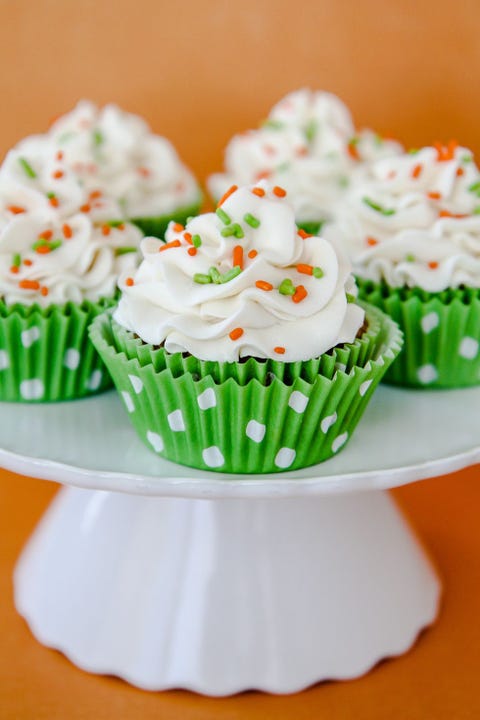 5. CARROT CAKE CARROTS
As adorable as they are tasty, these carrot cake carrots (nestled in a chocolate soil!) are sure to steal the show this Easter.
Recipe via Honey Salt at Parq Vancouver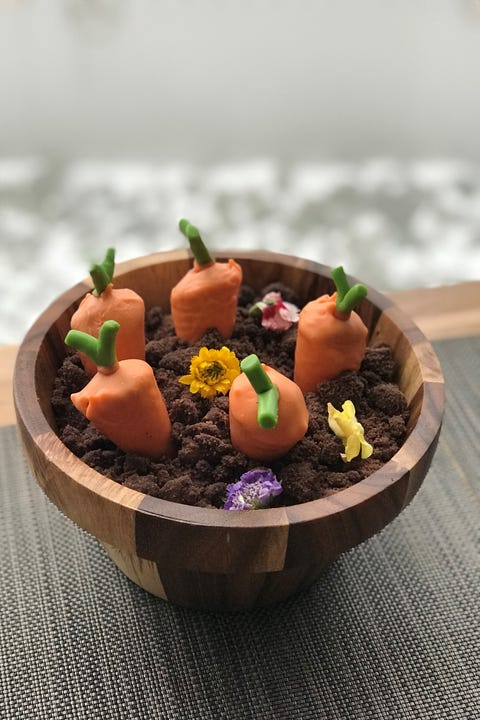 6. ROBIN'S EGG EASTER CAKE
Simple, elegant, and bright as can be, this robin's egg-inspired Easter cake will be the star of your dessert spread. A splatter of cocoa gives the cake a speckled effect, which is then topped with a nest-like sprinkle of coconut and mini chocolate eggs.
Recipe via Preppy Kitchen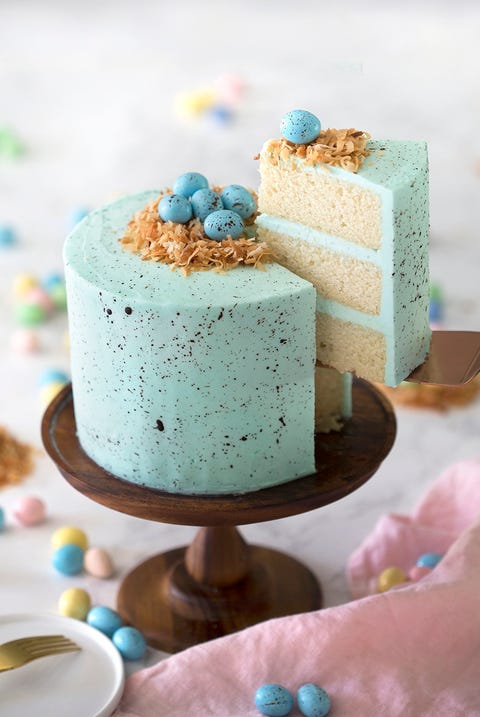 7. SOY-FREE, GRAIN-FREE VEGAN CARROT CAKE
This vegan carrot cake doesn't contain soy, grains, or gluten—just delicious, full flavor topped off with vegan cream cheese icing. You can also dye the shredded coconut flakes green for extra holiday fun.
Recipe via From Jessica's Kitchen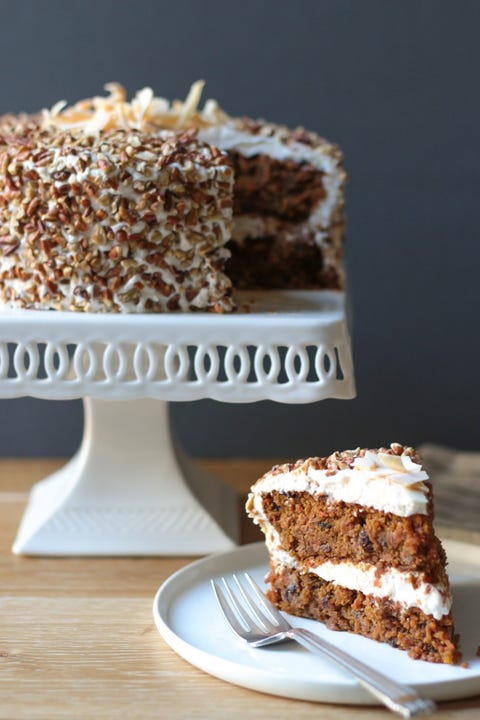 8. BUNNY BUTT EASTER CAKE
A decadent chocolate cake cake topped with grassy green icing, speckled easter eggs, and a cute little bunny butt is elegant yet youthful—perfect for children and adults alike.
Recipe via Preppy Kitchen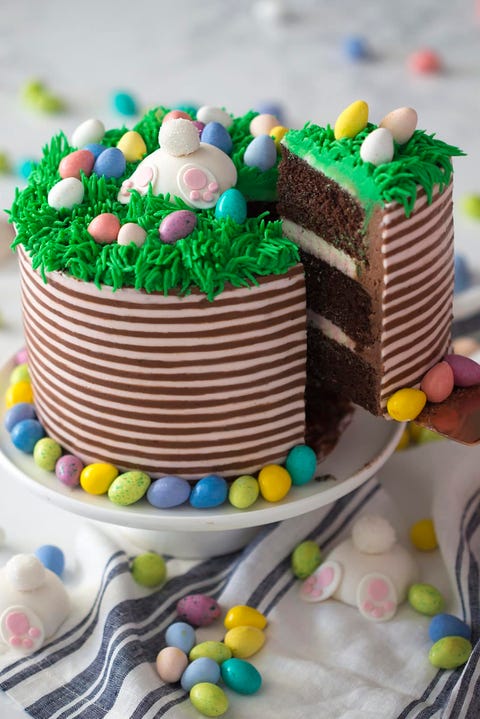 9. SPECKLED EGG CUPCAKES
Sounds of birds chirping will fill your ears as you indulge in these gorgeous specked egg cupcakes. With a chocolate base and vanilla icing, the simple recipe is topped with mini blue eggs for a touch of spring whimsy.
Recipe via Style Me Pretty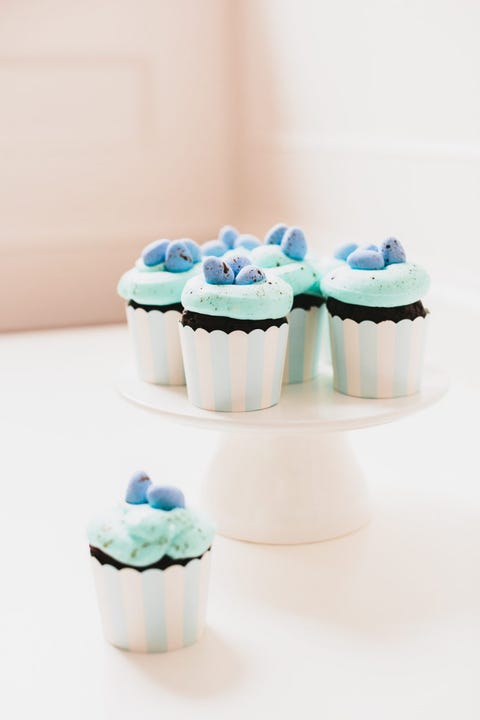 10. BLOOD ORANGE-TURMERIC UPSIDE DOWN POUND CAKE
This colorful, unexpected cake belongs at the center of your table (and the conversation.) The warming spice and buttery cake mixes with the sweetness of an orange topping that tastes as good as it looks.
Recipe via Cooking On The Weekends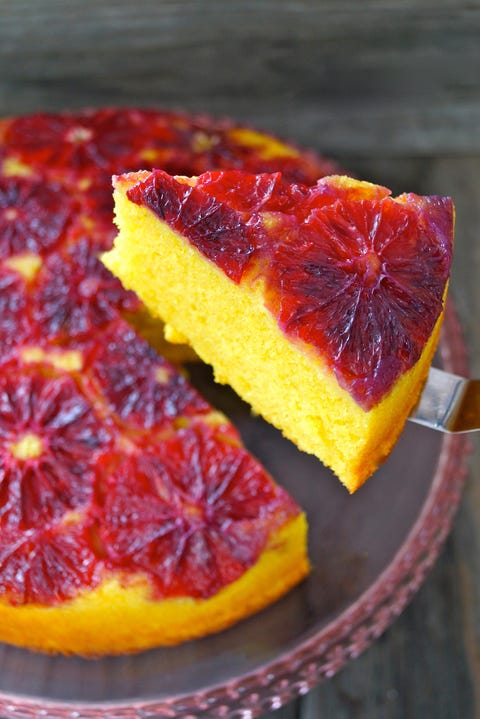 11. OMBRE EASTER CAKE
A symphony of pastels come to life on this ombre Easter cake, which is filled with a strawberry lemon buttercream and covered in a vanilla Italian meringue. While this cake is topped with whimsical buttercream roses, speckled eggs, and an Easter bunny, there are endless ways to decorate—perfect for getting creative!
Recipe via Preppy Kitchen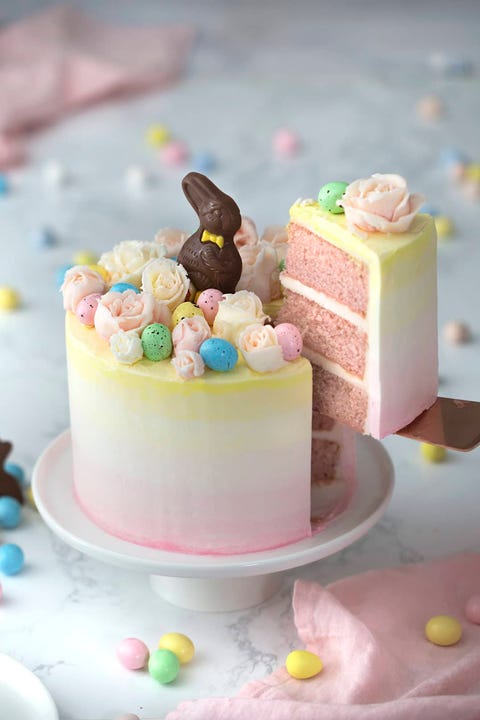 12. LEMON POUND CAKE
This is a bright and light dessert to put some spring in your step and sunshine on your table.
Recipe via If You Give A Blonde A Kitchen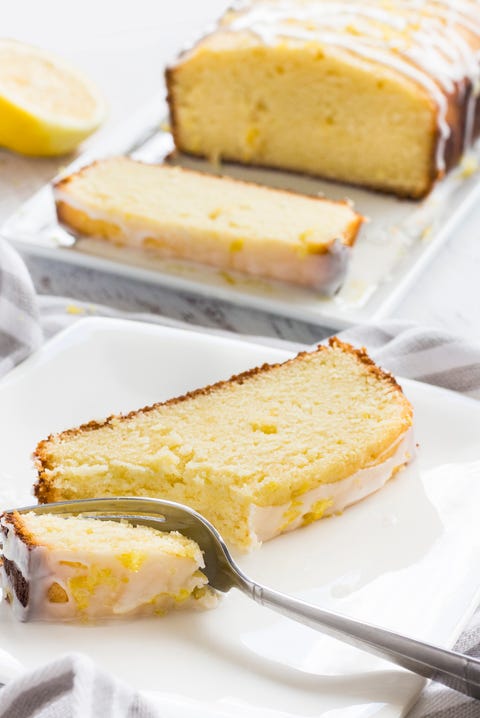 13. VANILLA BEAN BUNDT CAKE WITH PECAN PRALINE GLAZE
This cake is a shout-out to New Orleans, and it's pretty much a parade in your mouth.
Recipe via Joy The Baker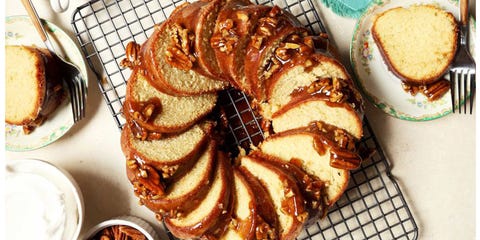 14. EASTER BASKET CUPCAKES
You might be too old for an Easter basket, but you are never too old for an Easter basket cupcake.
Recipe via Baking A Moment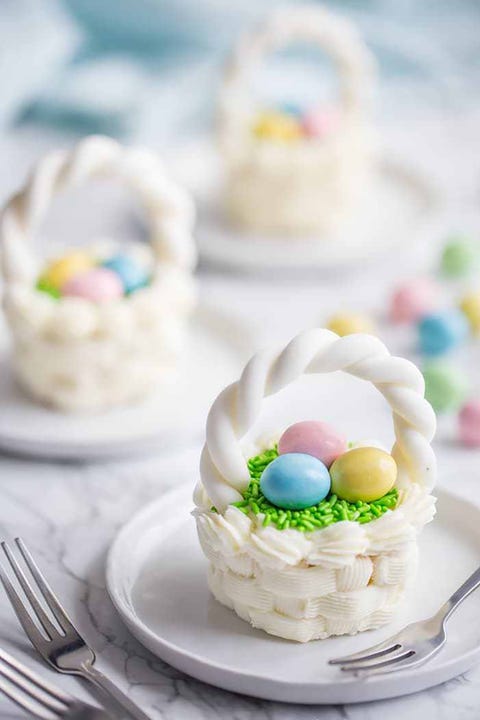 15. COCONUT EASTER NEST CAKE
A lemon bundt cake turned into a nest of Easter candy with creamy coconut frosting and shredded flakes has us hopping up and down in our seats.
Recipe via Sally's Baking Addiction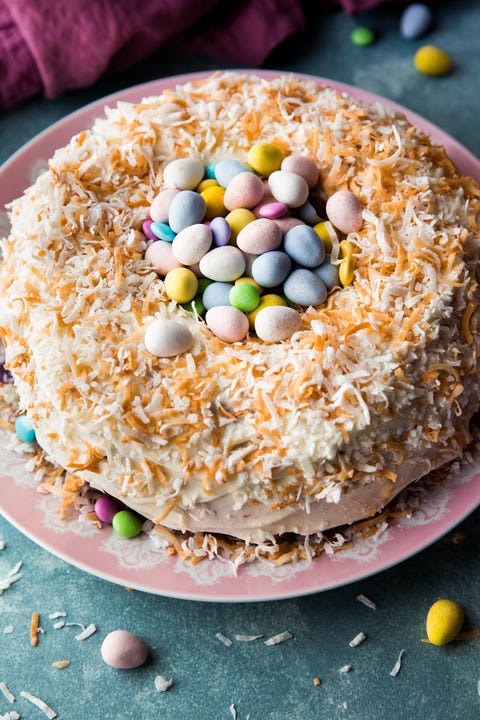 16. WHITE CHOCOLATE SPICED CAKE WITH ROSEWATER CREAM CHEESE AND PISTACHIOS
This delectable cake is just begging to be Instagrammed. From the meringue pebbles to the white chocolate bark, every part of this creation is more extravagant than the next.
Recipe via Constellation Inspiration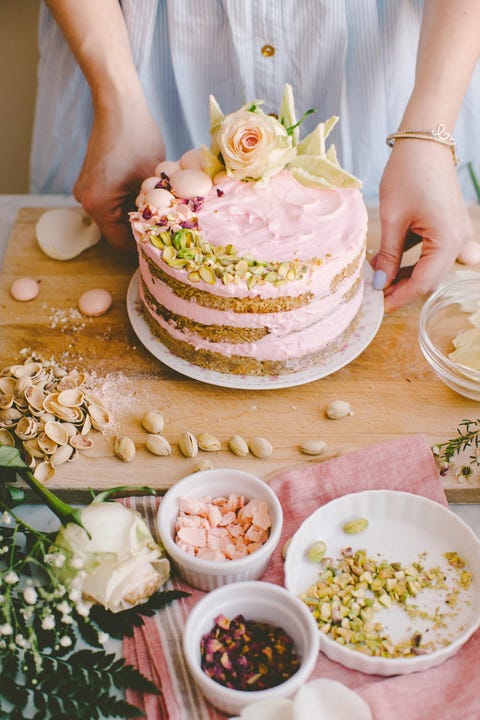 17. MINI EGG EASTER OMBRÉ PINATA CAKE
Your guests are going to FLIP when Cadbury Eggs come tumbling out of this piñata cake.
Recipe via Taming Twins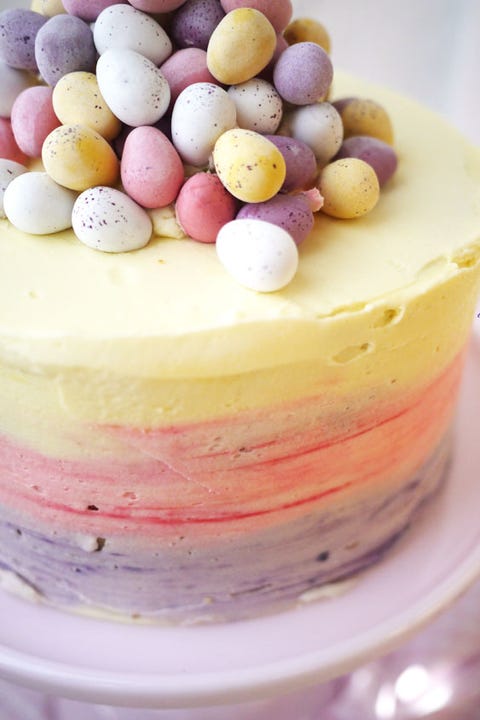 18. CHOCOLATE EASTER EGG NEST CAKE
Yes, you can make that chocolate nest without a culinary degree.
Recipe via Chew Town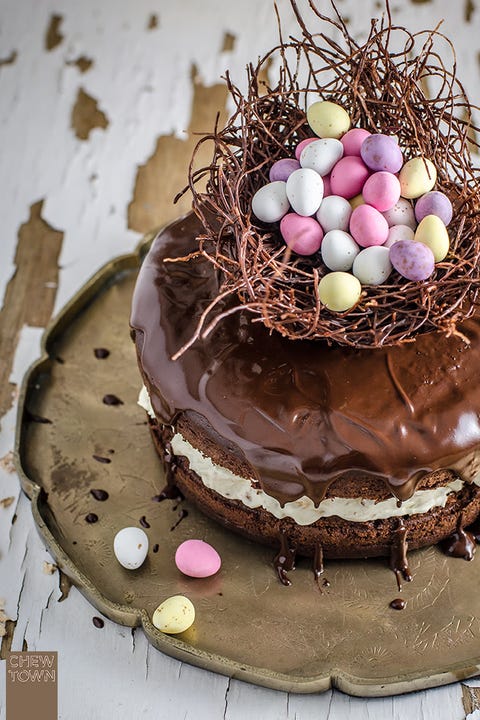 19. EASTER EGG CAKE
You've probably seen this white lemon cake all over Pinterest. It's just as good as it looks.
Recipe via Hummingbird High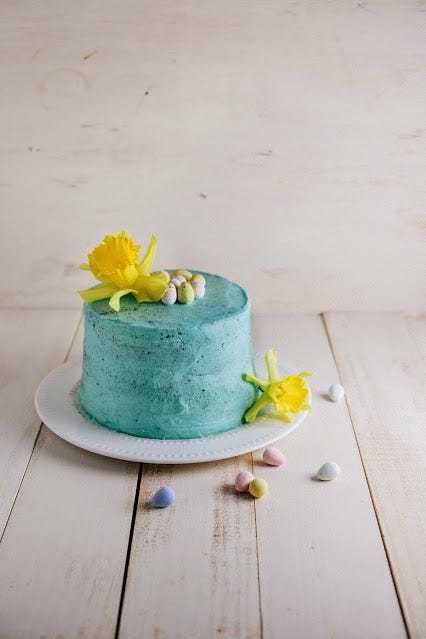 20. NO-BAKE VEGAN CHOCOLATE CHEESECAKES
Fair warning: You're going to want seconds. And thirds. And maybe even fourths.
Recipe via Minimalist Baker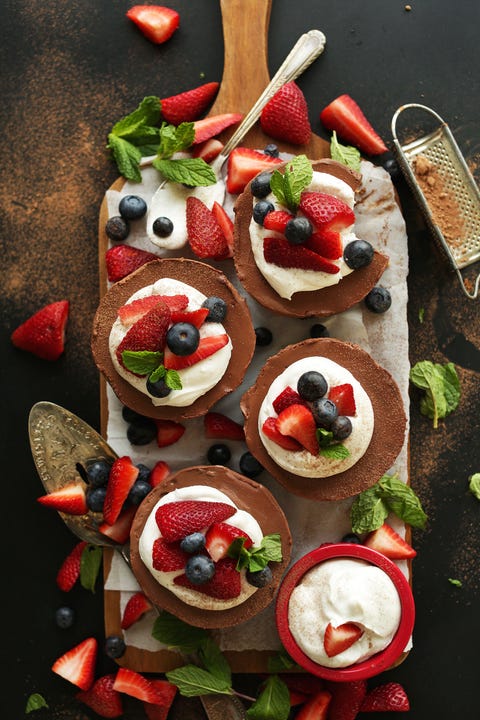 Don't miss interesting posts on Onnewslive