Baby clothes are incredibly charming, and there are so many different styles, colors, and designs to choose from. Unfortunately, most babies only wear those garments for a brief period of time. Babies grow so quickly that your favorite little clothing may only be worn once before it becomes too small to wear again. This leaves you wondering what you're going to do with all those baby clothing you got as a gift at your shower.
You'll enjoy all of the plush toys in this collection, from teddy bears to elephants, and so many lovely small animals in between, and your young one will too. You'll have to sew some of these – some more than others – but they're terrific DIY projects for those cold winter evenings when you don't want to leave the house. Instead, you can stay at home and make plush animals until your heart's content. With these 12 baby clothing upcycle ideas, we're going for the gold.
1.Baby Clothing Ribbon Block
This block is soft and cuddly, making it an excellent toy for children of all ages. It can be made from of old baby garments and blankets. The ribbons make it easy for your child to grab and direct her attention to something. Plus, because the block is so soft, it's ideal for teething babies who bite at their toys. If you don't have any batting, stuff it with old blankets or leftover quilt batting. Get the tutorial at bornimaginative.
2. Upcycled Baby Clothing Headbands
Turn your child girl's clothes into headbands to make them last from birth to adolescence. Pretty headbands are a favorite of all little girls, and this is a terrific way to save some of their favorite ensembles. This is really simple! Simply snip the elastic waistband from her small pants and adorn with a rose or ribbon made from the remaining cloth. Elastic headbands are adorable, but they are pricey. This way, you may have the cuteness without having to spend a fortune on headbands. Get the tutorial at alisaburke.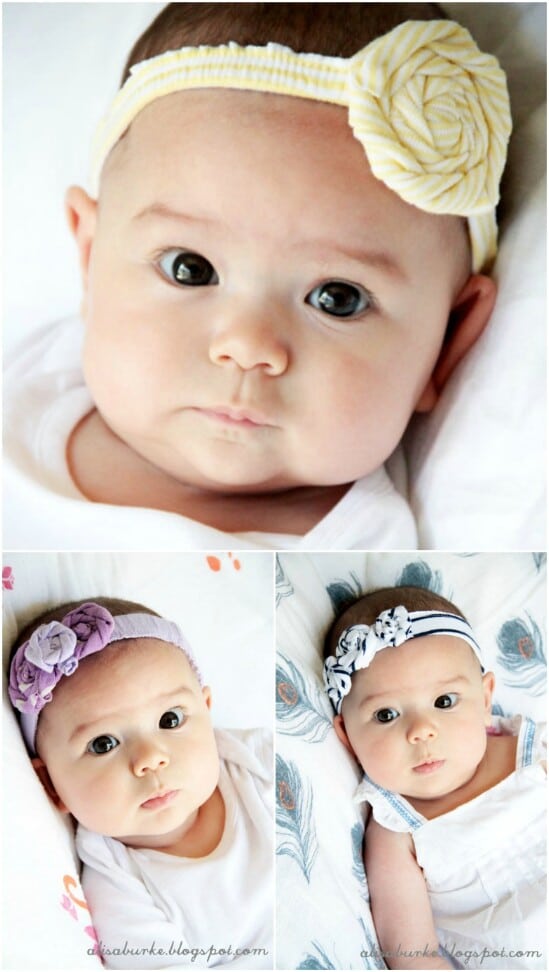 3. Baby Onesie Christmas Stocking
So, depending on when your baby is due, you might not want to do this for baby's first Christmas, but it's a terrific idea for future holidays. Make these gorgeous Christmas stockings out of those newborn onesies. This is a terrific way to give each of your children a personalized stocking without spending any money. You can build a patchwork design out of various pieces of clothes, which has a rustic and lovely appearance. Get the instruction at prettyprudent.
4. Baby Clothes Bouquets
You could absolutely make a baby clothing bouquet and display it in the nursery if you're searching for a way to save a few of your baby's onesies and other little clothing pieces. These are simple to make and result in a lovely bouquet of fabric roses. To complement the nursery, you might choose a single color scheme or create a rainbow bouquet by mixing and matching different elements in different colors. Get the tutorial at hellobee.
5. Whimsy Clothing Animal
You may build the body out of those thick, fuzzy footy pajamas and then dress it up with shorts, slacks, or other clothing pieces. With his one huge eye and floppy ears constructed from an old pair of shorts, he's pretty cute. With this one, you can be very creative and make him as you like. The lovely plushiness will appeal to children, and you will appreciate how simple it is to assemble. Get the tutorial at littlebitfunky.
6. Baby Sock Bunnies And Chicks
These little bunnies and chicks are too cute, and they can be used to recycle mismatched socks. They're simple to construct, and you can use them as baby toys or simply display them once they're done. They'll make lovely Easter decorations if you put them all in a small basket or place them on your Easter tree with hooks. In either case, you'll have preserved those precious tiny pieces of clothes. Get the tutorial at inhabitots.
7. Baby Shoe Frame
You can place those cute little shoes that your baby has outgrown in a vintage frame to make them look antique right away. Decorating with baby clothes is a fantastic idea, especially when it turns out so nicely and gives you a vintage picture look. It's not even necessary to use a vintage frame. You can create immediate vintage by simply painting and distressing a frame. Get the tutorial at vintiquities.
8. Baby Clothing Memory Bear
This memory bear is built from a short onesie (one that doesn't have legs). Even the lovely tiny bear's hair is adorned with a ribbon. If you're building a memory bear for a boy, you may definitely leave that off. You'll also like being able to retain your baby's favorite costumes and reuse them once he or she outgrows them. Get the tutorial at pacountrycrafts.
9. Plush Alphabet
Another fantastic toy that can also be used as a learning tool is this one. Make a beautiful plush alphabet out of those old baby clothes to make learning the ABCs enjoyable and easy. If you want the alphabet pieces to match in color and pattern, you may just need a few pieces of apparel, depending on your desire. It's worth noting that technique requires some sewing, but the end product is spectacular. You could also use fabric adhesive to attach magnets on the back and use these on the refrigerator. The tutorial is at chezbeeperbebe.
10. Baby Clothing Heirloom Easter Eggs
What a sweet idea to build heirloom Easter eggs from of your baby's outgrown clothes. You can use them to decorate for Easter and store them for your child to use when they have children of their own. They're quite simple to make, and if you don't want to sew them, you can simply use fabric glue to keep them together. If you like, stuff with batting or spare clothes pieces. The tutorial is at nurturestore.Baby Sock Bunnies And Chicks
11. Baby Clothes Sun Prints
These sun designs are the ideal solution to keep those precious baby garments safe and use them to decorate the nursery. You'll need light-sensitive paper, which you'll cover with Plexiglas before exposing to the sun. It's not as difficult as it seems, and it's a great way to showcase and preserve your favorite newborn ensembles, such as onesies, socks, and even the little outfit you brought your bundle of joy home in. The tutorial is at marthastewart.Upcycled Baby Clothing Snack Bags
12. Upcycled Baby Clothing Snack Bags
For this one, make sure you're using clean, stain-free clothing. You can turn those old baby onesies into the cutest – and most practical – snack packs. You may use these as reusable snack containers to store everything from animal crackers to teething biscuits. This eliminates the need for plastic bags and allows you to simply wash them after each usage to keep them clean and sanitary. Get the tutorial at bornimaginative.
Don't miss interesting posts on
Onnewslive