It's easy to forget how beautiful the world is when you're locked indoors all day. Allow these images to serve as a reminder of the breathtaking beauty that may be found just outside your door.
1, Wild pigs roam the clear waters on Pig Beach in Exuma, The Bahamas.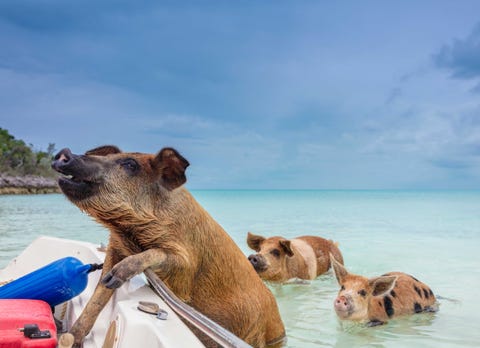 2. The glowing sun appears in the "keyhole" of the Pfeiffer Beach rock in Big Sur, California.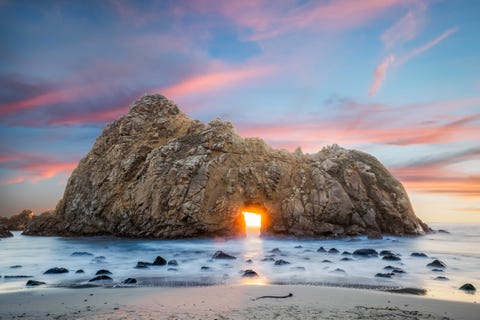 3. The Aurora Borealis, arguably the most spectacular natural phenomenon, on full display over Mount Kirkjufell in Iceland.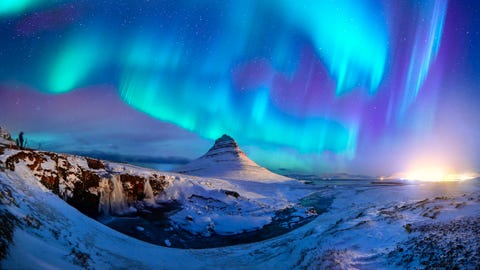 4. Ice bubbles (formally, methane bubbles) at Abraham Lake with Mount Michener in the background, Alberta, Canada.
5. A high tide and intense sunset collide in Crescent Bay, Laguna Beach, California //2019
6. Streams of sunlight peek through the tree covered Huai Mae Khamin Waterfall at Khuean Srinagarindra National Park, Thailand
7. A sunny pine forest in Slovakia.
8. Clouds graze the top of the Cuillin mountains as water flows into a nearby outlet in the Isle of Skye, Scotland // December 12, 2015
7. A lone tree stands upon a hilltop in Wanganui, New Zealand // 1996

8. Texas Paintbrush and Texas Bluebonnet grow in a field beside a barn in Texas
9. A morning fog covers the land near the Chocolate Hills in the Bohol province of the Philippines
10. Water pours into the mysterious sinkhole known as Thor's Well in Cape Perpetua, Oregon
11. One of several waterfalls in Croatia's Plitvice Lakes National Park // March 29, 2014
12. Snow dusts the landscape in Maroon Lake, Colorado
13. 900-year-old trees glow under the night sky in Sossusvlei, Namibia // September 2016
14. The North Coyote Buttes, formed by Navajo sandstone and Chinle shale, in Arizona // February 1, 2013
15. Sinabung Volcano erupts under the Milky Way in Karo, Indonesia // August 2, 2017
16. Lightning strikes Tucson, Arizona // February 26, 2008
17. Hitching a ride in Padang, Indonesia // March 4, 2017
18. Hot spring hangout in Jigokudani Monkey Park, Nagano, Japan // December 16, 2016
19. Underwater cave near Cinque Terre, Italy // May 19, 2017

20. Northern lights near Alta, Norway // March 30, 2017
21. Argan oil production in Essaouria, Morocco // December 17, 2016

22. View of the United Kingdom from the International Space Station // April 5, 2016
23. Sailboat near Spitsbergen Island, Norway // May 6, 2015
24. Grizzly bears in Great Bear Rainforest, Canada // October 5, 2014
25. Heavy smog in Anhui province, China // November 30, 2015
Don't miss interesting posts on Onnewslive