Robert Roope worked for 50 years as an optician until he couldn't take it anymore. He didn't hate his job per se and liked to provide people with a pair of glasses they loved (director Stanley Kubrick was one of his clients in the 80s) but what was unbearable to him was how the design of the glasses had become so dull and boring in the late '90s. "Everything had been invaded by the oblong metal or plastic glasses," Roope recalls in the back room of her Black Eyewear store in Goodge Street, London. It was quite depressing, terribly predictable, and as far away as possible from the classic design of the glasses of the 50s and 60s. So I decided to celebrate these frames myself."
Collector of vintage glasses since always (he owns more than a thousand pairs), Roope started his business with six models of his own, all black (hence the name of his brand) and people loved them. They were iconic, simple, incredibly cool, and offered an alternative to the mainstream. "What I've discovered is that when it comes to glasses, you can't reinvent the wheel. There are rules to follow, such as understanding the shape of the eyes. And you have to stick to it. Creating a pair of extreme glasses that break all the rules doesn't work. I create modern classics, I give them the name of famous jazz musicians, and they are popular because the design is excellent."
Inspired by celebrities who wore iconic glasses such as Buddy Holly, John Lennon, Malcolm X, Dizzy Gillespie, Roy Orbison, Marilyn Monroe, and Audrey Hepburn (in Breakfast At Tiffany's), Roope's line has grown since his company's inception in 2006 and he typically adds at least six new frames to his collection each year. And they have become extremely popular. Those who wear them include Jodie Comer, Sophie Turner, Lady Gaga, Will-I-Am, Lily Cole, Simon Pegg, Mark Gatiss, and Katy Perry. His frames have also appeared in magazines such as Vogue and, of course, GQ.
So we can say that when it comes to eyeglasses and sunglasses, he knows what works and what doesn't. So, to make buying your next pair (or first) a positive experience, here are his tips for choosing the right frame, inspired by the five mistakes people make when choosing glasses.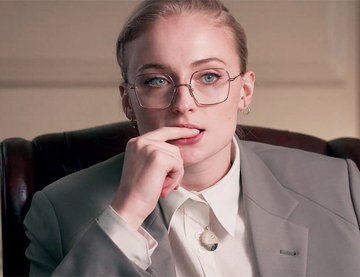 Don't buy your first pair of glasses on your first visit to the optician
"If you're new to glasses and looking for your first pair, don't buy them right away. When people come to me for the first time, with a prescription, usually with a partner who wears glasses, I tell them the same thing: don't buy a pair today," Roope says.
"It may not be the best selling point, but my advice is to look, try a few pairs, take pictures on your phone if you want, and think about it. You'll probably be wearing your glasses every day, so make the right choice. Once you've thought about it and slept on it, come back and make a final decision. If you don't rush people, they'll make a better choice."
Don't choose a pair because it fits someone else well
"A lot of customers come in and have an idea of what they want to be based on the glasses they've seen on someone they love or admire," Roope says. Rather than coming in with a decision already made, take your time and be open-minded to a style that suits you rather than someone else."
"John Lennon was superb with little round glasses, but that doesn't mean you will be. At Black Eyewear, we don't have walls and walls of frames in a huge price range to screw people up and baffle people – we have individual models and they're all at a similar price, so you won't feel like you're being scammed or scammed. By taking the cost out of the equation, the style becomes your main consideration."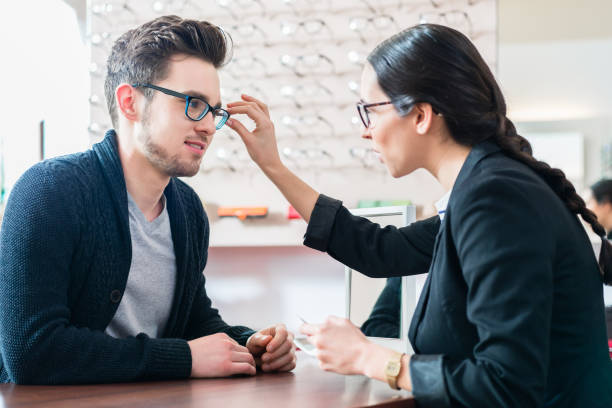 Don't try glasses thinking you know what works and what doesn't work for you
"If you're relaxed, take your time, and listen to ideas, you'll get a more flattering pair," Roope says. Many people come up with a list of things that don't suit them. They say 'I can only wear rectangular glasses'; 'Bright colors don't suit me'; 'The square glasses draw attention to my nose'. They may be right, but it is very likely that they have not considered all the possibilities. We have more than 120 different models, all in very different colors… Are you telling me that only one is right for you? Adopt the fitting system and chances are you'll be pleasantly surprised by the result."
Don't think that not all sellers are reliable
"A lot of customers are wary of sellers. Are they telling me what they think I want to hear? This may be true, of course, but certainly, not always, Roope warns. That's another reason why I wanted to create Black Eyewear, to improve people's shopping experience. When I work with a client, I constantly evaluate the shape of their face and what would suit them best. I don't want to make the decision for them, but I can help them make an informed choice about what is the best option. I tend to think of glasses as a piece of architecture and I want to choose the perfect building for their unique setting. Do they fit into natural contours? The nose, the face, the eyebrows, the eye sockets, the space between the eyes, the ears… are all factors to consider when choosing glasses."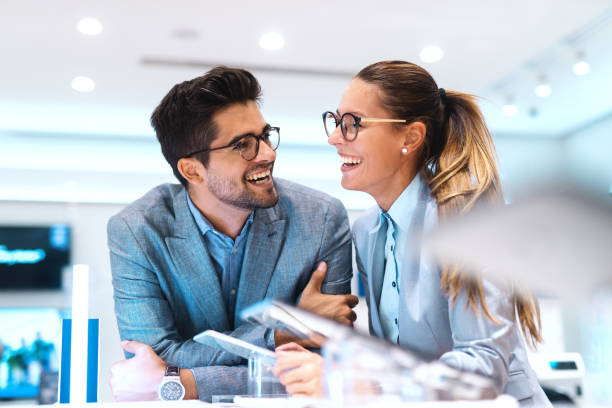 Don't forget to consider your prescription
"If you have a very high correction and it impacts the lenses and it's important to take that into account," Roope says. Today, vision technology can do wonders by making thin lenses, but it can't work miracles, and with the wrong frame, thick glass can ruin a look. Nowadays, a small proportion of the population has very limited vision, but this can be a problem."
"For me, the best part of my job is when a client leaves and they're happy to have a frame that they feel good in and fit them well," he says. People tend to be more adventurous these days and if I can encourage someone to be bold, to find a pair that suits them and is quite individual, that's a win. And no, we don't just do black anymore."
Don't miss interesting posts on
Onnewslive