Even if you think it's not…
Unfortunately, not all of our actions and habits strengthen marriage. It is possible that you endanger the happiness of your family every day without even knowing it. There are many things that lead to divorces: for example if you are too demanding or chat a lot on the phone instead of paying attention to your beloved… Some of our words and actions can forever alienate the spouse, cause a feeling of resentment, anger in him … Eventually, the point of no return comes, and the relationship is destroyed once and for all.
How to detect bad habits in relationships? The publication Insider.com gives six signs that you are a bad wife, even if you think that this is not the case (and we add another one). After all, according to relationship expert Susan Winter, awareness of the problem is the first step to positive change. If you can be honest with yourself and acknowledge your shortcomings, you will be one step closer to restoring the emotional health of your family.
1. You can't turn a blind eye to your partner's minor mistakes
Constant criticism of his insignificant mistakes in actions and words shows your insecurities, not love. Judge for yourself: who would like to know that he is doing everything wrong? Each of us has bad habits that can irritate others. But if you decide to live with this person, you have already accepted him with all the flaws, so why do you want to remake him? The desire to control the actions and thoughts of a spouse, to "improve" his personality is directly opposite to love, psychologists believe. Do you want it to meet your expectations and standards? It's a little selfish. Instead of constant indignation and criticism, even jokingly, try to talk frankly and help him if he wants to.
2. When you're upset, you don't say it directly
Accumulating resentment and other negative emotions in yourself is wrong. It's the other extreme that you don't have to fall into. Just as you should not criticize your loved one for every trifle, you should not hide your dissatisfaction for more serious reasons. If you restrain your emotions when your partner openly offends you or flirts in your presence with another, be sure that this situation will happen again. "Even if you have been married for a long time and are sure that your spouse knows you as a peeler, you should not play psychological guessing, it is better to immediately express your complaints," says relationship coach David Bennett. In strong families, partners honestly and openly express their desires, so if you are uncomfortable, immediately talk to your partner instead of waiting for him to guess everything himself.
3. You always accompany your spouse during friendly meetings
At first, everyone likes it and does not bother anyone. But in the end, without giving him any freedom, you will look like a dog on a leash. The desire to spend every free minute together is an indicator that you are dependent on your partner and have low self-esteem. A close bond with your spouse is good, but only until it becomes obsessive and begins to irritate him.
4. You always want to win arguments
In a healthy relationship, compromise is necessary. And if every time you come into conflict with your husband, you try to "win" with all your might and act in your own way, you seriously risk your relationship. A person who always deserves the last word in an argument sees marriage as a battlefield, a conquest. If you do this, you do not show your love for your husband, but trivially try to raise your self-esteem, feel the power. The next time you want to win an argument, ask yourself why you need it.
5. If your spouse has a bad day, you just advise him to survive it
Even if you don't know any other way to support your husband, don't think that a friendly pat on the shoulder can help him. If he's sad and anxious, you won't lift his spirits if you say, "It's going to pass" and "Oh, stop whining!" or something like that. Many men are quite vulnerable, and if you do not comfort him when he is struggling, he may perceive this as callousness and indifference. In this case, a man thinks that you need only to meet your needs, and when he has trouble and he desperately needs support, you do not want to satisfy his need.
6. You're on your phone all the time, even if you're the two of you
Nowadays, it is impossible to completely abandon the use of the phone, but at some points communication in social networks can cause serious disagreements with a partner. One of those moments is a date with your loved one. When you're watching a movie together or sitting in a restaurant, it's important not only to be physically close but also to pay attention to each other. Agree, it's not nice to show interest in some friend on Twitter when you have a legitimate husband in front of you. No matter how long you've been together, you absolutely can't do that.
If you find that, being together, you are doing your own thing and not communicating, know that this is a sure sign that something is wrong in the relationship.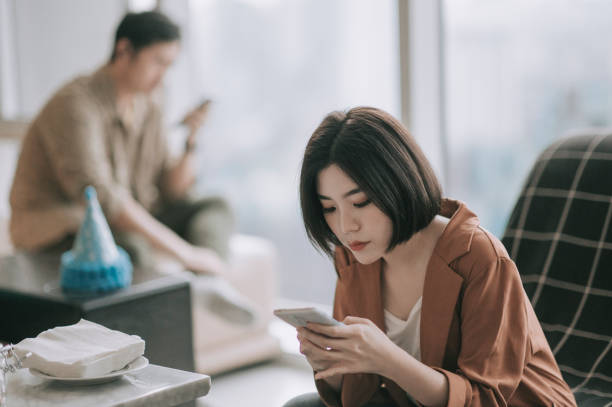 7. You listen to those who tell you you are a bad wife
And, most importantly, you listen to outside opinions. However, according to psychologist Valentina Sorokina, no one but you and your own husband – whether it is a mother-in-law or friends – has the right to evaluate you by this parameter. There are no objective criteria for a wife "good" or "bad", except for one: Is your husband happy, and is there harmony in your relationship? If so, it doesn't matter how much time everyone spent on their phone, whether you cooked dinner or gave them a foot massage.
Don't miss interesting posts on
Onnewslive