When it comes to summer crafts, we generally spend our time off creating colorful, cheerful items that are inspired by the lovely weather and all of the gorgeous animals and flora we see when out enjoying the fresh air. Every year, we discover that flowers, more than anything else, capture our attention and inspire us the most. While it is possible to make crafts using fresh flowers, we have found that the items have a short shelf life. We've done a lot of crafts using silk or plastic flowers in place of actual flowers, but there's something magical about real flowers, so substituting them with silk or plastic lessens that charm a little. That's why we've recently become intrigued with the concept of making crafts out of dried and pressed flowers!
If you're interested in drying and pressing your own flowers so you can be creative and beautiful with them, here are 8 of the greatest instructions, ideas, and concepts we've found so far in our never-ending hunt for new and exciting projects to try our hands at.
DIY dried flower shadow box
Do you like the concept of leaving your dried flowers in their original shape rather than pressing them, but you have dogs that would have a lot of fun with the garland mobile idea we showed you earlier? In that scenario, a display design that protects the flowers a bit more so your animal companions don't damage them right away could be a better option. Take a look at how Fabulessly Frugal meticulously arranged and displayed their dried flowers in a shadow box.
2. DIY ombre dried flower wall
Perhaps the notion of hanging dried flowers appeals to you, and your house is a perfectly safe location to build something like that and have it endure, but you'd prefer make a larger project that's closer to a statement piece? In that case, we believe you'll like Juliette Laura's suggestion for a hanging rose wall! They created an ombre effect across the entire wall by arranging their flowers in a gorgeous color spectrum sequence.
3. DIY dried flower terrarium
Terrariums of various types, shapes, and sizes have been popular for a long, and we're not surprised because they're so intriguing to look at and easy to create! However, we've always favored the dried varieties because they take far less maintenance than the ones that are still effectively a small garden attempting to grow on the corner of your desk. So imagine our delight when we stumbled across this dried flower terrarium idea on Bridget's Budget Beauty! We enjoy it when two or more of our favorite things come together in one beautiful location like this.
4. Pressed and dried flower confetti
Are you planning a photo shoot or a bridal shower, and the idea of including confetti for atmosphere and aesthetic appeals to you, but you're hesitant because you know that some types of confetti are quite wasteful and not necessarily healthy for the environment, especially if your event will be held outside? If natural and whimsical are terms that come to mind when you think of your overall theme, then this delicate pressed flower confetti concept from Bit Square could be a fantastic DIY option for you!
5. Dried and pressed flower canvas wall art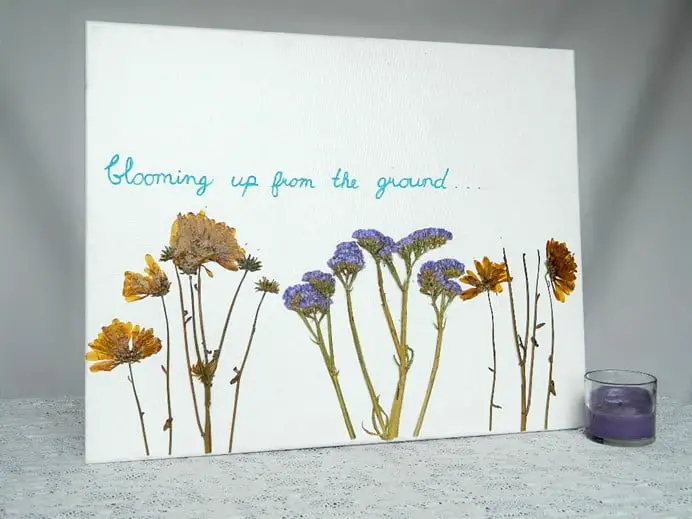 Have you been looking for a simple project that you can do with your kids and use to teach them how to dry, press, and deal with flowers? Then we believe you should check out Tattooed Martha's canvas wall art, which they produced by arranging and pasting pressed flowers from their own yard and garden and matching them with a handwritten phrase that fits the setting they created.
6. DIY dried flower crowns
Would you rather make a big statement with dried flowers than go to the bother of meticulously arranging them in a way that allows you to produce something beautiful from something so delicate? In that case, perhaps something like this gorgeous floral crown shown on Hi Lovely! would be a better fit for you to make and wear. They walk you through the process of constructing a rose and leaf ring step by step and offer recommendations for personalizing the appearance anyway you like.
7. DIY Dried flower door wreath
Perhaps you already have a beautiful collection of dried flowers that you want to utilize for something, but you want to make it basic and manageable in size since you have so many flowers to deal with? If that's the case, we recommend seeing out how Grateful Prayer, Thankful Heart made this side-heavy hanging door wreath out of flexible branches knotted together as a foundation. No matter what sort of flowers you choose, we've always thought this style of wreath looked beautifully antique.
8. Dried flower and branch garland
Are you attracted by the notion of working with dried flowers because their beautiful immortality tugs at your heart strings, but you think pressing them till they're flattened out takes away some of their appeal? Fortunately for us all, She Knows is here to remind us that not all dried flower crafts need to be pressed! Check out how they created this gorgeous wall hanging mobile with dried flowers strung up and down threads like garlands. We appreciate how they kept things appearing natural and almost rustic by using a branch as a hanger's base.
Don't miss interesting posts on Onnewslive