Why do the beauty tutorials that flood YouTube fascinate so much? How do we end up wasting entire hours on the sites of armored e-shops of makeup products? But above all and basically: why do we wear makeup? To all these answers – in the first person – the Quebec author Daphné B., poet, co-founder of the feminist platform Filles Missiles and participant of the show Plus on est de fous plus on lit, in an unclassifiable book published by Grasset: Maquillée, essay on the world and its shadows.
So a try? Not really. Rather a testimony, that of a committed young woman who questions her habits in the light of her convictions, auscultates without demonizing the impact of makeup on our psychology, and more generally that of the selfie, like, appearance and the cult of authenticity promoted on the social web. A wide program where poetry and sociology rub shoulders with evocations of the futuristic singer Grimes.
Enough to wonder why a makeup that many confined people have sent to upset during the past year. But what if makeup was, more than a practical reflex, a philosophical act?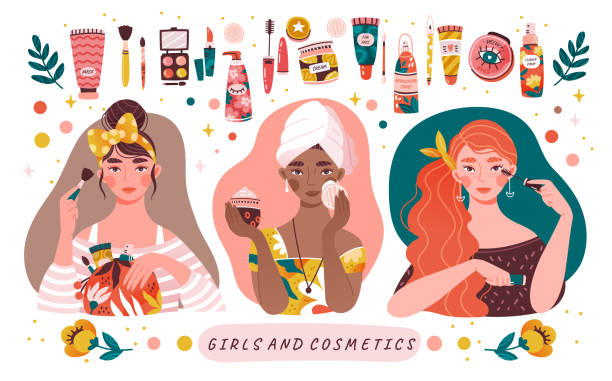 I wear makeup so I am
The question is worth asking. Especially for a gesture that reconciles aesthetics and psychology to such an extent – if so. Last year, the business magazine Capital said: "During the lockdown, French women seem to have put beauty in the closet." In just a few weeks, makeup sales would have actually dropped by 75%. Significant savings, time savings, "natural" self-esteem, the reasons to send valdinguer the makeup bag are not lacking.
And yet… "Wearing makeup is really comforting for mental health. Often, I do it more for myself than for others," explained Lou, a 26-year-old woman, attached to her lipstick. Another interlocutor, Marie, told us that make-up is like an artistic performance: "When I wear makeup, I make the pleasure last, I try to have the perfect gestures, to dose impeccably, to make pretty lines … it's like a painting." In unison, Daphne B. does not swing the gloss at the stake.
She sees it as the expression of humanity, since of a vulnerability: "When we blush our cheeks or make up our lips, we replay our fragility, our ability to let ourselves be altered by what surrounds us". For the author, "the face seems to be a much more intimate part of the body than the genitals, since it speaks without speaking, in shudders and black dots, in openings, like a medallion with a secret photo in it".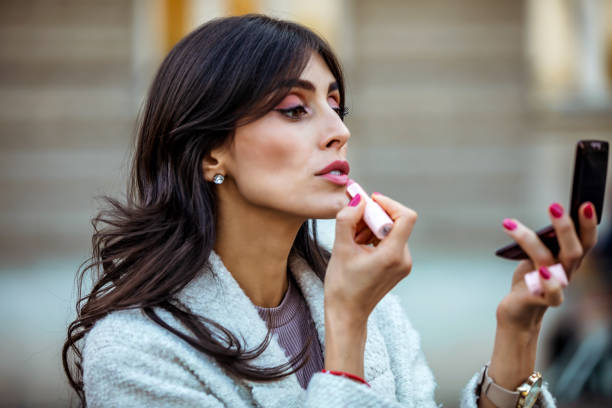 Makeup accentuates the emotions that this face contains. Do we wear makeup to hide our true appearance, and our effects, or to better reveal them? The vast question, of which Daphne B. nuances the possibilities of answers. Even if it means navigating against the current, comparing makeup "to figures of style and poetic images". These could be described as artifices, accused of "masking reality" while they "highlight the very truth of the poem as writing".
It would be the same for makeup. However, it is gladly considered a symbol of falsehood, the cult of the top and the chimeric inbox, abundantly criticized when it is supposed "too much", as contrary to a good imposed taste. It is in the face of these virulent discourses that his reappropriation reveals all its strength. "We prefer to mock the stuffed faces rather than praise the artistic value of which they are the proof. It seems that makeup is only acceptable when it hides, obscures the very gesture that gave birth to it, "laments Daphne B.
What if all this made makeup a political act?
Lipstick and feminism
"The rosy cheeks, irrigated with blood, betray the trouble caused by contact with the other. Our purple face signals embarrassment, shame, excitement, anger," writes Daphne B. Emotions that express indignation or assertiveness. Like the feminist history of lipstick, which oscillates between injunctions (to femininity) and revolutions: at the beginning of the 20th century; the Suffragettes who fought for women's suffrage in the United Kingdom always took lipstick tubes with them.
As a sign of unity that unites, the symbol of emancipation, but also, a strong visual marker. Because by valuing the mouth, lipstick by extension values the (militant) word that comes out of it. The proof? In 2018, Women's March activist Sarah Sophie Flicker envisioned something "profoundly unifying" through lipstick.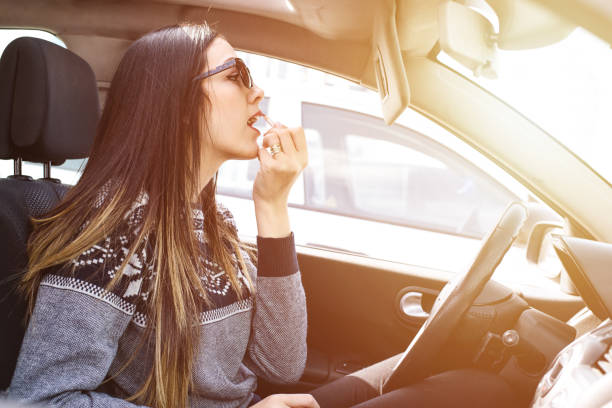 We find in Maquillée an equally stimulating speech. So read: "My makeup has often displeased. We laughed at him as well as at my poems. For the guys in my life, I was the girl who did too much. I had to be 'natural', like a yogurt. So he was ugly, my smearing. When these guys criticized my makeup, I felt like they were spitting on my words. Today, I know how to say Your Mouth to whom I am annoyed. I understood that my body belongs only to me and that I write it for myself."
Makeup would therefore be an affirmation of oneself, obvious and expressive. Artistic, since the author takes her lipstick like a pencil. Political, since makeup visibilities what patriarchy would like to hide, or, in any case, strives to condemn. "We prefer to maintain a reductive vision of makeup that feeds the idea that a woman wearing makeup is frivolous, obsessed with her own image, seeking to please others," denounces Daphne B.
Sexism that Maquillée pins with a bang, not without recalling at the turn of the pages the consumerist side of a gigantic industry. A vast reflection to find illico in your bookstores.
Don't miss interesting posts on Onnewslive