This long and vaporous model with its romantic look or a bit seventies, seduces all women for its comfort and style. But is it still appropriate to wear it after 50 years?
Inspired by the seventies, the bohemian dress has seen its popularity skyrocket in recent years. Light and transparent in summer, thick and warmer in winter, it comes in all forms and for all seasons. Its floral prints and "natural" colors give it that wild spirit that we love so much.
Bohemian dress: which color to choose?
All nuances are allowed, they often evoke nature. Red or orange will make you look good, but the ochre or green colors will be perfect as well. More classic shades such as navy blue, burgundy, beige or brown are also good options.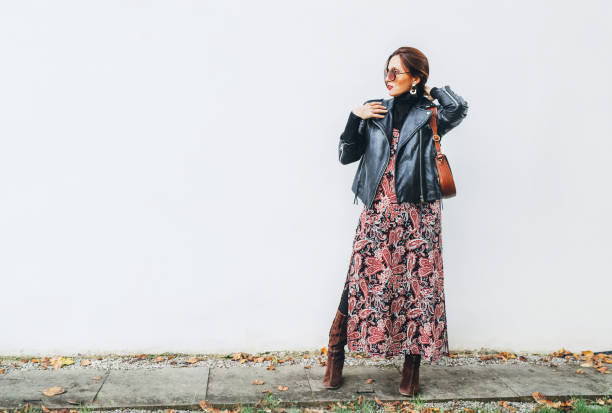 On the printed side, prefer flowers on a plain background, shades of colors, animal prints or peas or stripes the tie & die… It's up to you to choose according to your morphology and your desires fashion of the moment.
For which cut to crack?
Long-buttoned models are perfect for highlighting your neckline. But also think about the lavallière collar option that will bring elegance: be careful, however, not to associate it with a tweed jacket or chicken foot to stay modern! The bohemian dress half-long, with the bottom slightly asymmetrical, gives a nice look. On the other hand, avoid ruffled stockings, not very suitable after 50 years, as well as frills on the breastplate!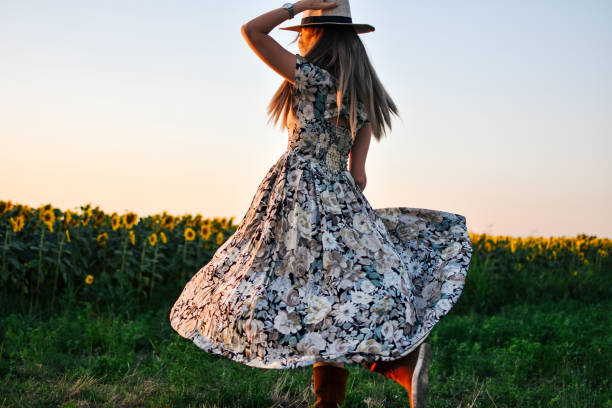 Wear the bohemian dress well
After 50 years, exit the cool baba looks of the 1970s. The idea is to break the codes. So when wearing the vaporous flower dress, forget about long soft wool coats or woolly skins. Instead, we opt for a well-structured short leather jacket, which will give elegance, while remaining modern and perfectly balancing the silhouette.
In the summer, a flowing denim or linen shirt will be perfect on your dress. You will add a basket and compensated sandals to be perfect!
In the fall, bet on the new quilted jacket to wear sleeveless and belt to give style. The boyish coat, with masculine-feminine accents, will sublimate your dress. Finally, the blazer and leather jacket are good options. To try also with the bohemian dress: the blazer jacket, very fashionable this season. It will give chic to your outfit. Another option, to stay in tune with the times, wear a classic trench coat, a bathrobe coat, or a denim jacket with a few brooches pricked on it to give it pep!
What shoes to wear with a bohemian dress?
Play the card of elegance with low boots, flat boots in velvet calf, or heels at the arrival of winter. On the other hand, avoid varnished pumps with flanges that give an overly wise and childish side to the outfit.
And on the accessories side?
We say yes to the bohemian look but provided you choose the right accessories such as an accumulation of bracelets and a golden necklace and a gold leather bag on the shoulder perfect this look with 70's accents revisited.
Mark the waist with a nice wide belt, hyper trendy this winter. Finally, opt for an XXL bag. And in summer the clogs, the cotton canvas tote, or the basket will give you a look!
Don't miss interesting posts on Onnewslive