Recipe for authentic red velvet cake. One spatula, one bowl, and one delicious cake! The cake is extremely light, delicate, and moist. Cream cheese icing or ermine buttercream go wonderfully with this cake!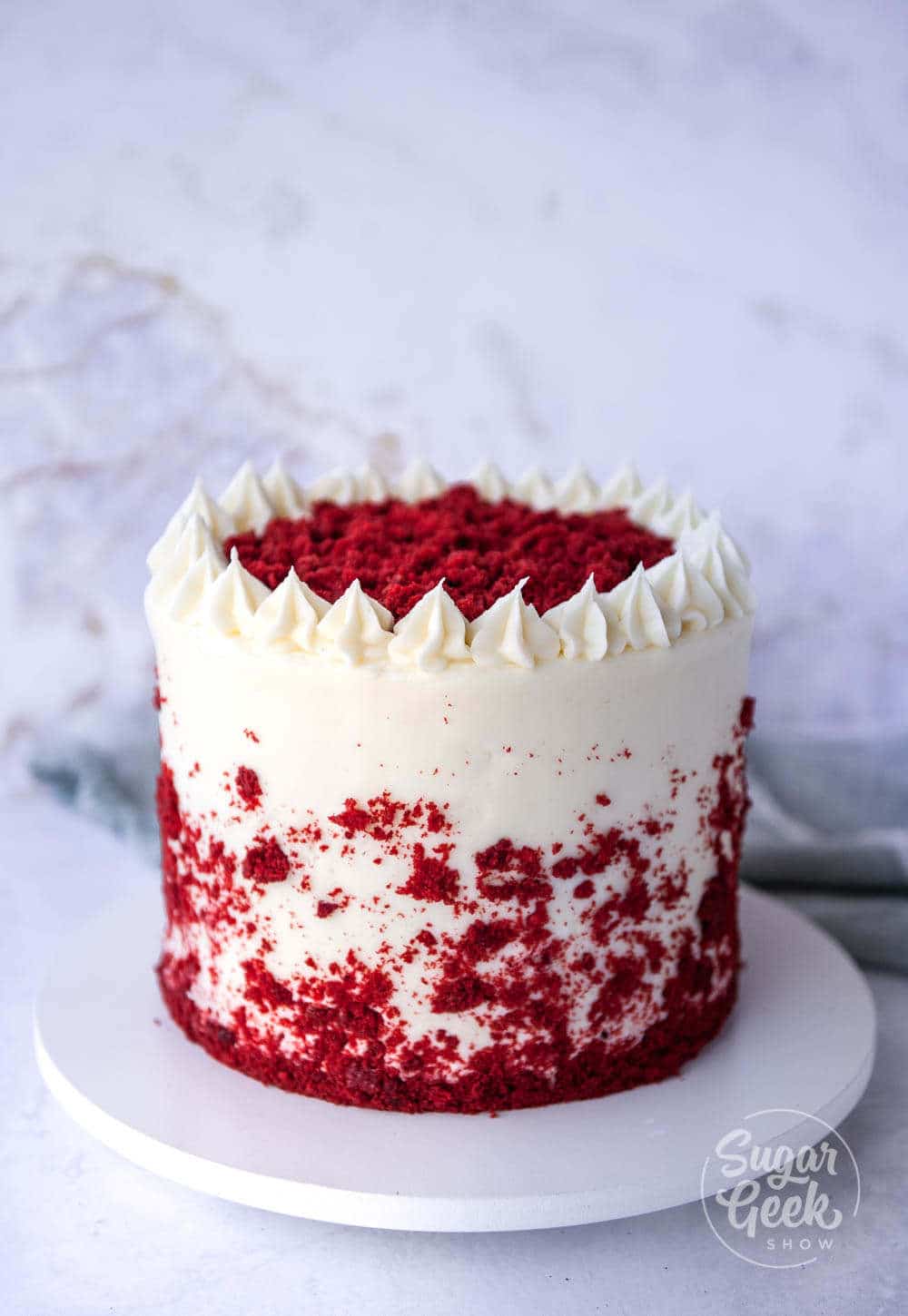 Ingredients
Red Velvet Cake Ingredients
14 ounces (397 g) all-purpose flour
14 ounces (397 g) Granulated Sugar
2 Tablespoons (2 Tbsp) cocoa powder
1 teaspoon (1 tsp) salt
1 teaspoon (1 tsp) baking soda
2 large (2 ) eggs room temp
4 ounces (114 g) vegetable oil
8 ounces (227 g) buttermilk room temp
1 Tablespoons (1 Tbsp) white vinegar
6 ounces (170 g) unsalted butter melted but not hot
1 teaspoons (1 tsp) vanilla
1 Tablespoon (1 Tbsp) super red food coloring
Cream Cheese Frosting Ingredients
12 ounces (340 g) cream cheese softened
8 ounces (227 g) unsalted butter softened
1/2 teaspoon (1/2 tsp) orange extract or vanilla
1/4 teaspoon (1/4 tsp) salt
26 ounces (737 g) powdered sugar sifted
Equipment
Stand Mixer
Paddle Attachment
Whisk Attachment
Instructions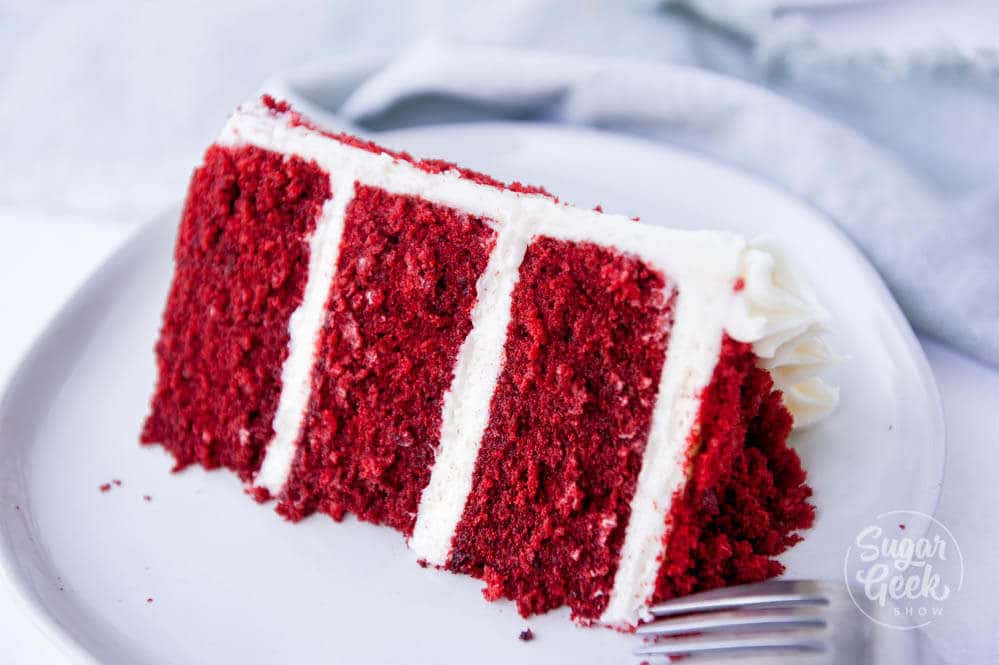 Red Velvet Cake Instructions
Preheat the oven to 350 degrees Fahrenheit (177 degrees Celsius) and coat three 6 inch x 2 inch cake pans with cake goop or your choice pan spray. Check to see if all of your chilly components are at room temperature.
Set aside room temperature eggs, oil, room temperature buttermilk, vinegar, melted butter, vanilla, and food coloring in a separate container.
In the bowl of your stand mixer, combine the flour, sugar, baking soda, cocoa powder, and salt. Using the paddle attachment, mix all of the ingredients.
Next, whisk your egg mixture into your flour mixture on medium speed for about 1 minute, or until thoroughly incorporated.
Divide the mixture between the cake pans and bake for 35-40 minutes, or until a toothpick inserted in the center comes out clean. Depending on your oven and pan size, baking times may vary.
Allow 10 minutes for the cakes to cool in the pans before turning them out onto a cooling rack. Allow them to cool fully at room temperature before frosting, or cover them in plastic wrap and freeze for an hour. If necessary, you may freeze them for up to a week.
Cream Cheese Frosting Instructions
Remove any lumps from the powdered sugar by sifting it. This isn't required, but it's highly encouraged.
In the bowl of your stand mixer fitted with the whisk attachment, cream the softened butter on low speed until it's smooth and free of lumps. I like to make cream cheese frosting with a hand mixer because it mixes more smoothly and incorporates less air.
Mix in the softened cream cheese in tiny chunks until smooth and mixed on low speed.
Then, one cup at a time, add the sifted powdered sugar, mixing on low until incorporated.
After that, add the orange essence (or vanilla) and the salt.
Cool the cake completely before frosting it and serving it at room temperature. Refrigerate the cream cheese icing until a few hours (2-3 hours) before serving the cake.
Source: Sugar Geek Show
Don't miss interesting posts on
Onnewslive