It is a reputation that the electric toothbrush would be more effective than a manual toothbrush. It is still necessary to know how to choose it… And in a market where abundance is king, it's hard to navigate. Here are some tips to help you find your way around and choose the electric toothbrush that will make you happy.
You have heard it since a very young age, the secret of a beautiful smile lies in brushing: morning and evening for at least two minutes. No mystery, this is how we avoid cavities, tartar, and other problems. And to do this, studies have proven that it is easier to make the right gesture during these two minutes with an electric toothbrush than with a manual. People using the latter would have a harder time mastering the right gesture.
The advantages of the electric toothbrush
With an electric model, no risk of making a mistake, the instrument works for us and sometimes even has a built-in timer. All that remains is to slide the device along our teeth for effective washing. In addition, some toothbrushes go to hard-to-reach places and therefore remove more dental plaque. They have the advantage of avoiding the deposition of limescale and thus reducing the risk of gingivitis.
Second good point for the electric toothbrush: it is suitable for all mouths, even the most sensitive. It is also suitable for children as well as adults who lack coordination and who do not master the circular movements to be made with a manual toothbrush. The most sophisticated brushes offer different brushing modes, to perfectly suit your mouth "problems". So, if you wear braces or dentures, don't panic, you can find the right brush for your teeth. But how to choose it well?
Movement of the brush, battery or rechargeable, oscillating-rotating or sonic, with a built-in timer or without, connected via Bluetooth, with different brushing modes, round, flexible … There are as many types of toothbrushes as there are designers and manufacturers. It's not easy to find your way through all these choices. Especially since prices can vary from very affordable to very expensive (namely from about twenty euros to more than three hundred). The first step is to choose the technology of your electric brush.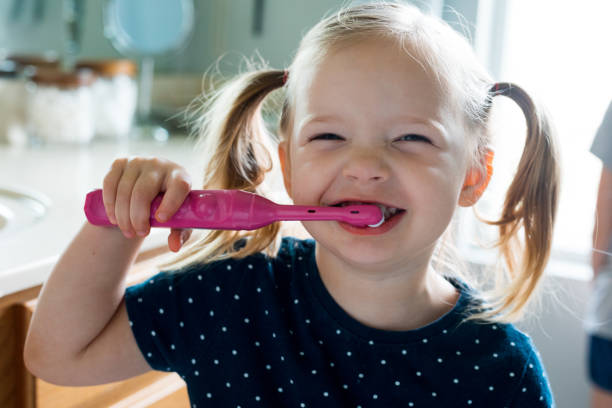 Electric toothbrush: what technology?
Among the many models of electric toothbrushes that you can come across on the market, you should know that there are only two main technologies: the oscillating-rotary model and the sonic model. The choice between one or the other model will be the first you will have to make, the rest is only declination. 2
Overall, the oscillating-rotating model is defined by a brush with a small round head, which makes movements in one direction and then in the other. The sonic model is equipped with a "classic" brush head that resembles a manual toothbrush. This model performs lateral movements and is accompanied by vibrations. And to choose between the two, just listen to your desires.
The first model removes more dental plaque, no special movement is required, just move the toothbrush into a tooth. For the other model, we keep the mechanical movement of sweeping, to be carried out from top to bottom. It is the vibrations of the toothbrush, associated with the sweep, that will remove dental plaque. In addition, this type of toothbrush generates an emulsion of saliva and toothpaste that, pushed between the teeth, reaches the most difficult to access areas.
Finally, there is an ultrasonic toothbrush that is currently not recommended in the absence of studies and a lack of hindsight on it.
The super gadgets of the electric toothbrush
In addition to almost brushing your teeth for you, many electric toothbrushes have gadgets that can be useful to you on a daily basis.
The first option on an electric toothbrush is the timer. It may be interesting to choose this model to respect the recommended brushing time which is two minutes. Currently, according to several surveys, brushing time is still under the minute mark, which is not enough. Most models are equipped with pressure sensors. These are used to warn you (via a sound or light) that you press too hard when brushing. This option avoids damaging your gums by brushing with a little too much force.
Technology requires, some toothbrushes are connected to Bluetooth! Simply download an application on your smartphone for connected brushing. You will then be able to follow your "progress" in brushing on a day-to-day basis. Some manufacturers even allow you to follow live your tooth brushing and guide you on the movements or to indicate the teeth "forgotten" by your brushing. Some toothbrushes tell you when to change your brush head. The order can even be automated! It's up to you to see if these gadgets are useful to you or not.
The little extras that do everything
You can try to take control of the brushes to determine what you prefer. Generally, the sleeves of an electric brush are bulky and allow a good grip. Non-slips are sometimes attached to the brushes to prevent them from slipping out of your hands if they are wet. Some models are less noisy than others, it's up to you to see if this is an essential point in your eyes. There are a thousand and one options in choosing an electric toothbrush. It is therefore important to see what is for you, in order to make the best possible choice and opt for what suits you best.
Whatever your final choice, remember that, as with a manual toothbrush, it is essential to change the head of your electric toothbrush every three months. Beyond that, the bristles of the brush are no longer effective and you risk, as a bonus, damaging your teeth. If you feel a little lost in all the choices available to you, an oral health professional can help you and guide you to help you buy the model that suits you best.
Don't miss interesting posts on Onnewslive