A disappointment and the chocolate bar passes through it. An aperitif with friends and the cup of chips evaporates. It is not a question of forbidding everything but rather of cracking healthier and without guilt.
Who has never crossed the threshold of a pastry under the influence of an annoyance? Gluttony and our emotions often govern our cravings. Sugar addiction – whether physical or emotional – has been the subject of various studies. The attraction of salty is often combined with that of fat! No question of letting go completely, but should we restrict ourselves permanently? "No! pleads from the outset the dietitian-nutritionist Marie-Laure André. These desires often correspond to important more or less conscious restrictions that we impose on ourselves. But to deprive oneself is also to generate cracks without any pleasure at the key if guilt prevails. Finally, when you don't have a ban, you're much less attracted."
Good quality and nourishing meals also avoid snacking. Especially keeping in mind that sweet calls sweet, just as fat calls fat! But how to resist these tempting solicitations? To begin with, it is better to take the time to ask yourself the right questions: "Are these desires dictated by my body, by my emotions, or by a real physiological need? When do they intervene? Couldn't we find alternatives?" The answers help to better manage the periods when one is most sensitive to temptations.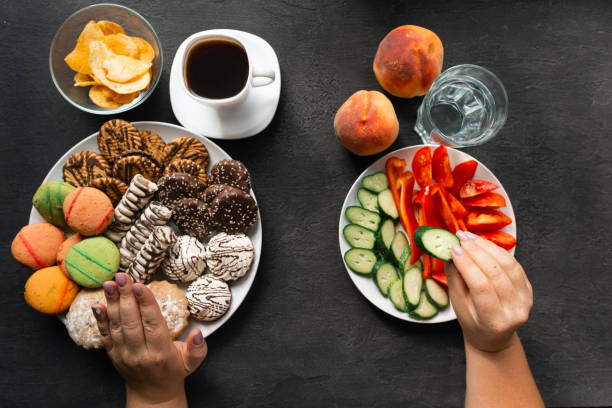 I put my hand in the dough
Why this tendency to snack? Sometimes it's to fill boredom or anxiety. So, nothing better than to occupy the mind by cooking! Firstly because homemade, even sweet or a little fat, will always be of better quality than industrial food. Then because we spend more time concocting a delicacy than opening a pack of cookies: perfect to calm the impulse effect. And the result will only have more flavor. "When you act consciously, you taste things differently," says cook Sabine Hérondelle. Even for something very simple. For a slightly comforting fatty snack, for example, I crush banana with a fork and mix it with a drizzle of olive oil and a drizzle of squeezed lemon. You can sprinkle everything with raw chocolate powder without added sugar" Even taking the time to open a few nutshells is more "advantageous" than throwing yourself on addictive peanuts as fatty as salty. Finally, to better taste (in every sense of the word) food, Marie-Laure André proposes to reconnect with it sensory. With a grape grain or fig, for example. "We can start by describing it as if we wanted to guess what it is. Evoke its smell, its appearance, its texture, and then, only, taste it. First with the tip of the tongue and then taking the time to discover all the flavors."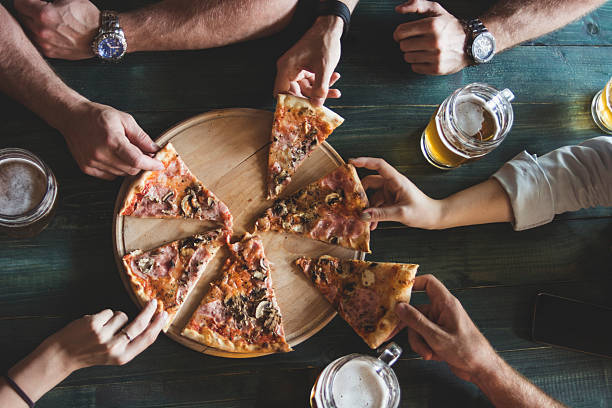 I cunning with the sweet
Not all sugars are created equal. So even if it means giving ourselves pleasure, as much as it is better for our body. "By listening to your body, you can get it unaccustomed to sweet or fat," says Marie-Laure André. And there will be no more to 'resist' certain foods since they will seem rather sickening to you!" Age can also become an ally: over the years, tastes change. In the meantime, whatever the purpose of your gluttony, you can limit the damage, for example by swapping milk chocolate for dark, which is naturally less sweet. As for morning cereals, it is better to opt for muesli or oatmeal, less processed than puffed cereals or balls. And in general, it is better to replace white sugar with coconut sugar, acacia honey, or agave syrup. You can also flavor your plain yogurts with pieces of fruit, compote, or cinnamon powder. "For my part," says Sabine Hérondelle, "I always have on hand a mixture of 'spices of joy', created by Hildegarde de Bingen*: cinnamon, nutmeg, cloves, and black pepper. I put it in my cakes, in yogurt, in hot water – which has a comforting side in case of cravings – or even a pinch in the dishes. It's as if I'm spreading a little joy at the same time as taste."
For drinks, we forget about sodas to switch to carbonated water drizzled with a drizzle of lemon. Or naturally flavored still waters with a branch of verbena, mint leaves, basil, or tarragon. "You can also slip a little ginger, slices of lime, or orange. It makes pretty fragrant decanters that make you want. And it really stalls!", still proposes the cook.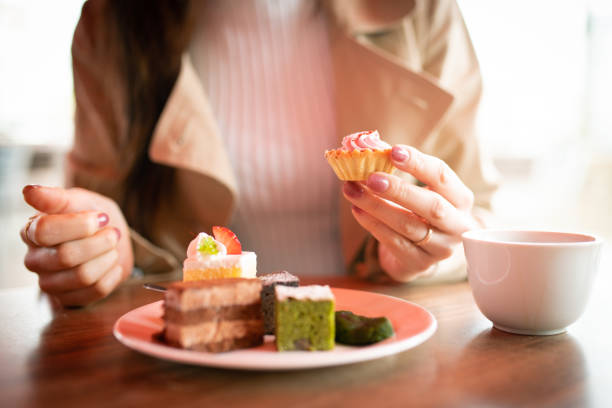 I grease some fats
Phew, fat has its place in our diet! Our body needs a little saturated fat and a little more unsaturated and polyunsaturated fats such as omega-3, contained in olive oil, rapeseed, nuts, and fatty fish… On the other hand, hydrogenated and trans-fatty acids (for processed) are particularly harmful to the heart. Not surprisingly, they are found in many industrial food products: pastries, ready meals, spreads, ice cream, biscuits, etc. To avoid them, we sort through our cupboards and flee these shelves to the supermarket. And when you eat little cold cuts, the best solution is to remove at least the visible fat! Here again, it is better to go to the stove to master what we are going to put under the tooth. You can use aromatic herbs (mint, coriander, parsley…) or spices to enhance a dish or flavor a sauce while limiting salt and fat. "The icing on the cake: cutting fresh herbs or smelling smells helps not to peck," says Sabine Hérondelle.
I try more nourishing experiences
When we crack on a sweetness, we tend to swallow it in a few seconds, as if to forget this small gap. What if, on the contrary, we took the opportunity to chew a little more? In addition to the pleasure of enjoying longer, we gain a feeling of satiety and more saliva released to help us predigest. You can also try an interesting experiment: let a handful of chips melt in the mouth and then compare your sensations with the chewing of a few blackberries or freshly picked figs. It's a safe bet that we will have the impression of chewing emptiness in the first case, while we will feel filled in the second!
Finally, one can find a valuable boost outside the fridge. Today, there are many "soothing foods" to practice everywhere. Heart coherence, yoga, Pilates, a walk-in nature, gardening, or even a friendly conversation are oh so beneficial to manage our food drives. And guaranteed zero calories!
*Considered today as an ancestor of naturopaths, this twelfth-century nun advocated that the choice of food was essential to our health.
Thank you to Dr. Marie-Laure André, dietician-nutritionist. Author of Mon cahier Zéro gras and Mon cahier Objectif zéro sucre en 12 weeks (ed. Solar), and the blog passionnutrition.com and Sabine Hérondelle, nomadic and vegetable cook and caterer.
Don't miss interesting posts on
Onnewslive