Online sports coaching is an excellent solution to achieve your goals. Discover the advice of Thibault Richard, founder of the ProTrainer platform, to choose your remote trainer.
Online sports coaching is an excellent solution to achieve your goals. Discover the advice of Thibault Richard, founder of the ProTrainer platform, to choose your remote trainer.
What is an online personal trainer?
A sports coach, or personal trainer, is a physical activity professional whose role is to accompany you to achieve your goals, whether aesthetic, health, or performance: fitness, weight loss, muscle toning, physical preparation, prevention of back pain, stress reduction, preparation for a competition, etc.
Unlike a home trainer, an online sports coach offers you this remote support. In other words, you will not physically meet your coach. Of course, this will not prevent you from exchanging with him regularly, whether by email, phone, or videoconference via applications such as Zoom, Teams, Skype, or WhatsApp, as we offer at ProTrainer.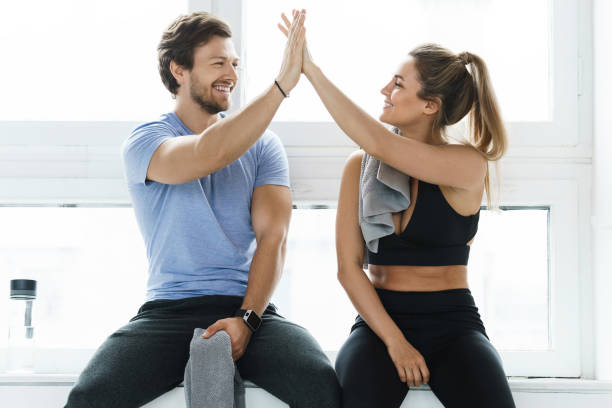 Thanks to his training and skills, an online personal coach will be able to offer you a tailor-made training program. Each session will of course be adapted to your sporting level, your physical abilities, and your possible medical history. Depending on the desired support you can also benefit from a detailed food plan.
What are the different online sports coaching solutions?
There are three online sports coaching solutions:
the best solution: video coaching, via personalized live sessions;
the right compromise: remote coaching, via a tailor-made program to follow independently;
the solution to avoid: non-personalized online programs.
Video coaching
Video coaching is the solution that comes closest to home sports coaching. In addition to preparing a personalized training plan, your private teacher offers sports lessons by videoconference through software or a communication application (Skype, Zoom, Teams, Google Meet, etc.). All you need is a computer, tablet, or smartphone equipped with a camera and microphone, and have a good connection to the internet.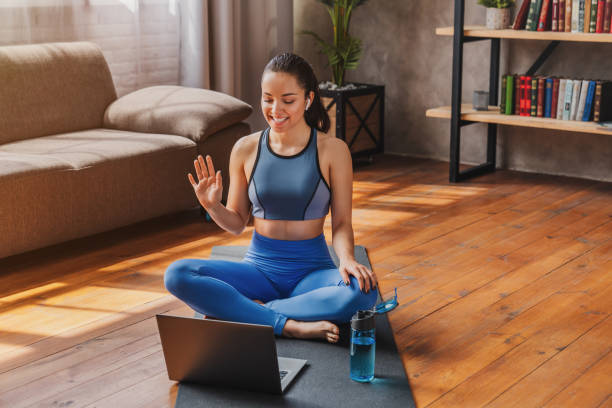 This allows you to exchange and see each other life together as if you were in the same room. Your personal trainer can present the exercises, correct your movements if necessary and encourage you to surpass yourself. You will be able to train without the risk of injuring yourself when performing an exercise. In addition, it will be easier for your personal trainer to evaluate your progress and adjust your program accordingly.
The video coaching solution is ideal for beginners or people resuming physical activity. The presence of a live supervisor is reassuring and allows the practitioner to train with peace of mind.
As for the prices of video coaching, they are generally between 15 and 50 euros per session depending on the teacher, the duration of the course, and the chosen activity: cardio training, muscle building, physical preparation, pilates, yoga, stretching, bodybuilding, etc. At ProTrainer you will find a selection of qualified coaches specialized in many activities.
Remote coaching
Using the services of a remote sports coach is the best way to benefit from individualized support at an affordable price. You will have to plan a budget between 40 and 150 euros per month, depending on the skills of the desired formula (sports and nutritional program, weekly or monthly follow-up, unlimited calls, etc.). The only difference with video coaching is that your coach is not present during your sessions. On the other hand, you always benefit from a tailor-made program, according to your abilities, availability, and possible pathologies, to help you achieve your goals.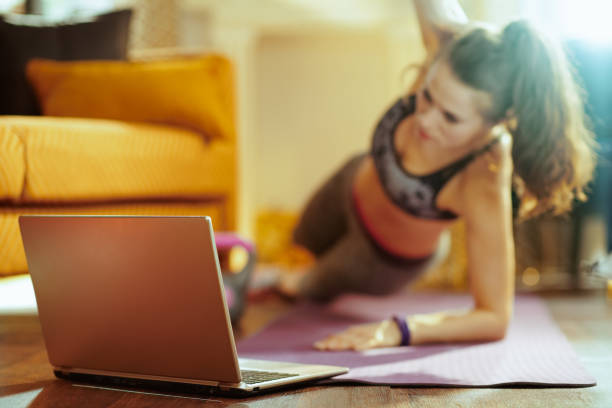 At ProTrainer, depending on the formula chosen, each week or each month check-up appointments will be organized with your personal trainer to take stock of the training performed, your sensations, and your progress. With this information, your online coach will adapt your training plan and the exercises offered during each session.
Non-personalized programs
Whether on YouTube or on sports apps, it is possible to find online courses and ready-made training programs, sometimes even for free. This phenomenon has also largely developed during the lockdowns imposed during the COVID-19 crisis. If this solution has something to seduce on paper, it is actually ineffective, even dangerous.
The muscle building, fitness or cardio sessions available on the Internet will not help you achieve your goals sustainably for the simple reason that they are not suitable for you. These are generic training plans that are certainly suitable for their designers.
Indeed, many variables are taken into account when designing a program: objective, age, weight, physical abilities, sports and medical history, availability, lifestyle, professional activity, etc. Thanks to these parameters, the coach must then design a personalized sports and food program, and choose the best training methods and exercises so that the practitioner can progress at his own pace, without the risk of injury or loss of motivation after a few weeks.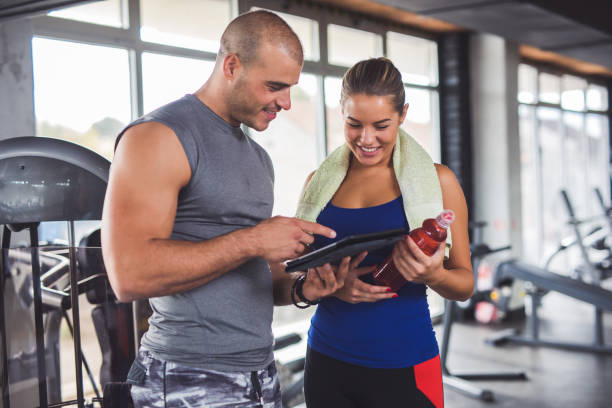 By opting for a non-personalized online program or courses, you risk wasting your time, demotivating yourself by not seeing the results of your efforts, or even hurting yourself in the worst case.
What types of workouts does an online personal trainer offer?
A remote private coach will be able to adapt the proposed training to your level and your objectives.
To lose fat, it is for example useless to chain long outings in running. It is better to favor short but intense workouts, with methods such as cardio training, HIIT (High-Intensity Interval Training), or TABATA. Exercises such as burpees, jumping jacks, squats, or jump rope will help you burn fat to lose weight.
For people who are aiming for mass gain, it will be better to focus on bodybuilding exercises. If you are just starting out, polyarticular movements performed with loads of body weight (which solicit several muscle groups) such as the squat, bench press, deadlift, or military bench press will allow you to quickly gain muscle mass, provided you adjust the loads, the number of sets and repetitions, as well as the recovery times to your own abilities.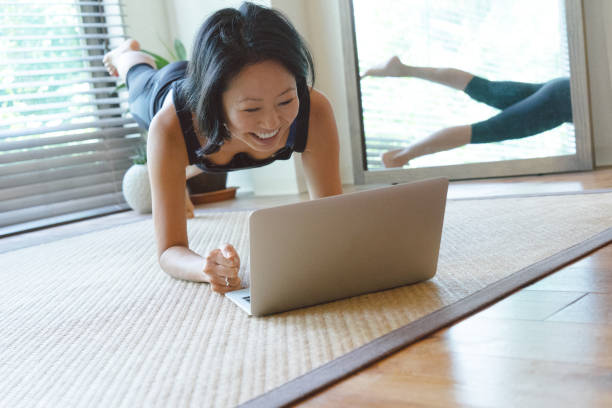 As part of physical preparation, the content of the training will of course depend on the sport practiced. The sessions will be totally different depending on whether you are trail running, boxing, or skiing.
Whatever your goal, one essential factor should not be overlooked: your diet. Poor nutrition can ruin all your efforts. Here again, a well-trained online coach in this field will have the necessary skills to accompany you in setting up a diet with an adapted caloric intake (a caloric surplus to gain weight or a caloric deficit to dry) and a good distribution of your macronutrients (carbohydrates, proteins, and lipids). Thanks to his expertise, he will even be able to offer you healthy and balanced meal ideas via an individualized food program.
What equipment is needed to train at home?
To do sports at home, you will at least need to equip yourself with a gym mat, sportswear, and a good pair of shoes.
Then, the necessary fitness accessories will depend on your goal and the trainer's habits: bodyweight work, use of specific devices… If you don't have access to a weight room, it may be a good idea to get:
elastic bands,
a swiss ball,
a jump rope,
an abdominal wheel,
dumbbells (or kettlebells),
suspension straps,
a massage roller for recovery.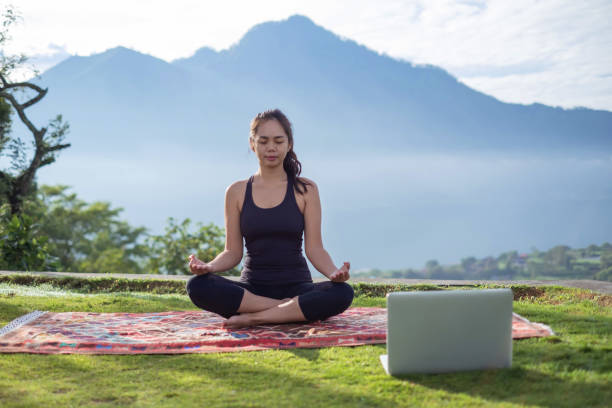 How to choose the right online sports coach?
To avoid unpleasant surprises, do not hesitate to go to recognized sports coaching platforms such as ProTrainer. On this site, the online coaches offered all hold a diploma and a professional card allowing them to practice their profession legally. In addition, the sports coaches of the ProTrainer network all have at least 2 years of experience and are rigorously selected during selection interviews.
To help you choose your coach, each professional has a presentation sheet on which you will find a presentation of his activity, the training offered, his rates as well as the opinions of his customers.
Do not hesitate to contact the coach of your choice to discuss your expectations and benefit from tailor-made online support.
Don't miss interesting posts on
Onnewslive