Coming in shape and getting into the dress of dreams will help with useful products, spicy spices, and a varied menu.
In order to get in shape, it is not necessary to exhaust yourself with diets. The main rule that should be adhered to is a varied and nutritious diet. Include baked and stewed dishes in the diet. If there are no contraindications for health, use spicy spices (but within reason!) – ginger, garlic, hot pepper, spices promote digestion and improve metabolism.
Eat small portions 4-5 times a day, while dinner should be light, and no later than two hours before bedtime. That is, if you go to bed at midnight, it is better to leave the table at 10 pm.
Vegetables, fish and seafood, dietary meats are your first helpers on the way to slimness. And salads from leafy vegetables for garnish will speed up the process.
Salmon tartare with avocado
Per 2 servings:
150 g smoked salmon fillet
avocado
2 oranges.
shallot head or red onion
5 sprigs of coriander, cilantro or parsley
1 tbsp soy sauce
1 tbsp olive oil
1 tbsp sesame oil
Peel the orange, peel the slices from the white skin and films, cut into cubes. Squeeze the juice from the second orange, mix with olive and sesame oil and soy sauce.
Avocado and salmon are also cut into small cubes. Finely chop onions and herbs. Mix with orange. Pour in the sauce, put it away for an hour in the refrigerator. Serve chilled.
Leek gratin with mustard
Per 4 servings:
4 leek stalks
150 g grated hard cheese
200 g low-fat sour cream
1 tbsp spicy mustard
3 cloves garlic
ground salt and pepper to taste
Wash the leeks, dip the hard green leaves into boiling water for 5 minutes. Cut the greenery and the white part of the stem into circles. Place in a baking dish greased with butter. Pass the garlic through the press, mix with sour cream, mustard, and grated cheese. Stir, bake for 40 minutes at 180 degrees.
Baked chicken in orange sauce with green salad
For 6-8 servings:
Chicken carcass
2 tbsp olive oil
2 tbsp honey
3 cm ginger root
2 orange oranges
fennel seeds
salt to taste
For salad:
a bunch of green salad
2 tbsp olive oil
1 tbsp lemon juice
1 tsp. mustard
salt, freshly ground pepper to taste
From one orange, grate the zest, squeeze the juice. Stir it with honey, oil, grated ginger, fennel seeds, and salt until smooth. Coat the carcass. Finely chop the second orange and stuff the chicken with it. Spread on a baking sheet, bake for about 50 minutes at 180 degrees, periodically pour the honey mixture and melted juice. Increase the heat to 220 degrees and cook until a crust forms. Before slicing, let the dish stand for about 10 minutes.
Serve with a green salad – tear the leaves, pour over the dressing. To prepare it, lightly beat the butter, mustard, lemon juice, and salt. Season with freshly ground pepper.
Stuffed zucchini
Per 3 servings:
2 medium zucchini
100 g minced chicken
50 g mushrooms
100 g grated cheese
small bulb
provencal herbs
olive oil
moth, pepper to taste
Wash the zucchini, cut each into three pieces. Clean the core to make tube barrels. Mix the minced meat with garlic passed through the press, crushed mushrooms, and seasonings. Stuff the zucchini. Spread on a baking sheet, sprinkle with olive oil. bake for 40 minutes at 180 degrees.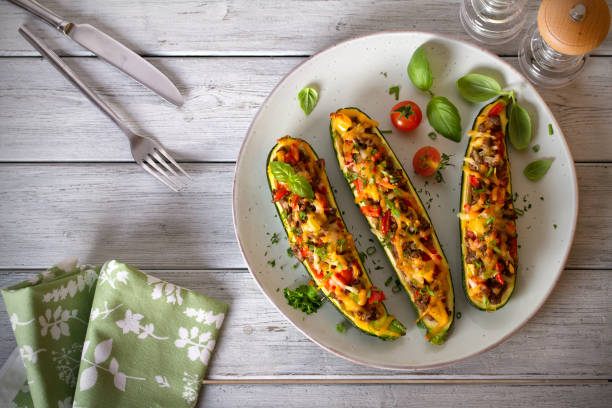 Pumpkin casserole with nuts
Per 6 servings:
500 g pumpkin pulp
70 g grated cheese
7 g butter
200 g low-fat cottage cheese
100 g walnuts
ground nutmeg, salt and pepper to taste
Cut the pumpkin into medium pieces, dip it in boiling water for 10 minutes. Grate on a coarse grater. Mix with cottage cheese, cheese, groundnuts, and seasonings. Put in a greased butter pan, bake for 30 minutes at 180 degrees.
Turkey Mitlof
Per 6 servings:
800 g turkey breast
500 g celery root
5 cloves garlic
2 tbsp spicy mustard
onion
1 tbsp olive oil
protein
nutmeg, provencal herbs, salt, pepper to taste
Celery is peeled, cut, boiled in salted water, crushed with a blender. Finely chop the turkey and mix it with the protein whipped into the foam. Peel and grate ginger, pass garlic through the press, finely chop onions. Combine all the prepared products, add salt, seasonings, mustard and olive oil and stir until smooth. Put in a baking dish, cover with foil. Cook for 50 minutes at 180 degrees. Remove the foil, increase the temperature to 220 degrees and cook about the formation of a golden crust.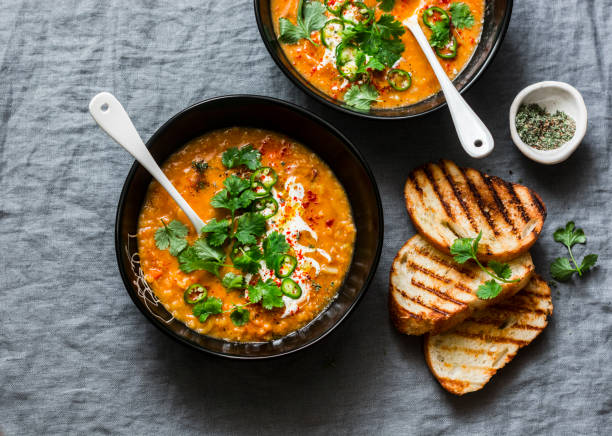 Spicy lentil soup
Per 4 servings:
1.5 l beef broth
150 g celery root
400 g red lentils
100 g tomatoes
carrot
onion
4 cloves garlic
cumin, curry, salt, pepper to taste
olive oil.
In a saucepan with a thick bottom, heat the Zirah and vegetable oil. Add chopped onions and grated carrots, sauté. Cover finely chopped celery, grated tomatoes, and pressed garlic. After 10 minutes, we bring the spices, pour in the washed lentils, pour in the broth. Cook until done, puree with a blender.
Don't miss interesting posts on
Onnewslive