Find out how to highlight your short cut with our simple hairdressing tips.
The different types of short cuts
The short pixie cut: it has the particularity of being more voluminous and arian on the top of the head and conversely very short on the sides and neck. Very trendy, we have already seen it in the stars including Scarlett Johansson and Katie Holmes. It has the advantage of being very versatile and being able to be styled in a multitude of ways!
The boyish short cut: here the hair is very short and cut evenly enough to create a very strong boyish look. This cut highlights the facial features and gives a strong character to the look. Cristina Cordula has been displaying a beautiful boyish short cut for many years. Emma Watson, Cara Delevingne or Katy Perry ink have also fallen for this type of short cut once! Only problem, the short cut boy requires regular maintenance at the hairdresser.
The under cut: it stands out with a very short neck and sides and a more marked and worked volume on the top of the head. Unlike the pixie short cut, the under cut is a little less bulky on the top of the head. It's a good in-between between a pixie and a boy! We have already seen it worn by Ginnifer Goodwin or Victoria Beckham.
The short ball cut: it is marked by a very graphic rounded shape and a neck and shorter sides. Beautiful on smooth hair for a graphic side, it can also be worn wavy or curly for a maximum volume effect!
Short squares: squares worn at the level of the ears can fall into the category of short cuts. They are a good compromise for those who do not dare to go directly to the short cut and also offer plenty of styling possibilities. We love those of Alessandra Sublet or Anne Hathaway.
Shag or mule short cuts: these ultra-degraded short cuts, with a slightly longer neck are very trendy at the moment!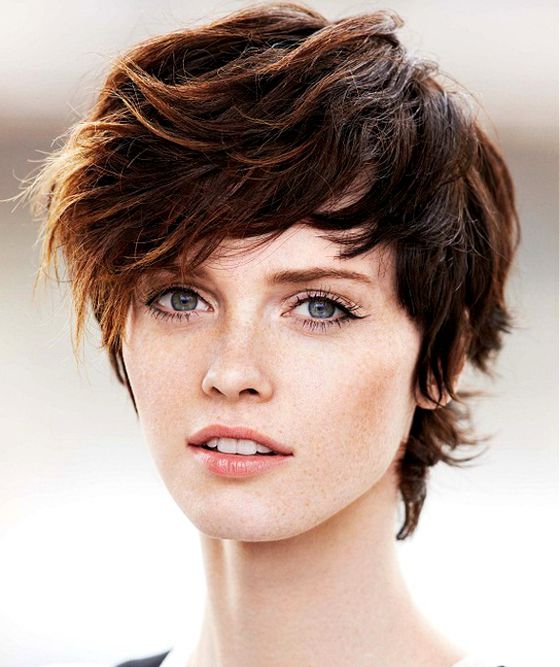 If you want to have a short cut is easy to style and transform according to your desires, we advise you to opt for a model long enough on the top of the head. Thus, you could play with the effects and textures and easily change your style. Do not hesitate to accentuate the work of the gradient to give movement and pep to your hairstyles.
Our tips for styling a short cut
There are plenty of ways to transform and style your shortcut. Here are the most effective:
Play with accessories: bobby pins, bars, scarf, headband… This will give a different look to your short cut without asking you too much effort.
Loop or undulate its lengths: flexible or more defined loops, they bring a different volume and movement to a short cut and allow you to gain in volume.
Create an asymmetrical effect: if you have a pixie cut, a short square or a ball cut, do not hesitate to deport the line of your hair to one side to give an asymmetrical appearance to your short cut.
Make a shell: by creating a nice volume on the top of the head, you give your short cut a more sophisticated and worked effect. An ideal hairstyle for an evening look.
Opt for a glossy or plated effect: short cuts can be easily gummed using wax or styling gels and completely change their appearance.
Playing with coloring or discoloration: Discoloration, darker roots, or a sweeping game can give your short cut some pep.
Don't miss interesting posts on
Onnewslive