Vanilla Orange Almond Cake Recipe. Vanilla orange and almond soaked cake with layers of orange almond buttercream.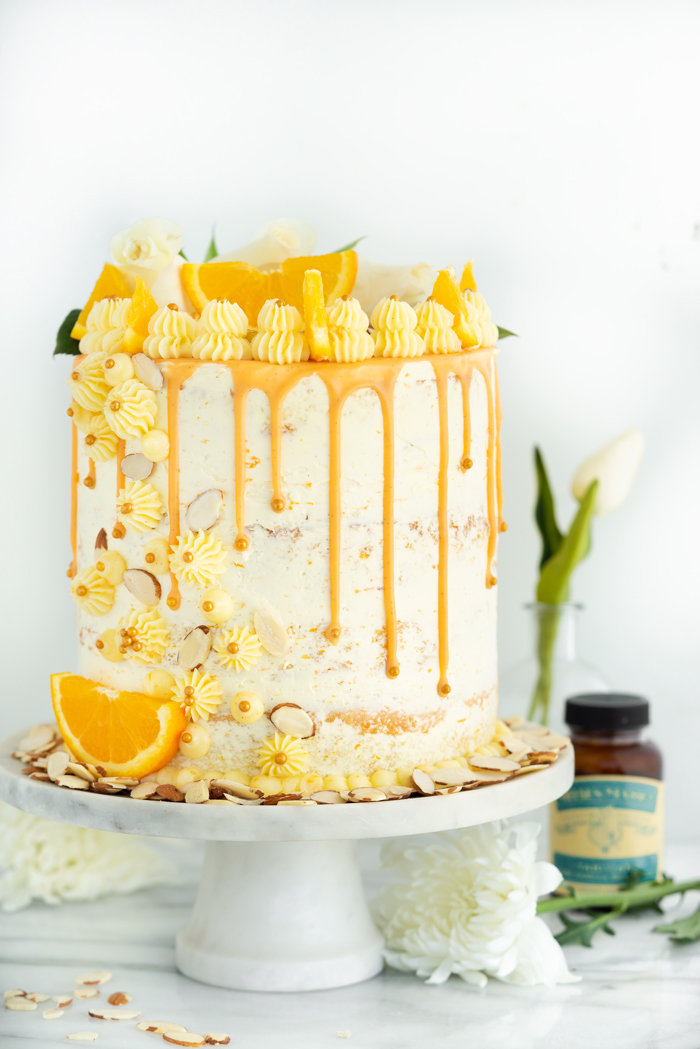 Ingredients
CAKE: all ingredients room temp
4 cups cake flour
2 3/4 cups sugar
1 cup butter
1/2 cup oil
6 eggs
1 1/2 cups buttermilk
3 Tbsp orange zest
1 1/2 Tbsp Nielsen Massey Tahitian Vanilla Paste or vanilla of your choice
1 Tbsp + 1/2 tsp baking powder
1 tsp salt
1/2 tsp almond extract
ORANGE ALMOND SIMPLE SYRUP:
1/2 cup orange juice
1/2 cup sugar
1/4 tsp almond extract
BUTTERCREAM
You will need 2 batches of the below, I make one batch to fill and crumb coat the cake, the second batch to final coat and decorate the cake, if you have any leftover it can be stored for later use:
5 egg whites
1 1/4 cups sugar
1 lb butter room temp
2 Tbsp orange zest
1/2 Tbsp Nielsen Massey Tahitian Vanilla Paste or vanilla of your choice
1/4 tsp almond extract
1 tsp salt
GANACHE:
3/4 cup white chocolate chips
1/2 cup heavy whipping cream
1/2 Tbsp vanilla bean paste
Touch of orange gel paste coloring optional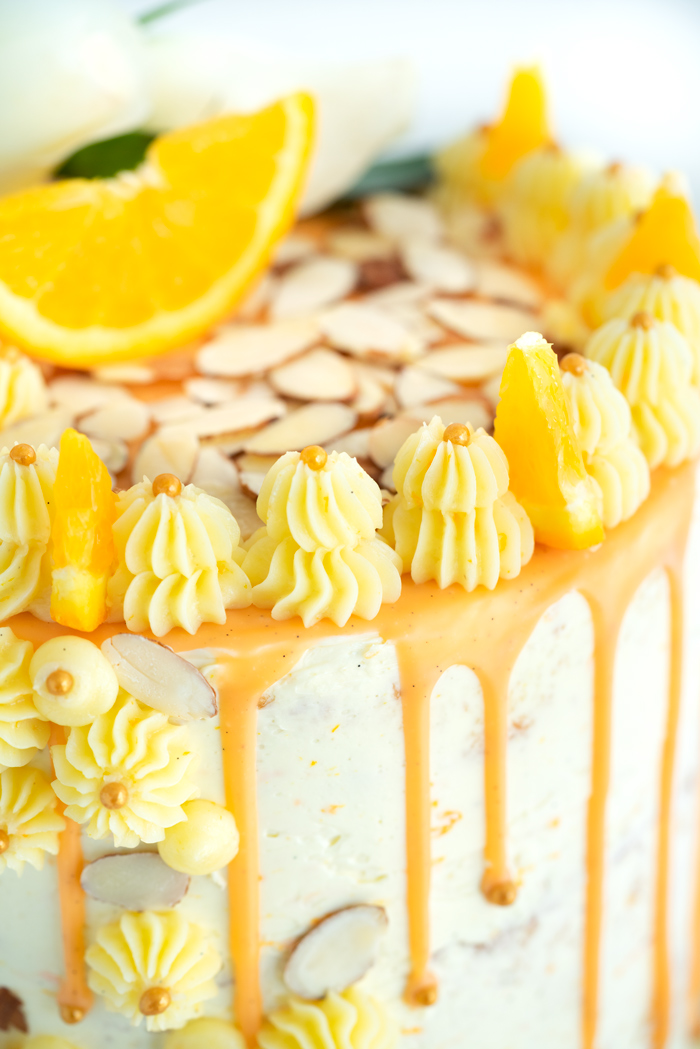 Instructions
Preheat oven to 350 degrees F
Grease, flour and parchment 4 – 7 " cake pans
CAKE:
In medium bowl add the flour, salt, baking powder, stir, set aside.
In bowl of mixer cream the butter and sugar until light and fluffy.
Slowly stream in the oil and continue to mix until well combined about 3 minutes scraping the bowl as needed.
Add in the eggs 2 at a time, continue mixing.
Add in the extract, paste and orange zest continue mixing.
With mixer on low add the flour mixture and buttermilk milk by alternating each but ending with the flour. Mix until fully combined.
Pour into prepared cake pans.
Bake 30-34 minutes or until toothpick inserted comes out clean.
Cool completely.
SIMPLE SYRUP:
Place orange juice and sugar small sauce pan.
Bring to a boil and bring down to a simmer.
Simmer until reduced by half stirring often.
Remove from heat, stir in almond extract.
BUTTERCREAM:
In medium sauce pan add the egg whites and sugar.
On medium heat you are going to whisk egg mixture until sugar is completely dissolved (you can test it by rubbing a small amount between your fingers to test it, it should be completely smooth).
Remove from heat and let mixture cool. (If mixture is too warm it will melt your butter when the time comes).
Transfer to mixing bowl and with whisk attachment whisk on high until stiff peaks form and mixture is completely cooled.
Switch to paddle attachment.
On low speed add the butter one piece at a time.
Increase mixer to medium/high speed and mix until buttercream forms.
Add in the vanilla, almond and orange zest continue mixing until completely mixed in.
ASSEMBLY:
Cut tops of cakes if hump formed while baking.
Apply the simple syrup to the tops of each cake layer, you can do this to all of them at once or to each as you are stacking them. (I like to do it all at once so I don't forget to as I am in the assembly process).
Place first cake layer on cake board, secure it in place with a dab of frosting underneath.
Spread even layer of butter cream on top of the cake layer, smooth with offset spatula.
Repeat with the next two cake layers.
Add the top cake layer and crumb coat the cake with buttercream.
Refrigerate at least 30 minutes.
Put final coating of buttercream on cake. Refrigerate 60 minutes minimum.
Make ganache by melting white chocolate and heavy cream together, stirring to make sure completely melted and combined.
Add in the vanilla paste and orange coloring. Let cool slightly so it is not hot but still warm enough to drip. (if too hot it will melt the buttercream)
Making sure cake is completely chilled, work the drips around the whole cake and fill in top with ganache and level with offset spatula. Add gold sprinkles to bottom of drips (if using).
Let set completely.
Decorate as desired. I used a french star tip and gold dragees (sprinkles), orange slices and slivered almonds.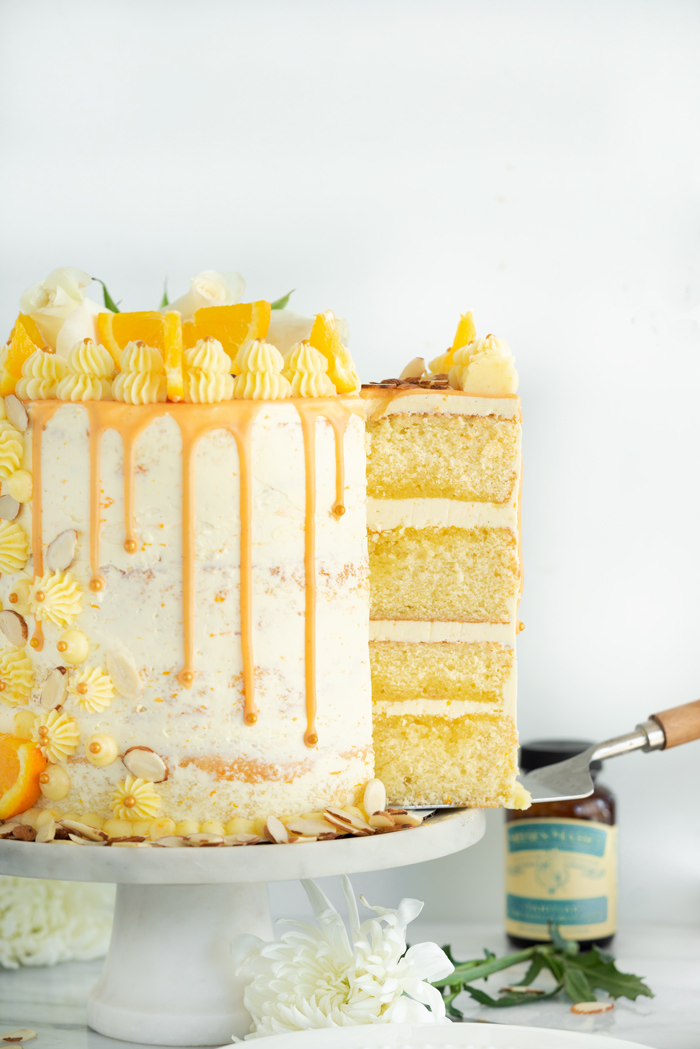 Source: The Sugar Coated Cottage
Don't miss interesting posts on Onnewslive