Whether we are on the subway, on the bus, at work, and even on vacation, the heat and pollution are not always easy to bear and our hair knows it all too well. Frizz, sweaty neck, lack of volume, oily scalp, and dry tips: so many hair inconveniences that we would like to see disappear definitively. Find out which hairstyle to adopt when it's hot
To help you manage your hair well this summer, here are some tips to adopt.
We put oil on the tips
When the degrees Celsius get carried away, the hair suddenly becomes capricious. Dry ends, britt hair, rebellious locks, to counter all its small inconveniences the oil is the ideal partner. In your purse, she accompanies you on all your summer trips and gives your hair a sexy and disciplined look. Small bonus point: their sensual and natural fragrances bring a little freshness.
We style our hair wisely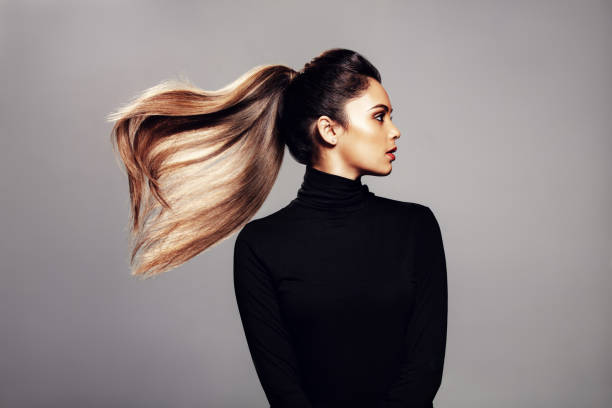 Your hair is long and you do not know how to control it during hot weather? If it is not always easy to make buns or other convoluted headdresses, you can refer to two essential trends spotted this year. The headband, a true beauty ally of the stars, has recently made its comeback and allows you to put the hair back with great ease. A way to avoid sweating without really having to do your hair. The ponytail is also the prerogative in vogue among people and stylish girls. Easy to make, it clears the forehead and neck to let you enjoy the summer quietly.
We space the shampoos
This is the hair trap that you should not fall into during the summer! The consequent heat and the pollution that accompanies it usually put us in a just sustainable discomfort. As long as we take public transport and it's settled. Human promiscuity added to the ambient 75 ° C gives us the impression of not having passed through the shower box for half a million years. A box in which we jump urgently when returning in the evening. An honorable concept however little approved by our hair. If they are indeed subject to climatic and environmental aggression in the same way as we do, a daily shampoo will not help their case. So do yourself violence and keep the same cruising pace as in the middle of winter. Your hair will give it back to you.
Rinse your hair with cold water
A legendary track that almost every woman has heard once in her life: "You have to rinse your hair with cold water." Supposed to restore shine instantly to the entire hair by tightening the scales of the hair, this 100% natural technique is difficult to adopt in winter but it is simpler and even pleasant to rinse your hair with cold water when it is very hot.
The right products
A serum to tame the ungrateful frizz that takes up residence on the edge of the hair at the level of the forehead, neck, or ears. It is preferred in small format to slip it into the bag and always have it at hand.
Scalp care to invigorate the roots and hair for more body and tone. Used before shampooing, the treatment soothes the scalp and prevents it from becoming too greasy or dry.
A dry shampoo so as not to be tempted to bring the shampoos closer together in case of high heat and give a fresh blow to the hair.
Dry oil to discipline the hair, give it summer flexibility, avoid the phenomenon of rough hair and leave a delicate and fresh furrow.
A nourishing mask to repair dry and heat-damaged hair.
Don't miss interesting posts on
Onnewslive