Over hundreds of years, the ancient mansions in Vietnam have remained intact with the characteristic ancient features, reminiscent of an ancient space full of nostalgia.
Ancient mansions are ancient architectural works built a long time ago, bringing a unique beauty that shows the sophistication in the ancient architectural style of Vietnam. Despite the ups and downs of time as well as historical events, the ancient mansions in Vietnam have always lasted forever. Let's discover what these ancient mansions are interesting and interesting!
The ancient mansions in Vietnam are hundreds of years old
The Wang Family Mansion
Address: Sà Phin commune, Dong Van district, Ha Giang province.
Through many ups and downs of history as well as being influenced by nature, the Wang Family Mansion is still preserved almost intact. When entering this ancient mansion, you will have to admire the architecture with 1-0-2 that this place has. With a life expectancy of more than 100 years, The Wang Family Mansion has both a stately ancient beauty and a little unique novelty.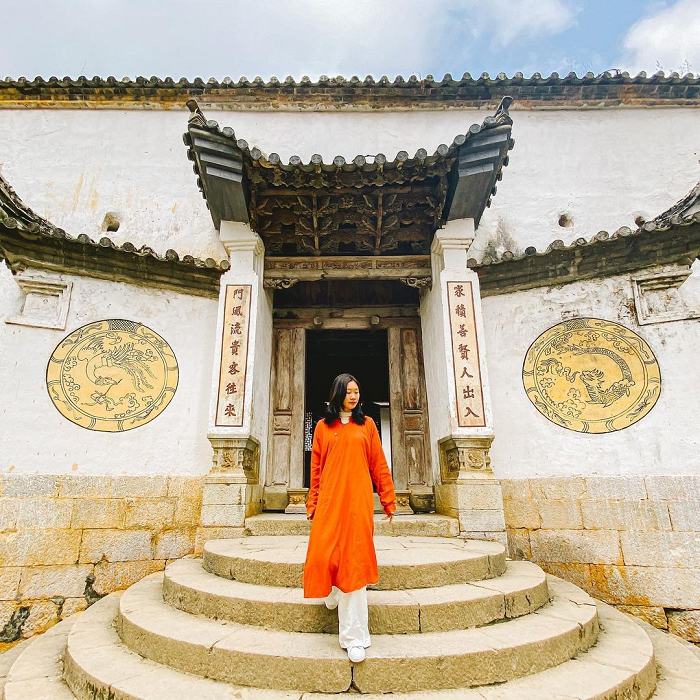 This ancient mansion in Vietnam is designed into 3 different zones: Tien, Trung, and Hau with a total of 64 rooms. The Wang Family Residence is a place for the Wang family members to work and live daily. What makes this old mansion different is that the walls of the room are all built of blue stone, the roof uses pine wood and the roof is roofed with terracotta tiles.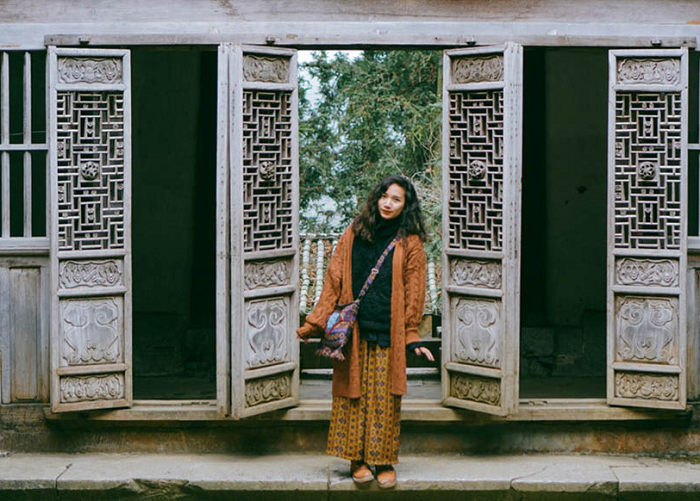 The mansion is surrounded by rows of lush greenery that radiate shade. The road leading to the Mansion is paved with intricately carved marble slabs. Every detail, and decorative pattern here is designed extremely delicately, and meticulously so that anyone who sees them must stop for a few minutes to look at them more closely.
Standing in the middle of this ancient mansion in Vietnam, you feel like you are returning to the old years, an ancient, quiet space that appears before your eyes. Because of that, many tourists have come here with the desire to be able to bring back "quality" photos here. According to Ha Giang travel experience, you should not come here at noon, at this time it is sunny so it is difficult to take beautiful pictures.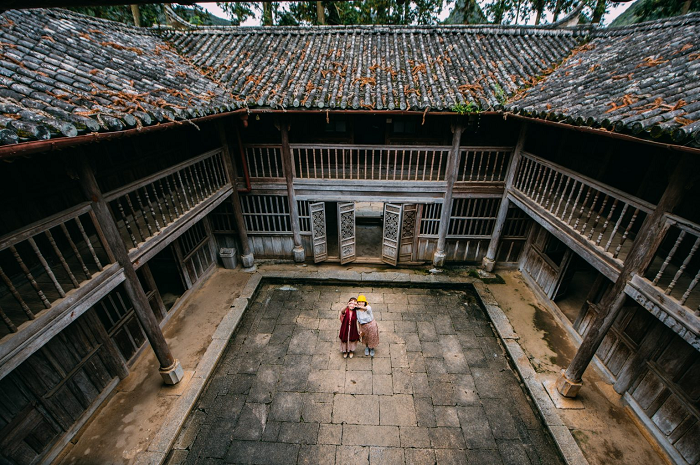 Hoang A Tuong Residence
Address: Bac Ha Town, Bac Ha, Lao Cai.
Hoang A Tuong Residence is a famous ancient mansion in Lao Cai. The architecture of the residence is quite new compared to other residences at that time. The entire space of the mansion is designed in a closed rectangle with a total of 36 rooms, an area of up to 4,000m2. Just a glance at the overall architecture from the outside is enough to make you admire it.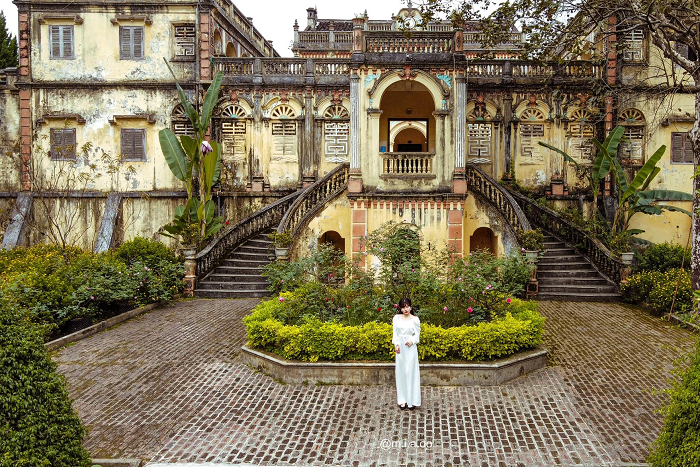 This ancient mansion in Vietnam has a majestic beauty, quiet tinged with time, designed with 3 different buildings, of which the main building is located right in the middle and two outbuildings are located on both sides. The main building consists of two floors. The arched doors, designed high and low differently, are thought to be very confused but very balanced and this is the most European architecture.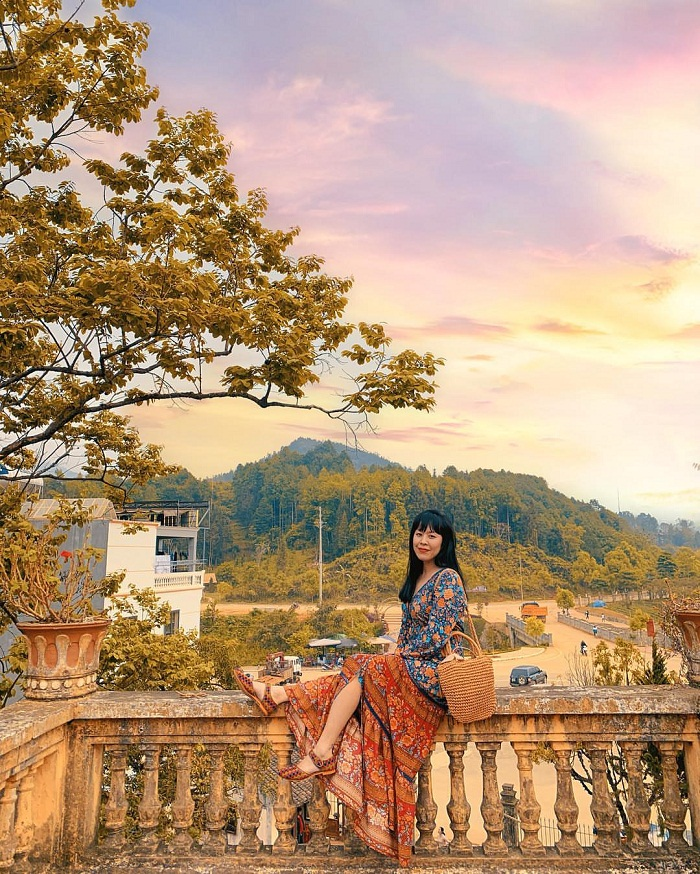 At the residence, there are also handicraft products made by the people here such as silver rings, towels, shirts, dresses, and other products made from brocade. In addition, at Hoang A Tuong Palace, there is also a display area of memorabilia, and artworks of ethnic Mong, Tay, and Dao … All will show the colorful life of the people of the highlands.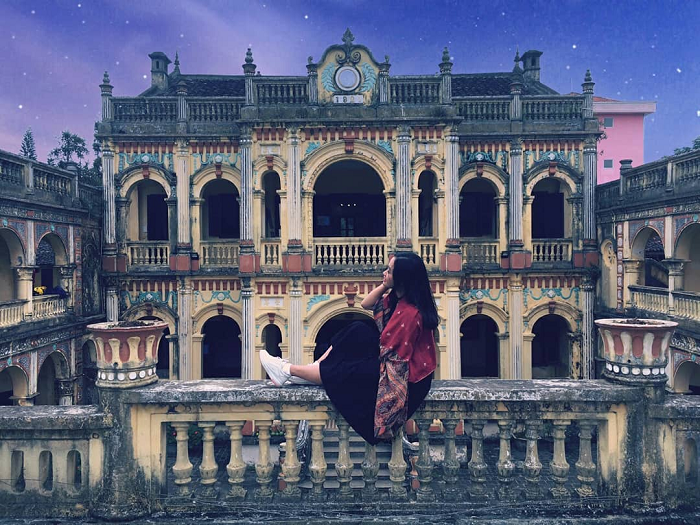 Behind the main building of Hoang A Chiang Palace, you will see the traditional corn wine cooking model of the local people, you will witness the process of cooking wine as well as listen to instructions on how they produce delicious batches of wine. Try sipping a cup of corn wine, and enjoying the same piece of buffalo meat in the kitchen to see how attractive they are that everyone wishes to try once.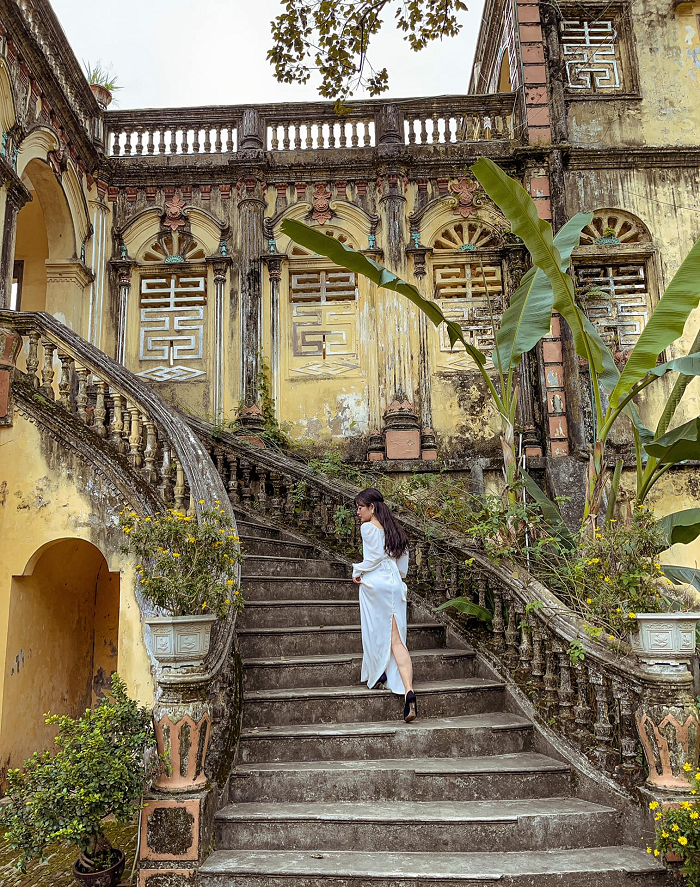 Huynh Thuy Le Ancient Residence
Address: No. 255A Nguyen Hue Street, Ward 4, Sa Dec City, Dong Thap Province.
The architecture of Huynh Thuy Le's ancient residence is a harmonious combination between east and west. The roof is designed curved in the shape of a boat's nose to represent the western river countryside, besides the dome built in the Roman style.
Inside the old mansion in Vietnam, there are unique details such as wooden columns, altars, and doors painted with gold lipstick to create a special highlight that is both ancient and luxurious and modern. In addition, the decorative motifs are carved extremely sophisticated such as the shape of a loan bird, phoenix, flowers, and leaves, all of which will create a perfect "background" for visitors to check in to live virtually.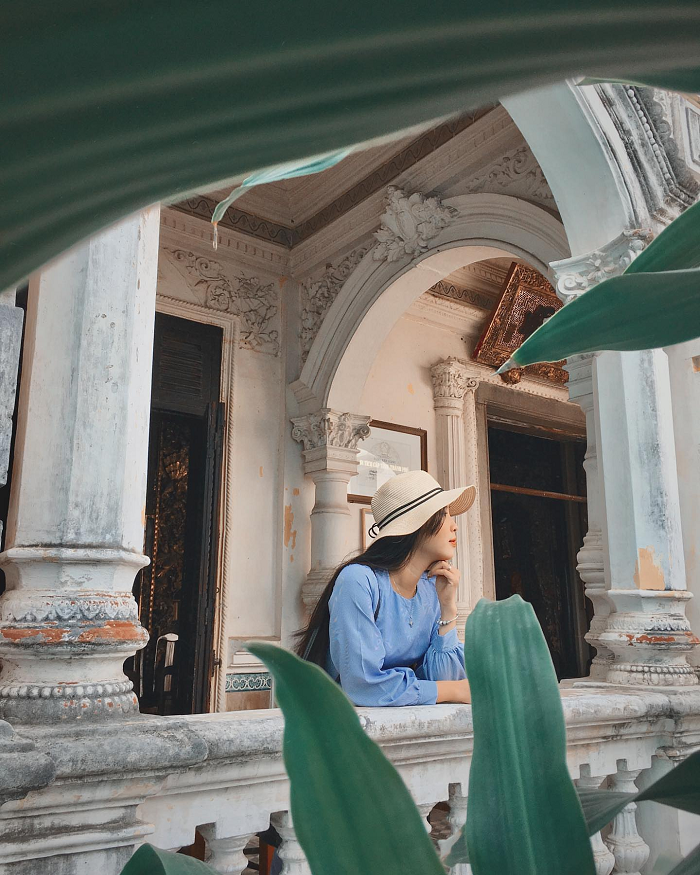 The two sides of the walls of this ancient Dong Thap mansion will not be missing the photos of the owner of the house along with the photos taken from the movie "Lover" extremely famous. And you will also be told by the people here the story of Mr. Huynh Thuy Le's love story with the French poet at the house tinged with this time.
Bao Dai Palace 1
Address: No. 1 Tran Quang Dieu, Ward 10, Da Lat City, Lam Dong.
King Bao Dai's 1st Residence is located closest to the center of Da lat city. The mansion is located right on a high hill, surrounded by a very poetic and affectionate natural scenery, fresh trees and fresh climate make this place more interesting.
This ancient residence in Vietnam has an extremely airy space, giving visitors comfort and peace rarely available anywhere. Palace 1 is full of French architecture with ancient details, simple but extremely prominent. Of the 3 Palaces, perhaps Palace 1 is the palace with the most beautiful scenery, and the most impressive terrain, the scenery is also the most poetic and romantic.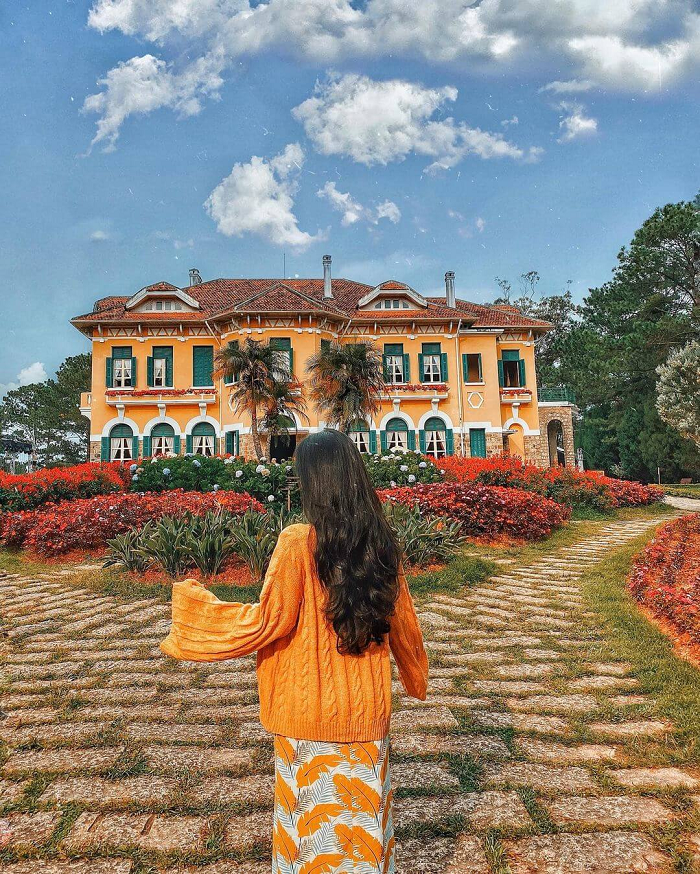 Bao Dai Palace 2
Address: No. 12 Tran Hung Dao Street, Ward 10, Da Lat City, Lam Dong.
Palace 2 is very close to Palace 1. This is the King's Governor-General's Palace. This mansion is known as Decoux's Season 2 Mansion because the atmosphere here is very pleasant and fresh. The palace is located on a hill with a height of up to 1,540m. With a total of 25 rooms designed extremely luxurious and sophisticated. This is the place that many people choose when traveling.
Standing in the Mansion, zooming in the distance, you can fully see the beauty of Ho Xuan Huong. Especially, below Palace 2 there is also a giant wine cellar passing through a secret tunnel. This is the safe shelter and escapes place designed for the king's family in ancient times.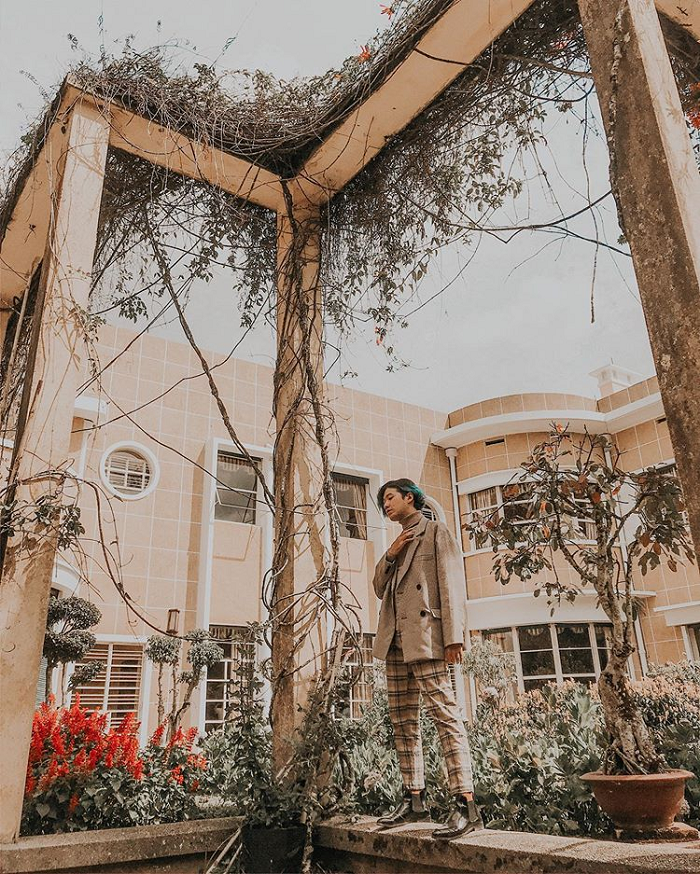 Bao Dai Palace 3
Address: No. 01 Million Viet Vuong, P4, Da Lat City, Lam Dong.
Palace 3 is also very close to Palace 1 and Palace 2. There are a total of 25 guest rooms for the king's family. The difference between Palace 3 compared to the other 2 palaces is that Palace 3 is designed on 2 floors. When entering the office of King Bao Dai, you will see that there are many ancient artifacts still preserved here such as jewels, the Nguyen dynasty flag, and the national letter,…
Although it is hundreds of years old, these ancient mansions in Vietnam still bring visitors a very interesting and new feeling. Try coming here once in your life so that you can feel the uniqueness!
Don't miss interesting posts on Onnewslive