If you are looking to discover the magical beauty of Tây Nguyên, do not miss the experience of Măng Đen below!
Black Shoot is a town in Kon Tum province, this place has a very unspoiled beauty but is also full of attractions. Majestic mountains, simple thatched roofs, and folk dishes have been attracting a lot of attention from tourists. Today I will take you to visit here and share with you all the experiences of Măng Đen. This will definitely be a memorable journey of youth!
A few strokes about Măng Đen
Referred to as the "second Da lat in Kon Tum", Măng Đen is known as a small town of Kon Tum surrounded by mountain ranges, simple thatched roofs, diverse vegetation along with gentle and hospitable people.
The town of Măng Đen has a cool temperate climate. In particular, the rich natural landscape, the terrain is mostly low hills, along with the system of rivers, streams, waterfalls and many lakes are very favorable for the development of the ecotourism and resort industry.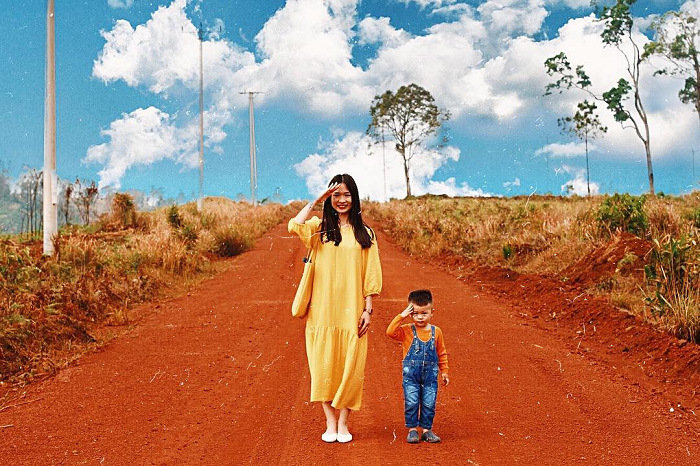 Măng Đen Travel Experience
Măng Đen has a cool climate, flowers bloom all year round and each season will have its own beauty so you can come here at any time of the year. However, the most popular time for tourists is from early April to the end of June. This is the time when Măng Đen shoots have a cold background, breathing fresh air along with the gentle aroma of forest flowers is what is more interesting.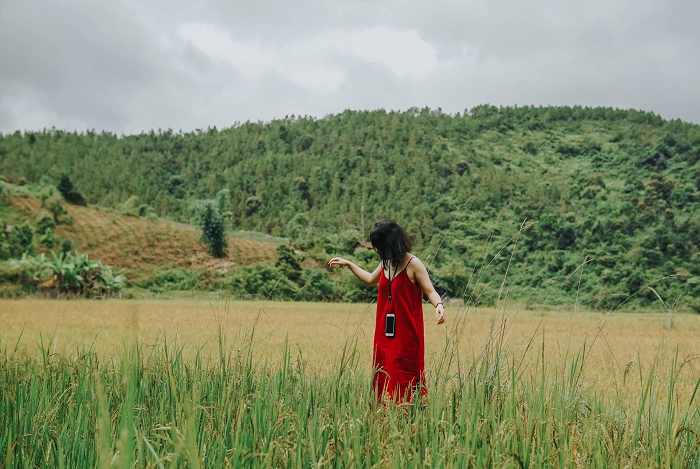 If you are a person who likes romance, and loves the gentle pink color, then according to the experience of traveling Măng Đen, come here in mid-December until the end of January, because this is the time when cherry blossoms bloom and show off the most brilliant. Thousands of flowers stretched out dyed pink in the sky will surely make you very surprised!
How to move to Măng Đen
Go to Kon Tum
Depending on the number of people, cost and health situation, you can choose the right transportation and starting point. According to the experience of Măng Đen, if you travel in a large group of people, the steering wheel is stable, you can ride by motorbike, and if you do not know the road or are not healthy enough to run long distances, you can take a bus.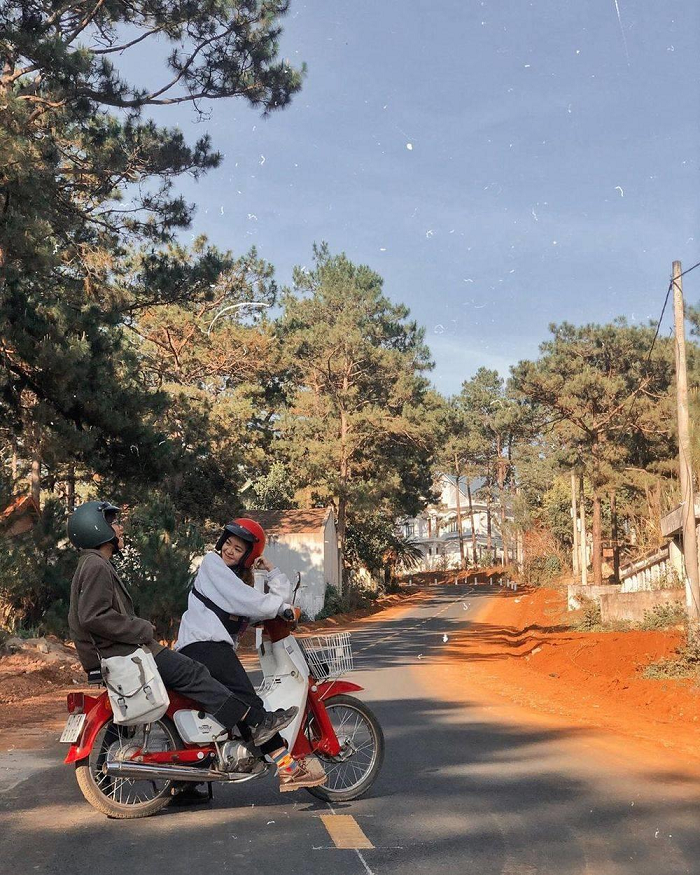 There are two types of tickets to Măng Đen.
Limousine: Ticket price 470,000 VND/ way. The shuttle bus should be very convenient, each person is a separate seat, has a TV, charging socket, massage machine.
Bus bed: Ticket price from 220,000 VND – 250,000 VND / way. The car is spacious, airy, air-conditioned and very clean.
If you can't book a ticket directly to Măng Đen, you can buy a ticket to KonTum and take bus No. 6 or bus to Măng Đen. For example, Quynh Tu car: 0905 275 559, car departing at 6h30 and 8h00, Hung Thinh car: 0905 982 007, departure at 5h30.
Măng ĐenTravel Experience – Stay
Măng Đen is one of the most popular Kon Tum tourist destinations. In recent years, the black bamboo shoot tourism industry has been invested and developed, so it attracts a lot of visitors. Besides the luxury hotels and motels, there are also unique homestays.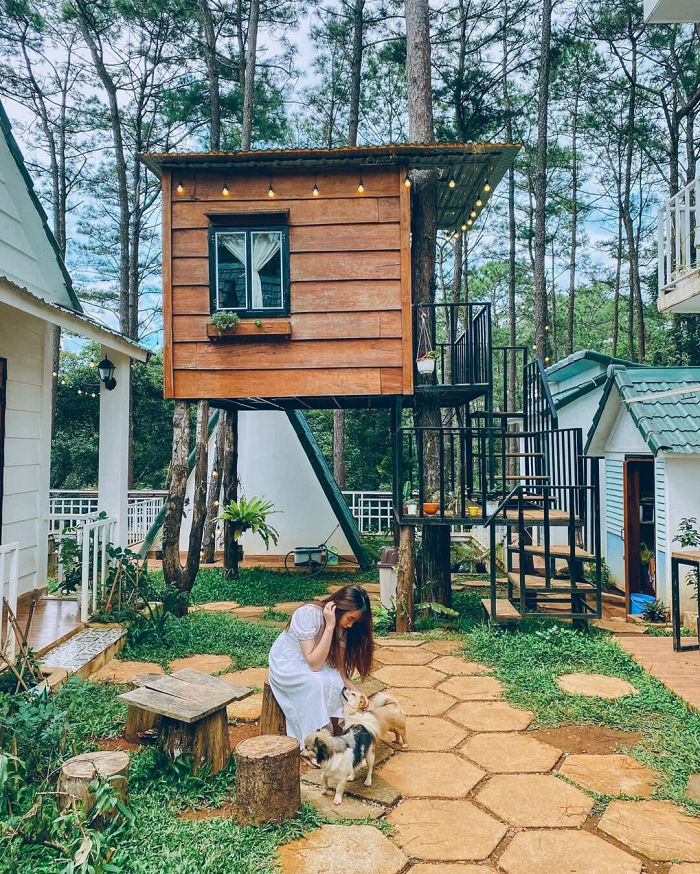 According to the experience of Măng Đen shared by some people, there are a few suitable accommodation spots for you to rest comfortably but suitable for finances.
1. Sum Villa Homestay
Address: Măng Đen Town, Kon Plong, Kon Tum.
Phone: 096 322 02 66
Reference room price: only 180,000 VND / person / night
2. Huong Homestay
Address: Măng Đen Town, Kon Plong, Kon Tum.
Phone: 098 833 12 68
Reference room price: only from VND 150,000/person/night
3. Chino Măng Đen
Address: Măng Đen Town, Kon Plong, Kon Tum.
Phone: 094 212 51 20
Reference room price: only from VND 150,000/person/night
4. Window Hotel 2
Address: 131 Book Contest, Thang Thang, Kon Tum.
Recommended room rate: only from 230,000 VND/ night
5. KonKlor Hotel
Address: 38 Bac Kan Street, Kon Tum City, Kon Tum.
Recommended room rate: 370,000 VND/night
What is Kon Tum Măng Đen?
Where should black travel go? What's fascinating? These are probably the questions that many people are interested in when they first come to Black Shoots. According to the experience of Măng Đen, there are many beautiful and interesting points here for you to comfortably check in. Save the points below so you don't have to worry anymore!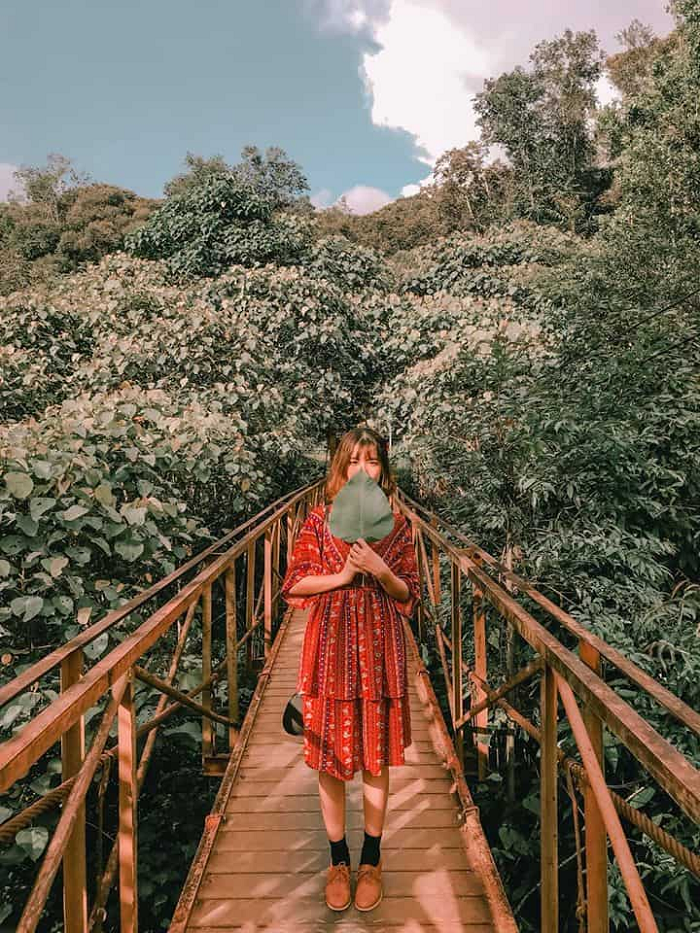 Ho Dak Ke
Traveling black shoots that ignore Dak Ke Lake is a very regrettable thing. The lake has a large area, this place is associated with the legend of 7 lakes 3 waterfalls of Măng Đen. With a fresh atmosphere, the poetic scenery creates a great relaxing space for visitors.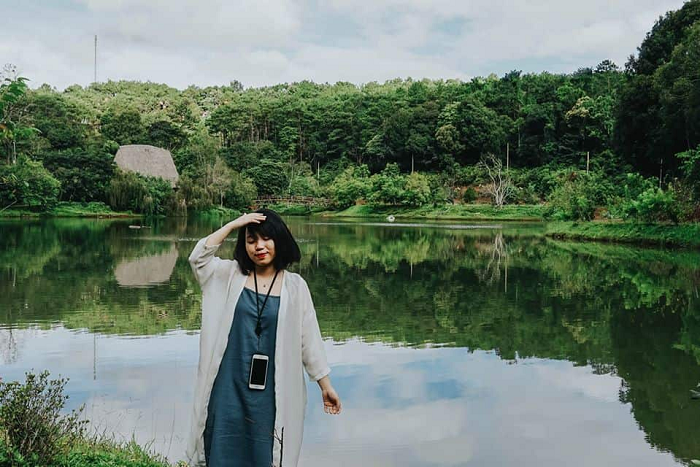 Ê Ban Farm
E Ban Farm is one of the best agricultural farm development places due to the extremely cool and mild weather. E Ban Farm covers an area of about 30 hectares, embracing the hillside and adjacent to the vast primeval forest. Coming here, people will have the opportunity to visit to learn about the production processes as well as check in to live virtually along with beautiful nature.
Black Bamboo Pine Forest
One destination on the next Kon Tum tour that you should set foot in once is the Măng Đen Pine Forest. This is a perennial primeval forest, with soaring stumps radiating shade.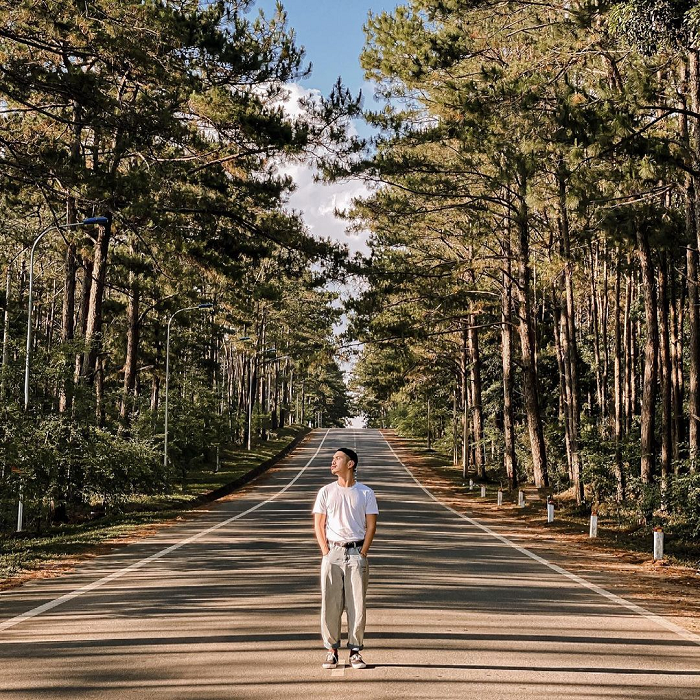 Măng Đen Pine Forest has quite diverse vegetation with many different types such as: mu mu pine, orchid, cinnamon, sim flower,… along with animals such as: chamois, pheasant. In addition to exploring nature, this is also a suitable place for you to relax, refresh yourself after a period of stress and fatigue.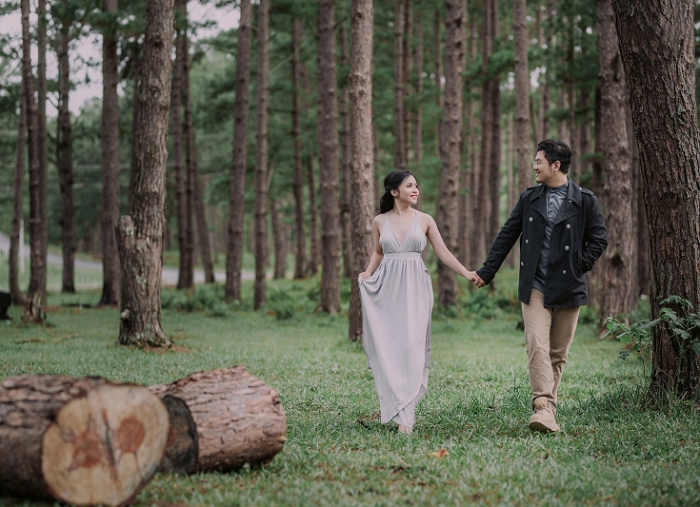 Khanh Lam Pagoda
According to the experience of Măng Đen, if you are looking for a peaceful address, Khanh Lam Pagoda is a great choice for you. The temple is located on a primeval hill, with an elevation of over 1,200 m. To get to the temple, visitors must step through more than 200 stone steps. The surrounding is surrounded by green trees, creating a peaceful beauty, captivating people.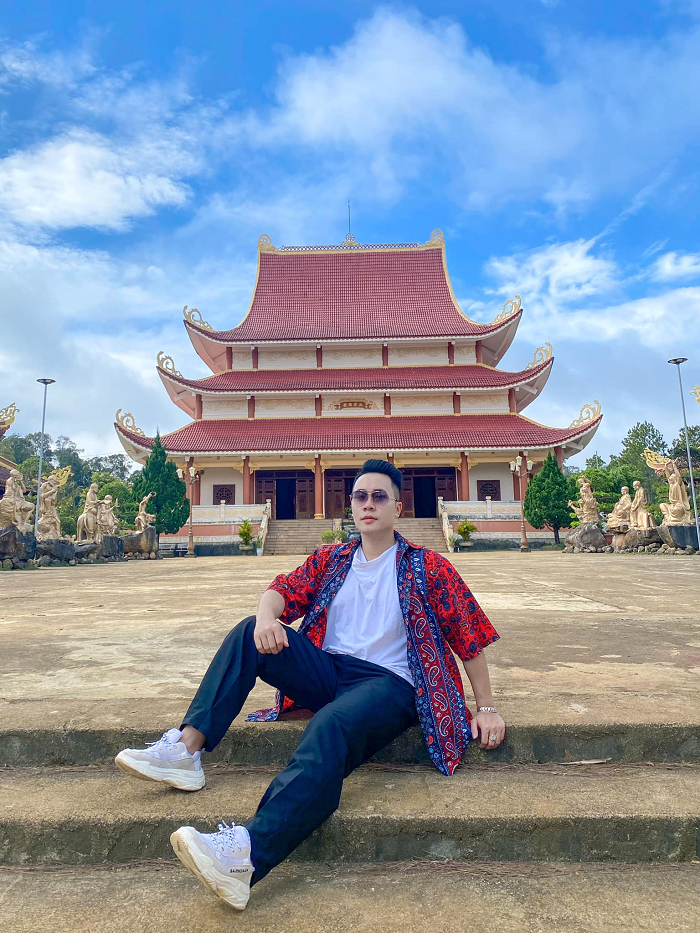 Kon Bring Community Tourism Culture Village
The next Măng Đen tourist destination for you is Kon Bring Community Tourism Culture Village. This can be considered as the cultural "specialty" of Black Shoots. Here you will get to know better the culture of the Central Highland community. You can also sit in the roof of Nhà Rông, sip a little yeast of Can wine. Listen to the singing of the highland girl, the gong echoing characteristic of Tây Nguyên.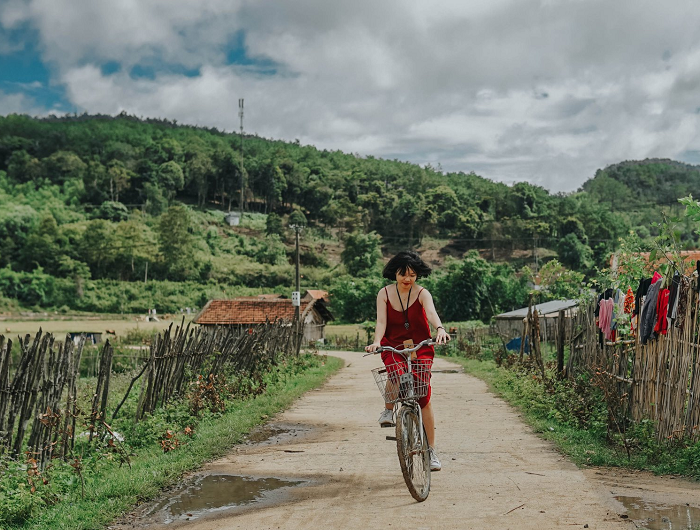 What does Măng Đen Travel eat?
Because the black bamboo shoot tourism industry has not been developed much, restaurants and eateries do not have too much and the most sold dishes here are often the famous specialties of Kon Tum. The following would like to introduce you to certain dishes to try when traveling to Măng Đen immediately below!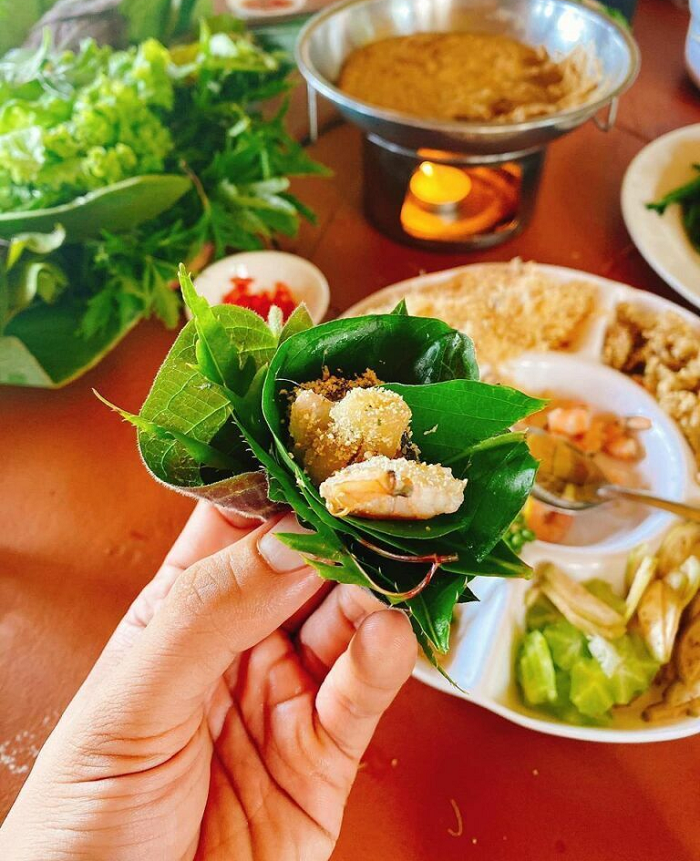 Grilled chicken with blue rice: Black bamboo shoots are made from sticky rice soaked with pineapple leaves and then left overnight, overnight, after the next day, remove the rice to drain and put in the pipe, add water to fill the tube and then bake on the ember stove.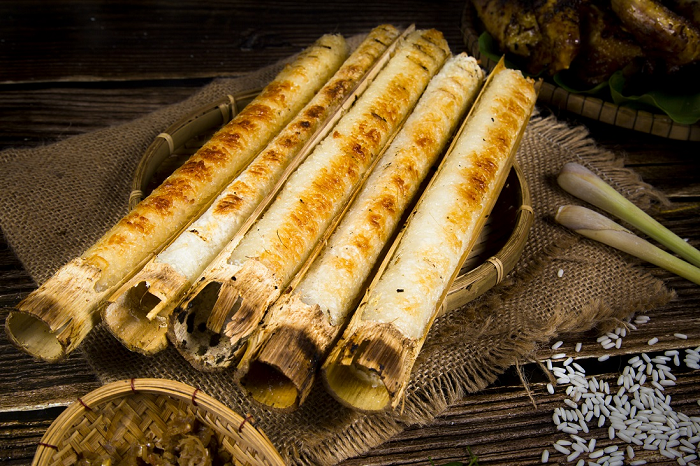 Blue rice is served with grilled chicken. Chickens here are raised completely naturally so the meat is very firm and delicious. Usually blue rice and grilled chicken will be eaten along with homemade sesame salt. It looks simple, but the taste is extremely attractive, unmistakable.
Măng Đen Shoots: Pigs here are also raised completely naturally, running around and eating wild vegetables so the meat is very fragrant, low in fat but more nutritious. Before turning, the pig will be marinated with special spices only in the high mountains, so it will create a distinct delicious taste.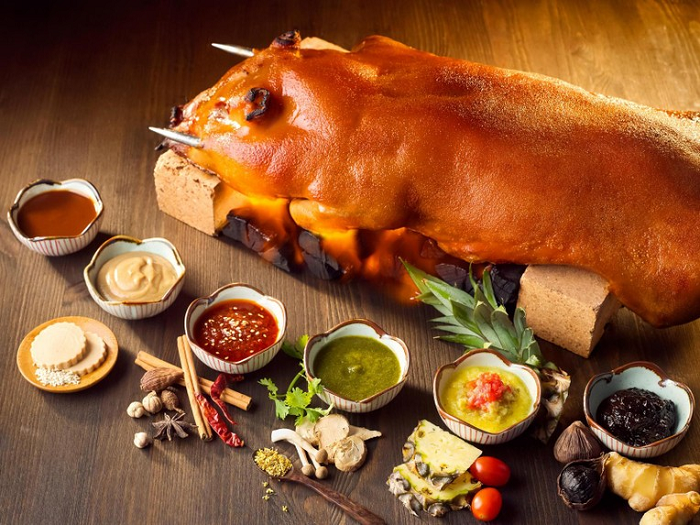 A Kay 7: This is a very familiar dish of the local people. The soup bowl is a combination of the flavor of the dough, the juicy taste of snakehead fish, the ring taste of the meridian vegetables and the richness of chili sauce. It's cold to sit and enjoy a bowl of hot soup, what's more wonderful.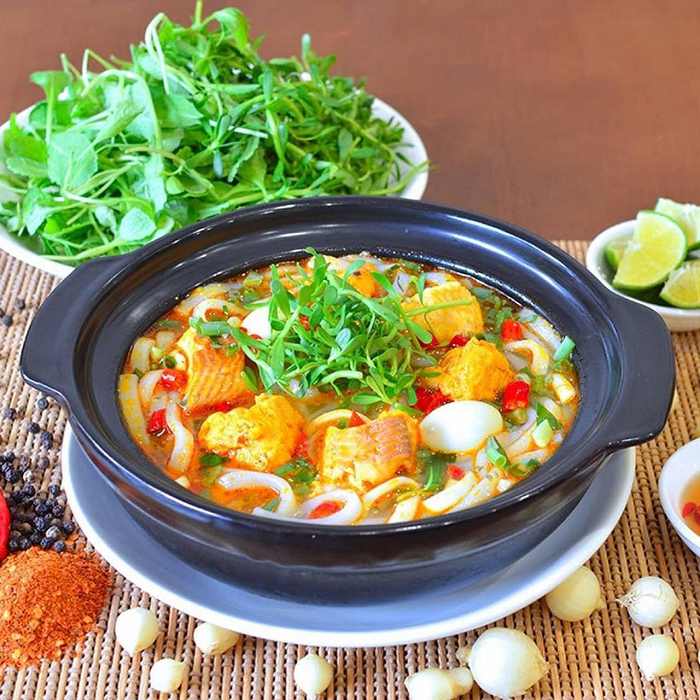 Pepper-piercing hot pot: The hot pot is divided into two compartments with a mild sweet taste, while the other side is spicy to tear the tongue. Hot pot water is cooked from a variety of natural vegetables and fruits along with nuts and apples, so it has brought a natural sweetness. The spicy hot pot water is made from heirloom recipes that bring a warm, warm aroma and taste that makes diners continue to be fascinated.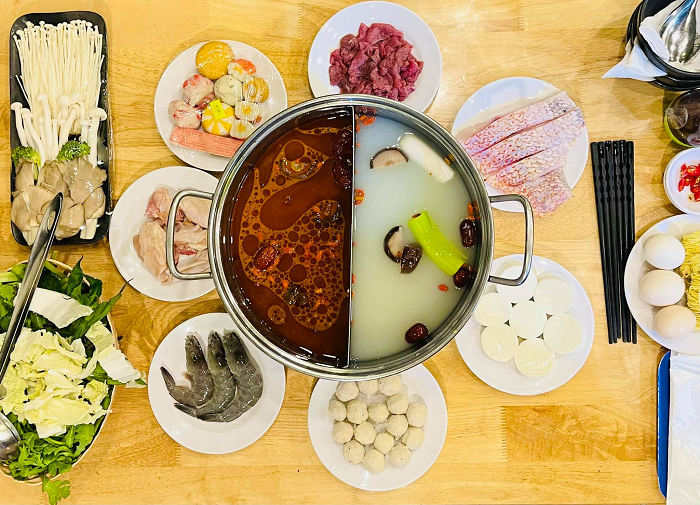 Măng Đen Travel Experience – Things to Keep In Mind
– If traveling to Măng Đen by motorbike, you should thoroughly learn the road before going and pay attention to complying with traffic laws.
If you don't know the way, you should ask the locals for sure.
– There are sections of road in Kon Tum that are quite bad, so if you go into the rain, be careful, run slowly so as not to get slippery.
Black shoots often have small prolonged rains, so remember to bring a raincoat to prevent unexpected rain.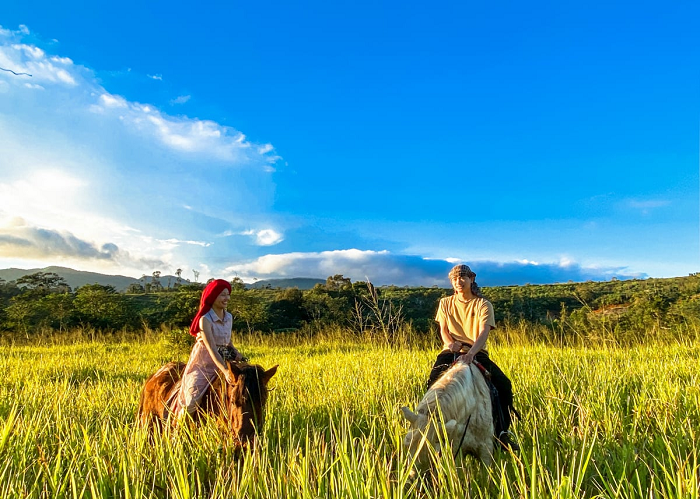 Above are the extremely detailed Măng Đen travel experiences that I have synthesized to send to you. Just carry your suitcase with a motorbike, you can already roam all the beautiful places. So, don't wait any longer, but hurry up with your friend and go right away to explore this beautiful land. I wish you all a memorable experience!
Don't miss interesting posts on Onnewslive